Cannabis extracts have been around for centuries, if not longer. Hashish, or the separated trichomes of the cannabis plant, has been a staple of cannabis connoisseurs around the world and remains popular to this day. As medical cannabis and legal adult-use markets have taken shape over the past several years, other types of cannabis extracts have emerged, usually involving a chemical extraction method resulting in finished products we now know as shatter, wax, and other dabbable substances. Of them all, however, one type of extract has recently emerged as the leading favorite among the most devoted disciples of cannabis medicine: Live Rosin.
Live Rosin differs from other cannabis extracts in that it is produced without the need for a chemical solvent, hence the term solventless extracts. Whereas other types of extracts rely on CO2 or butane to strip the THC out of the plant matter, solventless extraction relies purely on physical agitation, heat, and pressure, resulting in capturing the true, original organic compounds of the cannabis plant without chemicals, such as the volatile terpenes that define the aroma of fresh cannabis flowers.
As the demand for solventless extracts has skyrocketed, brands have begun exploring ways to ramp up their production in order to keep up. This article examines the various factors that cannabis operators need to consider when they add solventless products to their lineup, and how to plan for growth once production is underway.
Knowing when to expand
When deciding when and how to expand your business, you need to understand your business context. Very few businesses go from boutique production to high-output in one leap; there are numerous steps and growth phases along the way. The best way to figure out which steps to take first is to fully understand the position and trajectory of your business in your current market position.
Market maturity
The maturity of your market is a significant factor to consider. When markets are relatively new, the demand for solventless extracts may be low. As markets mature and customers become more educated and discerning, the demand tends to increase. Getting started early can give you an advantage in terms of brand awareness and relationship-building, but keep in mind that the demand for your products may need to be nurtured and built via your own educational outreach and marketing.
Demographics
The consumer demographics of your market are also likely to play a big role in how your business evolves. Solventless products tend to cost more than other extracts, so knowing how and where to reach consumers with disposable income in your market will be an important part of your growth strategy. Solventless products tend to be most popular among the most devoted cannabis connoisseurs and influencers: by appealing to these customers specifically, you can also benefit from word of mouth brand-building as they spread the word about your products organically to their friends and followers.
Talent
Having a team of people who are passionate about their work will make scaling up go much smoother. If you are not the artisan hashmaker on your roster, who is? This is a key role to fill in order to ensure consistent quality and innovation on the product development front. If you are hiring someone to fill this role, be sure to recruit a hashmaker who is hardworking and passionate about solventless processing, with a deep knowledge of other extraction methods as well.
Finding the perfect candidate to hire can be difficult, depending on your location. If you or another team member are dedicated to learning the craft, enlisting a boutique consultant is another approach you could explore, though if you do this it is important to do your research and work with someone who is well-recommended and who has a strong track record of success.
Sourcing your input
When selecting a third-party supplier for your input material, there are several factors specific to solventless extraction you should consider. First, are the decision-makers and head growers aware of the strains that perform best for solventless extraction? Is this something they care about, that they get excited about? How much of their facility is devoted to production for solventless extracts, and is it an area of their business they are focused on growing?
Keep in mind, unlike other extraction methods, with solventless extraction your input material will be the most important variable in determining the quality of your finished product. Finding a partner or multiple partners who can provide you with consistent high-quality input material while keeping up with your growth will save you a lot of hassle in the long run.
Growing your own input
Whether as a means to have more control over your own product development outcomes or simply due to your existing business model, growing your own input material can be another key factor in your approach to scaling up. In fact, vertically integrating your business can be an excellent way to prepare your operation for scalability. If you do grow your own input, keep in mind that you will need to specifically grow strains that perform well for solventless extracts, and as your business begins to accelerate you will need to weigh the benefits of canopy space devoted to solventless products vs. other product categories. Having the right talent in place will be crucial if you decide to go this route.
Choosing the right equipment
Before you decide which equipment to purchase, first you should determine your output goals. Input/output is how you should frame your growth plans, and then work backwards from your goal in order to spec out the equipment that you want to invest in. To avoid near-term production bottlenecks and to give you plenty of room to grow, it's best to hedge on equipment one size up from what would fulfill your basic needs. Beyond production capability, investing in equipment that improves your efficiency is another way to scale up your growth.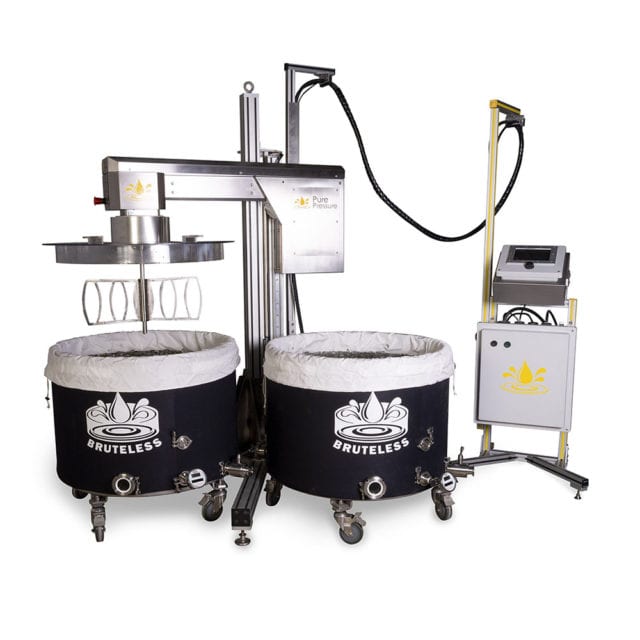 Return on investment
Understand your return on investment. Due to the extraction process being physical as opposed to chemical in nature, solventless extraction equipment tends to be more affordable than closed-loop extraction systems. That said, it is important to fully understand your output capabilities and to have a solid grasp on your sales forecast before you invest: every business has a different financial reality, but if the demand is there and the product is high-quality, in most cases the ROI for solventless production equipment can be realized in a matter of months, or sometimes even less.
Space considerations
As you scale up, you'll also need to consider the layout of your facility, and how any new equipment purchases will affect your space. Solventless processing equipment can be more easily tucked into a corner and does not require as many safety precautions as closed-loop systems. That said, it is worth considering what your immediate growth goals are: is your entire production line expanding, or just solventless products? This can affect how you choose which equipment to add to your lineup, and where it gets stationed at your facility.
Product development & SKU selection
Central to your growth strategy should be your understanding of the types of products that you plan to develop. Across all adult-use markets, the current best-selling solventless products are hash rosin, or live rosin, which can be dabbed or vaporized. In other markets where the consumer base is just starting to become aware of the world of extracts and dabbing, other types of products may see greater demand — such as solventless-hash-infused edibles, vape cartridges, tinctures, etc. If you are in a market that is relatively young, but your passion is to produce artisan hash rosin, it's important to consider that you may want to also add more "approachable" solventless products to your lineup as a way to build rapport with the customers in your area.
"A lot of business owners are surprised when they see how fast the demand for their solventless products grows. Properly planning multiple phases for expanding solventless production is critical in order to maximize the opportunity." — Eric Vlosky, Director of Marketing and Business Development, PurePressure
Marketing and consumer education
High-quality products speak for themselves, and once people experience a superior product they are more likely to become loyal customers. That said, in order to make this connection with a customer, you will first need to convince them to choose your product over everything else on the dispensary's shelf. Having a robust, targeted approach to marketing will work in your favor by building an audience that is receptive and willing to give your products a try.
Having social media presences, an impressive website, and directory listings are all important, but your primary focus should be on the budtenders who will be selling your products. Send your most passionate and knowledgeable employee to be the ambassador who educates them about your lineup. Take the time to teach them about the benefits of solventless extracts and whole plant medicine, and give them the tools they need to communicate these benefits to their patrons. Having a good brand with a story behind it will help budtenders remember you, and investing in product packaging and labeling that conveys quality will work in your favor (and the budtenders' favor) by impressing the customer at first glance.
It also never hurts to give budtenders free samples so they can experience the quality of your product for themselves, and to give them free branded swag items to build rapport and brand awareness. Part of your mission to scale up has to be to build a movement around your brand, and in the cannabis industry, budtenders are often the driving force behind new market trends.
Stay true to yourself
As you scale up the solventless extraction side of your business, you will undoubtedly encounter different challenges along the way. The world of cannabis production and product development, whether adult-use or medical, is a rapidly evolving space with many opportunities and many risks. At times it may seem daunting, but don't underestimate the power of conviction. If you stay true to yourself, your vision, and your sense of ethics, you will inspire others to follow you on your journey, and you will have a solid foundation upon which to build as your business starts gaining momentum.
Get daily cannabis industry news and insights. Subscribe