Why join the Business Index?
Your business profile serves as a direct link between you and the community of cannabis professionals who browse Ganjapreneur regularly, empowering them to quickly find and learn about your business. Far more robust than a typical "directory" listing, your profile also includes access to one-of-a-kind marketing tools that we built specifically to address the needs of cannabis businesses.
Brand awareness
Build top-of-mind awareness and get discovered by cannabis business owners & project planners who are searching for the products and services you offer.
Search optimization
Gain valuable backlinks to your website that will boost your SEO. With a featured listing, you can also get links from your category as well as on the articles you comment on.
Content remarketing
Turn our entire website into a remarketing tool for your business. When you share content from Ganjapreneur.com with your followers, your brand appears in all ad zones.
Additional perks
With an active profile, you'll get priority consideration for social shout-outs, blanket advertising discounts, and be invited to participate in exclusive content formats.
---
Membership Tiers:
---
Standard Profile
Standard profiles include a simple description of your business and links to your website and social media accounts. Standard profiles only appear in their category, and do not get featured on the homepage.
---
Basic Text-Only Profile
No Ads in Profile
Enhanced Visibility
Some Content Opportunities
Simple Marketing Tools
10% Advertising Discount
Featured Profile
A featured profile includes your logo, customizable descriptions of any aspects of your business that you want to highlight, a custom call-to-action button, and a dedicated inbound contact form that industry professionals can use to get in touch with you. Featured profiles are also highlighted on our homepage and news articles.
---
Advanced Profile With Logo
No Ads in Profile
Maximum Visibility
More Content Opportunities
Advanced Marketing Tools
Featured on Homepage
Inbound Contact Form
Eligible for Multiple Categories
15% Advertising Discount
Verification Only
A one-time verification gets you listed in your category below active subscribers, with a simple no-frills profile and no additional features. Inactive profiles also contain ads for our sponsors.
---
Basic Text-Only Profile
Ads in Profile
No Marketing / SEO Features
…
…
…
…
…
…
---
Example category:
Your subscription level determines how your business will appear in the category. Since every reader will start at the top of the page, having an active subscription will ensure that you get more eyeballs and clicks: see the following image for an example of how different subscription levels are shown.
PERKS SUMMARY:
Featured profiles are displayed at the top of the category in random order. The listing includes your logo, description, profile link, website link, and highlighted placement.
Standard profiles are displayed just beneath Featured profiles, and include only your business name, description, and profile link (no website link from category).
Inactive profiles are displayed below all active listings in a grid format, and include only your business name.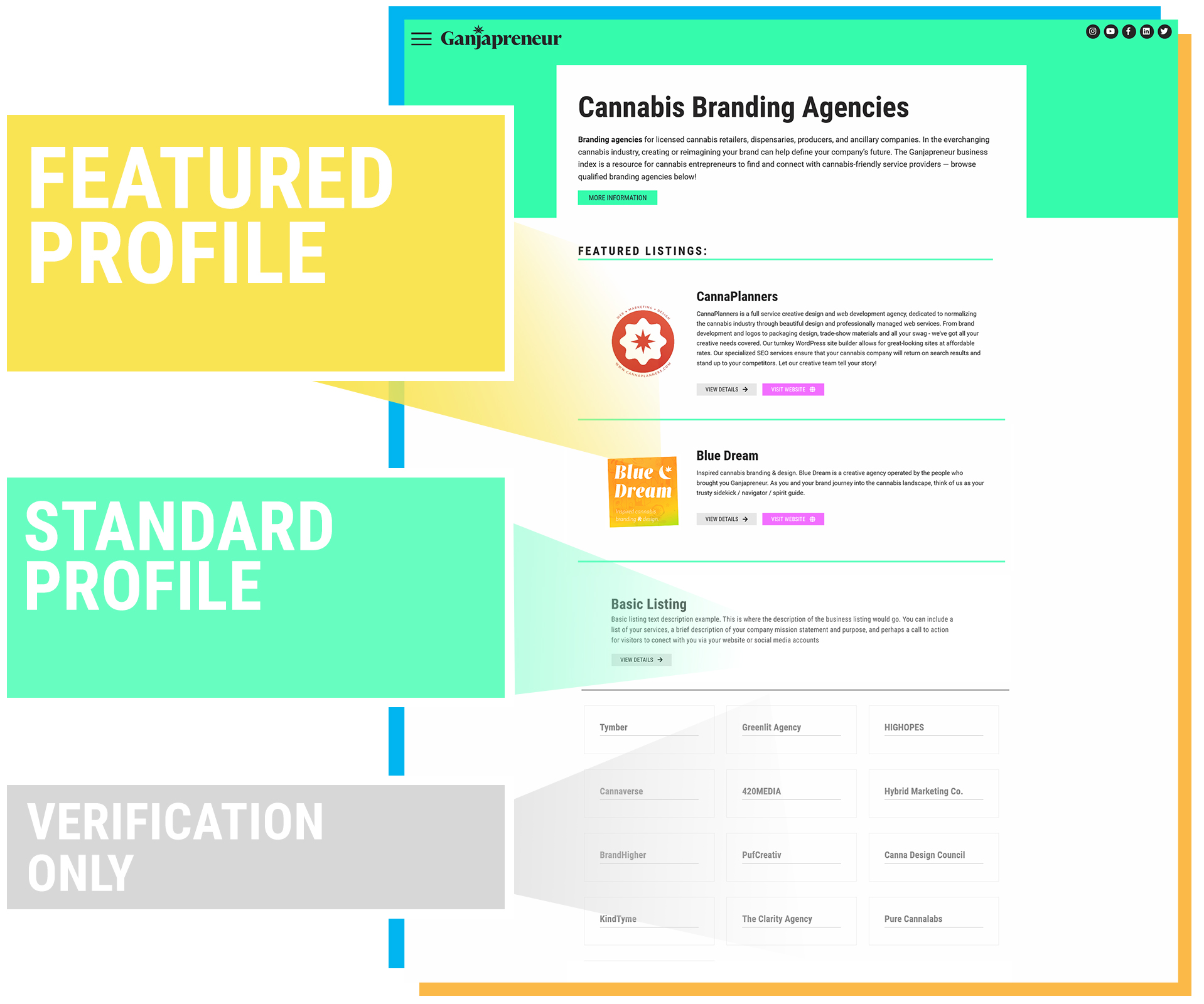 ---
Marketing Tools
---
Content remarketing
Turn our entire website into a marketing tool for your business. When you share content with your followers, all of our usual ads are replaced by a shout-out for your business.
HOW IT WORKS:
Your subscription includes a custom snippet that you can use on any page of our website, by simply adding it to the end of the URL.
Whether you post the article on LinkedIn or include it in your email newsletter, anyone who clicks on the link is guaranteed to see your brand instead of our usual ads.
With a standard profile, your shout-out includes your business name, description, and a link to your profile. With a featured profile, your shout-out also includes your logo and a custom button which can link to your website or any URL you choose. Designed to be mobile-friendly, your shout-out adapts to whatever ad zone it appears in.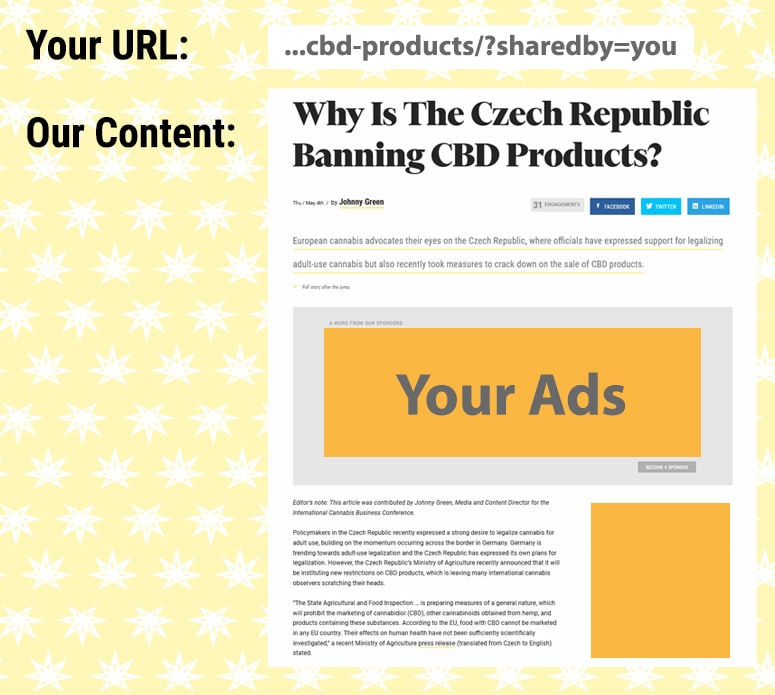 ---
Search-optimized comments
Anyone can submit comments about stories we've written for an opportunity to be featured at the end the article. For every article we publish, our editors allow a maximum of three additional perspectives.
Unlike many publications, we screen comments and selectively publish those that provide useful information to our audience.
HOW IT WORKS:
With an active business profile, when your comment is chosen by our editors to be published, it comes with perks that can be beneficial for SEO and brand awareness:
With a featured listing, your comment includes a pop-up with your logo, business description, and a link to your website.
With a standard listing, your comment includes a link to your business profile.
With an inactive listing, you are still eligible to submit comments, but your comment will not include any links.
Remember: our editors will only select comments that add useful context or insight, so if you want to use this feature to help boost brand awareness and website traffic, you'll need to formulate a well-crafted comment. Adding your perspective on topics that you have personal experience with is one of the best ways to maximize your chances of being selected.
Example featured comment: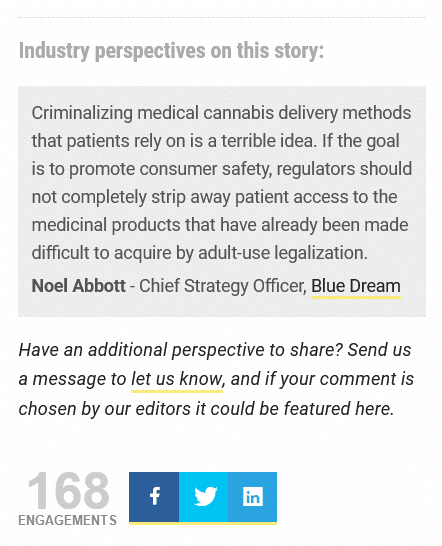 ---
Ready to get started?
To be approved for inclusion, you will need to fill out a survey about your business and the services you offer. Our editors will review your submission and determine your eligibility based on what you submit. If for any reason you are not approved, your payment will be refunded.