The Ooze Slugger Dabbin Dugout is a silicone travel kit designed for on-the-move dabbing, and for bringing your dabbing gear on the road.
Complete with silicone padding and smart, secure storage for your ceramic or glass nails, bowls, packaged concentrates, and more, the Ooze Slugger Dabbin Dugout is a sleek, compact design that can fit nicely in your backpack, purse, or — if you're traveling within a fully legalized state — even your airplane carry-on and/or checked luggage.
One end of the Dabbin Dugout travel case contains two long compartments. These compartments come pre-filled — one compartment contains an Ooze nectar collector, which is a long, straight silicone tube designed for the easy vaporization of cannabis waxes or oils; the other compartment opens into two smaller pockets that each come pre-filled with a nail, one glass and the other titanium.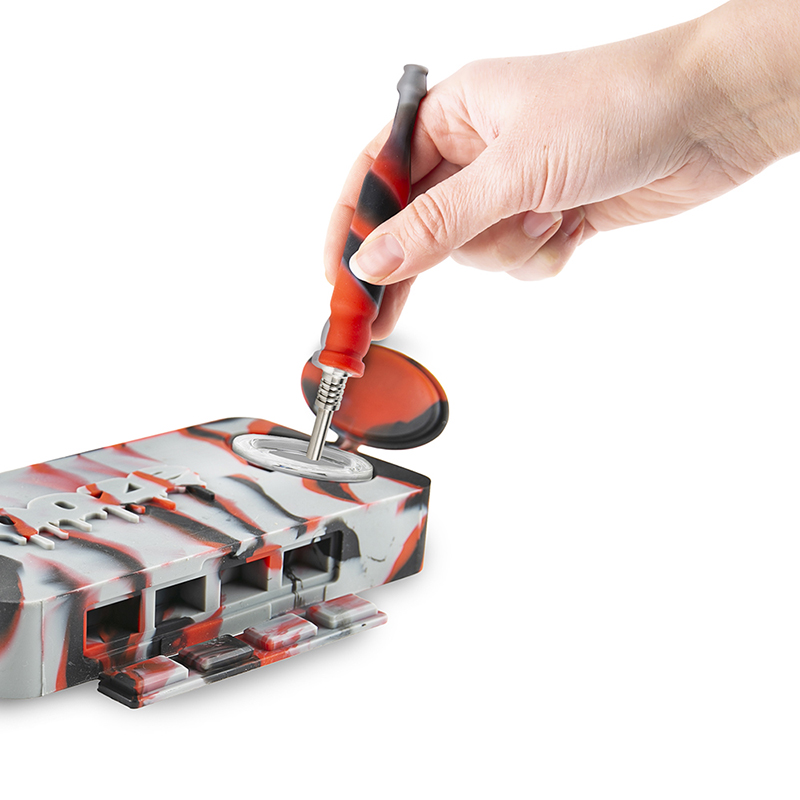 On the opposite end of the Ooze Slugger Dabbin Dugout, a silicone flap can be peeled back to reveal a larger compartment designed for easy, on-the-go dabbing. The base of this pocket is lined with a glass bowl, which works as a convenient dabbing surface, as the sticky stuff you put there won't get stuck as easily and the compartment can be swiftly wiped clean when you're finished. Combined with the nectar collector, this is a much more travel-friendly option than traditional dab rigs, as you won't have to risk losing or breaking your favorite piece when you're out and about.
Lastly, one of the travel kit's long sides contains an additional chamber that has been broken into four individual storage compartments. These pockets are handy for packing away various cannabis concentrate samples — we would suggest keeping them wrapped up in wax paper, however, to avoid making a mess of things!
All in all, the Ooze Slugger Dabbin Dugout does its job without fuss or complications. It's a great travel solution for bringing your at-home dabbing experience on the road, and is perfect for consumers who want to take that extra step to guarantee their travel experience won't result in a cracked nail or misplaced gram.
With a $50.00 price tag, we recommend this product for individuals who really enjoy collecting, protecting, and nerding out about their fancy dabbing gear. Remember: while this kit comes with its own collection of nails and vaping tools, you can always insert your own favorite products in their place!
Get daily cannabis business news updates. Subscribe