Throughout the years, cannabis has gone through many different phases, from how people smoke to how people feel about the plant in its entirety. What's stayed consistent is the classic weed rolling paper that every consumer knows and loves. Whether it was Snoop Dogg or Wiz Khalifa rapping about how much weed they smoke and what the best rolling papers are, hip-hop culture has helped inspire several generations of smokers — but while your favorite rapper might know their favorite rolling papers, we know how hard it can be to find the ones that best suit you.
So if you're looking to change things up, stick around and we just may point you towards a dope new weed rolling paper!
Previously, joint wraps were only being used as cigarette paper. But now, they've taken the marijuana community by storm. Today, there are so many different brands and types of papers that it can leave you discombobulated at the smoke shop. The best rolling papers are not the same for everyone — some people like RAWs, while others prefer Zig-Zags — and there are a plethora of different papers to choose from. Whether you're smoking rice paper or bleached white hemp paper, the last thing we want is for you to be searching "rolling papers near me" by the end of this list.
By the time you finish this list, you'll be smoking only the top rolling papers.
There are so many upsides to not only smoking joints but also using rolling papers — Wiz Khalifa would be the first to tell you that. Unlike blunt wraps, joint paper is made with thin paper so that you can taste the terpenes and natural flavors in your joint. We'll make sure to go over all the dos and don'ts when it comes to choosing the top rolling papers in the game. There are a ton of great joint paper brands that are beloved by newcomers and seasoned vets alike.
1. OCB, the best organic joint papers in the business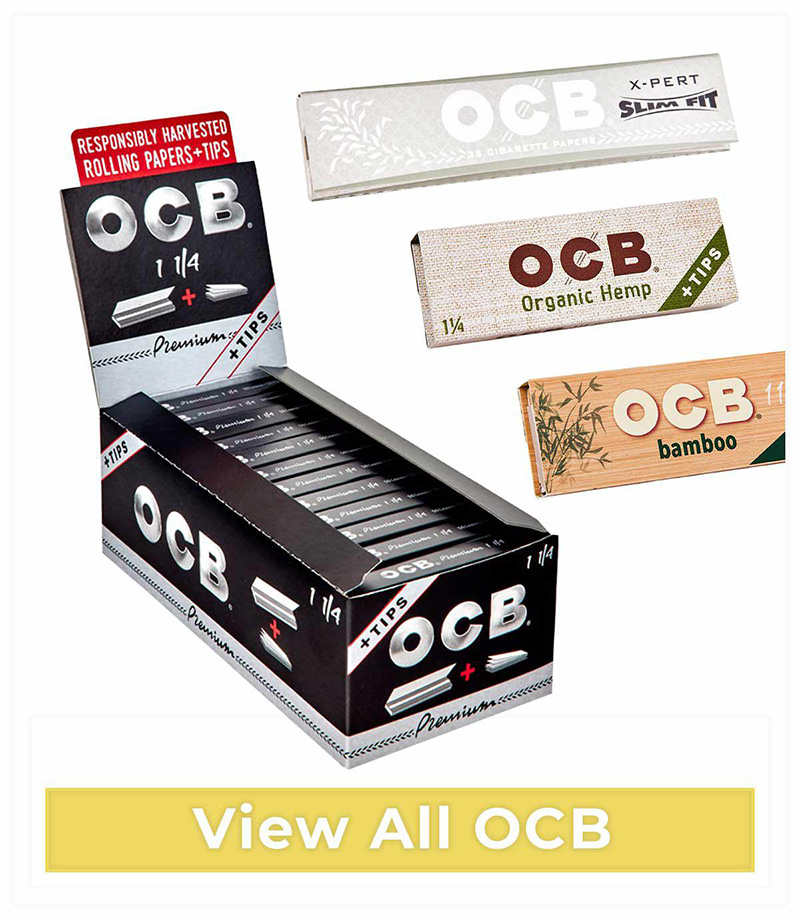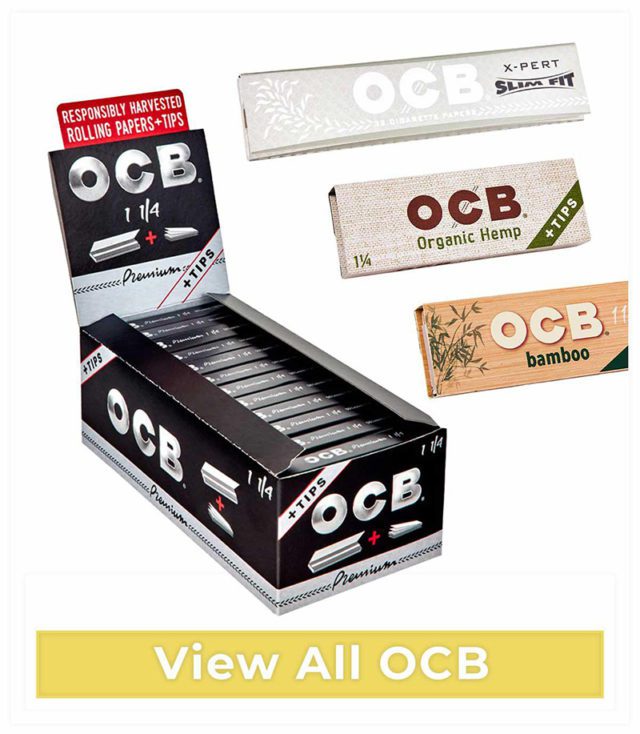 OCB rolling papers are some of the best rolling papers in the game right now. With these rolling papers, you're able to enjoy all the terpenes from your bud. Any marijuana toker will tell you, rolling your ganja with these papers will elevate your smoking experience. OCB meaning "Odet, Cascedec, Bolloré" is one of the best types of hemp paper out there, attracting older and newer smokers alike. You can't go wrong buying their assortment of papers as well, their OCB long papers are great. OCB rolling papers are approachable to anyone: they're organic, new to the industry, and they have pre-roll cones for beginners. They may be new to the game but people are catching on quickly and we want to make sure you're not out of the loop, which is why we had to throw it on the list.
While there may be a myriad of different rolling paper brands to choose from, why not choose one of the best and go with OCB.
2. RAW Papers, the classic rolling papers since the '90s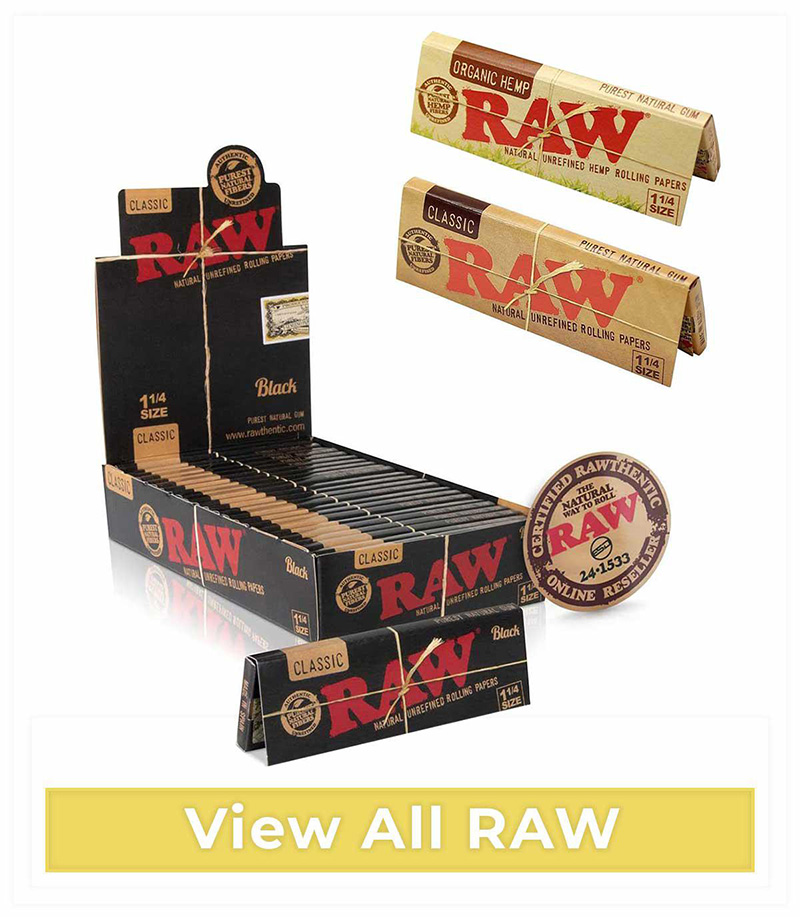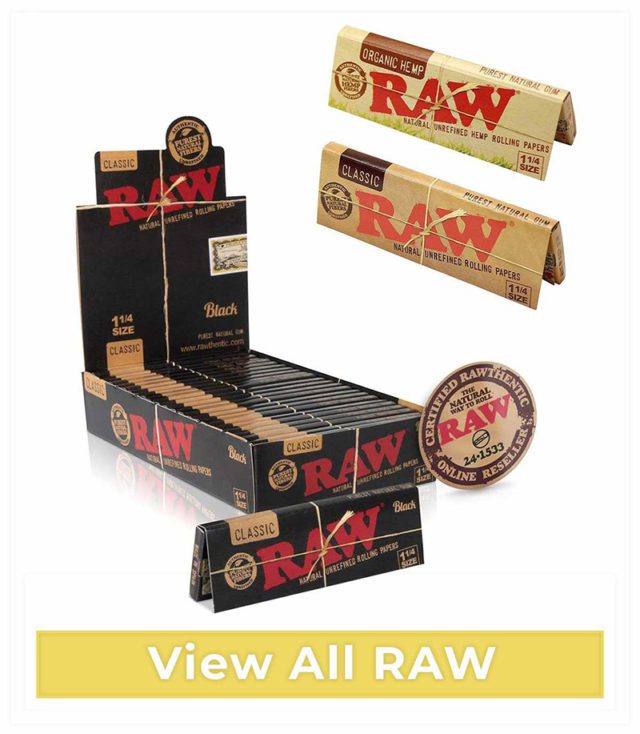 RAW Papers have been a staple within the cannabis community for a few decades. Some things just never go out of style and RAW products are one of them. They are regarded as some of the top rolling papers in the game and have yet to disappoint. Owned by Josh Kesselman, one of the early pioneers of the rolling paper industry who prides himself on producing a joint paper that is unrefined, all-natural, and vegan! This type of weed rolling paper is legendary amongst many rappers and entertainers, from the likes of Curren$y, Wiz Khalifa, and Pete Davidson. RAW is marked as a household name. RAW joint papers changed the entire scope of a smoke session, providing a smooth, slow burn, while still being untainted by any pesticides or bleach. These are the best joint papers for novices and vets, as they appeal to both demographics. With RAW rolling papers, you're not only elevating your smoking experience, you're also taking a more health-conscious approach to smoking herb.
If you dream of smoking like a rap star, make sure to roll up in a RAW rolling paper.
3. Test the elements with Elements Rolling Papers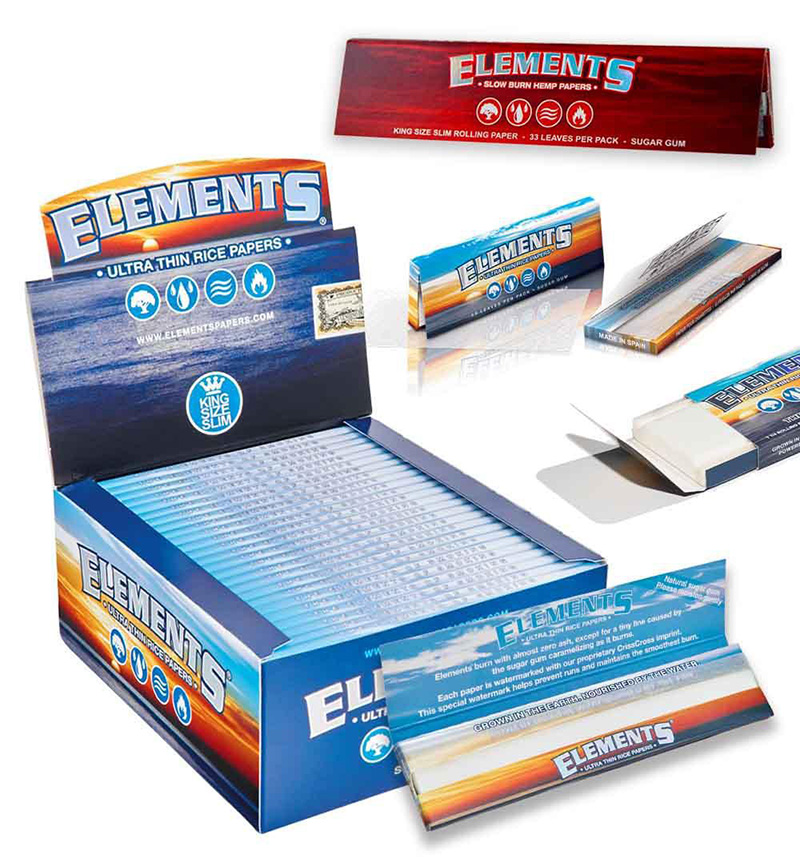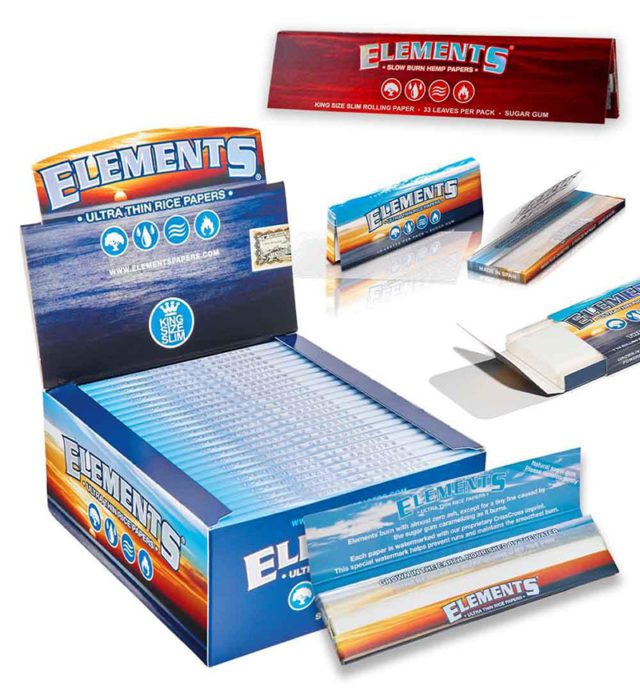 Elements rolling papers are some of the best rolling papers for weed in the industry. They provide a slow, even burn that allows tokers to not only take a healthier approach to smoking marijuana, but it also enables the terps to be the first thing you taste after that first hit. Made from the finest rice paper, with zero chemicals or burning agents, Elements rice paper is perfect for rolling some stellar joints. What sets these rolling papers apart from the rest is how they leave absolutely no ash as they burn once sparked. The only residue produced from Elements papers is from the gum lining. They also carry an assortment of ultra-thin pre-roll rice rolling papers that are perfect for beginners as well as the stoner that just wants to save time. These are some of the top rolling papers that anyone can appreciate and smoke with.
4. You can't go wrong smoking Rizla papers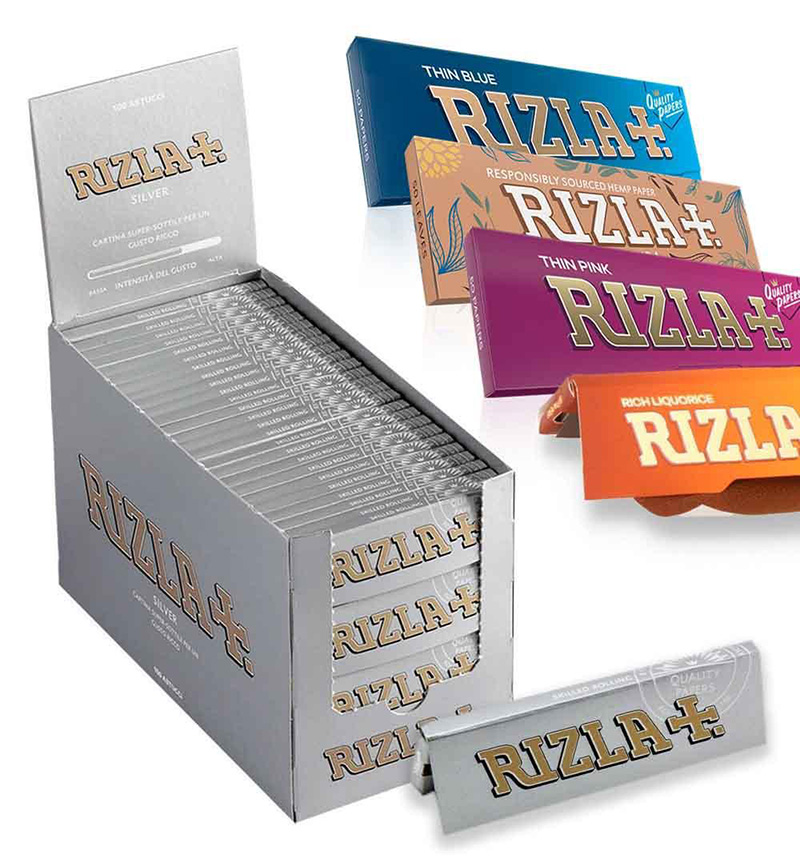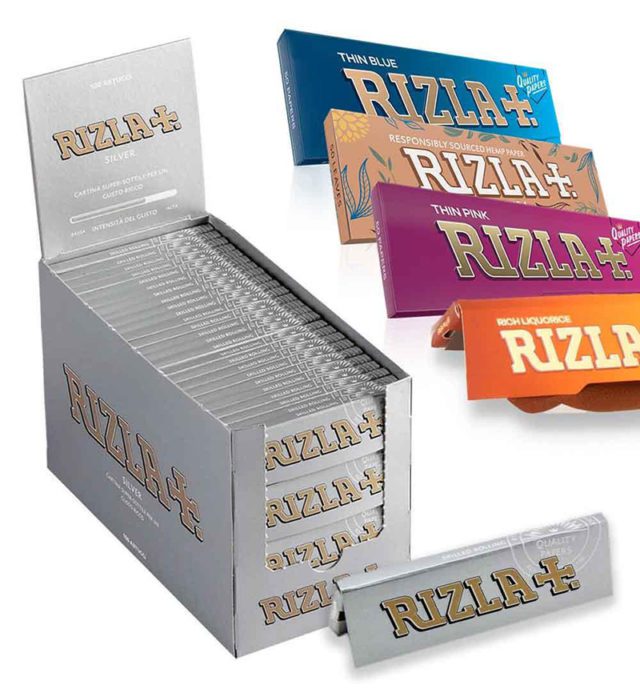 Rizla rolling papers is a world-renowned rolling paper brand that has an extremely rich history. Sold in over 120 countries around the globe, the Rizla brand is held in high regard for its rolling paper. With a myriad of papers to choose from that all burn at different rates, whether you like a slow-burn or a nice quick sesh, you won't be sorry rolling up with a Rizla paper. The papers, outside of the natural hemp paper, are all made from rice paper, untainted by unnecessary additives. These are top rolling papers to smoke if you like a lot of different varieties in terms of how your paper burns and how thin you want the joint wrap to be.
5. Zig-Zag Rolling Papers, the 140-year-old staple in the smoking industry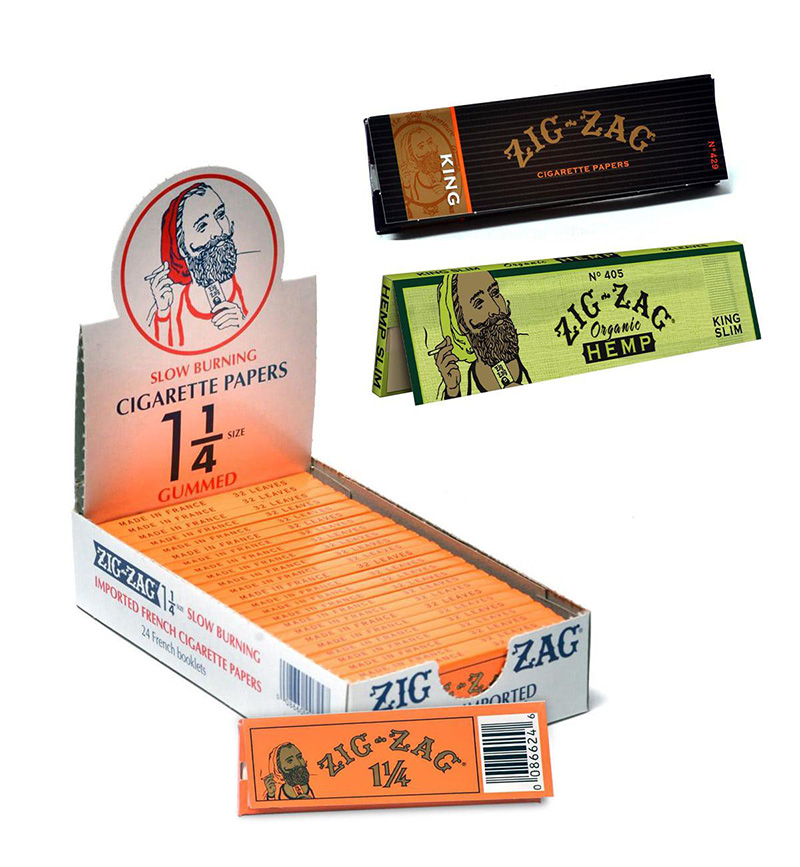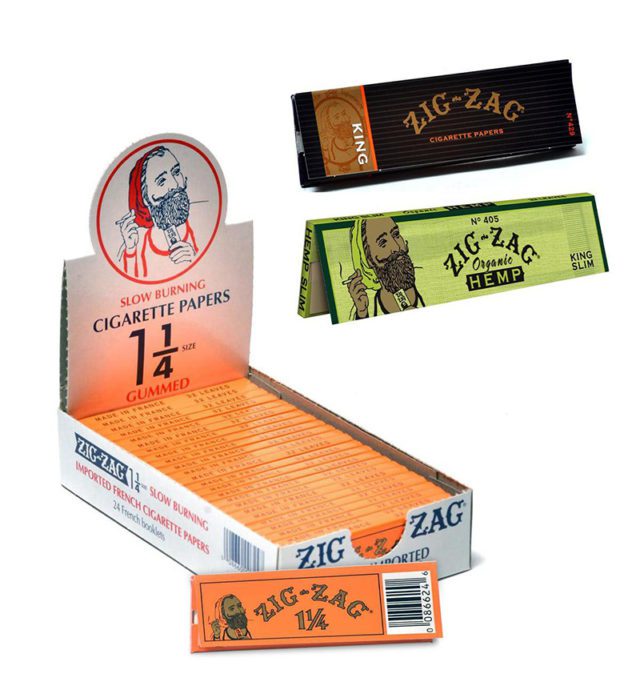 Zig-Zag rolling papers have been a heavy hitter within the cannabis community for many decades. As one of the top rolling papers throughout the smoker community, they are held in very high regard as a legendary rolling paper amongst your favorite rappers and entertainers. From Dr. Dre using the Zig-Zag papers logo as the cover of his debut classic album "The Chronic," to Ice Cube using the brand in his famed pot-head film "Friday," this rolling paper brand is one of the best in the business. Aside from all the clout across the stoner community, these papers are ideal for the vets that miss rolling with thick paper and want to take a walk down memory lane with a nice smoke. Zig-Zag also carries an assortment of Zig-Zag hemp papers for the cannabis fanatic that wants a healthier smoke and wishes to taste their bud when they start cheefin'.
6. Toke in the lap of luxury with Shine papers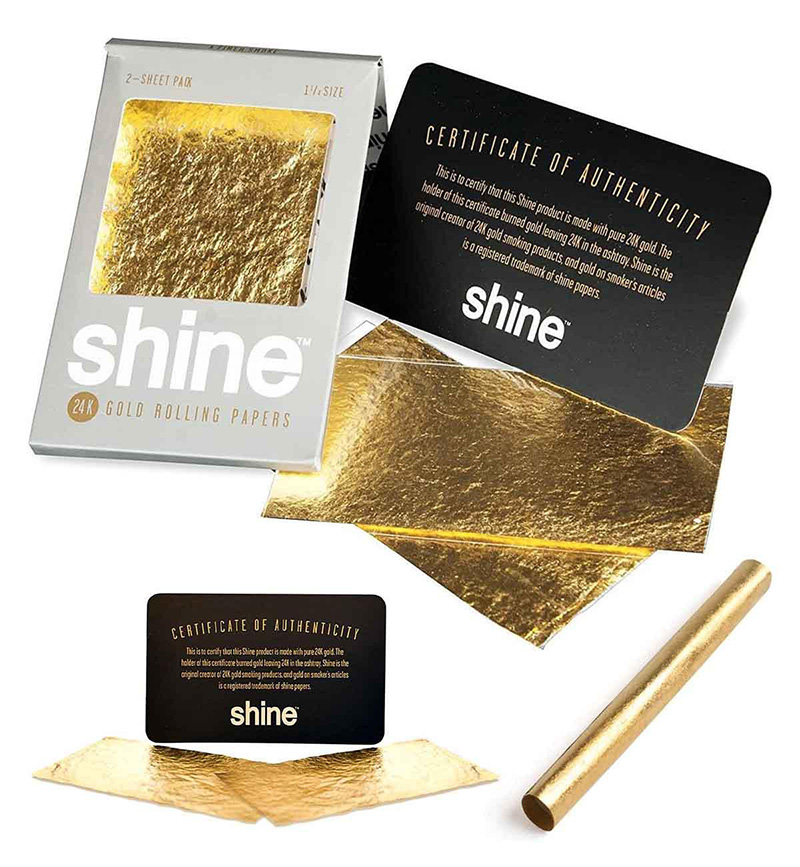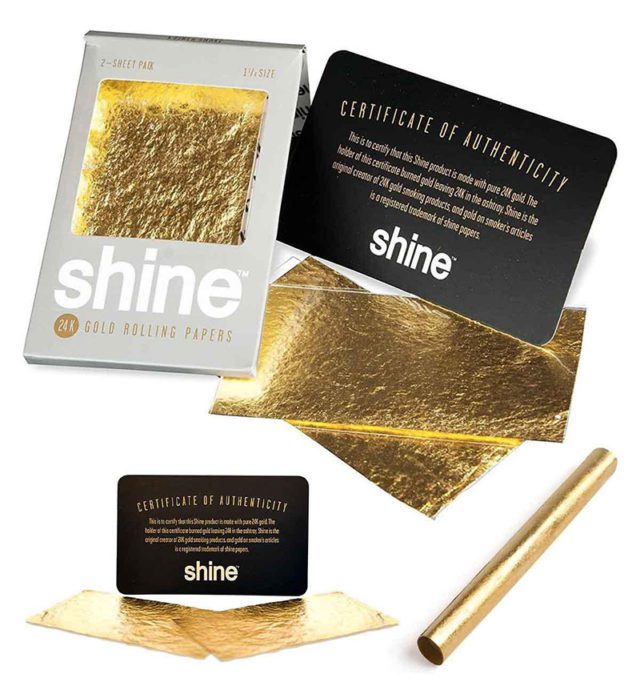 Shine rolling papers are some of the most luxurious and indulgent rolling papers on the market right now. Made from 24 karat gold edible paper, even the snobbiest of weed snobs would line up to snag a pack of these. These gold rolling papers are perfect for when you're celebrating or when you want to feel fancy on special occasions. As anyone would imagine, these 24k gold rolling papers do come at a higher price than regular rolling papers, but that's the price for the finer things! Now one might be a tad skeptical about smoking gold, but rest assured Shine papers are 100% safe to smoke. Whether you want to feel like you're living in the lap of luxury, or just want to splurge a little bit for a special occasion, you can't go wrong choosing Shine 24k gold rolling papers.
7. Juicy Jay has the best flavored rolling papers in the game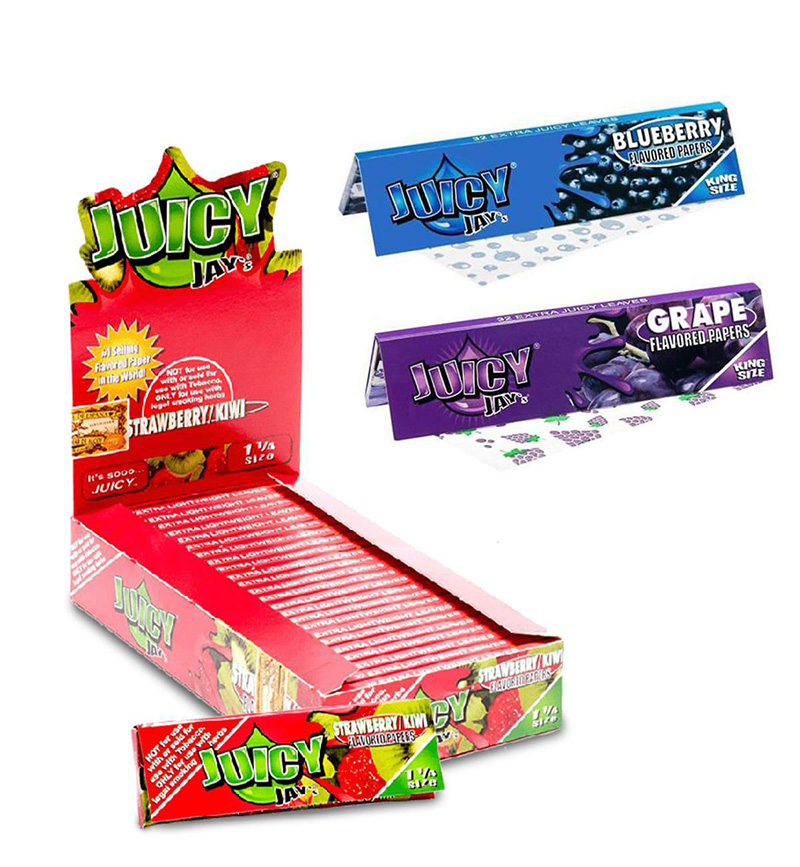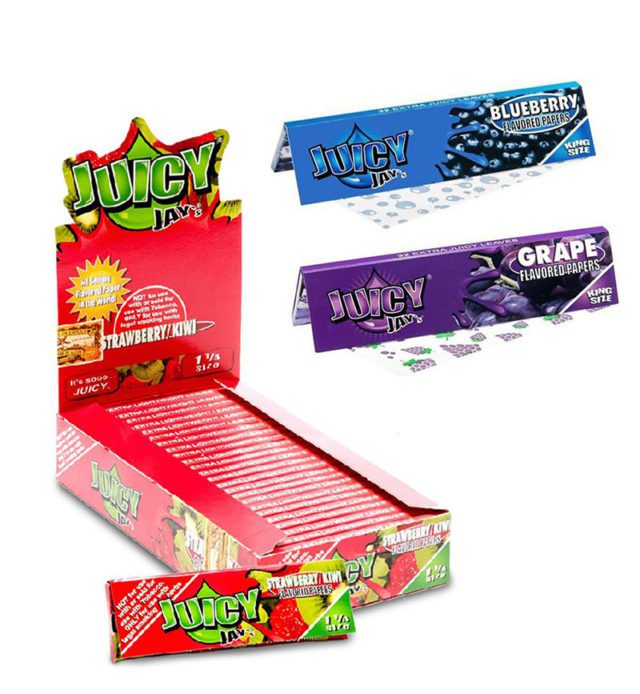 Not to be confused with the rapper, Juicy Jay rolling papers have been a staple in the industry amongst stoners everywhere. Known for their flavored joint papers, with the flavors perforated all over the paper, this brand has stood the test of time and is still seen as one of the best rolling papers by old and new stoners. Smoking with Juicy Jay papers changes the smoking experience through their quality flavors and papers, allowing tokers to enjoy their bud after each and every puff. If you like a little flavor to your papers whenever you're rolling up, then these flavored rolling papers are the perfect brand to choose. With Juicy Jay papers you're getting a quality and flavorful smoke with each and every hit that'll leave you feeling elevated and relaxed afterward.
8. Have a clean smoke with Pure Hemp papers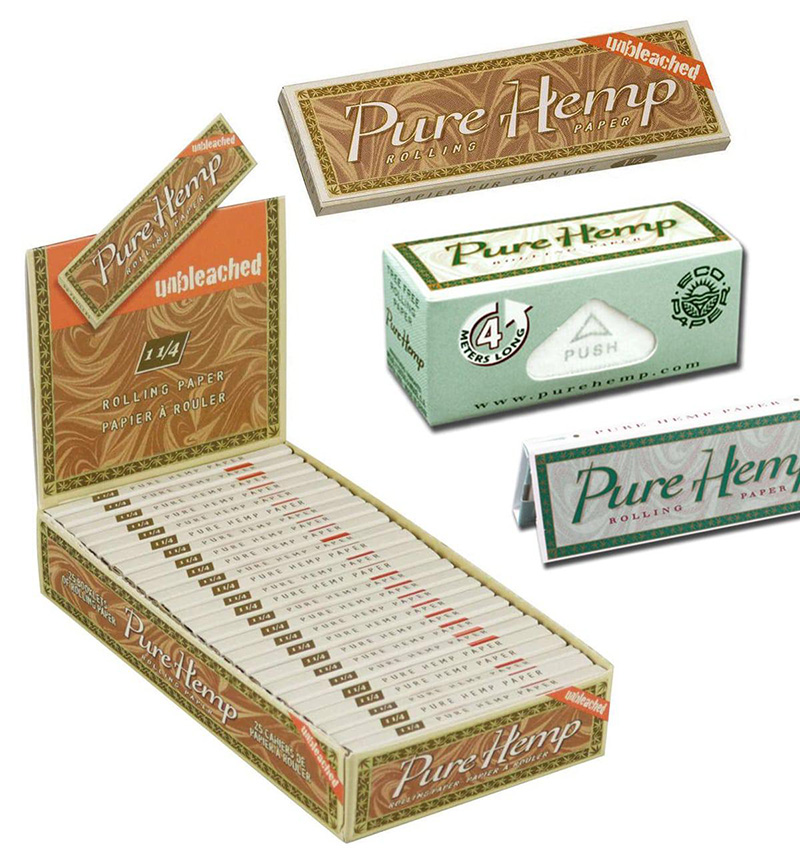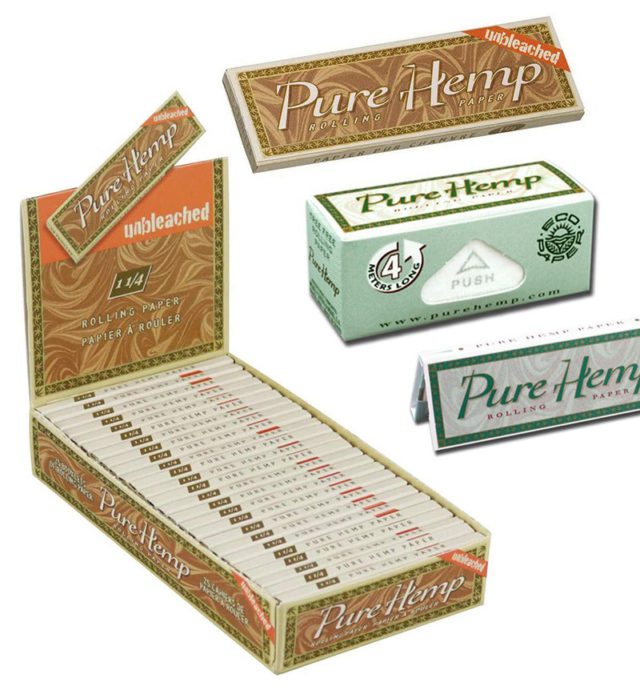 Pure Hemp is a 100% eco-friendly and tree-free rolling paper, made from the finest hemp pulp complimented with an all-natural gum lining from the African-Acacia tree. These hemp rolling papers are like none other, providing a more health-conscious smoke that started as a niche but expanded to achieve global acclaim. These are some of the best rolling papers to use if you want a paper that contains zero bleach or isn't made from rice paper. Unlike blunt wraps, Pure Hemp rolling papers are nowhere near as harsh and can be a better alternative to smoking a blunt. For the stoner that wants to put their respiratory health first or the smoker that wants to try something new, Pure Hemp paper is the rolling paper for you!
9. Indulge in the ultra-fine texture of Canna Wraps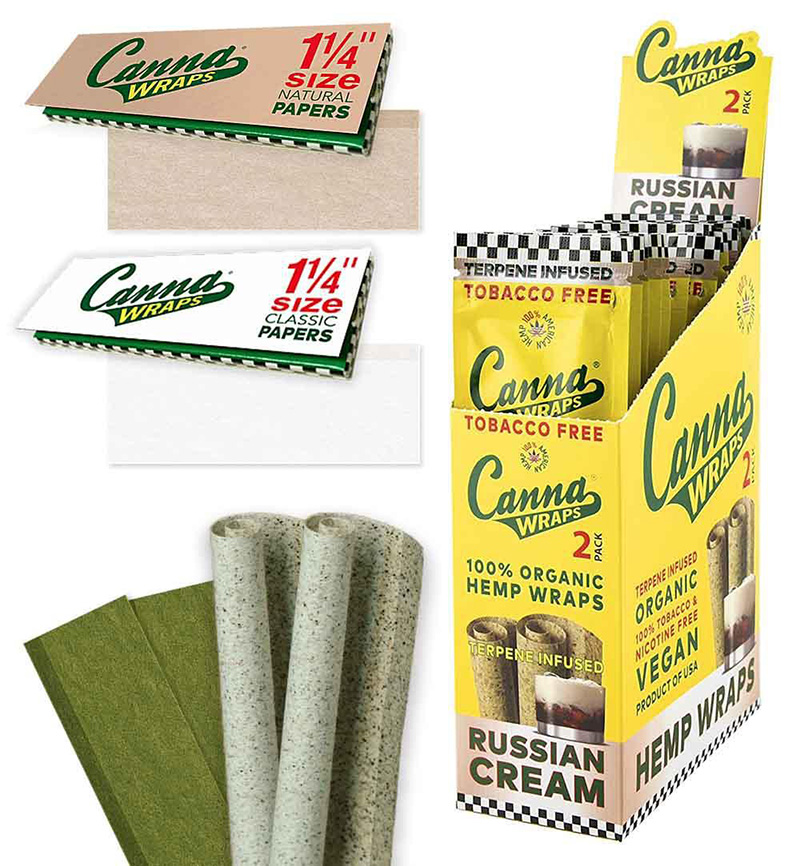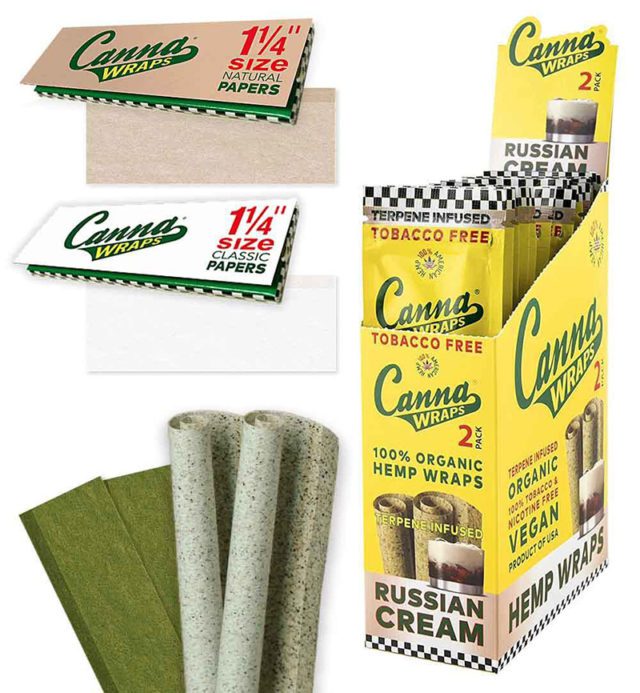 Canna Wraps are regarded as one of the most popular, sought-after joint rolling papers in the industry right now. You won't be dissatisfied with these papers, they provide a nice even smoke that burns slow, allowing you to enjoy your buds with each and every puff. This joint paper is second to none with quality at the forefront of this brand, any toker would love to have these joint wraps in their possession. Canna Wraps are the way to go if you want to go outside of the norm and try one of the best joint rolling papers in the smoking industry.
10. See what's inside your joint with Aleda transparent papers
If you ever wondered what your weed looks like as it's being burned in a joint, then prepare for your questions to be answered. With Aleda transparent papers you can watch your kush burn inside the paper. These see-through rolling papers are great at parties —you'll be the life of the party showing people your see-through joints. Made from 100% cellulose, which creates transparency, these clear rolling papers are biodegradable and provide a natural smoke every time. Even though these papers may come off as a novelty due to their transparency, they are a great alternative to what's already out there. Transparent rolling papers are great for those that not only want to show up to the party with a few party favors but also those who want a nice clean smoke with zero additives. With Aleda, you're getting a clean smoke and a visual look at nature going through a chemical change as the herb is being burned in the joint, it can't get much better than that!
If you've made it all the way to the conclusion of this list, you're definitely a true rolling paper lover — a real connoisseur on the hunt for the best rolling papers, or even the best blunt wraps if that's your style. Well-refined, cultured smokers interested in learning more about the newest products to try out are typically also lovers of cannabis culture. For more lists and other articles about cannabis, be sure to head over to The Cansumer for the latest and greatest marijuana news.