There are a lot of marijuana packaging companies operating in the United States. They design and manufacture doob tubes that commonly hold joints or vape cartridges and also airtight jars meant for varying amounts of flower, but only a few of these companies are looking forward to sustainable cannabis packaging options. Alongside the issue of plastic and non-sustainable materials, many states require excessive packaging for an edible or other product to remain compliant. 
Why don't companies use sustainable marijuana packaging?
To some cannabis growers and producers, it's simply not important that they use compostable packaging, but that isn't always the reason why shelves are lined with mylar-bagged weed. The reality is that sustainable packaging is more expensive, which drives up a company's bottom line, which means that sustainable packaging leads to a more expensive product on store shelves. Oftentimes, the bargain value is more important and companies are left facing low sales — so, ultimately, the consumer decides whether or not compostable and biodegradable options will sink or swim.
Despite this upward climb, some marijuana packaging companies have continued to innovate their eco-friendly offerings.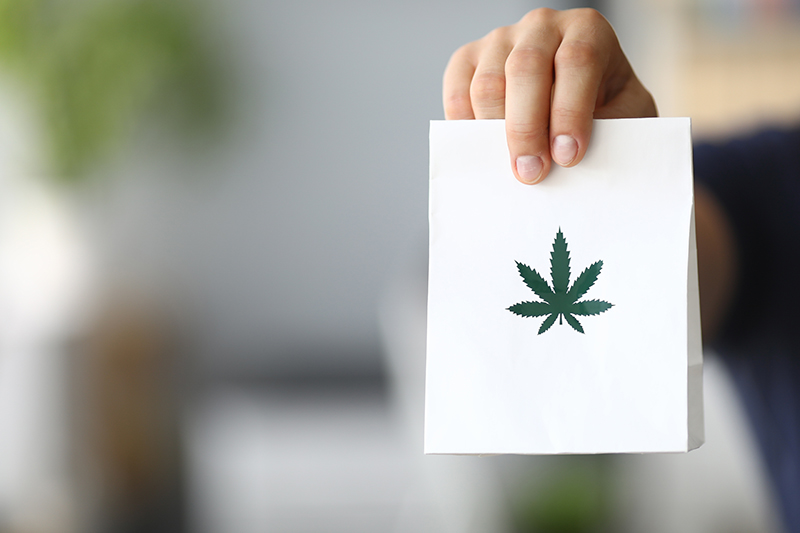 Packaging Naturally
Packaging Naturally was created in direct response to the current waste-heavy cannabis industry that is developing in Canada. Their airtight jars are made with 100% renewable bio-composite resin that is mostly derived from the land. They are food contact certified and thus can be used for edibles along with other cannabis products. The jars are even substantially lighter than other commonly used glass jar options, making shipping costs and fossil fuels used to ship them lesser than their counterparts. 
Cylinder Paper Tube
Child-resistant and regular cylinder paper tubes are made by Marijuana Packaging Solutions. The child-resistant option features a small button that must be pushed when pulling the tube apart from its lid. This packaging is customizable and made from recyclable paper, it also boasts that it will create a retail presence with its elegant, eye-catching design. This option is not completely air-tight, however, and will need another bag inside of the tube to keep the product as fresh as possible. 
Elevate Compostable Options
Elevate Packaging offers multiple compostable packaging solutions that are also bio-based and GMO-free. Their clear bags, sticker labels, and opaque paper bags are made from coextruded film and will decompose in 3-6 months according to ASTM D6400. All of the bags can be vacuum and heat-sealed and feature an EZ-notch which makes it easier for arthritis and cerebral palsy patients to tear them open. 
Sana Packaging
This green company takes us back to the source with packaging made out of hemp plastic as well as recycled ocean plastic, alongside other sustainable materials. The company was founded by business students at the University of Colorado in Boulder who presented Sana Packaging as their final project. Turning cannabis into a circular economy, one that uses the waste it creates, caught the attention of investors. Now the team is producing #2 recyclable joint/vape tubes and slide boxes that can be made child-resistant.
Nitrotin
Founded in Western Canada, Nitrotin now has locations across the country. Nitrotin is focused specifically on the cannabis industry, providing a packaging solution that is not only eco-conscious but also keeps dried flower fresher than other options. Their canning system applies Nitrogen to the can and seals the flower in, blocking oxygen from accessing the buds and drying them out. They can travel without crushing colas, can be branded for good marketing, and best of all can be recycled after use. 
Though they aren't always available on the shelves at local dispensaries there are sustainable marijuana packaging options available to cultivators and producers. Unfortunately, many of these options cost $0.30 more per jar than the leading competitor, and that is the bottom line. The only way a consumer is going to see more ecologically sustainable cannabis packaging is if they ask for it and pay the higher price for it.  
After it is all said and done, the consumer dictates the market. If consumers begin to focus on products that are pesticide-free and packaged with recyclable materials then the brands will follow. 
Get daily cannabis industry news and insights. Subscribe