CNN's chief medical correspondent Dr. Sanjay Gupta is often credited for helping spark a major shift of public opinion regarding the cannabis plant. In 2013, Dr. Gupta released CNN's Weed, in which the acclaimed neurosurgeon denounced the medical and political forces that have stifled medical cannabis to this date and explained how it can be an effective medicine despite its longstanding prohibition.
When the name "Dr. Sanjay Gupta" surfaced in recent news reports covering a partnership between the doctor and the publicly traded hemp CBD manufacturer Tree of Knowledge International Corp., many assumed that CNN's famed medical correspondent had begun endorsing specific products. As the headlines gained steam, however, it became clear that the Dr. Sanjay Gupta featured in TOKI's announcements is not the famed CNN correspondent but an entirely different person who happens to share the same name and title.
The other Dr. Sanjay Gupta — a pain specialist — is the president of the American Pain Association and director for Health Time TV.
CNN correspondent Dr. Gupta responded to the developments over the weekend: "I report on medical marijuana," he wrote to his Facebook and Twitter followers. "I don't sell it."
See Dr. Gupta's full statement to his followers below: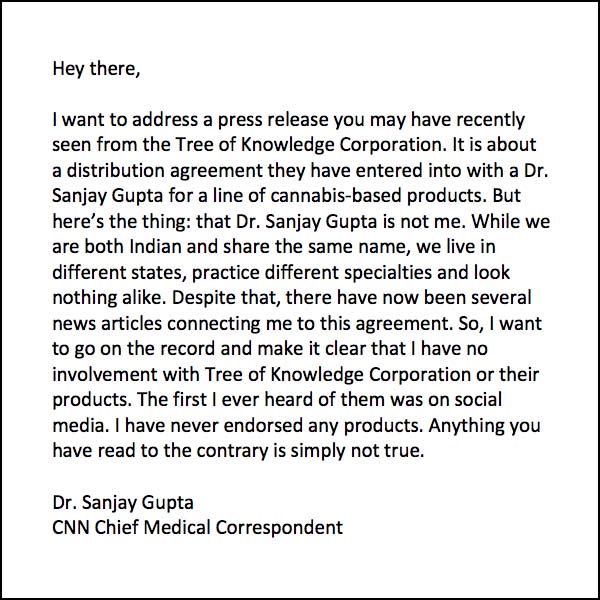 CNN correspondent Dr. Gupta first commented on the situation in a tweet last week in response to Hemp Industry Daily's coverage of the story:
Guys, you know this isn't true. I haven't partnered with anyone and have never endorsed any products. Perhaps you are doing good work, but you are absolutely misrepresenting my involvement. First I ever heard of this was from this tweet. Please correct.

— Dr. Sanjay Gupta (@drsanjaygupta) August 14, 2018
Some have suggested that TOKI purposefully misrepresented the partnership as a sort of publicity stunt to drive up the company's stock prices. However, TOKI chairman and CEO Michael Caridi said in a phone interview with Ganjapreneur that any misrepresentations were due to misleading media reports, not the company's press material.
Caridi said that their partnership with Dr. Gupta was key because of his specialization in pain treatment and because he has a distribution network of 160,000 doctors — Caridi also argued that this qualifies him as the medical cannabis movement's "real" Dr. Sanjay Gupta.
In the company's July press release, Caridi wrote that Dr. Gupta's "leadership, knowledge, and influence will be a tremendous asset" to TOKI.
"Having someone such as Dr. Gupta join our Advisory Board speaks volumes and reinforces our commitment to creating best in class products and being at the forefront in innovation in this rapidly evolving field." — Michael Caridi, CEO and chairman for Tree of Knowledge International Corp., in a press release
This isn't the first time confusion has come about due to the shared name. In January 2016, chartered financial analyst Alan Brochstein of New Cannabis Ventures, who specializes in the cannabis industry, posted a warning on LinkedIn about the same issue in relation to an IPO for a different company. According to emails obtained by Brochstein, Dr. Gupta of the TOKI deal did not clarify that he wasn't the famed Dr. Gupta of CNN. Instead, the doctor appears to have neglected to correct the mistaken identity, and Brochstein suggested that he may have "just wanted to know the details of the pending IPO so that he could get his hands on free shares as part of the deal."
Neither Dr. Gupta has responded to Ganjapreneur's request for comment — this article may be updated in the future with their responses.
Get daily cannabis business news updates. Subscribe