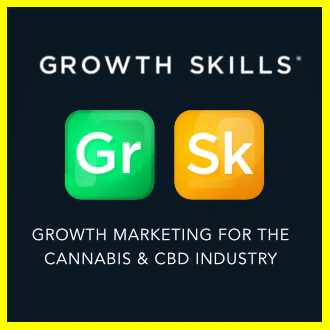 Growth Skills is an award winning, minority owned growth marketing firm that specializes in helping cannabis and CBD brands strengthen their digital presence and online relevance to drive inbound website traffic and conversions. Growth Skills' programs are activated through digital marketing channels as well as Growth Skills' own industry specific publishing and media properties, including the cannabis and CBD content website, FlavorFix.com. Growth Skills was founded by an Ad Age "40-under-40" leader for global digital marketing, and has received the following awards for its cannabis and CBD online marketing programs: Search Engine Land 2022 Winner, US Search Awards 2022 Winner, Global Search Awards 2022 Finalist, Global Content Marketing Awards 2022 Finalist.


---
Services
---
Web design & development
Our website dev and design team works in full alignment with our SEO team to ensure that the foundation of your website is optimized to perform well across different search engines and platforms. Just because you build it does NOT mean the audiences will come. You must build it correctly for audiences to find you first.
Search engine optimization (SEO)
The process of increasing the quantity and quality of traffic to your website organically (i.e. without paying for ads) by making it more understandable and referenceable to search engines. Organic channels like SEO typically drive approximately 70% of traffic through search engines.
Paid search (PPC)
The process of increasing the quantity of traffic to your website through paid ads on search engines like Google. Paid search channels typically drive approximately 30% of traffic through search engines.
Content marketing
The process of researching, creating, publishing, and/or distributing valuable and relevant information for a target audience.
Digital analytics
We define analytics as the collection, reporting and analysis of data with the goal of identifying opportunities for optimization. This includes SEO analytics, content analytics, and paid channel analytics, to name a few.
Paid social media
The practice of paying social media companies to display your advertisement to their users who fit a target demographic.
---
Founders
---
Lavall Chichester
Lavall Chichester is the founder of Growth Skills. Lavall is an advertising agency veteran and made AdAge's 40 under 40 list for innovating in growth marketing. He runs GrowthSkills.co, a Growth Marketing and learning consultancy. Lavall has helped major brands like Apple, Remy Martin brands, Diageo brands, Kaiser Permanente and others make millions of dollars on and offline.
---
Awards
---