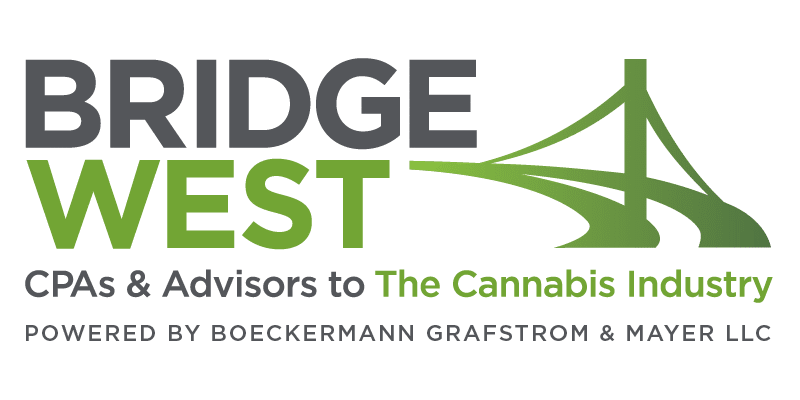 Bridge West LLC is one of the first accounting and advisory firms in the world to focus solely on the cannabis industry. Since 2009, our practice has expanded to over 600 cannabis and hemp clients nationwide. Bridge West works with all types of organizations that provide legal recreational cannabis, medical marijuana, low-THC and high-CBD products, hemp farming, and ancillary services. Our applications services group provides strategic direction to help with the entire cannabis license application process.
Services
280E Mitigation
Bridge West has been instrumental in developing comprehensive tax strategies to minimize the impact of 280E to improve the profitability and cash flow of cannabusinesses. Our cannabis tax professionals have significant experience with IRS and State 280E audits and our practice has expanded to over 600 cannabis, hemp, and CBD clients nationwide. Our professional advisors have close relationships with many of the top 280E attorneys in the United States.
IRS and State Audit Assistance
In Colorado many of the top licensed cannabis organizations have faced "random" Form 8300 audits at the whim of the IRS and completing the Form 8300 is not always clear.
Cannabis and Hemp Advisory Services
Our cannabis and hemp professionals have helped organizations address many challenges and issues resulting from being issued a new cannabis or hemp license, growth, market expansion, market competition, or other crises. We work closely with cannabis and hemp operators to identify and implement effective solutions to help them optimize profitability and growth, improve workflow and performance, and manage risk.
Cannabis License Application Advisory Services
Bridge West's Cannabis Application Services Group, in partnership with Bridge West Consulting, can help your business navigate the cannabis licensing application process and set you up for success. Whether you focus on cultivating, processing, distributing, or retail, our experienced team can help.
Business Valuation
Our experienced advisors help cannabis organizations address a wide range of challenges and opportunities and manage risks.  We provide ongoing financial consulting services and a sounding board for owners and managers. Our business valuation services for cannabis organizations are customized and individually tailored to each client's unique needs. 
Audit and Assurance
Whether your cannabis company needs a financial statement compilation, review, or an audit to satisfy the requirements of state regulators, investors, creditors, or other general purposes, Bridge West's experienced cannabis team can help. We provide audit, review, compilation, preparation, and agreed-upon procedures services. Regardless of what level of assurance is needed, we'll work to thoroughly understand the needs and goals of your cannabis organization.
Tax
Since 2009, our cannabis tax professionals have been helping organizations understand all of the tax issues that businesses can face.  The Bridge West cannabis tax team has developed and implemented customized strategies for over 600 cannabis organizations, including cultivators, processors, dispensaries, delivery services, management companies, and intellectual companies. 
Outsourced Accounting Services
As your cannabis organization grows and evolves, our flexible services evolve with you. If you've reached the point where it would be beneficial to have an in-house accounting staff, we can seamlessly transfer the day-to-day responsibilities to your team and provide more advanced Controller or CFO consulting services.
Founders
Cory Parnell
Cory Parnell, the COO of Bridge West, advises cannabis clients through challenging business and regulatory environments. Cory's technical and advisory services to cannabis clients range from minimizing the effects of IRS 280E, inventory management, inventory costing, cash management, and preparing financial statements. Cory assists cannabis businesses address the industry's most unique and ever-evolving issues, helps cannabis clients make the right decisions, and implement best practice strategies.
Calvin Shannon
Calvin has over 19 years of experience providing tax, business valuation, audit, estate planning, and business transition consulting. Calvin is skilled at understanding client's challenges and working with them to develop and implement innovative and unique solutions. A certified valuation analyst, Calvin enjoys assisting organizations to address the industry's unique and ever-evolving issues. He enjoys having the opportunity to work with cannabis clients to understand their business needs, and to provide timely solutions.