Every year April rolls around and the 4/20 pitches start overpopulating my inbox. As I read them each morning, I can't help but sigh — then I try to take a moment and remind myself that I wasn't always this jaded about 4/20. I used to regard the 20th day of April as a high holiday before working in the cannabis industry.
The first time that I celebrated 4/20 was my freshman year at San Francisco State University. A few of my soccer teammates invited me along to Hippy Hill, a hill just through the bridge from Haight Street that connects the famous street to Golden Gate Park. Each year, people from all cultures who have weed in common gather at the Hill to picnic, smoke herb, sell their wares, and enjoy the company of fellow stoners.
My first time walking out from under the darkened tunnel, where you'll always hear an errant whisper offering party favors, it felt like walking into a new reality. As the sun shone back into my eyes I saw a woman sitting atop the Janis Joplin tree, people covering the grass of the hill, and strangers dancing to a full reggae band doing their thing in the shade. I thought to myself, "this is why I came to this iconic city for college, because this is something special that is only available right here, right now." From that day forward, April 20 was a day I held in high esteem.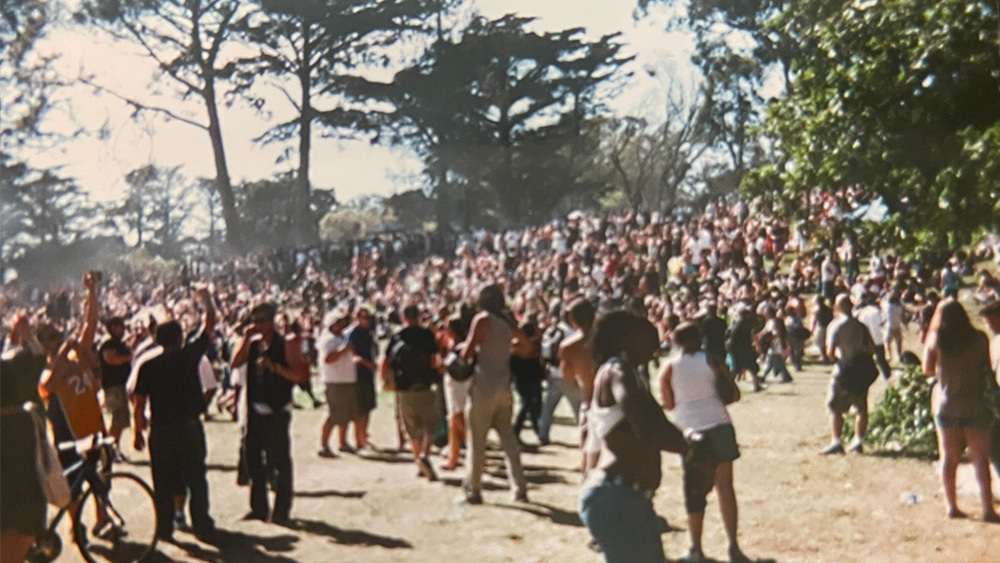 That same sense of wonder is what drew me to apply to every dispensary in the city in 2011, desperately hoping to snag a coveted budtender job. Just days from graduating from college with no answer from any of the shops where I had dropped resumes, I decided to pursue other work. Around the same time, a friend took me to a burner party in Oakland where I met a bunch of his friends, including one who was the manager of one of those dispensaries. The next day, he called me because he was looking for new budtenders and ran into my resume in "the stack." It turned out that he also had been playing the congas in that reggae band in the shade at Hippy Hill — that's how kismet the cannabis industry can be.
But that air of good vibes and industry excitement was soon washed away by the realization that what was once a medicinal plant providing me comfort and solace was now a tool of capitalism that I was using to pay my bills. On top of that, the industry is so heavily regulated and saturated that the struggle of trying to create something can sometimes drive the good vibes right out of a retail dispensary. But the intensity of this realization didn't hit me until I was working at my third or fourth pot shop — those first few shop experiences had been blessed with my initial optimism. And that's the progression when you start a budtender job: the newbies are stoked. The second generation, who haven't become oldtimers at the shop yet but have been there long enough to have opinions, have a tenacity about them. And then there are the grizzled veterans who are jaded by the realization that promoting from within and progressive change are the last things their bosses are interested in.
"For the budtender, 4/20 is an exhausting gauntlet of wall-to-wall customers and feet that ache long after you clock out."
By the time I was working in my fifth shop in my third state, watching the same shit take place, I had officially settled into the jaded, grizzled old-timer category. By that time, the magic of 4/20 was gone and I have commiserated with many other career budtenders about this same experience. At one time, I would excitedly get on the bus down to Hippy Hill on 4/20 for an afternoon that organically evolved into a raucous good evening. But once you're in the industry, 4/20 consumes the whole month of April with planning specials, orchestrating special buys, and planning events that help you stand out from the five other dispensaries within a mile. For the budtender, 4/20 is an exhausting gauntlet of wall-to-wall customers and feet that ache long after you clock out.
Each 4/20 that I worked, I would sit down after finally calling it a day and think fondly of that one afternoon when I witnessed stoner harmony on Hippy Hill for the first time. And I somberly wonder if my dad was right when he told me that no matter how much you love something if you do it as a job it will eventually end up feeling like work. To me, that is the reality of cannabis now. What was once a subculture filled with freedom and excitement has become another sector of American business. As each new capitalist venture takes a foothold in the space, another layer of culture peels away from the activist-built industry. That isn't all bad, but it's something that has been weighing on me.
The question of whether a cannabis industry and cannabis culture can exist simultaneously seems, to me, like a similar quandary facing a seasoned budtender pondering the meaning of 4/20. Hell, it's the same as a teenager who feels both pride and remorse as their favorite band makes it big and becomes beloved by the masses. So this 4/20, I will try to tap back into the original sense of wonder that brought me here in the first place. I'll tap into the wonder even when I feel disdain watching people treat budtenders like garbage because they've been waiting in a long line. I'll try to remember the whimsy of the 4/20s of past as I empathize with the farmers and inventory workers who build cool sales and promotions only to hand over astronomical amounts of their earnings to the state in the form of taxes.
With this story in mind, I hope you walk into this 420 with an empathetic heart for the budtenders serving you behind the counter, the inventory manager crunching numbers, the marketing team watching their promotions play out, and the transit companies bussing bud around town. All of these people make sure consumers enjoy themselves instead of celebrating the high stoner holiday themselves – so please remember to always tip your budtender.
But enough from me — check out some more 4/20 budtender reactions below! Thankfully, not everyone here is as jaded as I am (yet).
---
Melina Luz Baeza — current budtender
"For this 4/20, I really would've loved to see a celebration of cannabis employees being essential workers throughout the ongoing pandemic. Instead, it's a Black Friday, goodie grab bag vibe for clients. Which is totally expected. I suppose I just thought some of that appreciation would come back around to those of us doing those work."
Randi W. — former budtender (now works for a cannabis processor)
"Working in the stores on 4/20 was wildly busy, but I do miss the camaraderie between my coworkers and I – and an after-work joint with the team really hits different after a day that busy. It does feel more like a day for folks to stock up on cheap weed and be irritated that they have to wait in a line than a day of celebrating the plant, but I guess that's capitalism for you. I'm just happy we have a dedicated cannabis holiday – we've worked hard and we deserve it."
Martha M. — former budtender, now a cannabis PR agent
"4/20 was a huge deal for me before I started working as a budtender just because it was a day that me and my friends could call our own and really go all out for. At the time, cannabis wasn't as mainstream so it was almost like a secret or inside joke for us. Once I started working in dispensaries and had to work on 4/20, it became like any other holiday to me. While still a special occasion, it became like any other day because as a budtender, every day is pretty much 4/20."
Lisha D. — current budtender
"I would always plan around 4/20 to be a day where I could honor my relationship with cannabis. When my dog came into my life, it felt cosmic that his birthday was on April 20th. Often times in my past corporate life, I would find myself with a job that did not excuse 4/20 as a legitimate holiday. There was always some sense of shame associated with smoking but never with drinking, or maybe it was internalized shame. But 4/20 was always a day for me and my girl Mary Jane. A reminder of the beautiful plant and what she has offered me. Now as a new budtender, or as I like to call it, a cannabis consultant, I want to continue to elevate my cannabis relationship and ritual in an intentional and conscious way."
Danielle Z. — current budtender
"Back in the day when I still lived in Virginia, on 4/20 a few of us would pitch in on a quarter and roll it up into one big blunt… Occasionally, someone would make rice crispy treats. But those were also the struggle days of stretching out a $60 eighth by strictly smoking gravity bongs, so anything "extravagant" was only for celebratory occasions. I'm now lucky enough to live in Washington and work in this industry, so now I smoke and consume as much cannabis as I want with no need to wait for a "holiday" to indulge. This will be my sixth 4/20 doing inventory and receiving… and I must admit, it's no longer a day I celebrate. It's like the Black Friday of the retail cannabis world. I'm normally exhausted and looking to book a vacation by the time it's all said and done. But as I'm writing this and smoking my eighth joint of the day, I try to remind myself that my younger self would be so stoked to be where I'm at today."
Get daily cannabis business news updates. Subscribe