As we mentioned in last week's article featuring Jett, Amazon's Jeff Bezos suggests that a brand is for a company like a reputation for a person, "You earn a reputation by trying to do hard things well." Committing to doing one thing or set of things better than anyone else is the foundation of a great brand. Volvo safety, Apple innovation, and Google search are just a few well-known examples. One cannabis industry startup is positioning themselves to do just that.  For ebbu, that one thing is consistency.
---
ebbu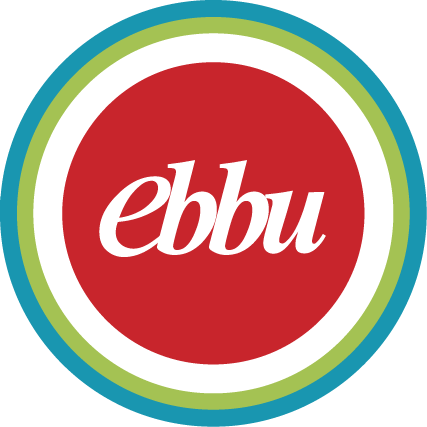 Led by one of the entrepreneurs that brought us the Assassin's Creed video game franchise, the ebbu team is working to develop a method of distilling the active ingredients in cannabis so that they can be used to create products with consistent, predictable effects. Their five initial "feelings" are chill, create, giggle, bliss, and energy, and they're working to isolate the specific compounds in cannabis that elicit these responses. Co-founder Dooma Wendschuh shed some light on their approach to brand-building.
What process did you use to develop your brand? Was it developed internally or with an agency?
All high level branding work, including branding strategy, roll out and values is always completed by ebbu's founders in conjunction with our marketing department. Montreal-based DTK Media handles all of our execution, including logo design, package design, web design, as well as all of our photo and video shoots. They are an incredible outsource partner and a lot of ebbu's aesthetic is clearly the result of their pioneering vision. They are a unique partner in that they publish two very popular fashion magazines and when you work with them, you have access to the same world class photographers, layout and graphic artists who make their magazines such a big success.
What are the defining characteristics, core tenets, or ideological values of your brand?
ebbu stands for predictability and reliability. Our distilled cannabis products are an entirely new product category – they're unlike any of the oils or concentrates on the market. We don't make medical marijuana. We make preventative medicine. A healthier, safer alternative to alcohol and tobacco. We don't compromise, and have an obsessive dedication to quality. We produce a premium product, and provide attainable luxury to consumers.

Our extracted products, sold under the brand name Fancy, have a slightly different brand identity and core values from the products sold under the ebbu brand name. They're not intended to be predictable or reliable – but the obsession with quality is no less pronounced. Fancy products are artisanal and bold. They are harbingers of a new era in cannabis where artisanal extraction artists care about their consumers, strive to elevate the industry, and view consumer education as the secret to ending prohibition and creating a better class of cannabis product.  
How do you think effective branding benefits the consumer? How does it benefit businesses?
Branding is more than packaging and marketing. To have a true brand, you need a quality product that is the same every time. Imagine if you went to the grocery store and picked up a six pack of beer. Imagine if each beer in that six pack had a different flavor or provided a different type or intensity of intoxication. You'd probably never buy that beer again, no matter how pretty the ads were, or how nice the packaging was. The cannabis industry still has a ways to go before it reaches the level of standardization seen in beer. A true brand begins with a great product and a continuing effort to improve that product based on consumer feedback and changes in market preference. Great products benefit consumers, they benefit businesses – they benefit everyone.
What are some of the most effective ways that you use branding to grow your business?
I don't know how you'd grow your business without branding. It is everything. Consumers won't request your product if your brand doesn't resonate with them. Without great branding, your brand will not grow. It will fade away and disappear.
Are there other companies in the cannabis industry that you feel have branded themselves exceptionally well?
Everyone is headed in the right direction. Kiva's done a great job. Dixie has as well. But as I said before, building a great brand is more than marketing and packaging. You can hire the best branding agency, the best ad agency in the world, and still fail. You need a product people will recommend to their friends. Word of mouth is always the best ad campaign, and that only happens when a product is so great you need to immediately tell your friends. .  
What common missteps or pitfalls would you suggest to companies looking to build a brand in the cannabis industry?
Save money on media buys. Unlike in other industries, in this industry no one chooses what to buy based on an ad they saw in a magazine. This industry is unique. In this industry, people choose what to buy based on a budtender's recommendation. You'll never fool the budtender. Focus on a great product, get the budtenders to recommend your product. Then use your branding dollars to build loyalty with your customer base.
Photo Credit: Martijn
Get daily cannabis business news updates. Subscribe