Cannabis has always been about community. Some people assume that consuming cannabis makes one a loner, but the foundation of a smoke "sesh" is communal: a gathering of cannabis lovers, consuming lady cannabis together. In fact, many great bonds are made from cannabis smoke sessions including business talks and industry collaboration. For a magnificent example, see three Massachusetts cannabis business owners who became friends because of their shared admiration for cannabis and each other.
Meet Seun Adedeji, Ulysses Youngblood, and Reginald Stanfield
The journey into cannabis entrepreneurship isn't easy, especially for the BIPOC community; however, Seun Adedeji, Ulysses Youngblood, and Reginald Stanfield all launched their cannabis businesses despite the industry's murky waters. Seun and Reginald relocated and lived on-site to make their businesses launch. Ulysses leaned on his network to launch his business. Their journey, their struggle, their hustle is one that any aspiring cannabis entrepreneur can learn from.
NBC News recently covered black entrepreneurs struggling to enter the cannabis industry, reporting that "the numbers are disturbing. Less than a fifth of the people involved at an ownership or stake-holder level were people of color."
And so, when black people in cannabis are accomplishing what seems to be the impossible, noise must be made and we must give these business owners recognition, especially when their mission in the cannabis industry is centered around community, passion for the plant, and passion for the people.
Seun Adedeji is the Founder and CEO of Elev8, a black-owned multi-state cannabis dispensary with locations in Oregon and Massachusetts. Seun is the youngest black man in America to own a cannabis dispensary. He says the mission at Elev8 is, "to elevate our community."
Ulysses Youngblood is the Co-Founder and President of Major Bloom, the first black-owned manufacturing operator coupled with a retail and delivery license, located in Worcester, Massachusetts. When it comes to their company mission, Ulysses says, "innovation is at the core of Major Bloom."
Reginald Stanfield is the CEO and Head Horticulturist of JustinCredible Cultivation, the first black-owned and licensed cultivation on the East Coast, located in Cummington, Massachusetts. Reginald says that the mission at JustinCredible Cultivation is, "to be a positive example to bigger commercial cultivators; keeping the integrity of the cultivation process while scaling."
A fateful meeting
In a recent trip to Massachusetts, sponsored by JustinCredible Cultivation, I had the pleasure of visiting JustinCredible Cultivation in Cummington, Elev8 Cannabis Dispensary in Athol, and Major Bloom Cannabis Dispensary in Worcester; and the pleasure of spending time and space with cannabis business owners Seun, Ulysses, and Reginald. I was and still am so intrigued by their individual journeys, their businesses, and their friendship. I was intrigued by their individual journeys, their businesses, their friendship, and the way they collaborate and show up for each other, so I asked about how they first met.
Reginald: "I met Ulysses Youngblood through a newly formed organization that focuses on developing black- and brown-owned businesses in the cannabis space, The Block. Someone gave me Seun's contact information. We had a great conversation then later met face to face, from there a brotherhood bond developed. Now he's one of the only people I allow to call me at 9 am (LOL)."
Seun: "Reginald reached out and I'm glad I picked up. Our conversation was not forced and I could hear his sincerity and hustle; nothing was given to him and I connected with that right away. I heard of Ulysses in 2018 while lobbying for a license in the state of Massachusetts. His business partner was one of my attorneys/advisors (Lori, aka Big Mama). I finally met Young at the Block meeting, respect was mutual."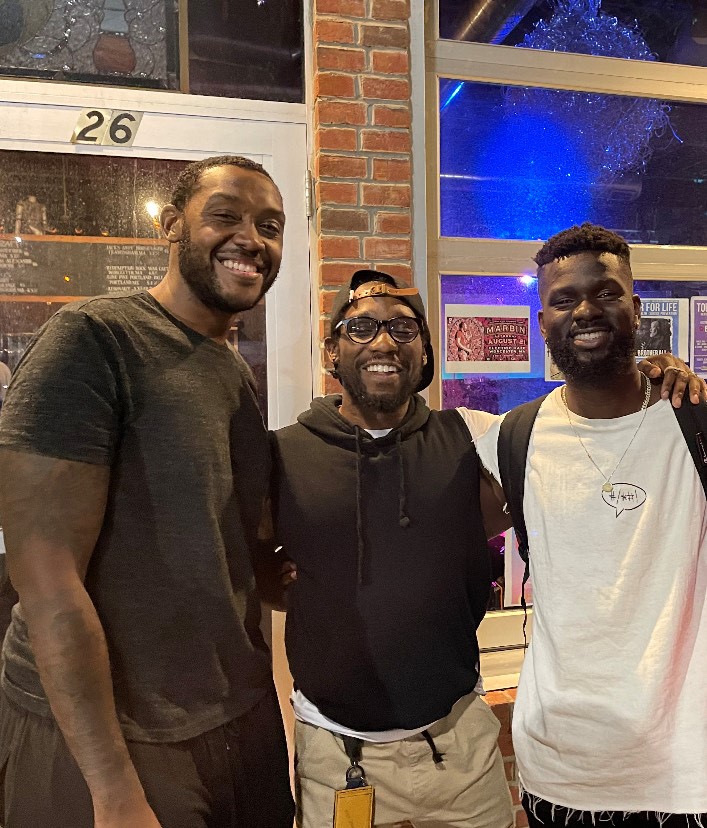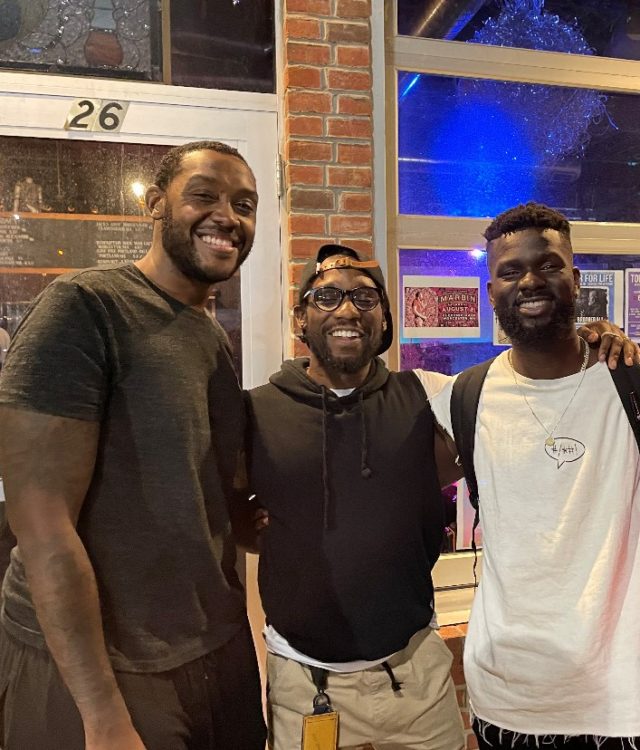 Embracing unity and collaboration
A beautiful "no man left behind" sentiment has developed between these three cannabis business owners:
Ulysses: "Our relationships became solid after a local trade association attempted to repel equity provisions, by suing the state over the exclusive delivery license period. We all agreed not to join that trade association when they wanted to do damage control. Additionally, because we are not cultivators, our job is to narrate and share the story and power of creating products with the first black cultivator on the East Coast."
Seun: "JustinCredible played a role in Elev8's grand opening. There was a shortage of flower in the state of Massachusetts when we opened and JustinCredible came out, showed love, and made sure we were the first dispensary they sold their flower to. I also had the honor of going out and supporting Major Bloom for their grand opening which was amazing!"
15 tips for aspiring ganjapreneurs
Seun, Ulysses, and Reginald speak from a place of experience and sacrifice—there aren't many cannabis business owners or CEOs that can talk about the building and launching of a cannabis brand from the same place as this trio. Seun made his dispensary his residence to save money and gave everything he could to the launch of Elev8. Reginald shared an RV with three other people to live onsite while working to build JustinCredible with the rest of the team.
The following 15 business tips come from their blood, sweat, tears, and passion:
Making a decision is better than procrastinating.
Be optimistic and it's ok to have a subtle naiveté.
Get around those who inspire.
Understand your company values and hire people that meet them.
Motivate your team.
Find your strength and surround yourself with people that can complement your weaknesses.
Even with a small-scale cultivation, you need help to stay compliant.
Test for terpenes.
Be willing to become the COE (Chief of Everything) when you first start. As your company grows, be ready to take on the CEO position.
Win-win collaborations are the best.
Have a pirate mentality; get involved!
It's ok to revise and update your business plan; even when you are operational, keep reviewing and updating.
Hoarding equity does not increase your overall company.
Raise money when you don't need it.
It's not a race, it's a marathon.
Conclusion
The trio reports some great things coming up. Reginald states that JustinCredible is launching their lifetime strains next harvest. Ulysses says that Major Bloom will continue to carry JustinCredible flower, and bring unique products to the market like slow-burning blunts and infused pre-rolls. They are also working on an edibles chocolate line and a beverage line. Seun says that Elev8 has two additional dispensary openings in Massachusetts, making Elev8 Cannabis Dispensary the first minority-owned company to own and operate three dispensaries in the state.
Get daily cannabis business news updates. Subscribe