Why Cannabis Amnesty Matters
Cannabis legislation is like concrete, slowly being poured and malleable until a certain point. As tempting as it may be to press your hands into your mark, the permanence causes hesitancy. As the cement settles, modifications become obsolete – there's no opportunity for true change without restarting the process. You hope it is stable enough to hold its own with the foundation laid. But will the area where concrete was laid ever be the same? Will the traces of its predecessor remain, hidden out of sight? Timing is everything when building a proper foundation – you have to lay solid ground before walking on it. This analogy was introduced to the TOQi Fellows on their first day on the job by Sameena Ibrahim, Cannabis Amnesty's Director of Marketing and Communications. She expressed the long-lasting effect and permanency of cannabis charges Canadian residents have faced since legalization.
The TOQi Fellowship for Cannabis Amnesty is the result of the non-profit Cannabis Amnesty working alongside Aurora Cannabis and TOQi Technologies to systematically right the wrongs of prohibition laws. Sameena, Annamaria Enenajor, Stephanie DiGiuseppe, TOQi CEO/Founder Drew Henson, and Aurora teamed up to mentor two hand-selected candidates in a Fellowship Program co-sponsored by TOQi & Aurora. The Cannabis Amnesty Board Members and Drew will work closely with the Fellows Aisha and Sofia over the next 12 weeks in the not-for-profit sector of the cannabis industry. Aisha and Sofia will have opportunities to build skills in various areas including but not limited to: government operations, marketing asset creation, and communication strategies. The Fellowship is an opportunity for the corporate side of the cannabis industry to give back to the foundations it was built on: community.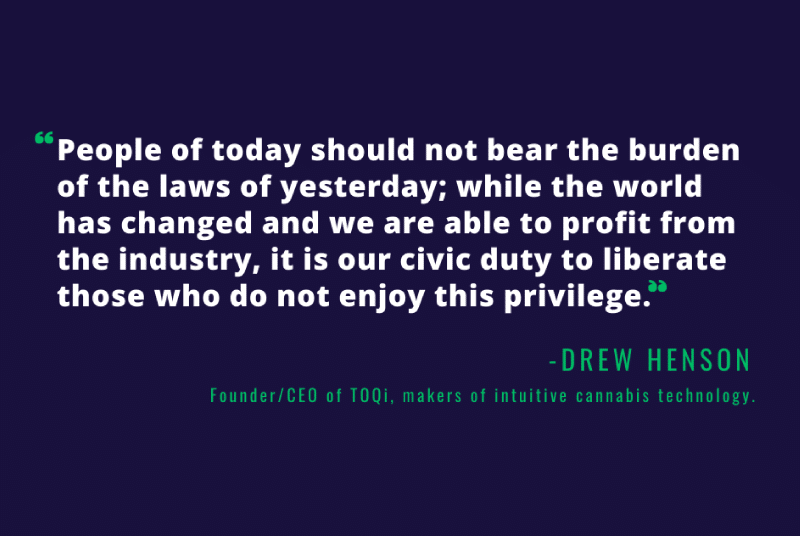 The Fellowship
The TOQi Fellowship for Cannabis Amnesty consists of a 12-week program to educate and evolve the interns chosen to be mentored by pioneers in the decriminalization sector. The Fellowship offers interns a generous compensation package (above living wages in Toronto) designed to challenge the market's chronic under-valuation of the work of people who come from marginalized groups. Interns will also receive a $500 scholarship toward an educational program. The TOQi Fellowship provides access to Cannabis Amnesty's broad network of cannabis entrepreneurs and industry partners. In addition, the Fellows will assist the leadership team with creating content for the Cannabis Amnesty website and drafting marketing communications.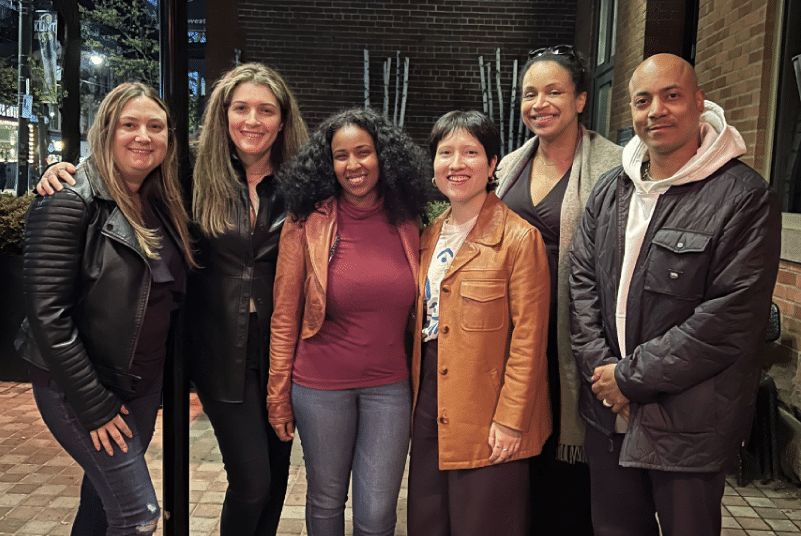 The Fellows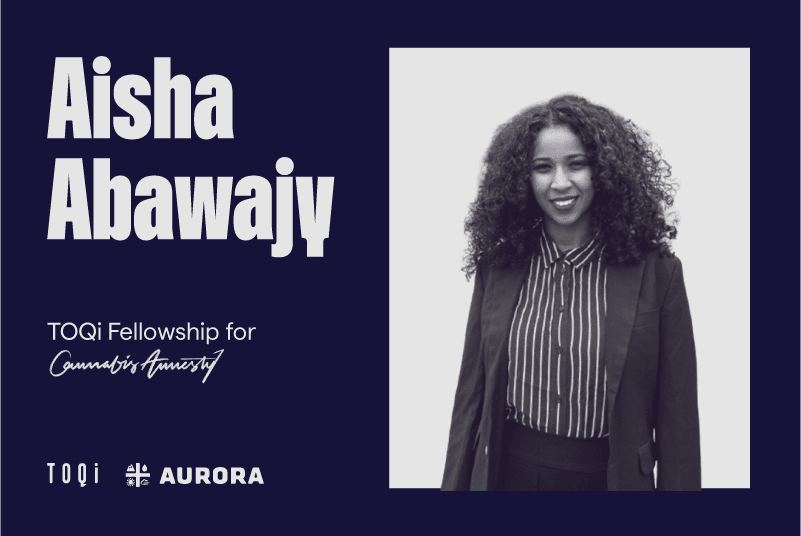 Aisha from Halifax, Nova Scotia, recently relocated to Toronto during the COVID pandemic for law school. One year into her degree at the Lincoln Alexander's Law School at Toronto University, she stumbled upon the TOQi Cannabis Amnesty Internship submission page on her school's website. She described her initial interest in applying as found within the first paragraph of the information page, stating, "it checked all the boxes." Aisha recalled her ties to political and social activism and eventually dedicated her career and life to establishing change as early as age 10.
"It came down to the work they do. It's essential – supporting people who have had past convictions or have been charged with cannabis crimes. It really shouldn't be an issue today. The fact these organizations are coming together to focus on systemic injustices and trying to create and build an approach to recognize marginalized communities having or that have had higher cannabis-related convictions was something I gravitated towards. The position also pays a living wage, and no one does that… The opportunities for mentorship that were discussed to build on skills are huge… The reason why I came into law is to give opportunities, support, and resources to marginalized communities like my own. But, unfortunately, many people don't have access to these spaces, resources, finances, and opportunities, or even just access to even understanding how to navigate the legal system to benefit and enrich their lives."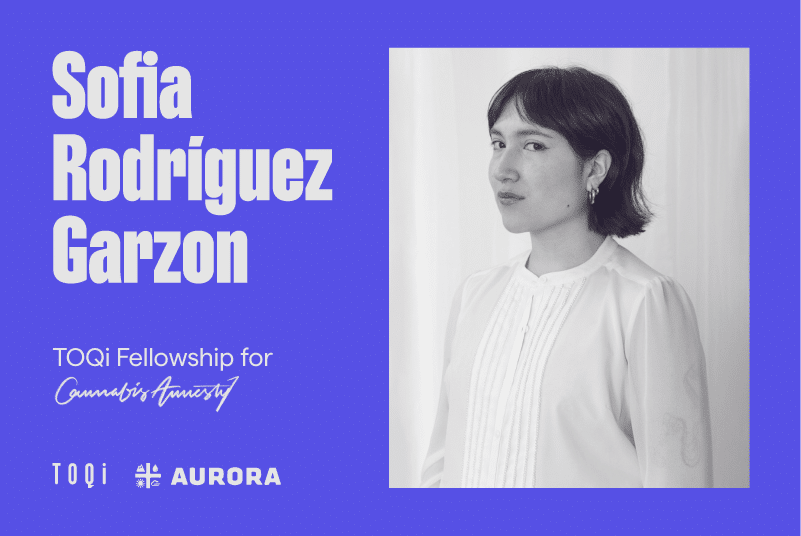 A week after turning 18, Sofia immigrated from Colombia to Canada on a journey to explore the community niches they were so driven to find. After relocating to the Greater Toronto Area, Sofia found the larger sense of community they were searching for within the 2slgbtqqia+ community; eventually leading Sofia to apply to the program.
Sofia continued stating, "…As an openly queer and trans person, I know what it's like to rely on the community. So the fact that there are so many people rallying around with palpable support is encouraging. I think it is an important cause and initiative because I have ties to people and their families who have been affected by cannabis possession convictions."
For individuals interested in the cannabis industry, but unsure about where to begin, opportunities such as the TOQi Cannabis Amnesty Fellowship open the door of possibilities to the new generation of cannabis workers. When being interviewed, Sofia shared their thoughts on the program stating "possession charges are only the tip of the iceberg… There's an underlying racial bias that has been applied throughout, and in charging decisions and it's so important to address the wrongs that have been committed in the past… If people knew more about not just production, sales, or consumption, but also the legal aspects behind cannabis, people would probably care a lot more."
Looking to the Future
62% of Canadians "support or somewhat support pardons for people with criminal records for marijuana possession," yet only 500 C-93 pardons have been granted out of 10,000 eligible cases. The TOQi Fellowship aims to guide the next generation of cannabis workers to continue increasing tangible support to people who have been impacted by decades of cannabis prohibition and its prejudices.
When discussing the future possibilities that may result from this experience, Sofia expressed the intrigue of community-based entrepreneurship and Aisha hopes in 10 years, she will represent diversity on the bench in Canada.
As for what the future holds for the TOQi Fellowship, Drew spoke to the team's encouragement for other cannabis companies to join next year's program to keep the Fellowship torch lit and burning brightly and build a better future for all.