Cannabis companies come in a wide range of varieties. One of the rarest and most respected varieties are cannabis companies that successfully make the transition from the medical cannabis market to the licensed recreational market. It takes an extraordinary combination of skill, grind, and luck to make the jump.
That's why it is so nice to tour the Pacific Northwest Roots facility on their five acres in Tahuya, Washington, along the Hood Canal fjord, one of the Puget Sound's four major basins. A gardening oasis in a thick forest, the location is modestly sized for a Tier 3 cultivator consisting of a couple of greenhouses and a small building for propagation and making hash.
Pacific Northwest Roots overview
The setup is clearly bootstrapped and the team likes it that way. Much of the gear came right out of the team's medical cultivation operations. And it's interesting — even though the lighting equipment is unmatched and some walls are still lacking drywall, when you interact with the team it becomes quickly apparent that these guys know every inch of their gear, have fixed them and rebuilt them, and know how to maximize the capabilities of everything from the lights to the air conditioners. On its face, the team is more of a deeply experienced band of brothers than a commercial enterprise.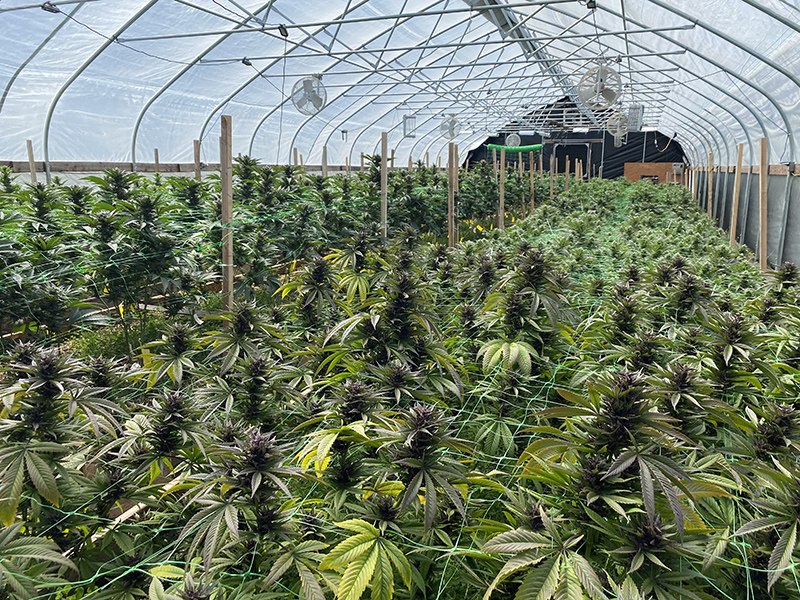 The company is proud to have never taken investment capital from outside sources, which gives them a certain extra amount of freedom. For example, when it was time to build out the hash lab, the team received a bid for $30,000 but the folks decided they already had all the skills amongst them and did it themselves for $10,000. By building their business on a shoestring budget, with used gear, and waiting to get their property and license at a good price, Pacific Northwest Roots was continually able to capitalize on their calm patience — an attribute in short supply during the Green Rush.
Pacific Northwest Roots founder Ras Kaya Paul established the brand in 2010 while participating in the Washington medical market. While Kaya had already established himself as someone to know for obtaining elite genetics and specialty flower, Kaya saw PNW Roots' first serious opportunity as a hash-maker in a market accustomed to what is considered today as barely passable quality. Kaya is quick to mention that his wife Tatiana was there before day one and, while he may be the founder, Pacific Northwest Roots would not exist without her ideas and efforts.
Primarily self-taught, source material was inexpensive enough in the medical market that Kaya and the early Roots Crew were able to do a great deal of experimentation on their own while slowly establishing a collection of best practices used to guide the company's hash-making to this day. While their in-house genetics are easily as popular as their hash, the hash is clearly what has firmly established the Pacific Northwest Roots brand in Washington State. It is the Pacific Northwest Roots genetics that have extended their brand's reach across the entire country.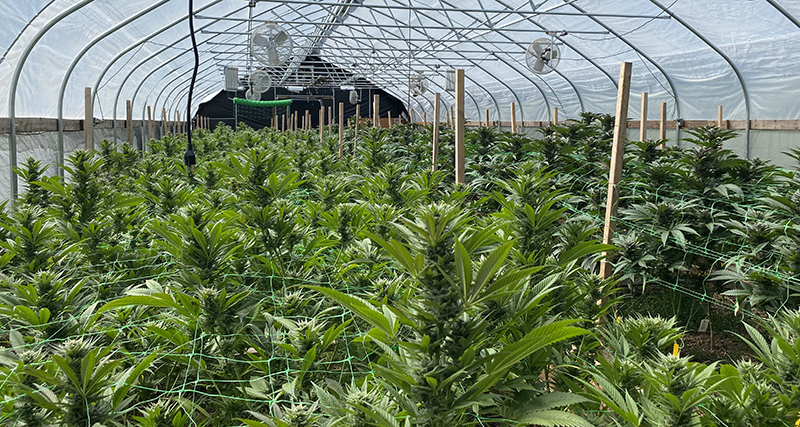 While it seems like an obvious outgrowth of the company now in retrospect, it was not an original goal of Pacific Northwest Roots to put out a venerable line of seeds. Clearly, Kaya and his team were able to find genetics that they could grow that would hash well. However, Kaya's dad was a world renown game fowl breeder and, between the game fowl and sporting hounds they raised, Kaya learned breeding basics at an early age. Kaya was hardwired for breeding and he finally felt the call to breed cannabis after wanting to produce a terpene profile that he could imagine but had not tasted.
Pacific Northwest Roots focuses on growing outdoors under the sunshine. They are going for the full terpene profiles that sun-grown is known for, as well as some of that earth magic that comes from growing with the sun instead of a sterile grow room. During the late fall when the Pacific Northwest weather gets too gray to grow, they get some assistance from lights and heating coils in the living soil beds. Indoors there is a propagation room and a Mother Room holding their genetics and the in-house breeder's cuts of their own lines.
Pacific Northwest Roots does not use synthetic fertilizers, nutrients or pesticides, instead focusing on natural farming and permaculture techniques with a heavy dose of Korean Natural Farming (KNF) fermentations and other preparations. The farm has put in the additional effort to become Dragonfly Earth Medicine "DEMPure Certified" working under the most rigorous regenerative and organic growing standards in the cannabis industry. They eschew growing in individual pots and instead opt for large raised beds in the greenhouses and hugelkultur under the naked sun. The hugels are filled with locally scavenged fallen trees, forest duff, last year's soil, and inoculated with indigenous microorganisms. The canopy is primarily their own cultivars but you can see some other connoisseur grade rarities in the mix as well, like "Pinkleberry" from breeder Nicholas Mahmood of Green Source Gardens. The obvious omission of a large indoor cultivation area means that the team takes a break from growing during the winter and instead focuses on making hash with the fresh-frozen flowers they grew all summer long.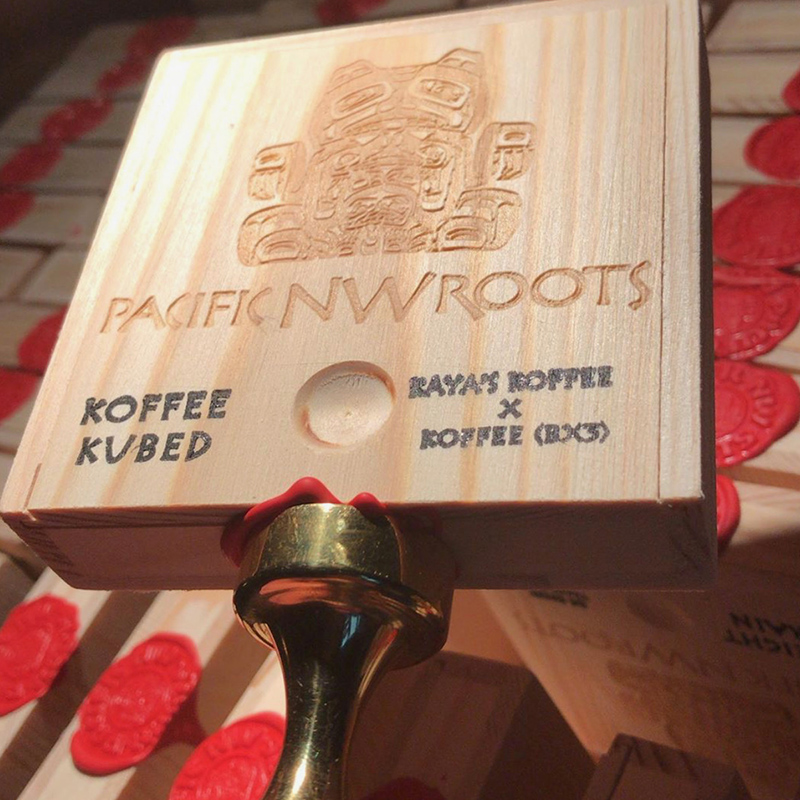 This seasonal inhale and exhale makes for some incredible hash. Pacific Northwest Roots provides five and six star hash and hash rosin as well. Controlling every aspect from the breeding of the seeds, to the cultivation, harvest time and then finishing up with the hashing and curing gives the Roots Crew an infinite number of variables to tweak while seeking to create the best hash.
The Pacific Northwest Roots genetics are collected and grown by many but there is nothing like enjoying the original breeder's cuts when buying direct. Founder Kaya has had access to hard-to-find elite medical genetics by working with allies across the country. Due to this, the Pacific Northwest Roots library of options for crosses was significant since before normalization started rolling out nationwide.
Reviewing products
For this feature, we chose five lines of PNW Roots hash. Four hash rosins and one 6* sandy blond hash that was still unpressed.
We started off as any good morning should with Koffee, specifically Koffee Breath, an OG Kush Breath cross to Kaya's Koffee. Kaya's Koffee is likely the cultivar that first gave Pacific Northwest Roots seeds its national reputation. It captures coffee terpenes in a way none of us had experienced before. When Kaya's Koffee is on its own, it is a straight hit of Koffee terps unlike many other coffee-tasting cultivars that simply mix coffee in with a range of other flavors. Kaya's is a cleaner experience which, we suspect, is why it is such a champ to breed with. This blending of Kaya's Koffee and OGKB pretty much tastes like drinking your morning coffee while pumping gas into your car. It has that warming and life-giving Koffee terpene but with fuel swirling all around.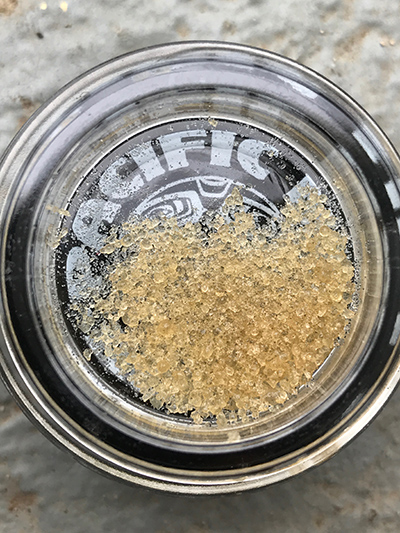 Next was PNW Roots' Hamma Hamma which is a cross of the legendary 9lb Hammer by Jinxproof with Kaya's Koffee. We expected the Hamma Hamma to have that same Koffee terpene profile. We were certainly surprised to find that the usually barely-there taste of lemongrass that often comes with 9lb Hammer was right up front when made into a hash. That lemongrass blended with the roasted humus taste of the Kaya's Koffee and became something more like chai or maybe even sweet chicory root. We all agreed that there was a delightfully distinct Play-Doh taste when dabbed onto an enail as well, which we all liked. I found that this is the one that I came back to first the next day.
Pacific Northwest Roots' Strawberry Yogurt originated in a Strawberry Kush bagseed but then was bred, after a large sift, for its strawberry and dairy duality. One of the fun things about this strawberry hash is that it is not natural berry strawberry tasting. Rather, it tastes like the enduring strawberry taste of breakfast cereal. More like Crunchberries and less like fresh fruit. When smoking it, you get an immediate hit of breakfast as a kid that dissolves into a dairy taste, more milk-like really than yogurt because it doesn't have that fermented bite that yogurt has. The finish is very balanced and makes you want to take that ride again right away.
The Key Lime Koffee we enjoyed was more lime pith and rind taste than the bright green lime we usually think of when we think Key Lime. That understatedness worked for us though since we had just sampled that bright strawberry cereal taste prior. This was a bit more sophisticated with that lime being accompanied by oiled leather and earthen notes. It was a bit more gentle on the palette than the other four and I'd choose to start with this one if taking it to a sesh so that my tongue could pick up the subtitles before getting blown out by less subtle OGs and heavy fuels.
Finally, Vanilla Koffee was a blend of cultivars pressed together as a wine vintner would do. I've become a big fan of whole-plant rosin hash blends. So long as the hash maker is blending whole plant hash and not adding outside terpenes, I'm all for it. Vanilla Koffee starts with warming roasted coffee overtones mixed with fuel. As that opens up, more of the vanilla bean comes through ending in kind of a creamy caramel dairy finish. When dabbed, a raw almond flavor comes out too and blends with the fuel.
No doubt, when you are standing in the Roots farm office with exposed wood walls while hearing about their vinyl LP records and resin floor, you definitely get the idea that you are visiting a clubhouse of artisans more than necessarily a business. Sure, I saw the signs of business, and certainly it takes mature business systems to interact with the state regulators and turn a profit, but there is a vibe that "great work" is happening here and that is what the team is constantly focused on. And this brings us back to why cannabis companies that started in the medical days are in a category of their own — there is a certain something that prohibition-era producers have that those new to cannabis just don't have. For better or for worse, these same casually-driven work habits sink many cannabis companies but for Pacific Northwest Roots, persistence and patience are paying off.
Pacific Northwest Roots Instagram: @PacificNwRootz & @PacificNwRoots_
Pacific Northwest Roots Seeds Instagram: @worldwideroots
Get daily cannabis business news updates. Subscribe