Flavor Fix is a publishing platform working to bridge the chasm between cannabis and spirits. On their website, the Flavor Fix team provides education on cannabis strains, distilled spirits, recipes, dispensaries, distilleries, and recent industry news. They also make recommendations for pairing strains with specific spirits, and which activities and music might best complement said experience. The site promotes a lifestyle of responsibly enjoying legal beverages and cannabis products together in a way that is relaxing, fun, and/or creative.
To further promote these experiences and support their clients looking to advertise their brands, Flavor Fix makes and sells a variety of handcrafted products made from fine Canadian woods. The stash box can not only contain all of your cannabis accessories and products but it looks good on a coffee or side table. The rolling tray is so finely made it can double as a place to put a candle when you're not rolling up. And on the spirits side of things, the cutting board looks beautiful alongside the flight paddle, which is outfitted with holes sized for Glencairn whiskey glasses — perfect for entertaining.
For brands that are looking for a classy but effective advertising campaign or promotional product, each item can be branded with their logo for the perfect subtle touch. If a brand is looking for an extra something special, Flavor Fix can utilize their master woodworker and source materials to make custom items similar to their other product offerings, such as wine boxes or containers for edibles.
Stash Box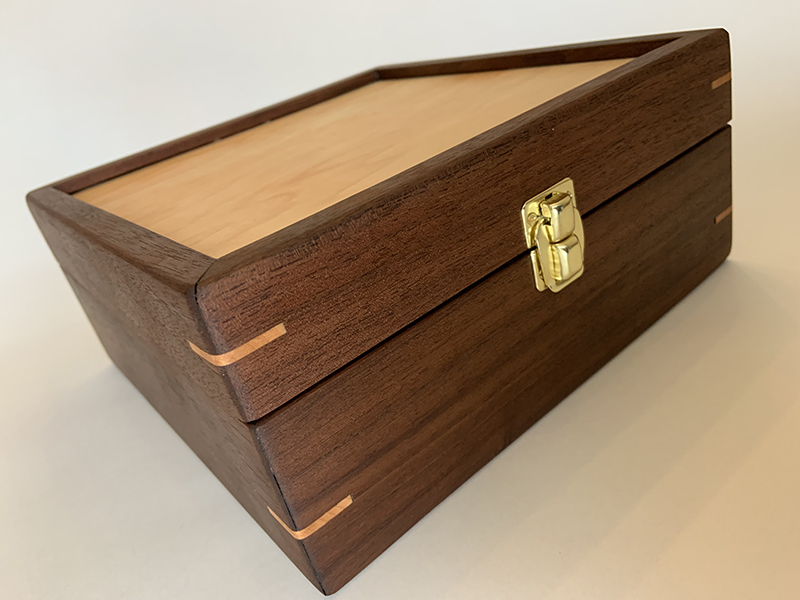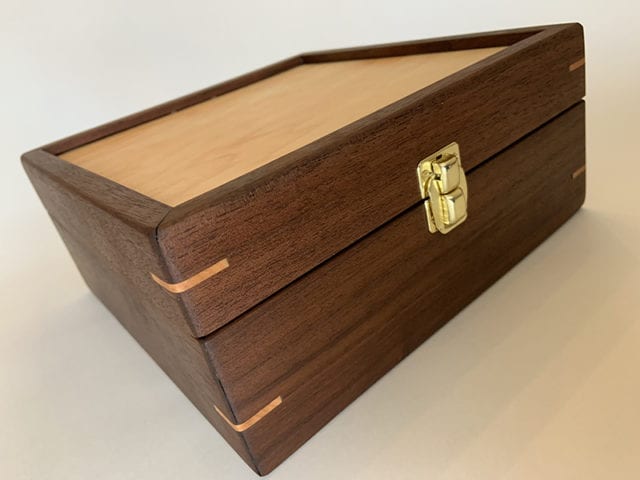 The Flavor Fix stash box is crafted with Canadian walnut, accented with maple wood and outfitted with brass hardware that snaps it closed. Mine is currently filled with an array of things — personally, I was surprised it all fit. There is a jar that fits a quarter-ounce of cannabis flower, a dry herb vape, a vape pen, a couple of loose bowl pieces for the bong, and more. To add to the value, it looks so finely made that I'm just fine leaving it on the coffee table when my in-laws come to visit knowing it looks beautiful and intentional on our rustic wood coffee table.
Rolling Tray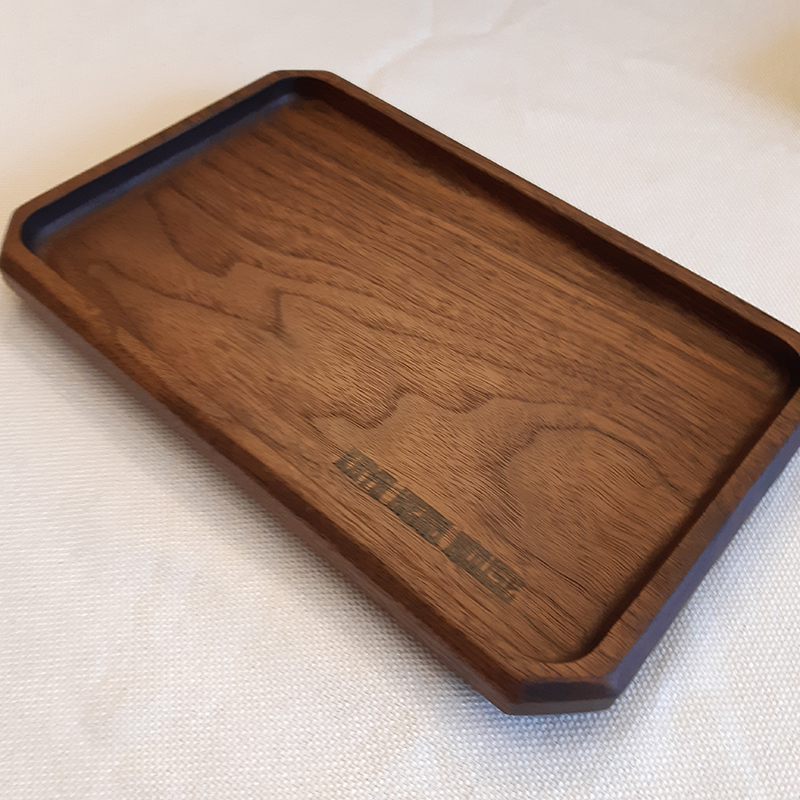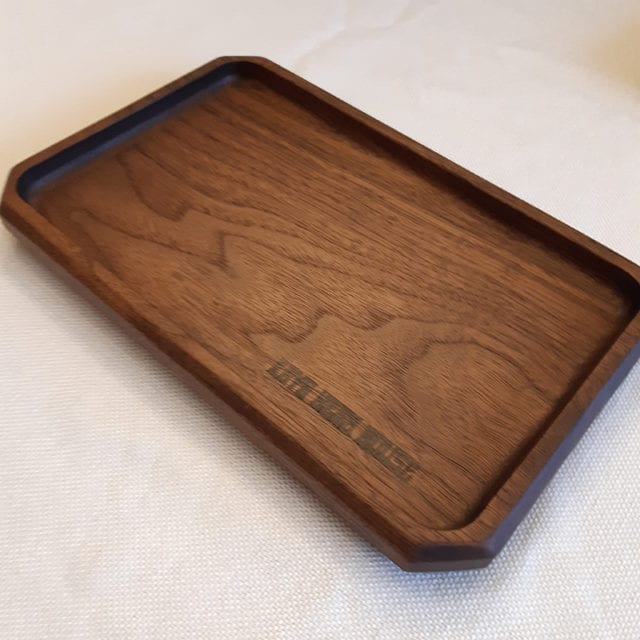 Like each of the Flavor Fix products, the rolling tray has a classic look that integrates well into most living room designs. It is made with locally sourced Canadian walnut and the size allows it to be easily stashed away when not in use. To ensure nothing comes off on your bud, the rolling tray is finished with an all-natural food safe finish. For those who prefer to keep their accessories at arm's length, it looks nice on a side table with a candle or small vase. Functionally, the tray works great whether you're rolling up on your lap or a table. The edges catch errant buds and it's big enough to fit a grinder, papers, tips and whatever else you prefer to use.
Cutting Board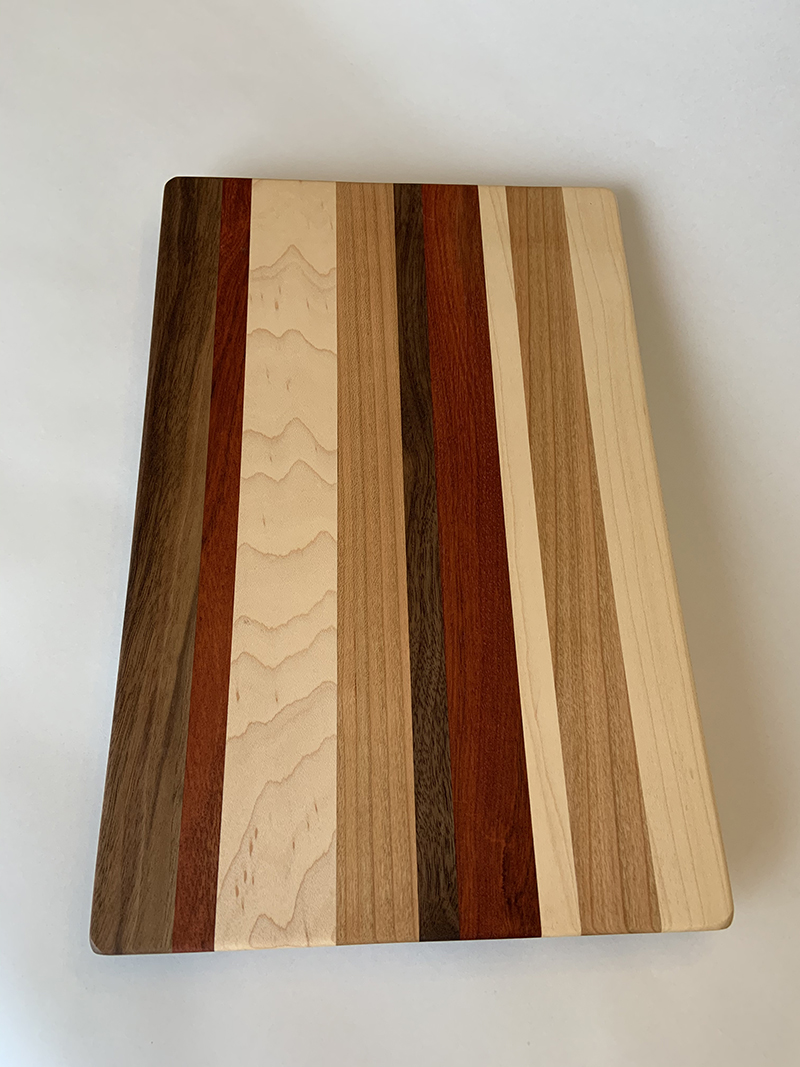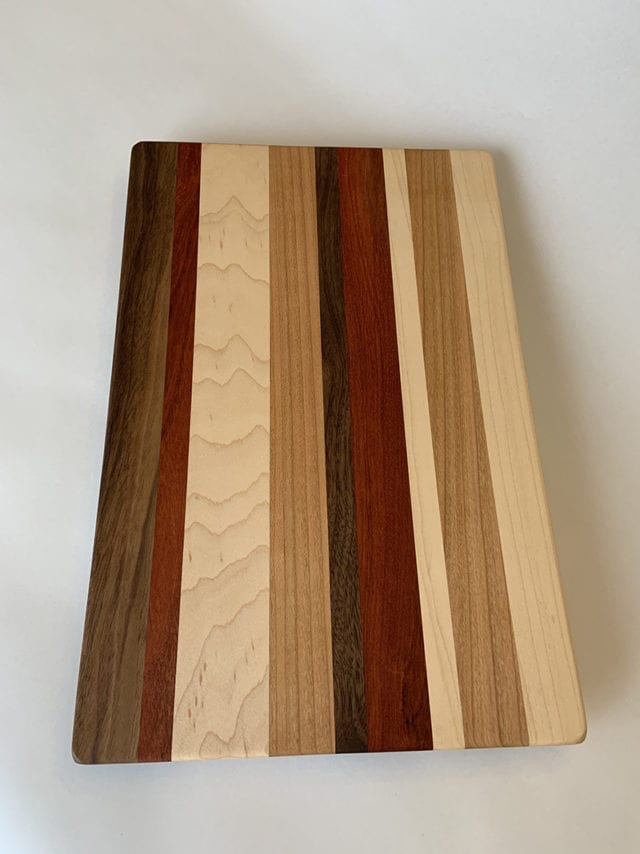 A fine wood cutting board is both a necessity and a luxury, especially the one in the Flavor Fix shop. It is a top sought-after item and rightfully so as it is made with rich bands of Walnut, Cherry, Maple, and Bloodwood with an all-natural, food-safe finish. It's also designed with thoughtful touches like small feet that ensure it won't slide around or wobble on any surface. We love using it for slicing lemons, limes, and other cocktail garnishes but it also works beautifully for a charcuterie spread to serve alongside evening drinks and tokes. These can be branded on the bottom for a subtle but impactful touch that is sure to leave an impression.
Flight Paddle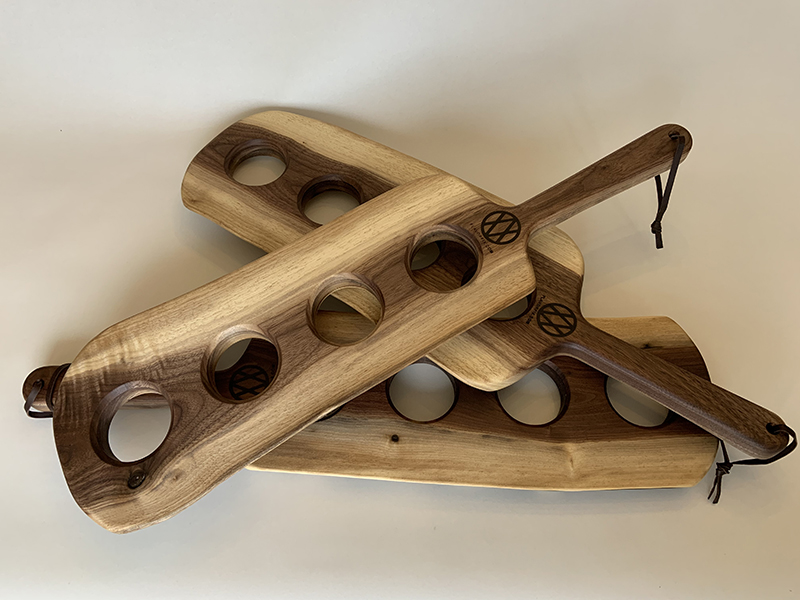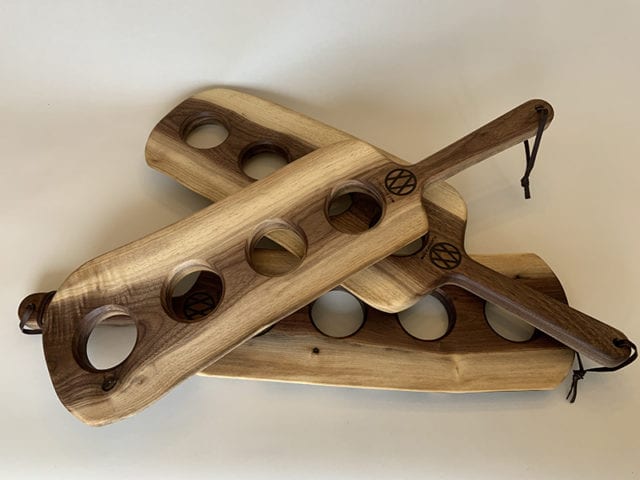 Having a flight paddle at the ready can truly bring the VIP experience home. It is a wonderful touch when entertaining a spirit-enthused friend or just while tasting whiskeys with a partner. As legal social use becomes more prominent and infused beverages get introduced to the market, it will be an ideal promotional product for such infusions. The paddle has a gorgeous live edge and is made with Canadian walnut. Like the other products, the flight paddle can be outfitted with a logo just above the handle.
Each of these products can be purchased directly from the Flavor Fix site for any cannabis and spirits enthusiast to use at home. But they are also valuable for advertising and marketing clients of Flavor Fix to build out customized promotions using the stash box, rolling tray, cutting board, flight paddle, and even special items that can be made just for one company. Luckily, the team at Flavor Fix has extensive experience in marketing spirits and are well versed in how to make a lasting impression on the right consumer base.
Get daily cannabis business news updates. Subscribe