Gloves. We all use them. What the hell for? Which type is best? In this three-part series we'll break it down into the basics of disposable gloves, how they directly affect your bottom line and why gloves are vital in regulatory compliance.
When you buy the right cannabis glove from a trustworthy supplier, you shouldn't have to think about gloves ever again. Sounds nice to get something off your plate? Let's dive into that mythical 'perfect glove' we are looking for and what it means.
Nitrile, Latex, Vinyl … Oh My!
There are four main glove materials: nitrile, latex, vinyl and polyethylene.
In the majority of the cannabis industry, we recommend using nitrile gloves due to their overall durability, puncture resistance, and chemical protection.
Polyethylene is a great glove that can cut costs. It should be used for light work of a few minutes or less, for instance, gathering products for sale in a dispensary.
It is much less common, but we do see vinyl gloves being used in the cannabis industry. Although it may be seen as an advantage that vinyl gloves' surface provides a slightly reduced 'stick' factor, we do not recommend using vinyl gloves due to their permeability and potentially toxic raw materials. There are global concerns over toxic pollution during vinyl glove manufacture and disposal that causes adverse health effects on glove users. Chemicals in vinyl gloves have also been shown to migrate onto the product being handled. Read more about it here.
Latex gloves provide durable protection and puncture resistance but aren't commonly used due to some people being allergic to a protein in the latex glove. This allergy, which can be severe, could affect the glove wearer or consumer who ingests the product handled by the glove.
Ok, we got it. Nitrile gloves are the solution. Now what?
Disposable gloves are a simple safety item. Let's not overcomplicate it, but there are a few best practices to keep in mind when selecting the right nitrile cannabis glove.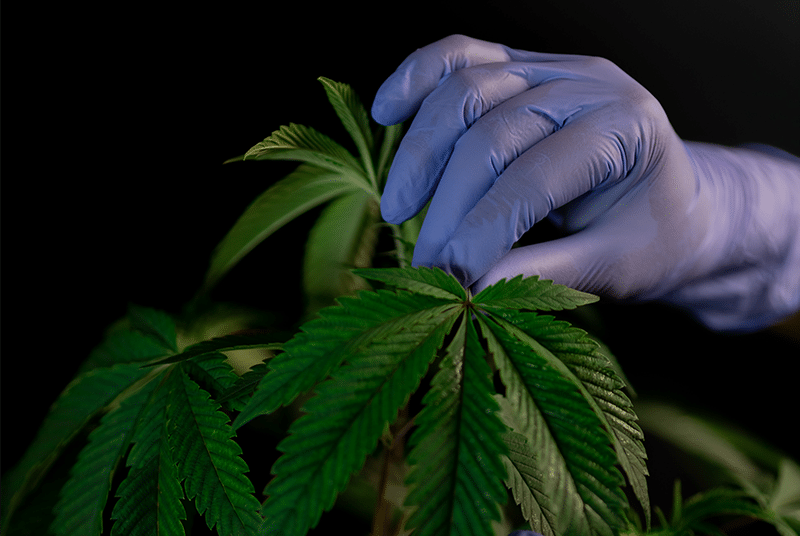 1. How Thick of a Glove Should I Use and Where?
We commonly see cannabis companies buying one glove for everyone in the facility. Depending on the stage of the seed-to-sale process, we recommend using slightly different gloves tailored to the task at hand…no pun intended. For instance, critical areas requiring gloves are:
Cultivation – Disposable gloves are essential to both preventing cross-contamination as well as protecting the staff from the cannabis plants, soil, and fertilizers being handled. We've found a slightly textured 3mil nitrile glove provides the strength needed as well as an enhanced grip. If workers are reaching through and between plants where more arm protection is needed, we recommend using a nitrile glove that offers more protection with an extended cuff. In a few stages of the process, cannabis plants and stems can snag gloves during processing which requires the durability of 6mil gloves.
Trimming – Whether dry or wet trimming, gloves need to be considerably durable as they can become caked in resin. But this is the stage where details matter and your beautiful bud gains its shelf appeal power. Trimmers must be able to feel exactly what they are doing. We've found that a thinner high-quality 3mil nitrile glove allows for the necessary tactility, without sacrificing strength.
Extraction – Certain stages of the extraction process require a higher level of chemical protection and durability to withstand the 'stick' factor. Always verify a glove's level of chemical protection with the supplier. In our experience, a quality 6mil nitrile glove does the trick – protecting both you and your product.
Edibles – The best glove for making edibles depends on the product being made. For example, a 4mil works for making brownies, while you will most likely do better with a 5mil when working with gummies.
Dispensaries – A thin nitrile glove (2.6mil) or a cheaper polyethylene glove will suffice for the lighter tasks in a dispensary. This prevents direct contact with the product as well as provides a professional look.
Labs – A dexterous glove is needed for the intricate movements involved in lab testing. We recommend using a 3mil glove and strongly warn you to source your gloves carefully. If a lab uses contaminated gloves, as the cannabis producer processor did in this recall, the lab could contaminate the product being handled and wrongfully impact the test results – potentially giving a false positive! We tested disposable gloves right out of a new box and were shocked at what we found! As a result, we developed our Delta Zero™ glove testing program to mitigate the risk of glove contamination.
After that mouthful sinks in, it'll be easy to understand why different stages of the cannabis process require different gloves. Typically, we find that two glove thicknesses, in the appropriate sizes for your team, will do just fine.
2. Glove Strength & Durability
Glove thickness can be misleading. It's a common misconception that thicker gloves are more durable. We are glove gurus, not math wizards, but there is a huge variable in that equation being missed. The quality of ingredients used to make the glove is paramount in determining its durability. Gloves made with superior ingredients are:
Stronger – allows them to be thinner, but just as strong. This is key because it reduces glove ripping and, in turn, decreases overall glove use – directly impacting your overhead costs. It also allows your team to be more efficient by reducing the amount of time wasted when changing ripped gloves.
Stretchier (Elongation)

– enhancing workers' comfort and fit.

Skin Friendly

– Shameless plug on behalf of your staff, a glove made with higher quality ingredients is less likely to cause skin irritation and allergies. When you think about it, a glove is a pretty gnarly environment for your hands to be in all day. It's warm, moist (yeah, we said it) and quite harsh on hands. Skin issues can often be caused by cheap glove chemicals, enhanced by a warm, sweaty environment.
It is a frequent complaint that we hear, but believe it or not, disposable gloves should not rip all of the time. Finding the 'right glove' makes all the difference.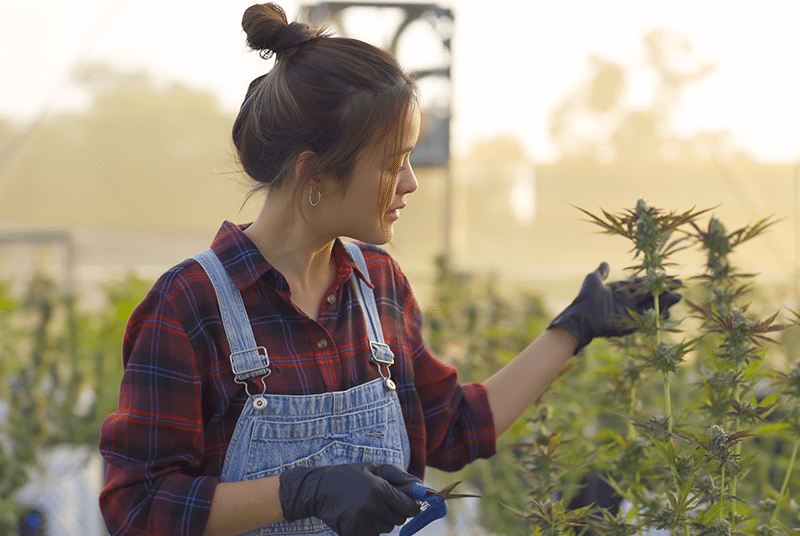 3. Texture
Disposable glove texture is a way to enhance your grip. A glove can be fully textured or just on the fingertips. We recommend looking for a glove with at least textured fingertips.
4. Fit
The correct glove fit is vital to your staff working efficiently and effectively. A glove with a 'fat guy in a little coat' fit is too tight, increasing the chances of it ripping when putting it on, and it puts unneeded stress on the wearer's hand with each movement. A glove that fits like JNCO pants in the 90s is likely to rip or have the loose material cut during use, possibly contaminating your product.
5. Color
Some larger facilities use glove colors to differentiate safety zones and help the quality manager to recognize workers and mitigate cross-contamination. It's also, hands down (see what we did there), the easiest way to enhance the cool factor in your IG posts.
6. Medical vs. Food-Grade
The 'grade' of gloves depends on the testing and/or documentation submitted prior to importing them. Medical gloves have different regulations for quality, safety, and performance than food-grade gloves. Overall, it's a decent system, but what we find disturbing is that neither medical nor food-grade gloves are verified free of contamination — unless they are sterile gloves such as those used during surgery.
Disposable gloves touch your final product, which in turn gets tested before being sold. You can unknowingly contaminate your product before sending it off for testing by simply using a glove you didn't realize was contaminated. Sadly, it's happened.
We're all for living life on the edge, but that's a bit risqué even for us. So, we developed our proprietary glove testing program, Delta Zero™, to mitigate the risk of glove contamination.
Now that you are glove experts, it may be time to check that you have the right box of gloves on the shelf. Tune in next month to find out how disposable gloves directly affect your bottom line.