GKUA Ultra Premium flower is elevating, inspiring, and giving consumers some of the best highs of their lives. Products are available now in five states and over 400 cannabis dispensaries. Each jar, pre-roll, and vape cartridge is tasted and tested by Mr. Dwayne "Lil Wayne" Carter. Nothing hits the dispensaries unless Weezy approves.
As a fan of Lil Wayne and lover of cannabis, one of the things that always makes me smile is the sound of Lil Wayne lighting up his blunt before he releases words to take me on a journey. When I learned of the launch of his cannabis company, my mission became to consume and review Weezy's weed! I wanted to get to know more about the company, brand, mission, and strains, so I set out on a mission to connect with the company, interview them, and tour their cultivation.
I accomplished this goal in November 2021 when I toured GKUA's production and cultivation facility in California. At the visit, they handed over jars of everything they grow, with emphasis on exclusive strains that only GKUA cultivation partners can grow: Slime, Mr. Carter OG, G.O.A.T.
And with that, it is my pleasure and honor to share this review of the following exclusive GKUA Ultra Premium cannabis strains. When reviewing these strains, I consumed them using a tobacco leaf. I like to review on a fresh palate, so I consumed as the first smoke of the day — wake and bake.
Slime by GKUA Ultra Premium
Hybrid
25%+ THC
Lil Wayne tasted and approved
Impact: Focus, creativity, euphoric, and energizing
Flavor: Nature/ floral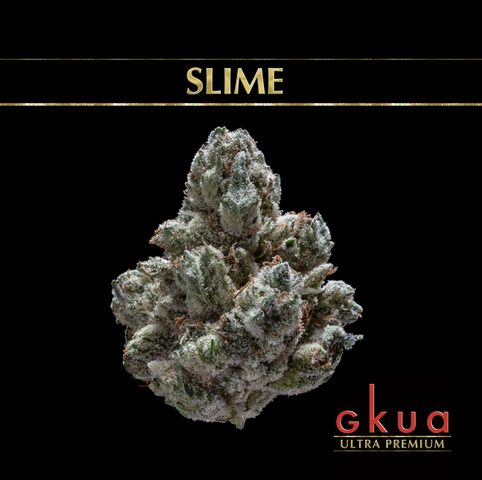 Slime was a real heady high for me, with a lovely massage of my third eye halfway in, like a deep tissue massage. As I continued to consume, Slime began to give me a full-blown forehead massage that had me in the clouds. Slime picked me up like a new husband picks up his new wife, and carries her over the threshold. Slime took me up, gently sat me down on a thick fluffy cloud, kissed my forehead, and left me to enjoy the high — the energy, the gratitude.
On the day of reviewing, my calendar had writing on the schedule and Slime had me ready to create! As my high settled in, I was in a focused zone with a sense of flowing, no pushing. I was listening to the pockets of silence found through the noise and focusing there. In this headspace, content ideas and clarity for existing ones came through, I felt like:
"I'ma go so opposite of soft, off the richter, Hector, Camacho Man, Randy Savage; far from average, above status-quo, flow so pro." — "Mr. Carter" lyrics
Mr. Carter OG by GKUA Ultra Premium
Indica
30%+ THC
Lil Wayne tasted and approved
Impact: Happy, social, inspired
Flavor: Piney with a little lemon seeping through
The flavor of Mr. Carter OG lingered on the tongue a bit- so great! It was a heady one for me; I felt it in my eyebrows and forehead. Halfway into the blunt, my eyelids started to relax, and smiles followed. My mood was lifted up and the focus Mr. Carter OG provided, allowed me to cancel out all distractions, focus on the inhale, and the feeling provided because of it.
This one made me feel like being a little social which I love because I'm introverted and socializing isn't easy for me. I was focused on intellect, ready to chat about complex topics, happy, and elevated — like, really excited about everything.
By the end of the blunt I felt like:
"MR. CARTER, WHERE YOU BEEN?" — "Mr. Carter" lyrics
I swear I saw him smiling at me and heard him respond, "Shit, you know."
G.O.A.T by GKUA Ultra Premium
Indica
25%+ THC
Lil Wayne-tasted and approved
Impact: inspired, connected, tuned in
Flavor: a mixed batch of sweet and nature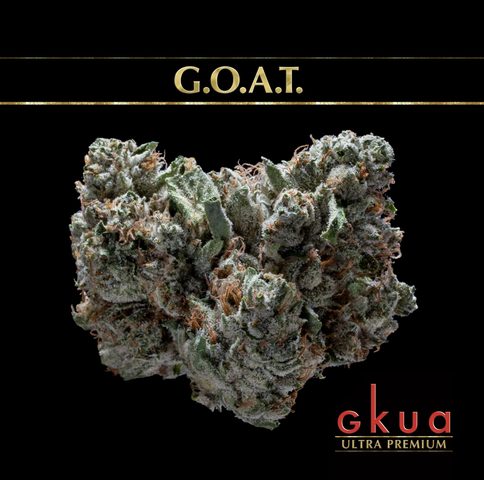 The G.O.A.T was another heady high for me. This one rubbed my temples, and by the 3rd inhale, my brain felt connected to the source. By that 6th inhale, I felt G.O.A.T massage my forehead, so much so that I literally closed my eyes and laid my head back. As I consumed, I found myself looking back at the blunt like, "no wonder you're named the G.O.A.T!"
The focus this gave me was more than amazing! I was able to hear nature's music: birds and pigeons, the wind blowing through the leaves, the sounds of wings flapping, and then… the faint sound of the airplane flying over the city. With more than half of the blunt consumed, I was super elevated though grounded — like, my body was on the ground and my spirit in the clouds.
The connection to the source intensified the thoughts within me, as if the source dropped them off for me to consider. I was sitting there deep in thought, while smoking the last of my blunt, with the question burning a need to know in my core: how much of reality is really real if we can just mess with something as crucial as time (daylight savings: spring forward and fall back in time every year)? People really swear by the concept of time but, what is it, really?
By the end it was like:
"They say you gotta hear it from the G.O.A.T. mouth, that's that G.O.A.T. talk." — "Goat Talk" lyrics
When GKUA says that they want to give people the best high of their life, they aren't lying. It's a "mission accomplished" for me!
Get daily cannabis business news updates. Subscribe