The winter holidays have already kicked off with Chanukah celebrations, which means it's past time for business owners to start thinking about gift-giving. Some companies give their employees a bonus and/or small but useful gift each year. It is also common to give gifts to clients. Some client gifts are given by the company while others may be directly from an individual that works there who does more client interface in their position.
When putting together this list of gifts for clients and/or employees, we consulted the Emily Post Business Etiquette laid out in this guide to gift-giving for corporations and business contacts. As it states, for corporations, it's important that any branded gifts are high-quality and actually useful. Some large businesses will make charitable donations in the names of their employees. However, in this time of monetary instability for many, it may be more ideal to give bonuses rather than charitable donations. When contemplating a gift for an assistant, first take into account how long they have worked for you. A $25 gift is acceptable for assistants who have been with you for five or fewer years, but any longer and a more substantial gift is recommended. When gifting a boss, get together with your team and give a gift together so as not to stir up drama amongst jealous co-workers.
For individuals looking to gift outside of their own company, it is essential not to give any gifts to clients who are in the middle of a bidding process as that can be seen as a bribe. Many corporations have rules for giving and accepting gifts, some will only allow employees to accept gifts with a value of $25 or less. Because of this, refer to your own company rules & handbooks and the recipient's HR department to be sure you follow the appropriate guidelines this season. The same rules apply to accepting gifts from clients: be sure to follow company protocols. When it comes to gifting CBD or THC products, there aren't any agreed-upon rules but, to me, it seems like in this case you can compare gifting cannabis to gifting alcohol. I never gift alcohol because you never know someone's relationship with the substance, and the same goes for consumable and inhalable cannabinoids. Perhaps an individual gift of mind-altering cannabinoid products is acceptable, but as a blanket gift, it probably isn't appropriate.
With all of this in mind, we've gathered an independently-sourced gift guide for cannabis employees and clients for this holiday season. We do not make anything from the links provided here, I simply love to recommend my favorite things.
PARA Stash Bag Stuffer
$31
The Stash Bag Stuffer from PARA includes a variety of hemp rolling papers, some pre-rolled cones featuring cute prints, and a bubble stash pouch in either Cherry Red or High Moon. Even someone who doesn't roll their own joints would be inspired to impress guests with the printed cones from Burner Babe. The bubble bag is great for your pipe, grinder, and smoke sesh valuables; and each print has a fun flare.
The Stash Bag would make a great gift for both employees and clients, especially from a brand that grows flower.
Seawitch Botanicals Candles
$29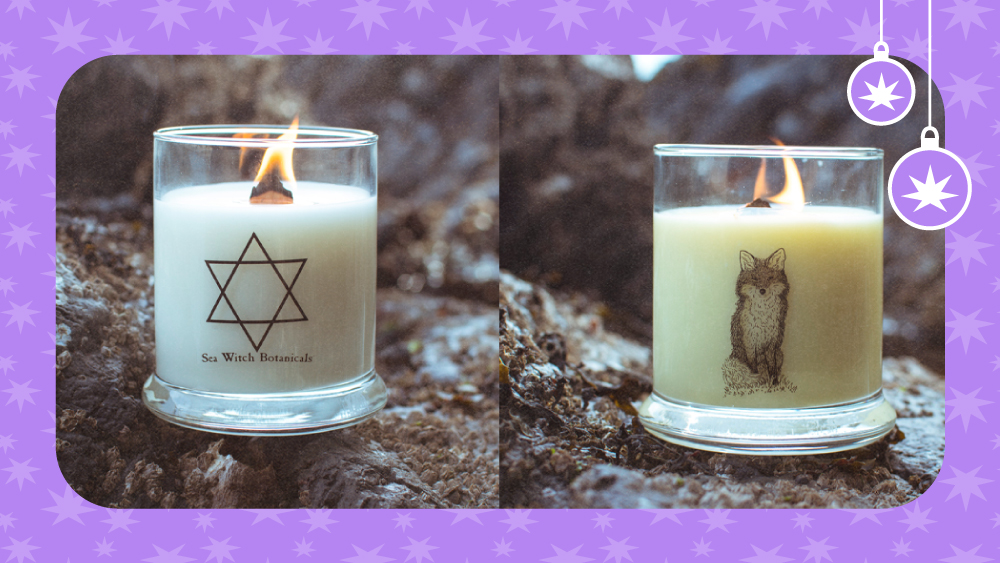 I don't often make generalizations but I'm comfortable saying that everybody enjoys candles, especially when they're mindfully made. Seawitch Botanicals is a company local to where I live, and I know first hand that they choose ingredients and packaging that is as environmentally friendly as possible. Their candles feature a long wooden wick that has a delightful crackle as it burns, and they last for a long time with regular use. Choose candles with elemental essential oil blends or a pure beeswax candle without an added aroma.
Clients and employees alike would enjoy burning a Seawitch candle, but it might be ideal to get the smell-free option to please a larger swath of people's tastes.
dosist Health Relief Topical Spray
$49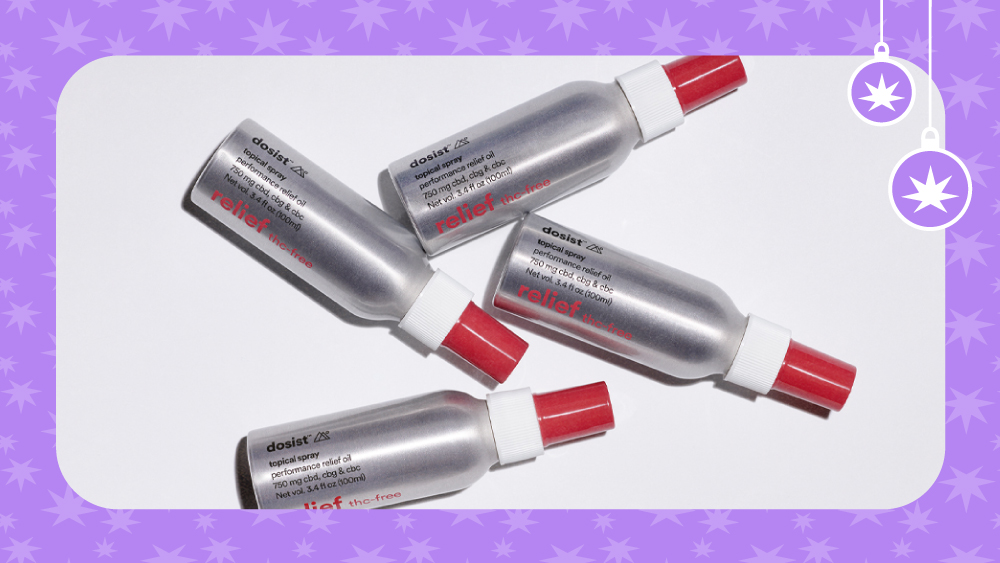 Topical cannabinoid products are, in my opinion, are the best product category to gift to a large list of people like employees. They also tend to be the best introductory product for someone who is on the fence about the benefits of the cannabis plant. The dosist health relief spray was effective for my neck and shoulder pain. When I tried the product I really loved the ability to spray it directly on the site of pain instead of wasting some on my fingers.
A CPG company might not want to gift products from a different brand to clients, but internally the dosist health relief spray would be useful to employees.
Loud Grandma Chili Crisp
$29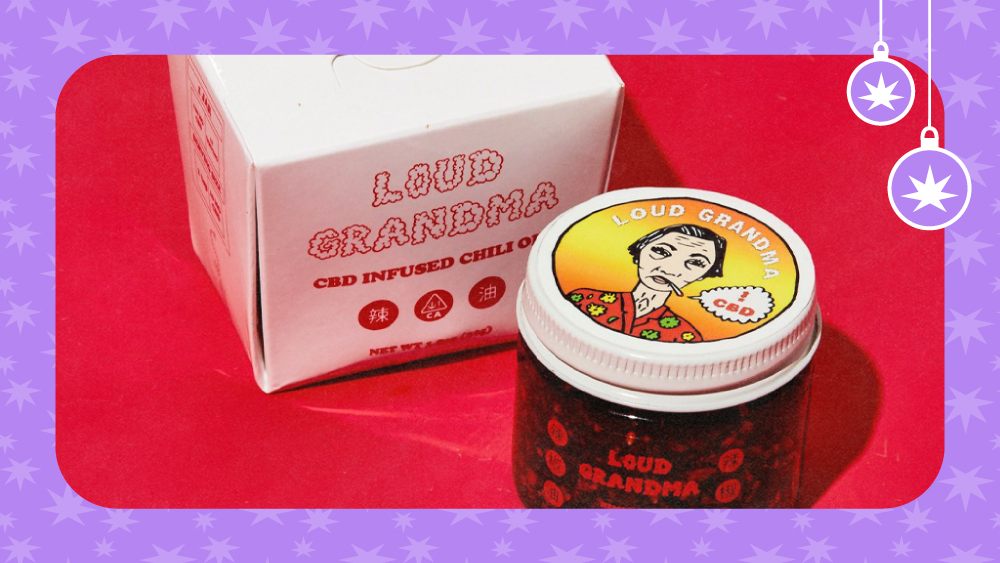 Chili crisp is a delicious oil-based condiment that features crunchy, crispy bits of peppers and other ingredients. Loud Grandma Chili Crisp includes CBD for a chill complement to the spice of the chilis they use. The product is made in partnership with Pot d'Huile olive oil and Ganjapreneur recently did a full review of the product — you can check that out here. The microdose of CBD shouldn't intimidate anyone in a regulated state and an edible gift is always appreciated.
Branded Hoodie
Varies
As long as you're a good employer and nice to work with, both employees and clients would rock well-made branded merch. There aren't many people who don't have use for a good hoodie but don't skimp on the materials. Most towns will have a local screen printer that can help print merch so you can keep the process somewhat local.
Gifting branded products can get tricky: a good rule of thumb is to ask yourself if something is useful before slapping a logo on it and giving it out to clients or employees.
Kush Queen bath bombs
$12.99 – $20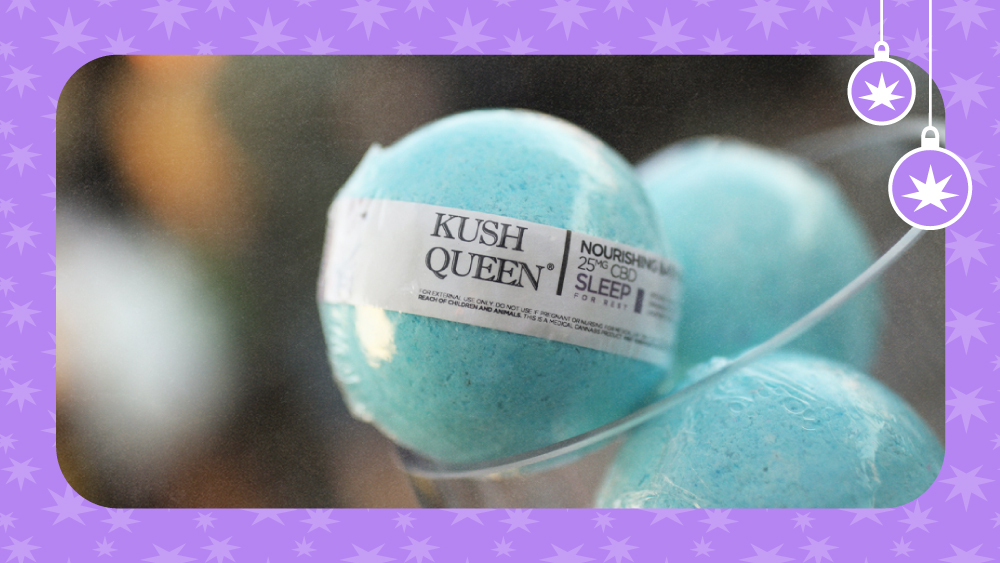 Not everyone takes baths but bath bombs are still a widely accepted gift, especially when they're infused with CBD. Kush Queen bath bombs are made with premium cannabinoids and in delightful colors that transform a therapeutic bath into an ethereal experience. Grab them in multiple aromas and with either 25 mg, 100 mg, or 200 mg of CBD. Read our recent review of Kush Queen Swamp Queen products here.
PARA Translucent Hudson Pipe
$54.99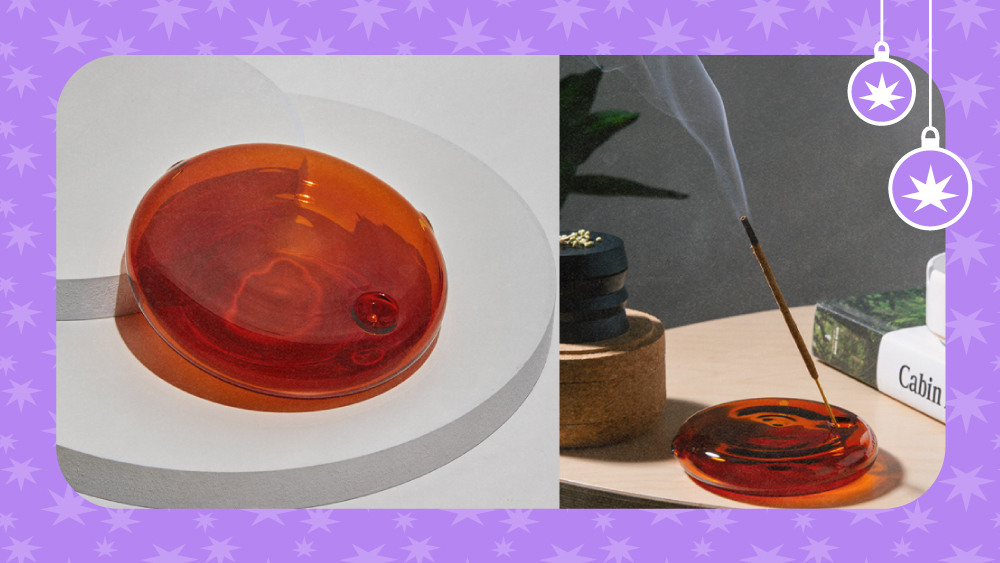 Paraphernalia isn't always an appropriate gift for clients or employees, even if you operate a cannabis company. But we think the Hudson piece from PARA is a beautiful, multifunctional glass piece that would look beautiful on end tables and dressers. It comes in three colors: yellow, blue, and burnt orange-brown.
The translucent glass pipe is on the pricier side so it is an acceptable present for a long-time assistant or long-time/big-time client.
Actually Curious Human Rights Edition cards
$25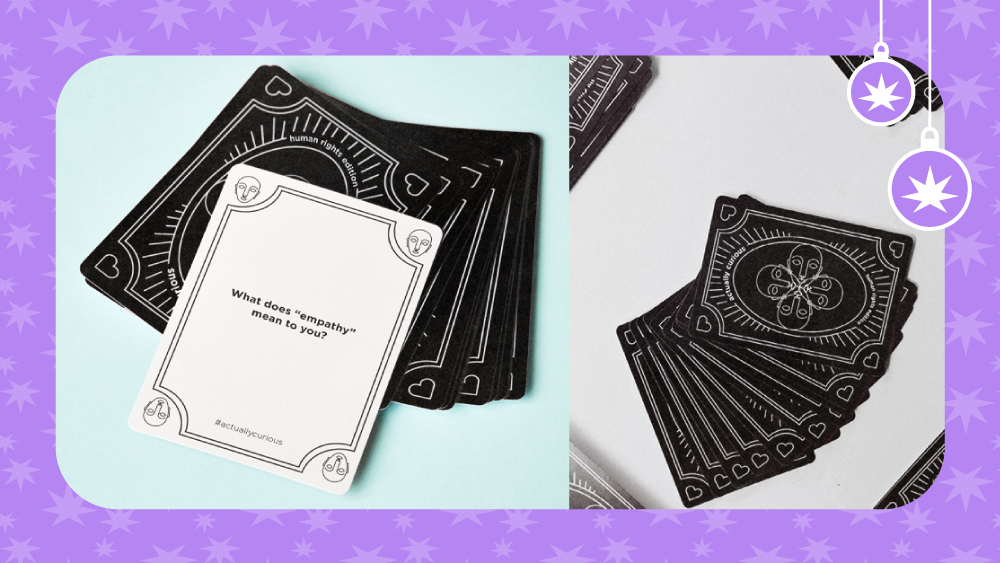 There used to be a time when social justice wasn't a topic discussed in the workplace but that bred a toxic culture, which many workplaces have started working to dismantle. Social justice should be especially important to cannabis companies since many original cannabis entrepreneurs are still serving long sentences for doing what we now call "cannabis business."
With that in mind, the Human Rights Edition deck from Actually Curious is a great gift for employees of a cannabis business that is working towards creating a positive work environment. Each card in the deck features prompts on social justice, environmental sustainability, mental health, and other human-forward topics.
Face Masks
$18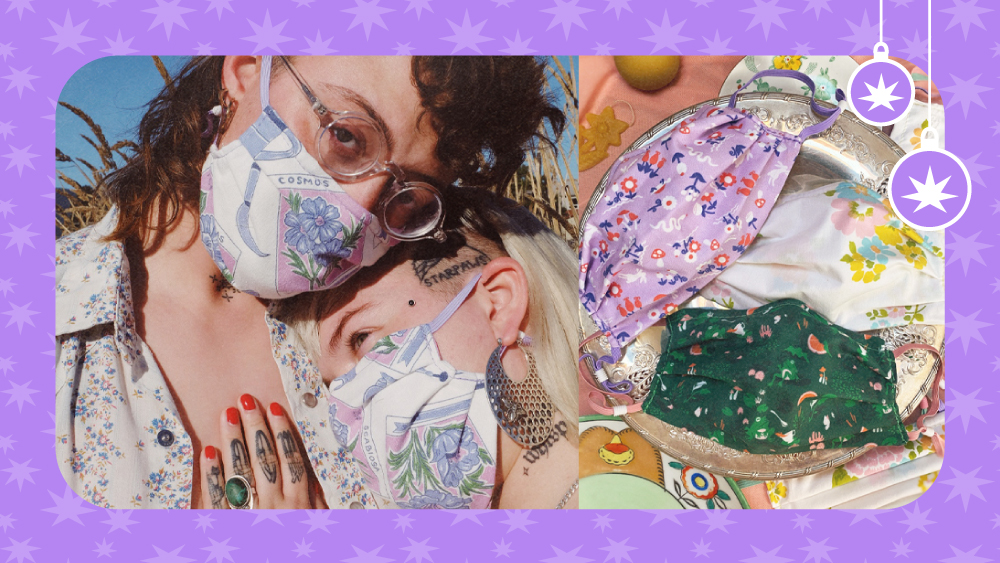 Many people are returning back to the office, but that doesn't mean the COVID pandemic is over. New variants are out there and masks seem to be an accessory that's here to stay. Facemasks that fit well and are made by small businesses are a great gift for employees and promote safe work environments. Black Rabbit Masks are local to where I live and regularly drop one-of-a-kind prints on their website. The masks fit me best out of all that I've tried, and they feature double paneling and a place to insert a filter. To give a little extra, check out their 'Donate a Mask' option that goes towards providing free masks to essential workers and those in need. This gift is most appropriate for employees.
Grocery or Gas Gift Card
$25+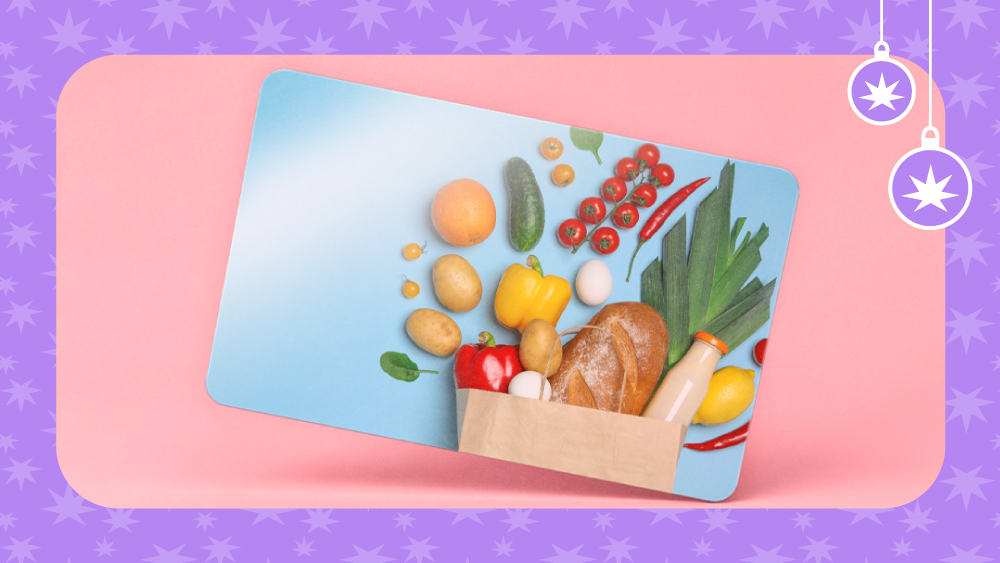 As we mentioned earlier, the pandemic years have put a strain on even the best financial planners so useful gifts are especially thoughtful. A gift card to the local food co-op or gas station is a great way to let employees know that you're thankful for them. With that in mind, perhaps putting all of the gifting budget into bonuses would be the most useful for your employees. A good boss will know what the best option is for their team.
Disclaimer: None of the links to these products are paid affiliate links, they are simply recommendations of some of my favorite things. 
Get daily cannabis business news updates. Subscribe