DaVinci is one of the first dry herb vape companies and was the first to release a pocketable battery vape in 2011. Last week, the Las Vegas-based brand released the Davinci IQ2 Carbon, or IQ2C. The latest iteration of the IQ2 features a carbon fiber 3k weave shell to more evenly distribute heat, and it looks pretty cool.
The IQ2C is a limited edition collector's piece that also has in-app and on-device dosage and a 10-year warranty. It heats in 60 seconds to a precise temperature up to 430°F / 221°C and the oven can be packed with up to 0.5g dry herbs. DaVinci sent us the limited edition luxury box with a bunch of goodies including the new IQ2C, the Hydrotube, the dosing capsule case, a grinder, and their extract kit with a ceramic donut. Here's how trying it out went.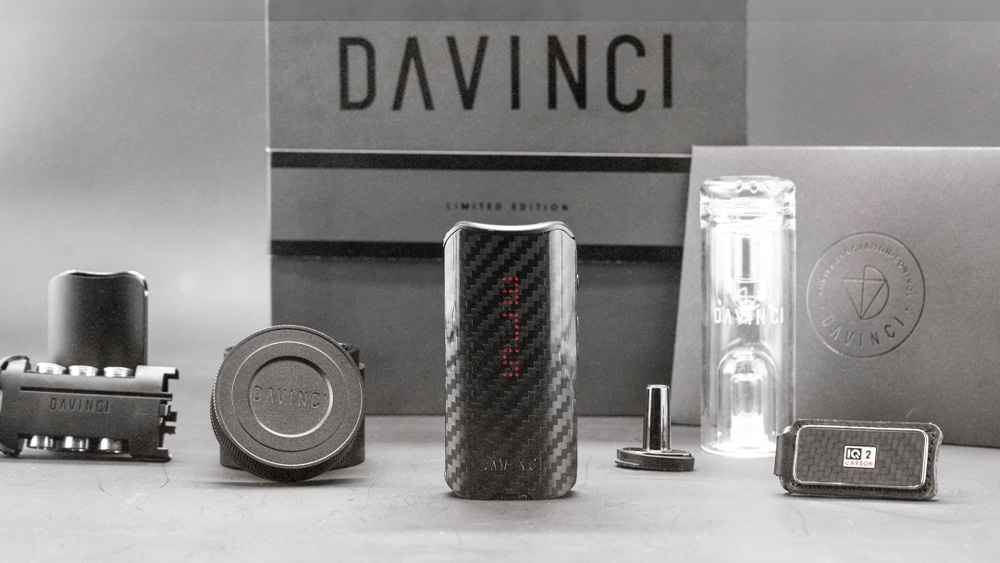 I was most excited to try out the Hydrotube because I tend to overbake my flower when I vape it which leads to harsh hits. The Hydrotube came through in solving that problem and may have convinced me to bring dry herb vapes into the regular fold of pieces that I use when I'm medicating. The tube is spill resistant which I know because for the life of me I couldn't empty it until I got on a call with DaVinci GM Shauntel Ludwig. She taught me that it's as easy as blowing into the tube, then all of the water flushes right out. After that experience, I'm confident that I could fill the tube, throw it in my bag and go.
Their dosing capsules are also convenient for vaping on the go. Each capsule fits precisely 0.3 grams of ground herb, can be pre-loaded and transported in the dosing capsule case, and will keep the heating chamber cleaner.
Ludwig said that DaVinci designs products with the consumer in mind, and after using the latest DaVinci vape I can see that vision. The accessories are convenient and safety is considered when building their technology. Their vapes are built with all medical-grade materials, and the air path is clear of sealed solder or electronics. The only thing that the vapor touches before you inhale is zirconia ceramic or glass. The oven itself is dipped in glass in order to be sealed off from the ceramic. DaVinci chose zirconia ceramic because it has the same properties as glass, seals like glass, but creates a cooler vapor and is stronger than glass, according to Ludwig. The material is commonly used in dentistry.
I have been reviewing dry herbs vapes for a long time. In fact, I probably reviewed that first DaVinci portable device at one point. That said, not a lot of vape devices impress me. But this one did. The experience of vaping with the Hydrotube makes the DaVinci IQ2C my new favorite portable dry herb vape in my collection.
Get daily cannabis business news updates. Subscribe