Cannabis packaging machines, commonly known as joint rollers, are fast at work trying to keep up with the demand of a now-$100 billion cannabis industry in the United States. The output necessary to meet consumer demand has now reached billions of pre-rolls, the easiest way for cannabis connoisseurs to try different strains or purchase out of convenience. While growers, manufacturers, and dispensaries clamor for more pre-rolls, the functionality of purchases of pre-roll machines can vary, making performance crucial to profitability.
Not all machines can compete at the Major-League level and a big price tag doesn't assure success. When a company whiffs on making a large purchase on machinery, the consequences could be dire.

With the cannabis pre-roll market soaring from millions to billions, time and quality are foremost when trying to create a winning bottom line, but a total shutdown can force employees rolling flawed joints or no joints at all.
Convincing a cannabis company in need of replacement equipment to handle a growing need is not easy, particularly when other purchases have resulted in dismal failures. After polling many of the largest producers of cannabis that provide millions of cannabis pre-rolls, three conclusions can be reached: supply to the marketplace depends on performance, breakdowns can be costly, and the most expensive machines are not necessarily the most efficient.
Proving that a pre-roll machine that costs much less actually works better than the one previously purchased is even more difficult to convey. Hefestus Technologies was not the first to the marketplace when it introduced the Aura 2000 in February 2019. To get this groundbreaking and cost-effective machine into a cannabis manufacturer's facility took sound salesmanship and a strong leap of faith on behalf of the purchaser. Telling a potential customer that the Hefestus model was better than the one they purchased for three times the price is a tall order.
The proof is in the pre-roll, in labor costs, time consumption, quality, and smokeabiity, and the Hefestus Aura 2000 has shown just that to some of the largest producers of cannabis pre-rolls in the United States. These four cannabis giants scored big from gambling on another company with a much lower price.
At Copperstate, Cannabis Packaging Machine Production is Pivotal
Copperstate Farms is one of the largest greenhouse cannabis producers in North America. With more than 1.7 million square feet of canopy and 40 acres under glass, Copperstate brings big agriculture, consumer packaged goods and pharmaceutical industries together to form a big-league player.
The Farm at Snowflake in Arizona was built in 1998 as a hydroponic tomato greenhouse in what is now recognized as an ideal geography and climate for farming cannabis. Copperstate has 50 different cannabis strains currently in production, with 50 in development.
With the current boom in pre-rolls, Copperstate had an enormous challenge: keep up with high demand.
After getting poor statistics in production, Copperstate purchased two Aura 2000 machines.
"We struggled to find the right one because we fold our prerolls and do not twist them," said Barb Hansen, Pre-Roll, Packaging & Inventory Manager for Copperstate. "I think the (Aura 2000) quality is as close to looking handmade as we can get."
The Aura 2000 machines were installed in June 2021.
"We are producing at least 100,000 pre-rolls a week and our highest was 1,400 pre-rolls an hour," Hansen said. Most importantly, Copperstate already has recorded an impact on its bottom line.
"We have seen an 8 percent reduction of labor costs," Hansen said.
An Automated Pre-Roll Machine Swing and a Miss
Gary Lasalle, VP of Operations and partner with King's Garden Inc., had swung and missed on an expensive pre-roll machine but had the courage to face another pitch. Then he hit a homer with the Hefestus Aura 2000.
"We tried another manufacturer that failed miserably," Lasalle said. "We were gun shy about another but everything Hefestus said, they did. Their equipment is top-notch."
The original and largest cultivator in California's renowned Coachella Valley, the King's Garden's goal is "to produce a family of perfectly consistent, creatively curated, superior quality cannabis."
Put into use starting last Nov. 1, production now includes more than 35,000 pre-rolls a week with 7,500 5-packs hitting dispensary shelves.
"The Aura 2000 is working out phenomenally," Lasalle said. "We are meeting all of our expectations and the Aura 2000 is doing everything they said. Our efficiency has increased, and the production has increased greatly. We're saving money and the service has been great."
Dinosaur-sized Pre-Roll Demand
T-Rex Distribution decided to take a bigger approach to pre-rolls by purchasing an Aura 2000 machine in 2019, a machine capable of making three sizes of pre-rolls.
T-Rex Distribution has cultivated relationships from San Diego, Eureka, Humboldt County, the High Desert, Central Valley, Central Coast, and Southern California. In order to keep up with the demand of supplying dozens of clients, T-Rex turned to the Aura 2000 and can now produce 1 gram, .7 gram, and .5 gram pre-rolls.
"We can almost double the production of what we could before when we run that machine and almost triple the production of hand rolling," Otto Escobar, facility manager, said. "After previous failures, now we have product that works."
The biggest satisfaction is a reflection on the T-Rex bottom line.
"More than anything, it helps us with time constraints," Escobar said. "The service has been great and with your base now in Vegas, it's even easier."
A Big Win for High-Grade Bottom Line
Speed in producing pre-rolls is foremost at High Grade of Phoenix to roll up a vast amount of premium-grade flower.
High Grade produces premium-grade flower and extracts, ensuring environmental controls are set to optimal levels in a manner that produces only the cleanest, most potent, terpene-rich cannabis in all its forms.
"It's given us a more cost-effective option to automate a product SKU that is extremely labor-intensive and inefficient to produce," said Jessica Ragel, Director of Operations. "The Aura 2000 has helped us meet demand needs and sustain stock on the shelf."
High Grade began using the machine last June.
"The service was great, and this team is extremely friendly. They do their best to set their clients up for success," Ragel said. "They also take feedback well, which is nice as a purchaser of their equipment. They want to know how to improve."
The results have been dramatic.
"We have been able to reduce the time it takes to produce pre-rolls by about 70% and overall, that reduces the cost to produce," Ragel said.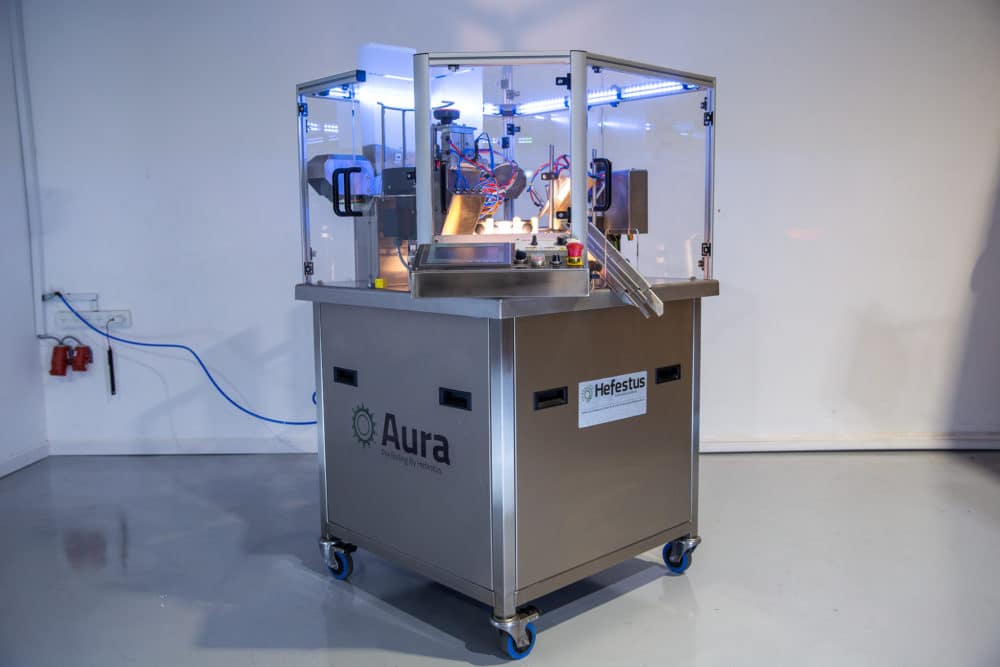 The Aura 2000 – Automated Pre-Roll Simplistic Sophistication
While other companies offer high-priced machines that act erratically, Hefestus Technologies Ltd. needs just one to beat them all. Hefestus clients who have purchased the Aura 2000 rave about its exceptionally reliable operation in cannabis arenas in the United States and Israel. Sales of cannabis pre-rolls were up nearly 50 percent in 2021 despite the pandemic, but having an expensive machine stay idle is a dead end. Over the past 8 years, 35-plus Aura machines can be found operating in client's facilities that have produced millions of pre-rolls to date. The key — simplistic sophistication adjusts to the flower Hefestus clients can utilize every day.
All About the Service
Hefestus Technologies Ltd. includes all the extras such as a comprehensive warranty and the customer service and training that can make the difference in production and profits. Hefestus personnel in Israel and Las Vegas bring service help for installation and beyond with quick response.
And yet, many companies are investing in a flawed pre-roll machine but ending up watching it collect dust because no one taught them how to operate it. With the proper training, the Aura 2000 machine will handle any strain without downtime.
Consistency is key: The last thing a dispensary or farm wants is to hear are complaints about pre-rolls. One of the most glaring problems facing cannabis industry business owners today is pre-roll consistency and a lack of smokeability. Are cones coming out too tight, too loose? Do they smoke evenly?
Whether young or old, clients crave consistency. Joints that feel hollow or ones that the roll is too tight turn into a total bummer. Consistency in smokeability leads to repeat customers looking for that smooth fire that seasoned cannabis smokers demand. However, the density of cannabis can vary from strain to strain, rendering most machines unable to deal with the differences, thus leading to costly shutdowns. Hefestus Technologies eliminates that deficiency with the proper training needed for an operation as smooth as its smoke.
Tried & True: The ingenuity behind this machine from Hefestus Technologies Ltd. started 31 years ago in the demand to make automation equipment for the food and pharma industry in Israel. Founder Yehuda Yamay's company quickly grew and his reputation for development of automation equipment for those specific Industries grew as well. Mr. Yehuda's designs are simplistic, intuitive and most of all, they work.
The Birth of the Aura 2000 came 9 years ago, Yehuda's friend started a medical cannabis company in Israel and asked Yehuda to design and build automated equipment for his facility. Labor in Israel can be expensive, and some repetitive tasks exhaust employees to the point of amplified inefficiencies. Understanding how joints are made from his sons and maintaining the modus operandi of his food and pharma industry success, Yehuda designed the Aura 2000. The technology utilizes secure cloud connection with WIFI / LAN to quickly troubleshoot and resolve any potential issues.
The Five Stations of the Aura 2000 Robotic Pre-Roll System: This system is simplistic in design and thorough in its methodology to create top-quality pre-rolls. Five stations create the perfect pre-roll many times over:
The First Station: A beautifully designed carousel that automatically feeds the cones into the holders with optics to ensure every holder is fed a cone. A vacuum is used to ensure that the top of the cone is opened to receive material. The added forethought to make sure the operator can constantly feed additional cones while the machine is working increases efficiency.
The Second Station feeds the material into the cones. It is a dual-feeding system that includes an auger and vibration to feed the cones constantly and precisely. It also vibrates the bottom of the cones to ensure the material density is consistent and within the requirements.
The Third Station: Tamping the cones to the desired density makes sure that the finest customer experience and smokeability is achieved.
The Fourth Station: The perfection of the design and the patented processing is found in this Fourth Station. Yehuda started with a twist mechanism, but quickly realized the importance of customer experience in producing the best look for pre-rolls. He, and his clients, wanted better, if not best in class. He devised the "Dutch Crown" folding technology and created the premier brand appearance for the industry.
The Fifth Station: The result is the safe ejection of the aesthetically beautiful, completed cones from the machine.
Cost-effectiveness: Price remains most important to all, with a total retail cost of $209,000 per machine that comes delivered and installed with training, not the $600,000 or more sought by Hefestus competitors.
Installation & Training: Hefestus Technologies stands behind every machine and fully supports customers with a full training session of 3 to 4 days at the client's facility, and technicians make sure it runs in that facility with all clients' strains.
The facts: The Aura 2000 comes with a One-Year Warranty from North American-based technicians, CE – Marking Standard with UL – Safety Certification. Hefestus Technologies Ltd., office in North America is located at 750 Dorrell Ln., #120, North Las Vegas, Nevada 89086. Telephone 702.881.1970. Email sales@hefestus-slb.com. Web site www.hefestus-slb.com.