At the First Cannabis Church of Logic and Reason, there are no hallelujahs. There is no tithe, no ceremony, nor any pomp and circumstance. There is a 34-year-old reverend with a long red beard who urges those in attendance to spread the church's mission — to positively elevate their communities through random acts of kindness and goodwill.
Last Sunday marked just the second service of the church since their recognition by the IRS in the beginning of the year; earlier in the week, some members met at Lansing, Michigan's Washington Park to pick up trash and provide hygiene kits to the homeless.
The group needed federal approval because they accept donations — money, however, is not necessarily the valued commodity. The church has partnered with local dispensaries for a program in which a customer can purchase a small amount of cannabis as a church donation, which the church then donates to a patient in need. Glass jars are also set up throughout the Herbal Farmers Market — which also donates the space used for church activities — that are used to collect joint roaches, which are then rolled into joints for church attendees who are enrolled in the state medical marijuana program.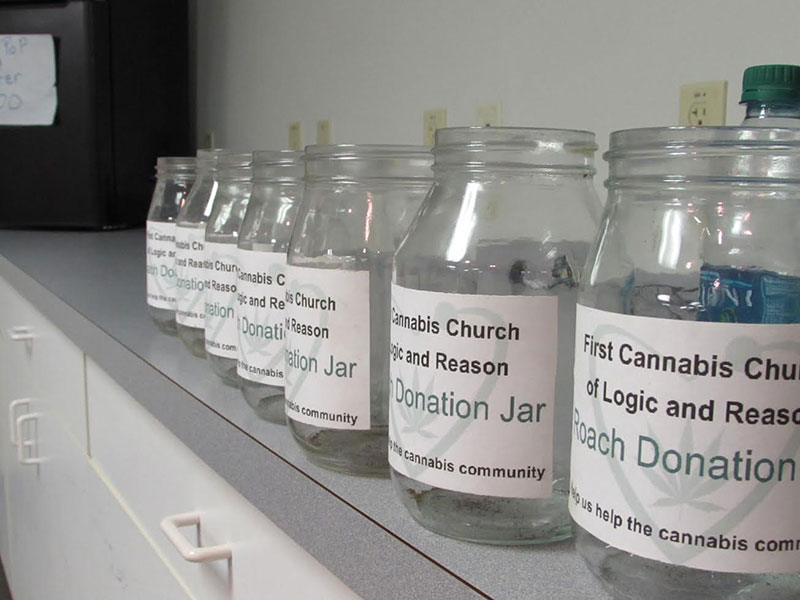 Reverend Jeremy Hall — ordained by California's Universal Church of Life — didn't start the church because he believes cannabis is akin to a God, or some similar notion. He believes that the human body's cannabis receptors are not an "accident," but could point to a co-evolution of man and nature. But more importantly, Hall believes in community service and wants to help change the public perception of cannabis users.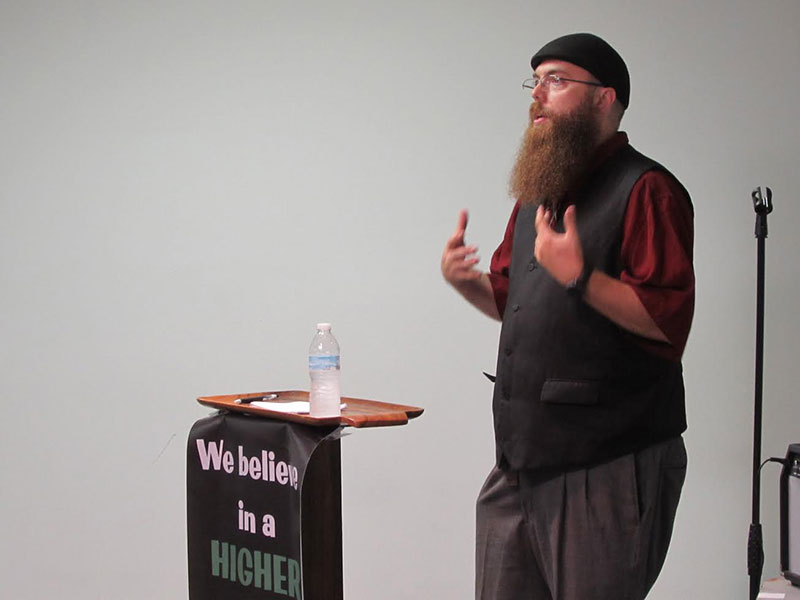 Church organizers give the parishioners and volunteers cards bearing the church's information and a short paragraph about the card's purpose. The cards are designed to be given to the person for which the cardholder performs an act of kindness. Working as a pay-it-forward campaign, the card urges the receiver to commit their own kind act.
"We want to empower our members to use that [would-be tithe] money to do good themselves," Hall said while greeting members and visitors in the market lobby. "Don't give me that $20. Take that $20 and go do something nice for a random stranger. And hand out our cards so that stranger knows it was done by a cannabis user."
The goal is to reduce the stigma by many non-cannabis users of what a "cannabis user" is. The group plans on setting up the program online, mapping where the cards are handed out and what good deed was performed. Hall says the outreach program is already getting positive feedback from the community, and service attendance hadn't dwindled much from their first meeting of about 40 people.
Later this month, the group will be expanding their efforts beyond Lansing, as they were donated booth space by High Times at the upcoming Country Fair Cup in Clio. Their next meeting is Aug. 20.
Get daily cannabis business news updates. Subscribe