More and more pet owners are wondering how CBD oil for dogs might be able to help. When I met my partner, his family dog was elderly and suffering from osteoarthritis and dementia. She wandered around the property only half-sure of where she was. We put her on a dropper-full of CBD oil daily with her food and the results were immense. The formerly crotchety dog would spend her mornings romping around with the puppies before calmly napping her afternoon away. 
These results are obvious but even so, people aren't comfortable dosing their dogs without science-backed data. This is why lately veterinary researchers are focusing on the results and side effects of supplementary CBD oil for dogs. At this time there are very few studies informing pet owners and vets about what CBD oil, capsules, or topical applications actually do for canines. On top of that, further research is needed into what dosages are appropriate and possible contraindications with other canine medications, to name just a few remaining considerations. 
What Is CBD?
While there is not much solid research into CBD oil for dogs, there is quite a bit known about the compound itself. CBD is one of many cannabinoids found in the cannabis plant. The most commonly known cannabinoid is THC, but there are also hundreds of others including CBG, CBN, THCv, and more. Each of these cannabinoids interacts with receptors in our endocannabinoid system called labeled CB1 and CB2.
CBD only interacts with CB2 receptors, which are found in the body, and not with CB1 receptors, which are primarily found in the brain. This action is why inhaling or ingesting CBD doesn't cause psychoactive, "high" effects. Instead, it interacts with the muscles, tissues, and other aspects of the body for mentally non-intrusive effects. That's why the cannabinoid has been gaining so much popularity — in most cases, it won't "get you high." Consumers enjoy the ability to feel relief from stress and muscle tension without being debilitated by a psychoactive and potentially stressful experience.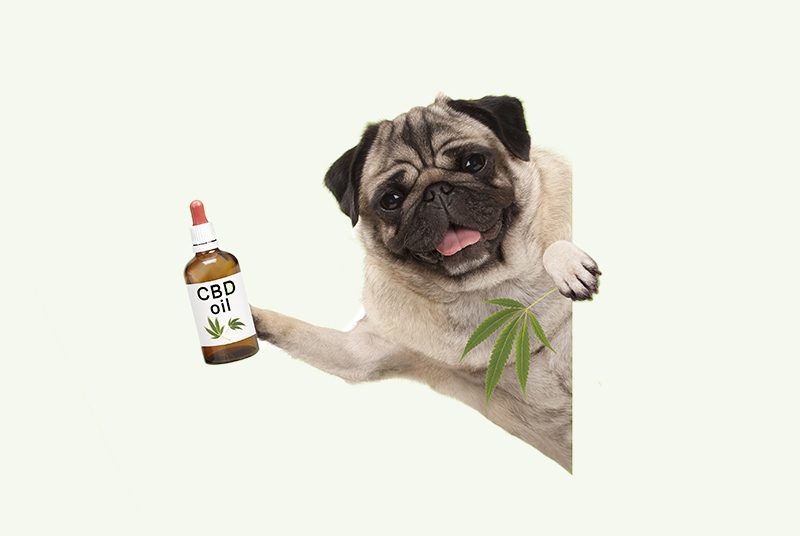 The Effect of CBD on Dogs
As mentioned earlier, there aren't many scientific studies available covering CBD oil for dogs, but there are a few. One study, which was approved by Colorado State University's Institutional Animal Care and Use Committee, surveyed 30 male Beagle dogs around the same age and weight after being given CBD supplements of three kinds over a period of six weeks. Their goal was to identify any adverse reactions pets may experience when administered various modes of CBD supplements. 
The beagles were split into three groups who were all given CBD twice daily through three different methods. Group 1 had transdermal cream rubbed on their inner ear, Group 2 received CBD capsules, and Group 3 was administered CBD oil orally. The dogs' vitals, urinalysis, and stomach chemistry were recorded at 2, 4, and 6 weeks. Results showed that many of the dogs suffered minor diarrhea or vomiting, but a change in housing and having strange dogs around could have contributed to that. Another important observation during the study showed that 36% of dogs had a significant elevation in alkaline phosphatase enzyme (ALP) which can be an indicator of cholestatic liver disease. This side effect was only present in canines administered the oral CBD supplements, suggesting that too much CBD oil can be an issue for our furry friends. 
Another study set out to understand the pharmacokinetics of CBD in dogs with Osteo Arthritis (OA). Twenty-two dogs were administered CBD or a placebo by their owners over a period of four weeks. At weeks 2 and 4 a baseline veterinary assessment and owner survey were completed for analysis purposes. Pups received 2 mg of CBD oil per kg of their weight every 12 hours. The conclusion showed that CBD-rich oils were a viable alternative to non-steroidal anti-inflammatory drugs. However, the oils were very expensive when applying the dosage necessary to relieve the pain of OA, making it a bit cost prohibitive despite efficacy.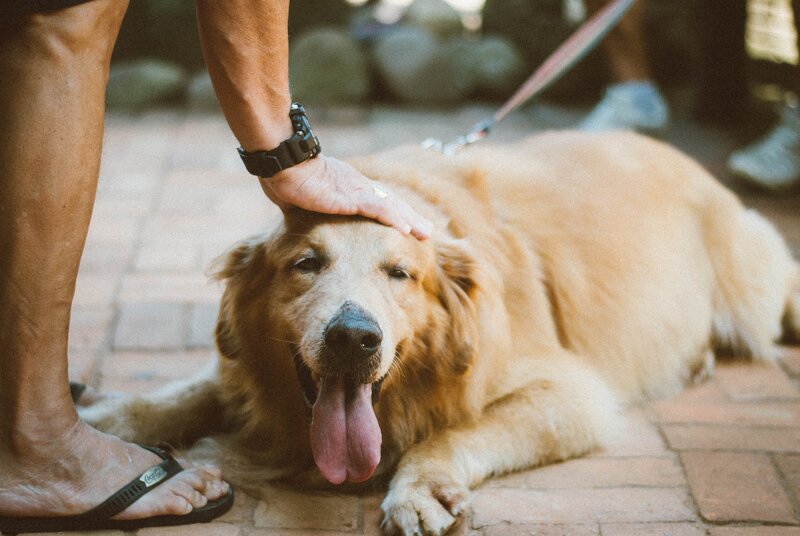 The last study that we looked at also used Beagles of median age and weight, dosing them with 2mg per kg of weight every 12 hours over a period of 12 weeks. Every 4 weeks blood was drawn from each dog and sent to a lab for analyzation. This study concluded that ingestible oil is the most effective method of administration, which a glycerol/fiber/starch-based chew also showing less impressive retention and half-life as compared to pure CBD oil. 
Their findings lead researchers in this study to speculate that CBD oil leads to better absorption and possible inclusion in a food matrix makes absorption even more effective. Most importantly, findings suggest that treating a dog for seizures requires 2.5mg/kg while treating a dog for OA requires just 2 mg/kg. No adverse reactions were noted, including the fact that no dogs showed heightened ALP levels like the first study discussed here leading to the conclusion that more research is needed to better understand a dog's hepatic response to CBD. 
In Conclusion
Though the data in these studies varies, it does give dog owners somewhere to start. What all of these studies have in common is that no dogs suffered severe illness or issues along with the administration of CBD. Researchers all also seem to agree on a dose somewhere between 2-3mg/kg for canines. These research articles prove that taking CBD regularly can benefit dogs with OA or seizures, but it is necessary to pay extra attention to ALP levels.
Get daily cannabis industry news and insights. Subscribe