More and more, the standard for what is top-shelf, premium cannabis keeps rising — and it is amazing how that standard changes depending on where you live in the country. Nowhere is that standard for extraordinary quality higher than in the Emerald Triangle of Northern California. I was fortunate to sample an incredibly wide range of top California producers this year while judging the Golden Tarp Awards and attending Emerald Cup and this review is of one of those farms.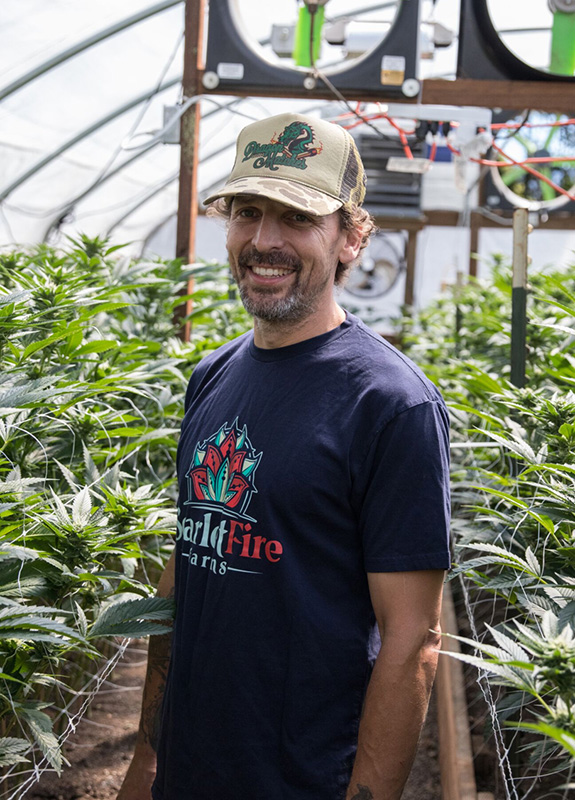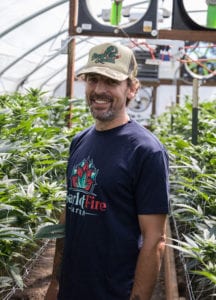 A clear favorite of everyone on the review team who sampled it was Scarlet Fire Farms of Humboldt County. Owner, breeder and lead gardener Bryan Sayre not only puts incredible effort into growing his individual plants, but his efforts start far before planting as he is also the breeding mastermind behind Dragon with Matches, an incredibly well-respected genetics provider. Bryan has developed a line of cultivars and growing practices that sets his flowers apart from the rest.
Mecca Cup 2014 – Best Flower

Golden Tarp Awards Best in Fuel Category September 2015

Casual Crop Exchange Best Flower March 2017

Hempcon 420 Best Hybrid 2017

Hempcon 420 Connoisseur's Choice 2017

Oil Spill 2016 Best Sativa Concentrate July 2017

Humboldt County Cup 1st place Sativa January 2017

Humboldt County Cup 1st place Indica January 2017

Humboldt County Cup 2nd place Sativa November 2017

Humboldt County Cup 3rd Place Best Outdoor Sativa 2017
Scarlet Fire Farms is a family owned and operated farm tucked in the lush, water rich mountains of Six Rivers National Forest in Northeast Humboldt County, California. They have been producing cannabis since 2007.
One of the aspects of Scarlet Fire's growing system that impacts the flower most is Bryan's incorporation of Korean Natural Farming (KNF) techniques. Bryan says, "KNF and probiotic farming practices has helped us get a better sense of the cannabis plant's needs. The increased number of overall cannabinoids and terpenes has proven that this is the best management practice I could use for my style of cannabis farming."
KNF is known for working intimately in partnership with nature instead of against it. So much of the cannabis industry still incorporates synthetic nutrients and petroleum based fertilizers but not Scarlet Fire. Bryan continues, "I admire KNF not only because of the quality and effect of the product but also for decreasing our footprint on the environment. The production of homemade nutrients and the harvesting of indigenous organisms allows us to eliminate a large portion of store bought bottles."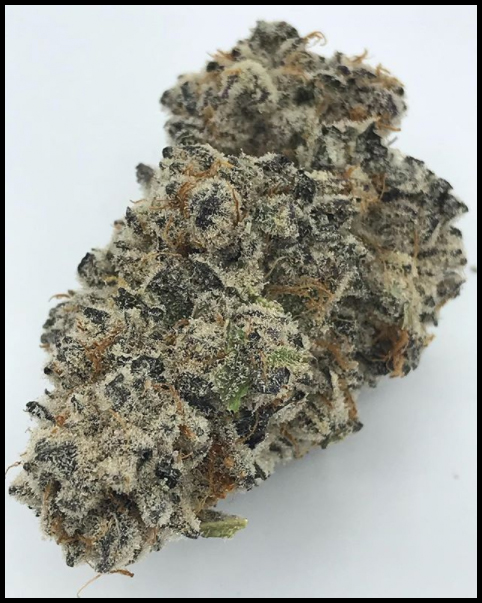 The proof is certainly in the flowers. Each of the four strains we sample burst with terpenes out of the jar. So often when sampling an entire farm's line, we will find a couple standouts and the rest just show up. Not this time. Each of the four we tasted were huge experiences that left the review team playfully negotiating for who got to keep which extras.
Scarlet Fire
Smell: Cheese, taffy, hummus, vanilla, coffee grounds and just a touch of that skunk

Taste: Pinene, persimmon, woodsy, fruit and slightly chem reminding me of pools and bikinis
We all agreed that the flagship strain of the farm, Scarlet Fire, was deserving of the attention it receives. We found ourselves functional and engaged and yet very high and a bit forgetful. Not only fun but great pain and PTSD medication, as well.
Cherry Chem
Smell: Birthday cake frosting, fruit and tang.

Taste: Sweet and chem-y and the smoke never tasted smokey.
Tangimal Cookies
Smell: Bright tangie, no doubt. And blended with woodsy and mossy smells as well.

Taste: Again with the bright tangerine taste and a pronounced earthen skunk providing a lot of backbone.
Scarlet Black
Smell: Pine. Black Licorice. Sweet champagne.

Taste: The crazy thing is that this smokes just like it smells. Very uncommon. Smokes pine, black licorice and a touch of cantaloupe.
(Note: review continues below.)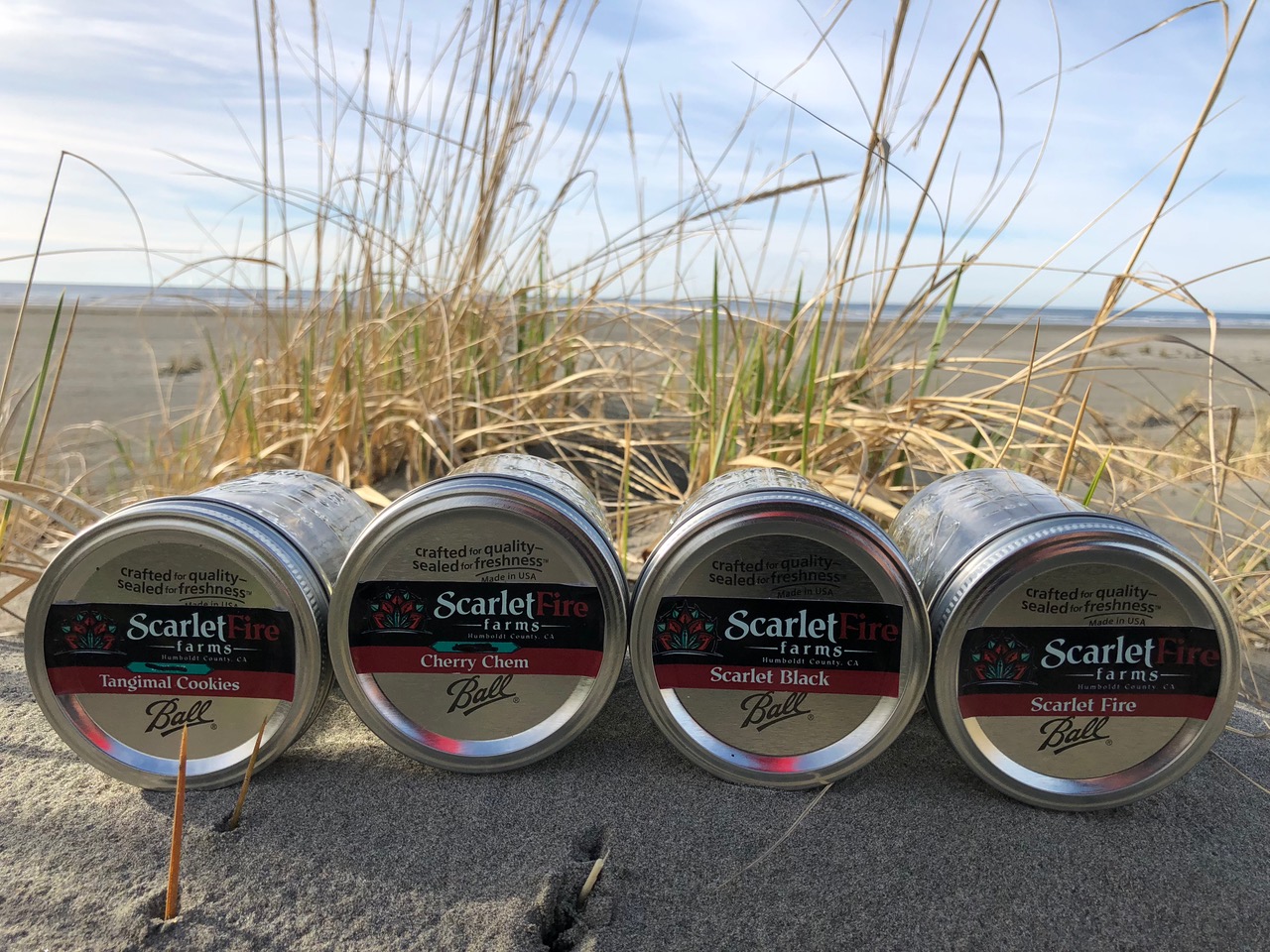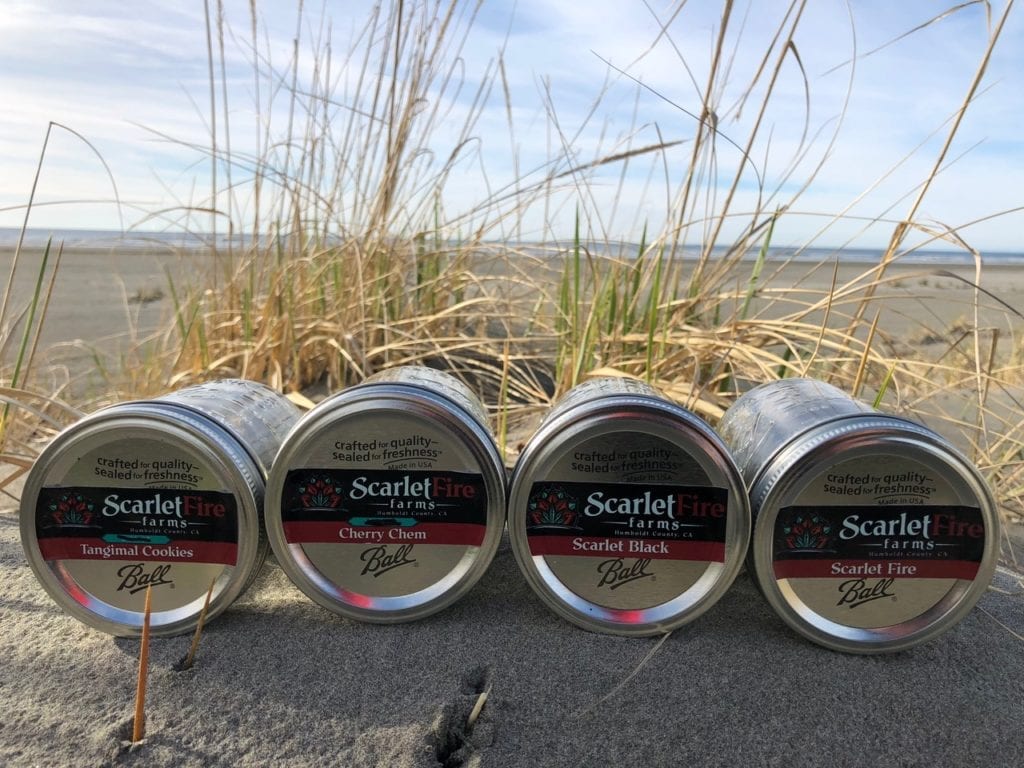 The Scarlet Black was my personal favorite of the review but it was hard to choose because they were all so good. The Scarlet Black won Third Place Best Outdoor Sativa at The Humboldt County Cup in 2017.
For those of you with a keen eye, you may have noticed the Grateful Dead influence to their name. I asked Bryan about that and he told me: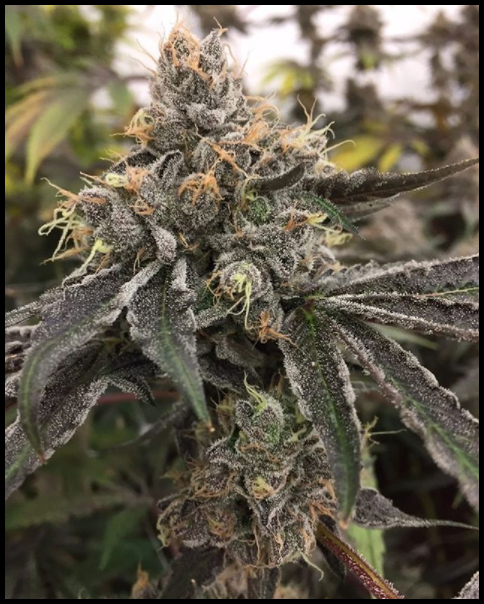 "In '93, when I started following the Grateful Dead around, the thrill may have been gone for some but Jerry was still wailing away on stage and the parking lot scene was larger than ever. I stumbled upon Humboldt County in 1994 while driving from the Seattle shows to Vegas. Of course, I loved weed then too. Humboldt County is every east coast stoner's Mecca. When I actually got there I never wanted to leave. After summer tour that year, we headed back to California and straight to Arcata. It took a couple years of living at the local beaches like Clam Beach and Mad River Beach before I had an opportunity to try to grow cannabis. Best decision of my life!"
We are excited to see what else Bryan and the Scarlet Fire team have in store now that they have received their California rec license. Be sure to subscribe to their Instagram for great photos. And check out their website at ScarletFireFarms.org.
Get daily cannabis business news updates. Subscribe