LeafLink's 2020 Wholesale Cannabis Pricing Guide found an 18% percent price increase in wholesale flower prices nationwide – which averaged $1,940 per pound – but an 11% decrease in edibles and ingestibles, which saw an average nationwide price of $.08 per milligram.
The report includes an analysis of cannabis markets in Alaska, California, Colorado, Michigan, Nevada, Oregon, and Washington state – which have legalized both recreational and medical cannabis use – along with medical markets in Arizona, Maryland, and Oklahoma.
Arizona voters approved adult-use reforms last year and sales began on January 21, but the report uses the state's 2020 data during which only medical cannabis was legal.
Nationwide, concentrates saw a 7% price increase year-over-year and pre-roll prices increased 2%. Cartridges saw a modest 1% decrease and made up the industry's "most stable category," the report said.
On average last year, vape cartridge prices in the U.S. cost about $22.78 per gram, concentrates averaged $17.02 per gram, while pre-rolls averaged $7.18 per gram, LeafLink found.
Alex Feldman, general manager of LeafLink Insights & Marketing Services, said the guide "empowers businesses to better execute on their 2021 strategic planning by benchmarking pricing on a state and national level."
"Pricing is an important differentiator among brands in our increasingly competitive industry. Whether it is used to signal a product's premium status, or serves as a reflection of structural dynamics in a state or category, it is arguably the single most important driver of a company's profitability." – Feldman in a statement
LeafLink processes nearly a third of all U.S. wholesale cannabis commerce, to the tune of $3 billion in orders. The pricing guide analyzes 109,000 SKUs including flower, pre-rolls, vape cartridges, concentrates, and edibles/ingestibles – the five most popular categories of cannabis products in the U.S.
LeafLink found flower was the most popular product in four of the 10 states analyzed – California, Maryland, Michigan, and Oregon – while cartridges were the most sought-after product in Alaska, Arizona, and Nevada. Edibles and ingestibles were the most purchased products in Colorado, Oklahoma, and Washington state.
Adult-Use States
Alaska's cannabis market had the highest prices for four of the five categories: cartridges, concentrates, edibles and ingestibles, and flower while Washington state had the lowest prices for cartridges, concentrates, edibles and ingestibles, and pre-rolls. Alaska saw a per-pound flower price of $3,186 – 164% more than the national average, driven by "high taxes and distribution costs," the report says.
Concentrates in the state averaged $33 per gram, which is 94% higher the national average, LeafLink found, and up $13 year-over-year.
Washington's continued trend as the state with the least expensive prices in four of the five categories can be attributed to its market structure, the report says describing it as having an "abundance of cultivators [competing] for shelf space with a small number of retailers."
The Evergreen State, which saw its first adult-use sale in October 2016, experienced a 15% decrease in flower prices year-over-year.
Oregon had the lowest flower prices among the states analyzed at $1,096.06 per pound – 44% lower than the other nine states analyzed. Its biggest pricing change from 2019 to 2020 was a 21% decrease in edible and ingestibles, which LeafLink identified as its "least competitive category."
"In every product category, Oregon ranked among the least expensive two markets analyzed," the report notes.
Nevada, which launched its market in April 2017, had the most product categories nearest the national mean and median, the report found, while experiencing a 25% increase in cartridge prices and 13% increase in pre-roll prices from 2019 to 2020.
Michigan, the most immature adult-use market included in the report having only commenced sales in 2019, had the second most expensive cartridge prices last year at $32 per gram. The products also saw a 44% price increase following the state's migration from a medical-only to adult use market.
Notably, the state's cartridge sector was disrupted by a temporary ban on sales in November 2019 due to the rise in the vaping-related pulmonary illness. The following month, regulators recalled five vape cartridge brands after they tested positive for vitamin E acetate, the compound health officials believe are responsible for the disease.
Colorado, the nation's most mature market along with Washington, experienced a 22% year-over-year flower price increase per pound to $1,495.18. LeafLink found that while edibles and ingestibles were the state's most popular category, it was also its least competitive with "the fewest number of SKUs available throughout the year."
Concentrate pricing also increased in Colorado 7% year-over-year to $15 per gram, the report says.
California, which launched the nation's largest adult-use cannabis market by population in 2017, saw an 8% decrease in flower prices from 2019 to 2020 which narrowed the gap on the prices seen in the more mature Colorado and Oregon markets and pushing the wholesale price-per-pound to $2,031.98.
The report also notes that the season price declines normally experienced in the state from September to December were "more muted…likely due to a disruption in supply by wildfires."
"Flower prices declined 15% from September to December 2019," the report notes, "but only fell 10% during the same period in 2020."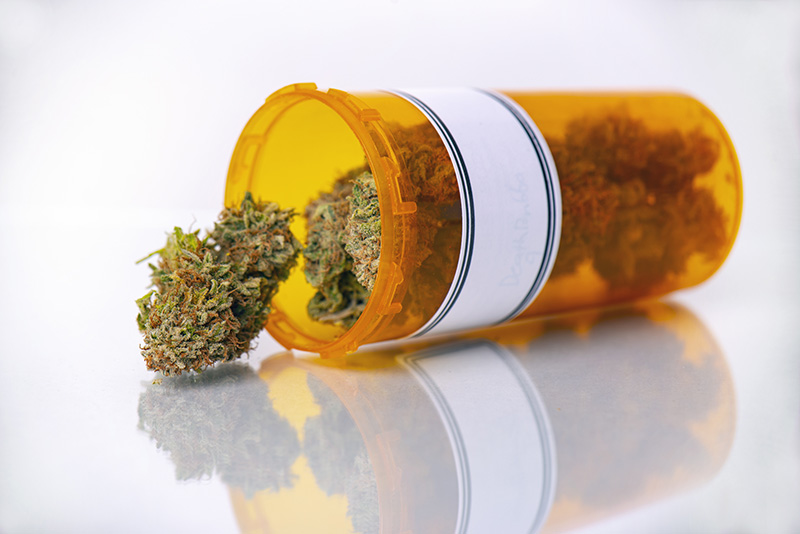 Medical Cannabis States
Oklahoma might be the nation's most prodigious state when it comes to medical cannabis with about 10% of the state's population – or 360,000 residents – enrolled in the program, according to a Politico analysis. Those figures put the Sooner State's medical cannabis market as the country's largest per capita.
Oklahoma – a red state won by former President Donald Trump in 2016 and 2020 – has more than 9,000 licensed cannabis businesses, including almost 2,000 dispensaries and nearly 6,000 grow operations, Politico reported. Comparatively, Colorado – which legalized cannabis for adults in 2012 and has a population almost 50% larger than Oklahoma – has barely half as many licensed dispensaries and less than 20% of cultivation operations.
In 2020, Oklahoma saw a 5% or more price decline across all five categories as the number of sellers increased between three and five times.
"Pricing was most muted for flower, where a 6-times increase in sellers was offset by 21-times more retailers offering products in this category in 2020 versus 2019," the report notes.
Prior to the recreational reforms, Arizona experienced a 32% year-over-year increase in flower prices – the largest increase of the states analyzed – pushing the per pound price to $2,212. Despite the spike, it still had the least expensive flower prices among medical-only states with only Washington state, Colorado, and Oregon with lower prices. Interestingly, Arizona had the highest pre-roll prices among the states examined by LeafLink and ranked near the middle of the pack for cartridge and concentrate prices, the report found.
Maryland, which legalized medical cannabis in 2014, saw a 16% increase in the flower price per gram from 2019 to 2020, driving it to $40 per gram for the state's patients and their wholesale flower prices were $3,181 per pound, just $5 less than Alaska's highest-in-the-nation cost.
"This is due to a limited number of cultivators, processors, and brands in Maryland," the report says. "Recently awarded cultivation and processing licenses (October 2020) should bring additional supply online and put downward pressure on prices."
Overall, the report concludes, pricing nationwide "either increased or remained relatively stable [year-over-year] with the exception of edibles and ingestibles, which saw declines across all states." And while flower saw a drastic year-over-year increase, those prices were driven mostly by Arizona (32%) and Colorado (22%).
Get daily cannabis business news updates. Subscribe