When Lulu Tsui met Jacobi Holland — her On The Revel (OTR) co-founder — she knew they'd create something special together. Talking to another person of color about the reality of New York cannabis was refreshing for the pair, who each wanted to foster that same energy for others. Their first event was a casual cannabis business mixer at a coworking space in 2016; afterward, a guest approached the founders, crying, to share that the event was so impactful. That was the point that the founders knew they were onto something.
"That's the energy we wanted to bring: happy, open, inquisitive, looking to find people and share – that special New York connection magic, that's what we're trying to harness," said Tsui.
What came next is Revelry, a renowned New York educational series that challenges the norms of cannabis speaking events. Holland explained the basic tenets of Revelry events, "It must be welcoming and inclusive, the speakers must be well curated and actionable, and the room must be filled with dope people. As long as we do those three things really well, we find that we have excellent experiences."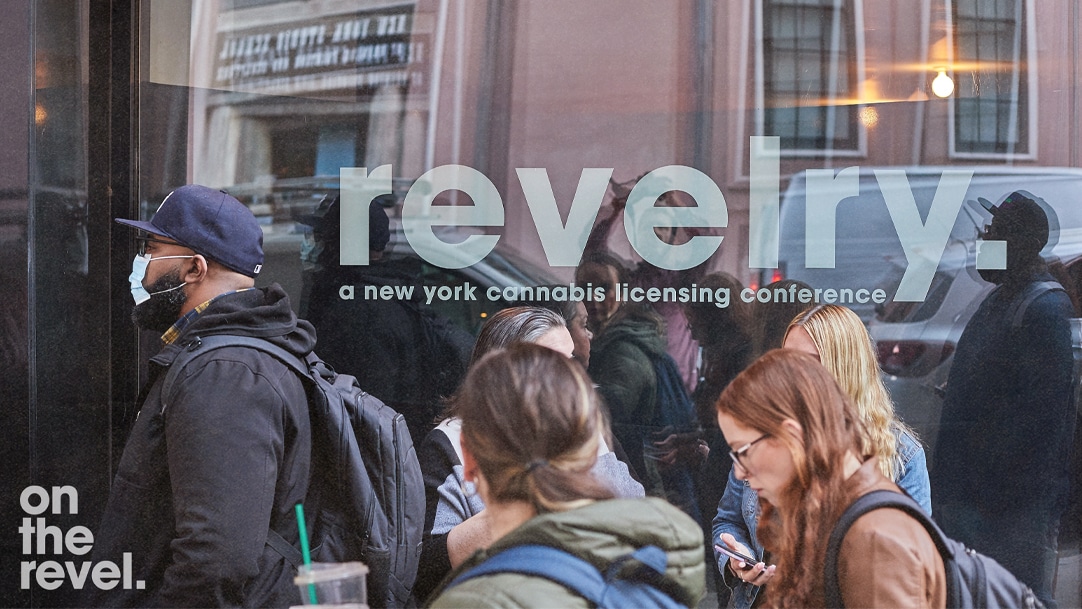 All speakers are given 10 minutes to deliver an impactful, actionable speech that captures the attention of New Yorkers, which is no easy feat. Additionally, Revelry never puts out an open call to speakers. All speakers are hand-chosen from Tsui & Holland's direct networks — at most, they're one connection away. This ensures that speakers are knowledgeable, trustworthy, and deserving of a place in the immediate networks of the Revelry community. This approach in combination with the co-founders' skills has created an event series that has never existed in the same stratosphere as expos, which typically grapple with attracting a homogeneously white and male audience.
In March 2020, the world was shuttered in response to the first outbreak of COVID-19 and OTR canceled its upcoming in-person event, opting instead to move to a virtual format. The Zoom webinar filled up to capacity with dope people seeking community in the cannabis space. Over time, the weekly webinar transitioned into a podcast which is currently in its third season. Moving to digital also tapped into another audience which has since proliferated into Dope People, an online place for the OTR community and the resources they need.
Dope People consists of a private discord server, weekly live podcast, and exclusive access to monthly meetups, workbooks, merch, and more. The discord server is alive with conversations about retail, lobbying in Albany, job placements and operations advice. Both founders spoke about the organic growth of this space with reverence and Tsui said, "What's kind of beautiful about it is that we don't talk about building community, we don't talk about being part of a community, we just are."
Tsui is a UX expert, she is fascinated by how people work and takes a technical approach to building a world where they can interact. Holland is a seasoned entrepreneur who has a mind for applying data to real-world problems. As they curated Revelry educational events, the pair would listen to students, tuning into their needs as the state's industry continued to roll out. Holland explained, "It comes down to empathizing with the students and meeting them where they're at and designing it from there."
In these conversations, it became clear that students weren't sure of where to start – not just with starting a business, but about understanding the best moves as legacy operators contemplating crossing into the adult-use market. That is why they built the legacy operator boot camp. The pilot boot camp program recently wrapped up with ten teams learning about critical topics like fundraising, real estate, retail basics, application writing strategies, and connections to service providers. Holland noted that there will always be consumption at these events, because that is essential for some operators. OTR hopes that they can continue to grow this pilot program as the New York state industry develops.
"The whole purpose of this was to connect good people together that we trust, that we've worked with or our friends have worked with, and really become the good aunties and uncles that shepherd this very nascent industry into something that is going to be specific to what we think it should be, right? Which is that it's diverse, it's inclusive, and more importantly it has opportunities for anyone and everyone," Tsui said.
The upcoming Revelry is special, as it's the first Brooklyn Block Party – something that has been on the OTR vision board since its very first mixer. On Sunday, August 28, On The Revel will be hosting a two-part event featuring education and celebration. Guests can attend The Summit for curated education and stick around for The Block Party featuring food, drinks, engaging activations, and musical performances. Styles P from The Lox, Grammy-nominated Mumu Fresh and Harlem-born and raised DJ Odalys will all be performing.
The event is in Restoration Plaza in Bed-Stuy, a neighborhood predominantly targeted during the war on drugs. These days, the area is going through a renaissance and Tsui looks forward to holding space there, "We just want to celebrate and talk about how cannabis, especially in that neighborhood, can be turned into something more positive than it has been. It's a strong, vibrant Black community." The Summit will feature speakers like Chi Ossé, the Council Member for New York City's 36th District representing Bedford-Stuyvesant and North Crown Heights, on community restoration and Vangst VP Kelsea Appelbaum on workforce development.
"At the end of the day, the people that have built the demand for this plant and the people who have been harmed by the war on drugs, we at On The Revel are 100% rooting for them," Holland said.