Cannabis business event and media firm Jage Media is set to debut an exclusive 3D Virtual Summit series this month starting May 12 with a three-day, Colorado-focused event. The MJ Unpacked event series — which promises actionable information tailored to help licensed cannabis brands and retailers find success — is the perfect post-COVID-19 solution to cannabis trade shows.
Attendees of MJ Unpacked Colorado will experience a unique online event complete with peer-to-peer networking, expert Q&As, round tables, and digital exhibition platforms where attendees and exhibitors can meet, learn, and network as if they were at an in-person trade show. Additionally, all attendees will be individually vetted by organizers to make sure everyone attending is equally invested in a successful event.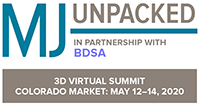 "We are excited we can convene the industry through a thoughtfully tailored and curated digital event series," Jage Media CEO George Jage said in a statement. "Cannabis, like all industries, is responding to new realities in the wake of the Covid-19 pandemic. As we adapt, the ability for retailers and brands to convene and address the market landscape, state by state, is more important than ever."
On the event's first day, MJ Unpacked will feature its partner BDSA (formerly BDS Analytics) showcasing insights and never-before-shared information about the Colorado marketplace from the company's market-leading industry intelligence. The presentation will be held in a digital auditorium and, according to BDSA CEO Roy Bingham, will offer "a deeper dive into the cannabis market than at any other event in the company's history."
The next day will feature a panel of successful executives focusing on the many challenges and opportunities of cannabis retail. Other event highlights include sessions focusing on customer acquisition, case studies from the industry, managing staff during a crisis, and more, all featuring notable panelists such as Bruce Linton, founder and former CEO of Canopy Growth Corp, and Tripp Keber, co-founder and former CEO of Dixie Brands, Inc.
The three-day event kicks off at 9:30 am each day with the opening of the Virtual Summit & Exhibit Halls. Each day features a diverse series of group discussions, workgroups, and Q&As — see the full schedule for more details.
"Attendees to the first MJ Unpacked event should expect an engaging and experiential scene filled with exceptional programming, in-event networking, topic-driven roundtables, a social networking lounge, and even in-event games," said Kim Jage, Chief Marketing Officer for Jage Media.
"With this new format, we can also invite brand and retail executives from outside the state of Colorado to this inaugural 3D Virtual Summit, giving them a great opportunity to build their network, and engage with leading Colorado executives," Jage said.
MJ Unpacked Colorado is the first of multiple planned 3D Virtual Summits — Jage Media has also announced a digital summit for the California marketplace on July 23-35, followed by events for Oregon and a combined Southwest event.