The Mississippi Medical Cannabis Act was signed into law in early February 2022 after a long fight for safe access to medical cannabis. In response to impending legalization, the Mississippi Minority Cannabis Association (MMCA) is empowering their community with the tools to get involved in the industry on the ground floor. MMCA engages with minority communities in Mississippi in a double-sided approach to education. In one initiative they educate individual community members on the healing properties of medical cannabis. They take the time to teach people one-on-one about cannabis medicine. On the other side, they serve as a knowledge hub for Black and Brown entrepreneurs and farmers who want to break into the cannabis space. Each side of their approach is a step towards building prosperity in minority communities in Mississippi with cannabis business.
Ganjapreneur interviewed MMCA board members Beverly Magee Commodore, Ph.D., and Cedric Anderson, along with Executive Director Tywan Arrington to learn more. "We're taking a cooperative approach. We're networking with other growers and other farmers across the country as well as trying to help the local community, helping them become self-sustainable. We want to make sure that they pass down wealth, not debt, to their family members," said Mr. Arrington.
Once it became clear that medical cannabis was coming to Mississippi, MMCA leaders traveled to adult-use states like California and Illinois to see what had worked and what hadn't in their legalization efforts. They originally set out to learn about social equity initiatives and discovered that Black and Brown people make up a very small percentage of this industry. Their leadership team then realized the importance of an education component in their efforts. When they returned home, their focus turned to educating Black and Brown communities on medical cannabis and cannabis business.
"What we've found a lot of the times where there was a gap or a missing component, is that the problem was that people were not trained properly. Or they were not trained how to set their business up or how to be successful. So knowing that that has been an ongoing problem from one state to another, we want to be a part of the solution before it becomes a problem in the state of Mississippi. Training, education —those are our big flag poles when it comes to MMCA as an association," said Dr. Commodore. MMCA can help minority-owned cannabis businesses avoid these roadblocks and tap into the potential capital from the very start of the industry.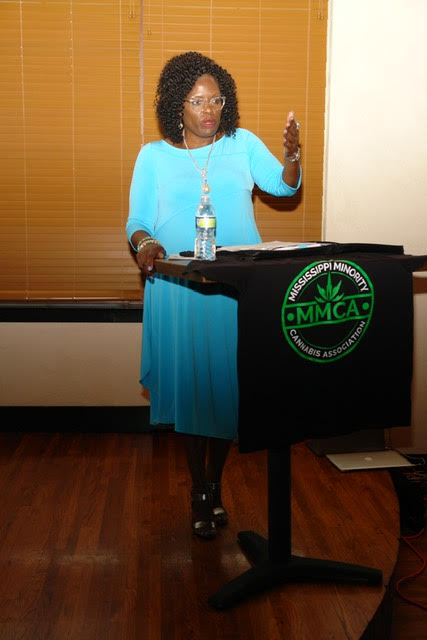 Association members receive invites to educational meetings where they learn the business from the ground up. MMCA seeks to provide top to bottom education on how to set up a cannabis business in Mississippi including a step-by-step process to getting an EIN, writing a business plan, down to marketing, labeling, and packaging. In terms of agriculture, they show how equipment that farmers may already have can work for cannabis and hemp cultivation. They called their first educational meeting after visiting adult-use states to prepare members for what lies ahead, predicting that cannabis would be an industry regulated far more than farming sweet potatoes or corn.
They have grown their presence organically with support from a larger farmers co-op. The co-op has also served as an example of preserving market share for small farmers. A co-op structure is not possible with the current law but MMCA is still building a cooperative group with their association members. In one case, a member submitted a question about the soil in Central Mississippi, and another member who farmed in Central MS answered them. Building this hub of people who can share knowledge makes the co-founders of MMCA proud of what they're building. In the short time MMCA has been in operation, they have established a hub of minority cannabis entrepreneurs who will be prepared to enter the medical cannabis space once the regulatory framework is developed.
The association also stays in the conversation at the capitol as policy develops in the state. They want to ensure that policy written for this legislation does not exclude minorities or those formerly incarcerated for cannabis sales or possession. Social equity and expungement measures aren't yet a part of the policy, and that is another area of focus: "We've made it known that we're going to be a think tank group that is going to be in the midst of always pushing for the social equity piece. Because social equity equals economic equity from our viewpoint," Mr. Anderson said.
The MMCA leadership team will continue advocating for their space in these conversations as they push for minority inclusion and social equity measures. Preserving market share for Black and Brown business ownership will filter more income into Black and Brown communities, building an equitable future for generations to come.