The rapid rise of employment opportunities generated by cannabis legalization is revealing just how great cannabis is for the US economy. Recently, Forbes reported that the marijuana industry is on pace to create more jobs than manufacturing by the year 2020. From retail, to cultivation, to lab science, startups across all sectors of the industry will continue to grow as legal markets expand and mature, and will need to keep hiring new employees along the way.
Given the popularity and cultural following surrounding cannabis, there is no shortage of people who want to find a career in this movement. This means that competition is tough among job-seekers, and to get a foot in the door many professionals may need to settle for a lower salary than they would otherwise, or relocate to a new city or state. For those who are willing to make the necessary sacrifices and put in the work, however, getting in on the ground floor now is a once-in-a-lifetime opportunity to learn and hone skills while accumulating experience that will be invaluable when the market is fully normalized and canna-business is booming throughout the country.
But with so much competition for placement in an industry that is still controversial and often closed off to outsiders, how can an individual job-seeker hope to stand out from the crowd and get discovered by businesses who are hiring? This is exactly the question we have attempted to answer with our new job board for cannabis professionals, which we built to help companies and prospective employees find and connect with each other.
Here is a screenshot of some recent job openings we have posted: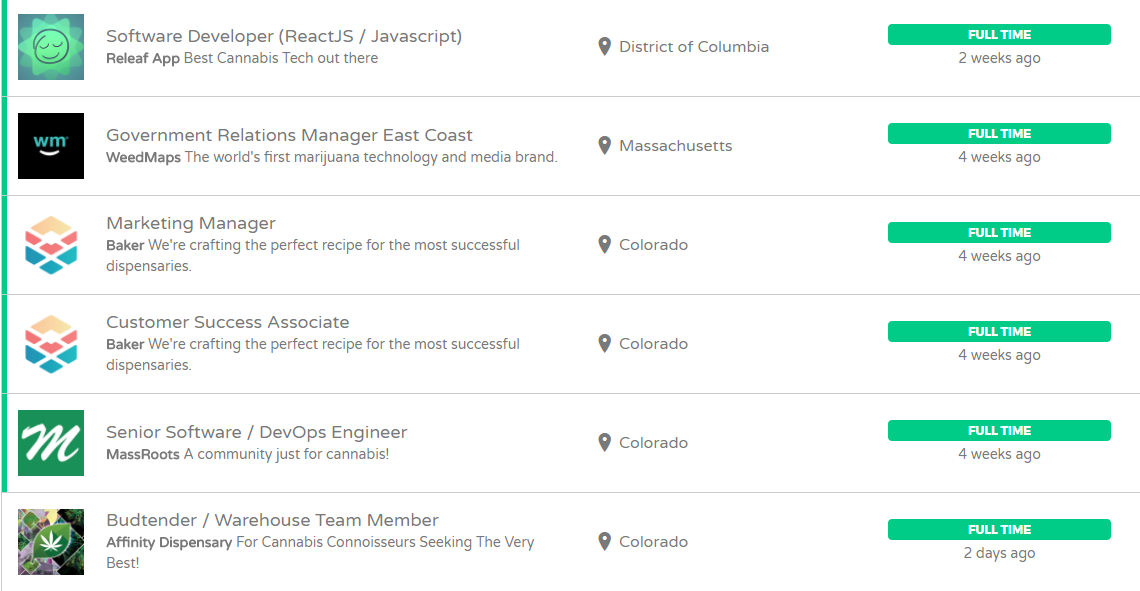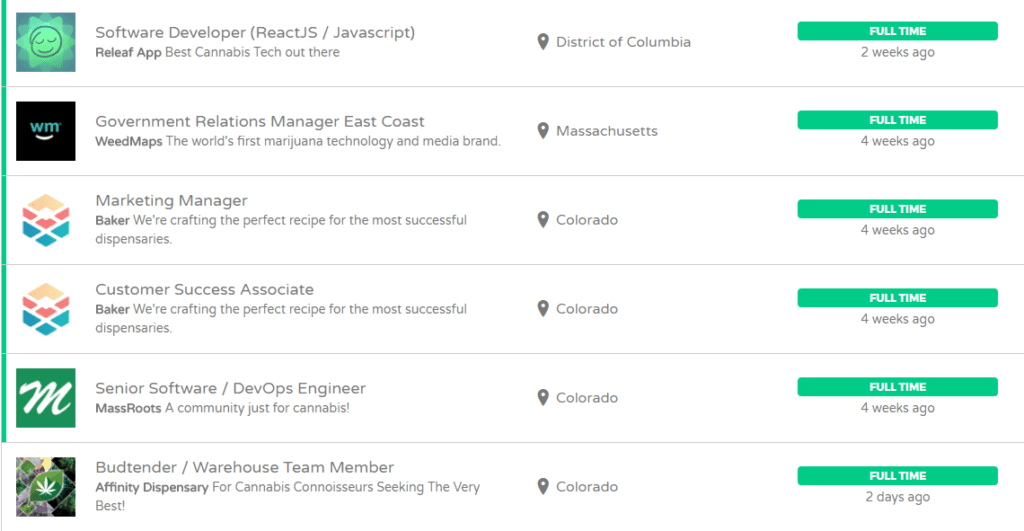 ---
How it works
For as little as one dollar per month, anyone can create a profile, upload a copy of their resume, and list their skills and experience in a directory that is only visible to cannabis industry employers. Business owners who are looking for talented professionals to fill open positions can post job listings for a small fee and browse professional profiles to find the perfect candidate for any given role. For companies who have recurring recruitment needs, a subscription plan is available which allows for the creation of unlimited job postings.
Why us?
For the past few years, we have been providing daily grassroots coverage of an industry that has continually been ignored, ridiculed, and demonized by mainstream media outlets. Our mission is to help the cannabis industry thrive: by providing a platform to help talented professionals find placement at reputable businesses in our industry, while keeping costs low enough to allow anyone the opportunity to put themselves out there, we hope to create opportunities for professionals and business owners alike.
How to get started
Visit the Ganjapreneur job board today to create a profile, post a job, or browse current openings around the country! Comments or questions? Please don't hesitate to reach out and one of our representatives will gladly assist you.