A federal report filed last week by the U.S. Department of Education's National Center for Education Statistics (NCES) showed zero signs of increased teenage cannabis use due to cannabis legalization policies.
The report uses data volunteered by students to the Youth Risk Behavior Surveillance System, which falls under the umbrella of the Centers for Disease Control and Prevention (CDC). The data was collected from 2009 to 2019, meaning that at the start, there were exactly zero states that had legalized cannabis for adult use — and it's plainly visible in the report that as states passed their legalization laws, youth cannabis access and use stayed level.
"The overall percentage of students who reported using marijuana at least 1 time during the previous 30 days in 2019 was not measurably different from the percentage in 2009 (21 percent)." — Excerpt from the report
The findings are significant because they directly contradict one of the most enduring arguments for cannabis prohibition: that legalization will lead to increased cannabis use among the country's youth.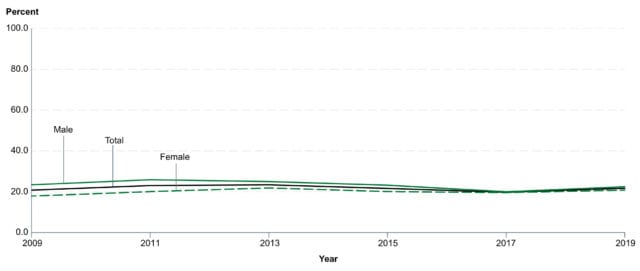 "In 2019, about 22 percent of students in grades 9–12 reported that illegal drugs were offered, sold, or given to them on school property," the report stated. This result was also "no measurable difference" from the percentage of students who reported the presence of illegal drugs in 2009.
Meanwhile, a 2019 study found that Colorado's cannabis legalization had not caused an uptick in teen use there — although, many of those who were consuming cannabis had altered their consumption methods to include more edibles and concentrates.
In 2018, a California Healthy Kids Survey found that teenage use had actually decreased post-legalization in the state.
Get daily cannabis business news updates. Subscribe