Fab 5 Freddy is a visual artist, hip hop pioneer, and the filmmaker behind Grass is Greener, a documentary investigating the history of cannabis in America that covers the plant's prohibition as well as its numerous cultural influences. Bernard Noble is an entrepreneur and former cannabis prisoner who was sentenced to 13 years of hard labor after being caught with two joints by New Orleans police.
The two met during the filming of Grass is Greener and, following Bernard's early release from prison in 2018, they recently launched B Noble, a cannabis brand created in alignment with Curaleaf's Rooted in Good corporate social responsibility program. Staying true to the brand's identity, 10% of all B Noble profits are donated to social equity organizations.
This Q&A covers their meeting, deciding to found the company together, future projects for the brand, and more!
---
Ganjapreneur: What turned you to Bernard Noble's story while making Grass is Greener?
Fab 5 Freddy: With Grass Is Greener, my main goal was to tell the story about the relationship between cannabis and its contributions to jazz, reggae, and hip-hop. However, it is impossible to tell the story of cannabis in America without acknowledging the criminal justice nightmare associated with it. That is what led me to take a closer look at Bernard Noble's case. His 13 years sentence for having the equivalent of two joints was shocking — I knew it was the perfect case to focus on in the film.
How did your relationship evolve from that of a documentarian and subject to business partners?
Fab 5 Freddy: I learned a lot about the business opportunities developing around cannabis making the film and I wanted in, but I also wanted to address the harmful war on drugs and its devastating effects on black and brown people since it was criminalized back in 1937. Discussing it all with my now business partner, Ron Samuel, a long time legacy cannabis entrepreneur, the idea for B Noble was born and we call it "entrepreneurial activism".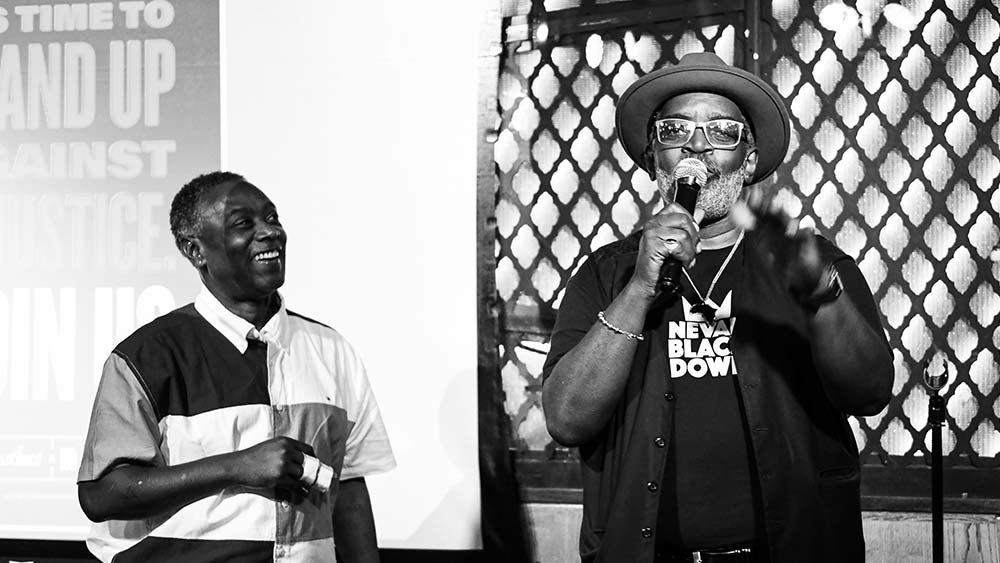 Why did B Noble Brands choose to partner with Curaleaf?
Fab 5 Freddy: Curaleaf had already launched their Rooted in Good corporate social responsibility program, led by VP of Corporate Social Responsibility, Khadijah Tribble. This program delivers social impact by focusing efforts within three key pillars: Diversity, Equity, and Inclusion; Social Equity; and Sustainability, ultimately achieving key goals through the company's strategic social partnerships. With this program in place, B Noble became the first large-scale brand venture in alignment with Curaleaf's dedicated social equity work.
Are you hands-on in the design, manufacturing, and/or marketing processes of the two-joint packs?
Bernard Noble: Fab & Ron take care of all that but they run all the ideas by me and we talk every other day. All of this is still amazing to me as cannabis is still illegal here in Louisiana and I'm pleased to now have a platform to tell the story I went through so it makes people aware of what's really going on from someone forced into the prison system, sentenced like a king pin for five dollars worth of cannabis, just two joints.
Will you be releasing or developing any other products through B Noble? Does Curaleaf provide support from concept to execution?
Fab 5 Freddy: Yes indeed, We look at this a little like the record business and hip hop when it began to blow up as a business in the early 90's while I was hosting YO! MTV Raps. Our first product, the B Noble 2 joint pre-roll is like our first single and we're now selling well in 8 states, 9 come November, and many more states to come. The other B Noble products, some fire level flower, extracts, etc., will be the B Noble album and more product ideas are now on the drawing board. Our parent company is called Rebelution and we plan for all our other products in development to have a cause connected to it, like B Noble so we can donate some proceeds to assist and raise awareness for other issues affecting the disadvantaged.
What flavor profiles are used in the two-joint packs? Is there a differentiation between B Noble products and Curaleaf branded products?
Fab 5 Freddy: B Noble pre-rolls are available in a variety of flavor profiles. A few of our top strains include Fruit Pie, known for its fruity and earth-like flavor profile; Nigeria Haze, known for its aromatic flavor profile of berries with diesel undertones; and Crossfire Hurricane, known for its floral aroma with hints of mint.
MassCultivatED and Changing Perceptions are examples of social equity organizations that currently receive 10% of the profits from B Noble sales. What are the criteria for organizations that receive these donations and how do you select them?
Fab 5 Freddy: We chose to donate 10% of proceeds to local organizations dedicated to advancing social equity and providing opportunities to those directly impacted by the War on Drugs. For example, in Maryland, Minnesota and Nevada, proceeds are donated to Changing Perceptions, which prepares the reentry community to successfully participate in the 21st-century workforce. They help individuals identify, navigate, and solve personal barriers to success, improve self-confidence, and develop meaningful workforce and entrepreneurial skills in a nurturing, family-oriented environment. Alternatively, in Illinois, proceeds go towards The North Lawndale Employment Network, which runs multiple programs for returning citizens to find work. These include U-Turn Permitted, a four-week job readiness training program for individuals with felony backgrounds, and Self-Employment Pathways for Women, a job readiness program for returning women that teaches the skills needed to run a small business.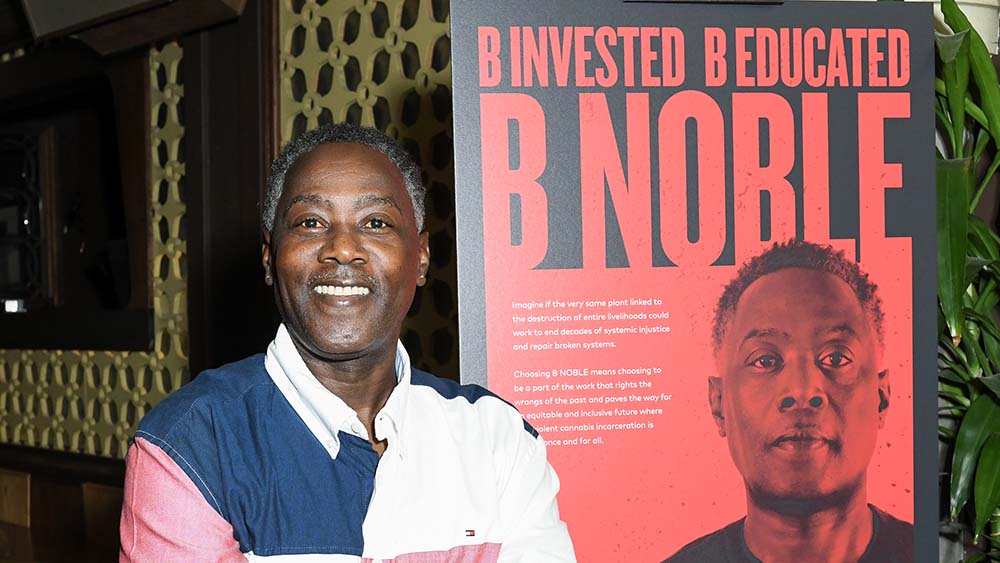 Grass is Greener told an important story. Are there any other subjects you have thought about covering in a future documentary?
Fab 5 Freddy: The idea I'm developing now which could be looked at as a part 2 to what I did with my Netflix film, Grass Is Greener, is a film that in a way picks up where it left off diving into what's happening with Bernard and B Noble now as this Black-owned cannabis brand grows and also looking at other legacy cannabis players like Mr. Sherbinski, Berner, Al Harrington and Viola and what Jay Z, Mike Tyson and Snoop, etc., are doing as a blueprint to show folks from urban areas how to play the game as this multi-billion dollar green rush rages along.
What actions do you hope your viewers take after watching the doc?
Fab 5 Freddy: As more and more states join the push to legalize cannabis, Grass Is Greener dives deep into the glaring racial disparities in the growing cannabis market. The film is, in essence, the story of cannabis prohibition in the United States, coupled with interviews with popular artists, such as Snoop Dogg and B-Real from Cypress Hill, as well as attorneys, influencers, and people who were personally affected by drug convictions like Bernard Noble. I hope to show viewers the ways in which cannabis has been weaponized against minority communities for generations, how much work remains to ensure legalization involves the protection and empowerment of those communities, and how cannabis' roots in liberation must carry through into the future.
Would you recommend any other cannabis media to people who would like to be more educated on cannabis and/or social justice?
Fab 5 Freddy: The research process for what I did with Grass Is Greener began on YouTube. From the early jazz cannabis songs, we found them all there all the way to rock, reggae & hip hop as well as thousands of other bits and pieces of info. "The Emperor Wears No Clothes" by Jack Herrer is an important book as well as Steve DeAngelo's "The Cannabis Manifesto." My film, Grass is Greener as well as "The Culture High" and "Weed the People" are informative films and the Vice show now on Hulu which also did an episode on Bernard Noble's case while he was still in prison, "Weediquette," which is now on Hulu.
What other artists and cultural icons' social justice work do you admire?
Fab 5 Freddy: Jay Z is doing a lot, especially the doc he produced on Kalief Browder, the wrongly imprisoned young black man for 3 years in NY for a crime he didn't commit and commited suicide when finally released. Kim Kardashian, Meek Mill, John Legend, actors Mark Ruffalo, Juliette Lewis, and Cedric the Entertainer, as well as NBA superstar Steph Curry.
Are you going to continue building partnerships within the cannabis industry and community? What would you look for in a partner?
Fab 5 Freddy: We're looking for anyone we partner or work with to have similar ideas around social justice and are doing the real deal 'roll up your sleeves' type of work that has meaningful effect.
---
Thanks so much, Bernard and Fab 5 Freddy, for speaking with us and sharing your experiences in the cannabis space. Click here to learn more about the founding of B Noble and find products near you.