The demand for CBD products is growing in popularity. Just a few short years ago almost no-one knew what CBD stood for. We are seeing a movement in today's society where CBD is becoming a heavily discussed item. The reason for this is that CBD products help to promote the overall health and wellness of both people and animals, yet the regulations have not caught up to the hemp and cannabis industries.
New CBD companies need to be aware of different laws and regulations from state to state. With little FDA regulations and a closely watched industry by the DEA, CBD companies need to make sure they are producing high quality and safe to use products. Companies like Every Day Optimal are leading the charge in remaining compliant while delivering high-quality CBD products nationwide.
The difference between legal and illegal CBD products varies from state to state. CBD companies need to be aware of the line that divides the two. CBD is a compound that exists in both hemp and cannabis strains. When industrial hemp is used, the percentage of THC will be very low to non-existent — whereas cannabis strains have a higher level of THC. CBD crosses the line from legal to illegal in some US States if the THC percentage is higher than .3%.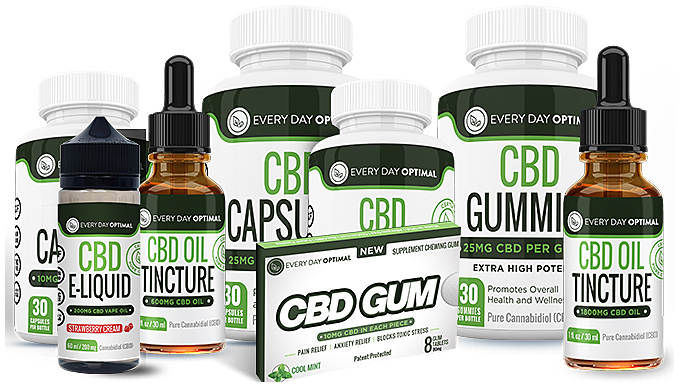 A prime example of legal CBD products are the Every Day Optimal Cannabidiol Oil Products. Every Day Optimal's CBD products can be made federally available due to the ingredients they use. According to Alex Gould from Every Day Optimal, "Our products are derived from industrial hemp and are free and clear of any heavy metals, pesticides, contaminants, and THC, making them perfectly legal in every state without a prescription."
Benefits to using CBD
There is a long list of reasons why people use CBD products. Common reasons include reducing the incidence of diabetes, fighting cancer cells, reducing anxiety, pain, inflammation, anxiety and treating various neurological disorders. The human body has an endocannabinoid system that has receptors designed to work in sync with CBD compounds.
Popular types of CBD products
CBD products are being designed to fit seamlessly into our daily lives. From CBD oils that you can mix into various foods and drinks to CBD gummies, tinctures, capsules and vape liquids. There is a growing list of options that fit many different lifestyles. The list does not stop with just us humans either, there is a growing market for pet CBD products as well.
Many of these popular CBD products can be found from Every Day Optimal CBD. They are the nation's leading supplier of USA made CBD oil products. All Every Day Optimal CBD Gummies are made with 100% hemp oil CBD (cannabidiol) extracted from federally legal industrial hemp. They can be accessed online from any state in the USA without a prescription and can be used in the treatment of a wide variety of ailments and health-related concerns.