Many cannabis cookbooks vary in their level of both culinary and cannabis expertise. Edibles: Small Bites for the Modern Cannabis Kitchen by Stephanie Hua with Coreen Carroll is a complete text meant for cooks at any stage in their edibles journey. Hua is a former food writer turned owner of the gourmet edibles brand Mellows based in San Francisco, California. Mellows focuses on elegant flavors and low doses for cultivating an experience alongside a delicate high, and Hua is the master recipe formulator. Carroll is a San Francisco chef who founded the Cannaisseur Series, an infused pop-up dinner series, and recently won the Netflix competition series Cooked with Cannabis. Their combined experience, exciting recipes, and beautiful photos make this a cannabis cookbook worth displaying alongside your favorite culinary references.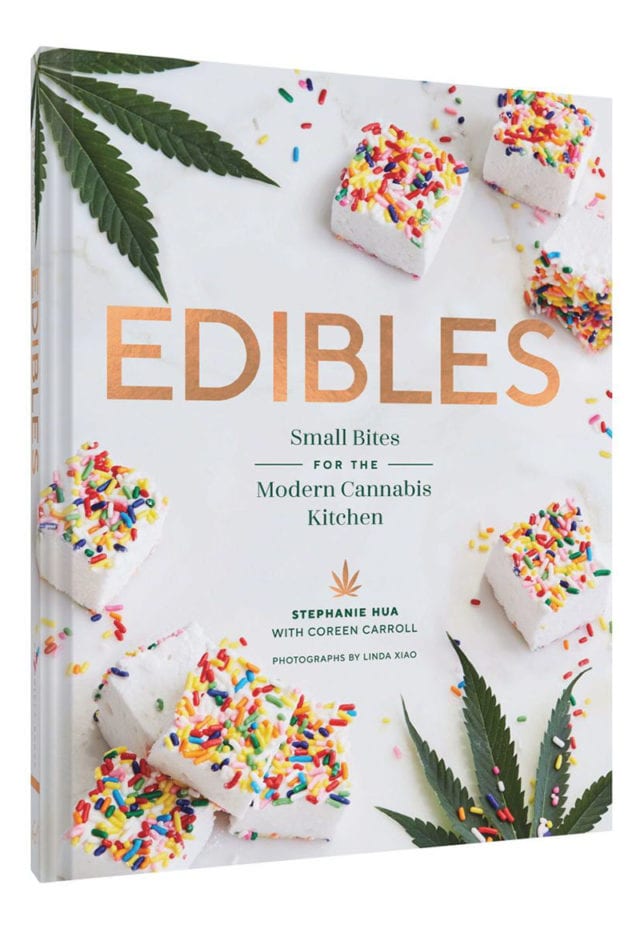 The introduction is followed by detailed education on important topics that are imperative for understanding how cannabis works when ingested. Read about cannabinoids, terpenes, and common medicinal uses for cannabis alongside equations detailing how to properly dose your edibles. The authors carefully developed these equations with various types of cannabis infusions using a specific Sour Diesel and test results from CW Analytics. This level of detail brings a necessary section to the genre that some other books don't address — not only will the reader have gourmet recipes at their fingertips, but they'll also gain an understanding into how to properly dose their creations.
This educational portion of the book is followed by a series of Master Infusion recipes like the classic cannabutter alongside intriguing maple syrup and sous vide infusions. The authors each share innovative, enjoyable recipes throughout the book. Special guests like Kenny Morrison of the Venice Cookie Company and Monica Lo of Sous Weed also share their infused specialties. The guest spots are a welcome collaborative addition to the book, highlighting various talented cannabis chefs in one handy guide.
Those of us who have made edibles in our home kitchens have probably infused the classics like cookies or brownies, but Edibles takes the infused dish one step further. The book empowers the home cook with a variety of recipes that can be cooked alone or creatively combined into a multi-course infused meal. Appetizers like Roasted Grape Crostini, Gruyere & Green Garlic Gougeres, or Roasted Beet Hummus will dazzle guests or simply start off a fancy feast for yourself. For the main course, enjoy Duck Meatball Sliders or Corndog Muffins, and finish off with the large array of showstopping desserts like author Steph Hua's signature Birthday Cake Mellows. Each recipe is impressive on its own, but the ability to combine them and build a menu is novel and speaks to the pop-up infused meal experience of author Correen Carroll's Cannaisseur Series.
Edibles: Small Bites for the Modern Cannabis Kitchen is a gift to the cannabis and culinary industries alike. This book offers a rich look at the world of edibles from within the scene, from its ample education opportunities, to the spotlights on fellow chef's creations, to recipe variety. It is not only suitable for the gastronomic stoner but it would also be a fun buy for parents who are newly interested in the plant or chefs with little knowledge of cannabis.
Get daily cannabis business news updates. Subscribe