If the majority of cannabis sold in the U.S. were grown under the sun, it would unlock a sustainable future for the cannabis industry. But that future is hard to imagine considering the current industry landscape. A 2020 study showed that more than 1% of U.S. electricity consumption is used to grow indoor cannabis — and that number is expected to rise as more states come online with adult-use programs. As the climate crisis grows more imminent, the industry must take accountability for the resources used and waste made by the commercial cannabis industry.
For six years, Eagle Trees Farm has dedicated itself to using sustainable and regenerative cannabis farming methods in Washington state. The company is also registered to grow hemp with the Washington State Department of Agriculture. Siblings Jessica Straight and Kenny Ingebrigtson run the family-owned and operated farm, which is nestled against the Nooksack river in North Western Washington. The pair decided to go into business together when Washington state issued its first round of cannabis licenses. These remain the only licenses issued since the medical program transitioned to adult use in 2014.
"We could have a sustainable cannabis industry, but I'm not sure we could do it with indoor grows because they're not sustainable at all. I think it's possible if we all grew with the sun," said Straight.
While scaling up their garden during that first year of operation, they noted how much had to be brought onto the farm to keep things running. In response, they started closing loops, meaning that the farm began producing everything that it needs in various channels of its operation. Each year, the team closed one or two more loops, which Ingebrigtson says is easier once you add some animals to the farm. Eagle Trees is currently home to five cows, seven beehives, four dogs, two cats, seasonal meat birds, two humans, and local wildlife. Last season, a few Northern Saw-Whet owls took refuge in their canopy, helping the farm combat voles who love to munch cannabis stalks. The owls were so comfortable on the farm that they stayed until the plants were harvested. In addition to making efforts to close loops, Eagle Trees only packages flower and pre-roll products in glass to avoid adding more of the industry's infamous plastic byproducts. According to Ingebrigtson, everything starts with making compost.
Ingebrigtson said, "Compost is the building block for the whole entire farm. We use it for potting soil, we use it for top dressing, we mix it into the soil. We use it for everything." The compost is one great example of how animals contribute to the farm every day, it's made from animal bedding (hay), manure, woodchips, cannabis chips (made from stems, stalks, and roots), cannabis leaves, and spent mushroom blocks from Cascadia Farms, their local edible mushroom cultivator. Ingebrigtson consulted with Cascadia and closed their loop in turn, creating a closed community loop that the farm is very proud of. Their efforts were rewarded in 2021 when the company's Royal ACDC won a 2021 WSIA Sun Cup Award for best CBD flower.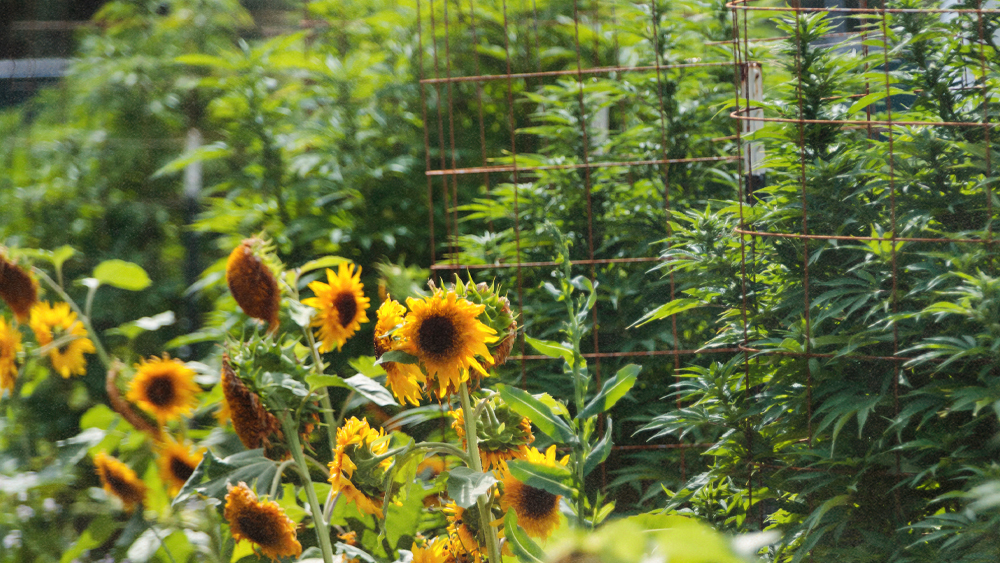 At the time of licensing, Ingebrigtson was interested in natural farming methods but didn't have a lot of hands-on experience. He was happy to find the DEM Pure community to learn from and collaborate with: "I became friends with other farmers and started seeing what other people were doing in the cannabis scene. We started looking at Korean Natural Farming (KNF), we got super into that, making lactic acid cultures, fermented plant juice, and indigenous microorganisms, culturing them in the forest, and bringing them into our compost and our soil. That's just crowd-sourced info."
There was of course a learning curve to running a sustainable farm — for example, their first year making soil didn't go very well. But year after year, the soil became more and more viable and their focus could move to other farming aspects. Ingebrigtson chooses to use methods from many different natural farming modalities, which he calls "mixed natural farming." Every farm is different and every soil is different, so being flexible and experimenting with different methods lets Eagle Trees cater to their farm's environment. They don't just apply methods to the land, they take notes from the land and provide what it needs.
Occasionally, they send soil samples to the lab which gives a readout of what compounds are in the soil. After getting these results, they can alter the inputs given to the plants and soil to improve bioavailability. These tests produce better soil which creates better bud and a richer environment for future harvests, and Eagle Trees takes on the cost. They also pay for state-required testing, which is one of the many regulations that hinder growth for small family farms alongside often changing traceability software management and superfluous internal camera monitoring requirements as required by the Washington Liquor and Cannabis Board (LCB), a state agency that previously managed only liquor sales in the state.
The LCB had no experience with regulating agriculture before it was appointed to oversee the cannabis industry and as such, the regulations do very little to serve farmers. Many family-owned farms and small businesses struggle because of heavy regulation, high taxation, and a robust legacy market.
Straight and Ingebrigtson are confident that if the state deregulated in areas that don't serve farmers, it would take a lot of pressure off of small business owners. Currently, many of the regulations are set to stop growers from "backdooring," a term for filtering cannabis grown in regulated operations into the legacy market. These regulations make cultivators who are struggling to make it work in the regulated market feel like criminals — the regulations also haven't protected outdoor farms like Eagle Trees from robbery. Theft during harvest season can take a cultivator out of a market like I-502 in Washington, where almost 50% of the sale price goes to taxes.
"When you buy any Washington state cannabis product at retail, about 50% of the total cost goes directly to the state and about 30% goes to the grower. That means the state is making much more on our products than we bring in," said Straight. "It's a very difficult business on the scale that we're running on and we're doing it for the love. There's no other way to say it. Indoor growers can have up to 5 harvests a year. We get one harvest, maybe two in our light dep greenhouses. I wish that the state would do more to level the playing field between the two methods by allowing sun-grown sustainable farms with a larger growing area to account for the difference in harvests. They should want to incentivize sustainable growing methods."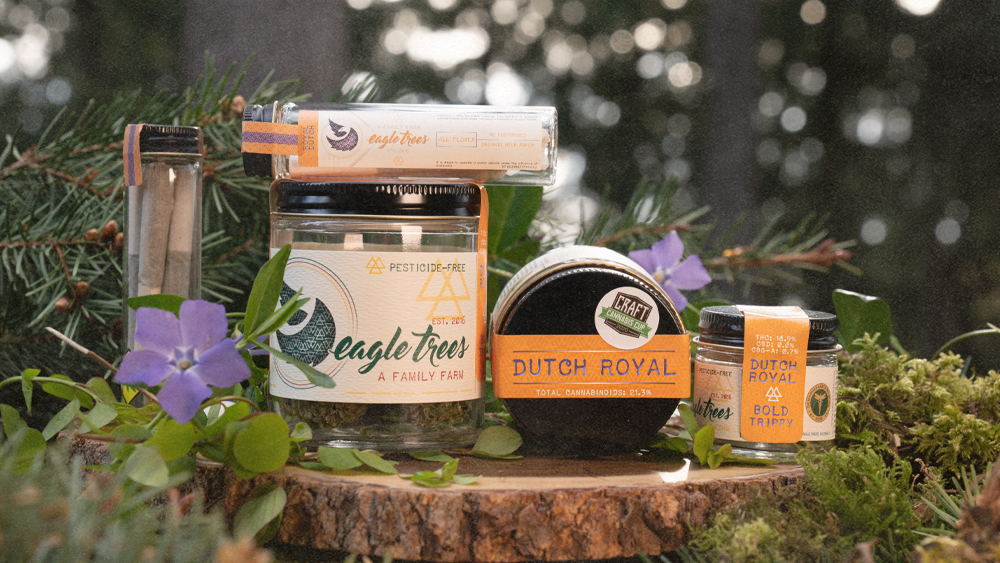 The high taxation hits the customer, who can get much better prices from their neighborhood dealer, so the shops must drop their prices to accommodate and bring in more customers. This drop in price then hits the growers, who are forced to find a way to grow amazing cannabis at a price point that isn't sustainable. While this is a huge issue, farms like Eagle Trees understand the uphill battle of lowering taxes and instead focus on ways to improve. When I spoke with Eagle Trees, WA HB 1260 was still on the floor, which would have made direct-to-consumer sales legal. Both co-founders were excited at the prospect of opening up a new channel of sales while also welcoming customers to their serene riverfront farm up the historic Mount Baker Highway. The bill would also have allowed sun growers to upgrade to a 30,000-square-foot canopy, which would mean more room for profits despite expected crop issues from pests or weather. Unfortunately, the bill died when the 2022 legislative session ended. Hopefully, it will be reintroduced next session.
"Direct sales for farmers would change the game. Right now it doesn't feel sustainable as a small farmer and business owner with all the taxes, all the restrictions, all the LCB oversight and overreach," said Ingebrigtson.
Straight added, "Direct sales are the only way to make a decent living with a small farm — any farm."
Right now, Eagle Trees Farm is doing the hard work that comes with the early season and looks forward to a balanced Washington market that supports small farms. Each 4/20, they deliver cookies made by their mom to budtenders around town. In the summer, they host a family-friendly river party at the farm where they provide farm tours, live music, great food, and a chance to celebrate the local cannabis community. Supporting small cannabis farms like these puts money back into the local community, and contributes to a sustainable future for the industry. And for those who want to advocate for small businesses, writing your representatives about supporting legislation that directly supports small cannabis businesses goes a long way.
To learn more about Eagle Trees or find their products near you in Washington, check out EagleTrees.com.
Feature image credit: Brenda Phillips