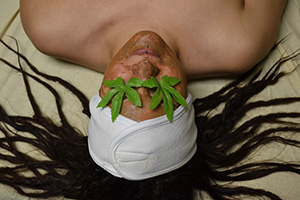 Since the inception of Colorado's recreational cannabis industry, the market has grown and thrived. Apart from growers, processors, and retailers, the industry has created opportunities for all types of niche businesses. One such business is Primal Wellness, the world's first day spa offering cannabis-infused products and related services, located in Englewood, Colorado. The spa offers a variety of massages, manicures, pedicures, yoga classes, and other services to tourists and local residents who want to experience the physical (non-psychoactive) benefits of cannabis products.
We recently interviewed Danielli Martel, the founder of Primal Wellness, about her experience growing the business in Colorado, what she believes the future holds for cannabis and hemp-infused cosmetic products and lotions, and some of her plans for new ventures in the industry.
Read the full interview below:
---
Ganjapreneur: When was Primal Wellness founded, and when did you know that you wanted to make a career in the cannabis industry?
Danielli Martel: Primal Wellness Company opened on October 1, 2014. In 2009 I became a medical cannabis user in a state in which it is still illegal. After a few years of skirting the law we knew, as a family, that it wasn't worth risking our children or business there and made the decision to move to Colorado. The goal wasn't specifically to have a career in cannabis but more to create an experience for others that would allow an opportunity to educate about the benefits of cannabis. We arrived in the Denver area in February of 2014 with the intent of opening a "bud and breakfast" in Evergreen. Unfortunately, due to banking regulations we weren't able to pull it off. The conception of the spa was a marriage of a previous spa idea in my "entrepreneurship" folder, personally using cannabis on my skin and seeing amazing results, and research about how cannabinoids increase the benefits of massage and other spa treatments.
What was your career before starting the company?
My background is in Sales and Marketing. I started in real estate at the age of 19, went into mobile phone sales during the ought's, and then found a career in insurance. My personal career goal is to mentor others and help them reach their goals. I currently own and operate two traditional brick and mortar businesses, two online businesses, and am working on bringing some new concepts to life. Not bad for a stoner, right?
Not bad indeed! Can you give any hints about your upcoming projects, or are they still under wraps?
Thank you! Seriously, we really need to shed this "stoners don't get anything done" nonsense. I'm doing more now than I ever did before I was a consumer. Primal Wellness Company is working on formulations for a custom product line that would include industrial hemp and we are also beginning on our expansion by opening a second location in Eagle-Vail in January of 2015. For myself, I have an awesome restaurant concept that I would like to take to Brazil, my second country. If there are any restauranteurs out there interested in a partnership, hit me up!
What were some of the greatest obstacles you faced while growing the business?
The greatest obstacle to getting the business off the ground was location, location, location. It was challenging to find something centrally located, friendly toward the business model, in a community that would allow it, and with parking. We got lucky and found a location that is only 15 minutes from the center of Denver, located near shopping and dining, right off the RTD line, we have ample parking, and we are just enough off the beaten path to provide privacy and serenity.
How many people does Primal Wellness currently employ?
We currently have contracts with almost 20 therapists and yoga instructors. Additionally, in keeping with the idea of mentoring, my partner and I have recruited three up and coming young women who are passionate about health, wellness, and business, and have given them an ownership opportunity. While they will be responsible for the daily operations of the Spa and Studio, we will be supporting them through our roles as CEO and CFO and as mentors.
What percentage of your clientele would you say are coming as tourists, or for the "novelty" of a cannabis spa treatment?
90%, so far, have been tourists. We've had people visit from Boston, San Diego, San Antonio, Kansas City, Vegas, and even a few other countries. While the initial boost has been tourists, we are starting to see more activity from the local community. The yoga studio membership is quickly growing and as the members learn about the benefit of infused treatments, we are starting to see crossover. Additionally, we have partnered with several medical care providers, both MMJ on non-MMJ related, who are starting to refer patients for care. Our building is fully wheelchair accessible, most of our therapists come from medical backgrounds, and our yoga instructors are trained in wheelchair friendly yoga. We also offer treatments featuring teas, gold and minerals, papaya, cucumber, mud, chocolate and so much more. Our focus is wellness and healing through luxurious indulgence.
What is the most popular service that you offer?
The Companion Services are, by far, the most popular. Our companion rooms are designed so that we can accommodate any two services in the same space. For example, we can do a couples massage or we can do a facial on one guest while the other has a massage, which is growing in popularity.
How do you source your cannabis-infused lotions, oils, and other topicals? Is there a large selection on the market right now?
There are many options within the market now. In Colorado one can purchase salves, oils, and lotions from most dispensaries and there are many brands making great names for themselves. There are also recipes online for making your own cannabis infused massage oils and facial treatments. What we have found within our spa is our guests want something they can take home with them, wherever they live. To accommodate that need we have partnered with Kannaway. Kannaway produces infused products from industrial hemp which means it is legal to use and ship in all 50 states. During spa treatments within the spa, we incorporate whole plant extraction for even deeper treatment.
Do you think that mainstream cosmetic brands will embrace hemp and cannabis as ingredients, or do you think infused topicals will remain a niche product?
I believe mainstream cosmetic brands will embrace hemp and cannabis as ingredients within the next decade. One day it will be an ingredient as commonly listed as jojoba and aloe are.
What benefits do you personally see from cannabis-infused topicals?
I personally use cannabis-infused topicals to manage carpal tunnel and I use it in my nightly "fix my face" routine. I go to sleep looking like the Hulk as my face is so green! The affect that it has had on my skin has been incredible. My break-outs are greatly reduced and I am regularly complimented on my skin.
What is the best thing about your job?
It doesn't feel like work.
What is your biggest frustration with the cannabis industry in Colorado?
The beauty and challenge of cannabis is that it runs the gamete from being a fun, recreational plant to a lifesaving and very serious plant…all in the same grow. People are extremely passionate about the plant and especially passionate about their specific messages surrounding the plant. So, for me, I find the biggest challenge among consumers and people within the industry to be acceptance and understanding of each others messages. The business part of the industry is typical of any business model I've been a part of. There are no clear answers, you have to figure stuff out yourself, the governing authorities aren't clear on how to interpret the guidelines and as a result the legality of many issues are "in the gray" (a very common phrase here in Colorado), and if you ask three attorneys or government representatives the same question, you will get three different answers. So, like with most things in life, do what feels right, use common sense, and constantly educated yourself as things change daily. It is scary and challenging opening up a cannabis related business, but, I believe if your intentions are pure and your goal is to educate people, bring them a great product or service, and you are passionate about the plant, the power of the plant will be with you and you will succeed.
What advice can you offer to aspiring ganjapreneurs?
Meditate every day. Have a business plan but be malleable within it. Don't take "no" from people who aren't in a position to tell you "yes."
---
Thank you for sharing your insight and experience, Danielli!
To learn more about Primal Wellness and schedule a session for your next trip to the Denver area, click here. Questions? Comments? Feel free to post them below!