What many early cannabis dispensaries lacked in presentation, they made up for by normalizing the act of retailing cannabis. But like in any other retail industry, the cannabis shopping experience truly benefits from high-quality interior design and experts like the team behind SevenPoint Interiors are starting to set new expectations for the cannabis space.
We recently interviewed Danielle Marzarella about SevenPoint's design process for cannabis retail environments and what inspired the firm's 2017 founding. This interview also covers the unique design and regulatory challenges related to cannabis retail, different requirements for different locations and legal markets throughout North America, the company's design process and strategies, how they collaborate with clients to create engaging and experiential retail environments, precautions the company has taken in regards to COVID-19 requirements, and more!
Scroll down to read the full interview.
---
Ganjapreneur: How long have you been in interior design?
Danielle Marzarella: Our founders Robert Turk and John Simmen met back in 1989 and have been in the business ever since. They founded Visual Elements in 2010 which has been recognized as a global leader in retail environments manufacturing since its inception. Recognizing the need for design solutions in the cannabis industry, SevenPoint Interiors was created in 2017, offering full turnkey interior design and build solutions.
What inspired your entry into cannabis retail design?
We purchased an exhibit booth at Retail Trade Show, Global Shop, and created a small cannabis dispensary display pop up. With such a positive response, the team realized the need and demand for elevated cannabis retail design spaces by business owners. With the increasing legalization of cannabis around the globe, SevenPoint seeks to elevate the cannabis experience for the customer through retail and to elevate the process entirely for brands and dispensary owners in creating and executing their company identity/vision and offering turnkey solutions.
What design and/or regulatory challenges has your team faced that are unique to cannabis retail?
Current regulatory challenges in the Toronto market include prohibiting site lines into the dispensary from the street. However, we've used these challenges to our creative advantage. For one of our clients, Scarlet Fire, we used this as an opportunity to create a mystique at its storefront by designing a "transportation tunnel". By strategically placing partition walls with circular cutouts and LED lighting — from the glass line through the back of the store ending at a circular LED screen playing psychedelic video graphics — the end result was a kaleidoscope effect as passersby peek in from the street.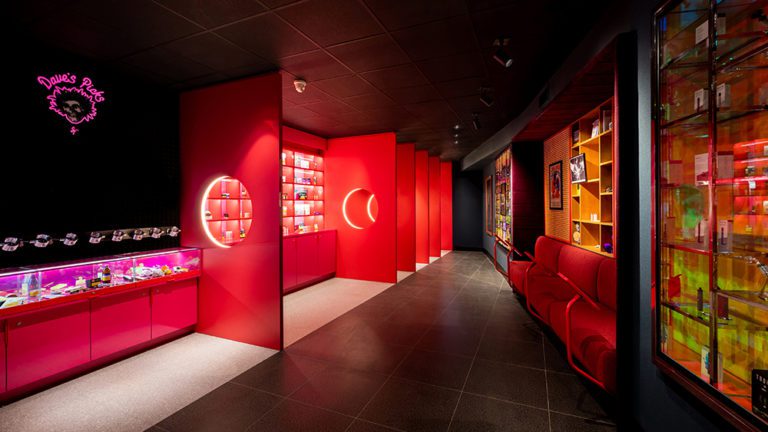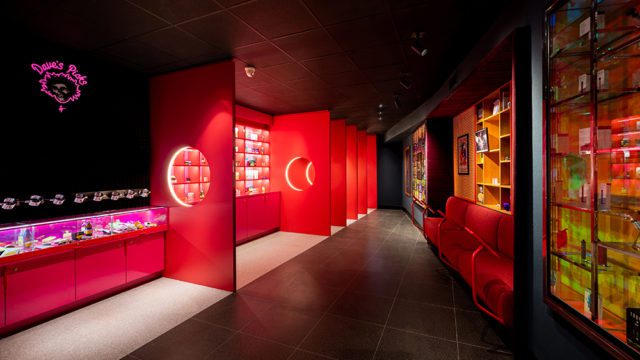 SevenPoint has designed cannabis retail spaces in Toronto and in various states in the US, do the themes and focus differ between the two countries? What about between different states?
Themes tie back to brand and identity and whether it be Toronto, Michigan, or Massachusetts, each of our clients bring a different brand idea to the table. We service each individual client differently to help create and define a vision and theme unique to the brand. Compliance can differ by country and state and sometimes compliance regulations can have an impact on design as reflected in our transportation tunnel for Scarlet Fire. Even though it is a regulation, we used it as an opportunity to create a unique design solution to what might be viewed as a design problem. There has also been a surge in building smaller footprint dispensaries, especially in denser areas such as Toronto. These smaller boutique type dispensaries generally range from 700 sq/ft – 2000 sq/ft.
We're seeing the growth of educated consumers looking to create a more sustainable lifestyle, which includes cannabis as a natural alternative to traditional medicine. In what ways do you look to incorporate LEED ID+C into your design or are there any other sustainable/green practices considered in your process?
While we will always look for opportunities to lower our carbon footprint, we have specific measures that we've implemented in our manufacturing facility and within our design and manufacturing process to capitalize on sustainability. We introduce and specify materials to clients such as our proprietary recycled powder coat finish that offers a unique design aesthetic for fixture and surface finishes.
What is your design process? Does the client set the vision of the space they would enjoy, is it collaborative or do you guide them toward the direction you think they should go? Is this unique to the cannabis industry?
Upon engaging with a client, we will identify their scope of work unique to their needs then provide them with a proposal for the design. We will then go through a series of steps starting with gathering requirements and objectives for their design, providing inspirational sketches and images to identify the look and feel that best represents their brand. Through this well-organized process and with client feedback, we will develop floor plans, elevations, fixture design and 3D images turning it into a final concept design package inclusive of colored renderings, material boards, floor plan, ceiling plan, lighting plan and elevations. We provide our client with a proposal for the fabrication of the fixtures and displays which is a seamless process to immediately move into the engineering and production phase wasting no time. Upon completion, we will ship and provide installation services and visual merchandising support when needed.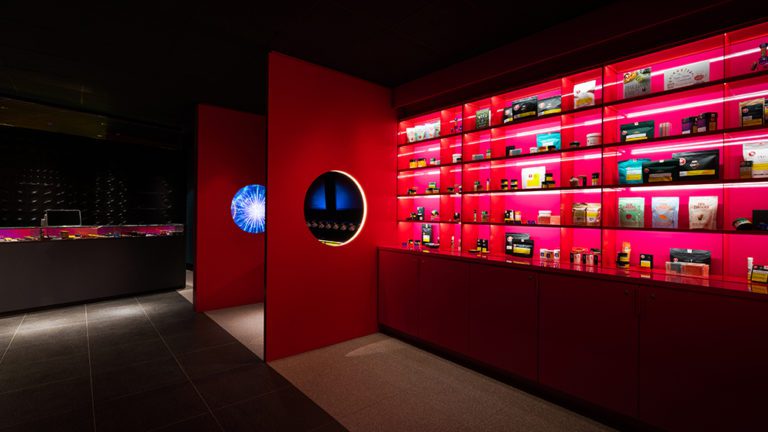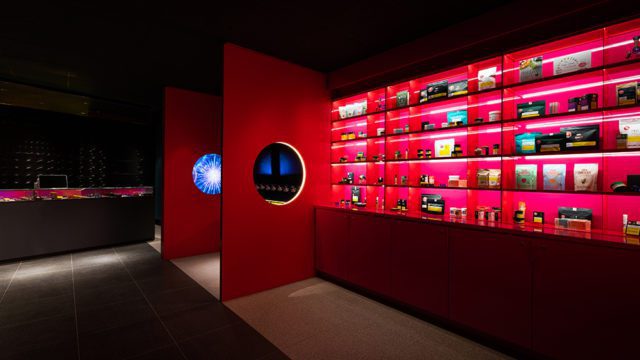 Lighting is essential to pick up some of the intricacies of the merchandise. How do you go about creating an optimal lighting plan for a dispensary?
Lighting is one of the most important considerations impacting the overall consumer experience. It sets the tone and mood for the consumer from the moment they step into the dispensary. General and decorative lighting play a part of this process; however, it is all about the product. Product lighting can really enhance the sell through of the product and can be achieved in multiple ways. Whether it be strategically placed overhead lighting to highlight wall displays or tabletops, we can also provide integral lighting options within the wall systems and table tops creating an aura of light for your product and that extra pop you need to elevate the product merchandising.
Where is there space in retail cannabis to innovate the design approach?
COVID fears accelerated cannabis consumption. As we exit the pandemic, there is a return to experiential retail sweeping across the cannabis industry. There is a lot of retail/commercial space open in cities, and owners are looking to capitalize on the opportunity. The customer is ready to get back into stores. They are bored of being trapped at home and want to return to live events and experiences. Creating engaging and experiential shopping experiences with a purpose are still on the rise. We continue our efforts to strive and offer innovation in our design concepts down to the specific product display such as our proprietary Flower Globe and Capsule to help create that memorable experience and drive loyalty.
Is there anything specific about the cannabis industry that drove the demand for the creation of the module system?
When we entered the cannabis space, we recognized very quickly the need for a systematic approach to supporting a category of dispensary owners requiring an easy and cost-effective design and fixture/display solution that worked with their individual budget needs and drove speed to market. The Module Collection is a pre-engineered fixture and display system that we can customize based on individual client needs. The fact that it is pre-engineered using standardized dimensions means we can offer a branded flexible and adaptable solution with a faster turnaround than going the fully custom route that takes more time and money. The collection is available in standard and custom colors, a wide range of finishes, and infinite configurations.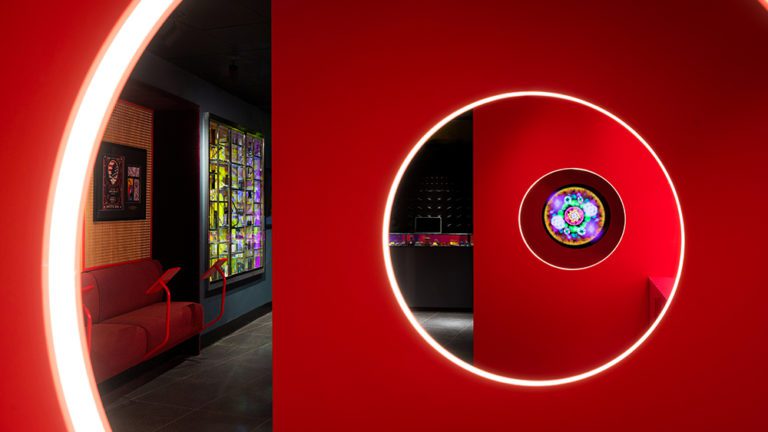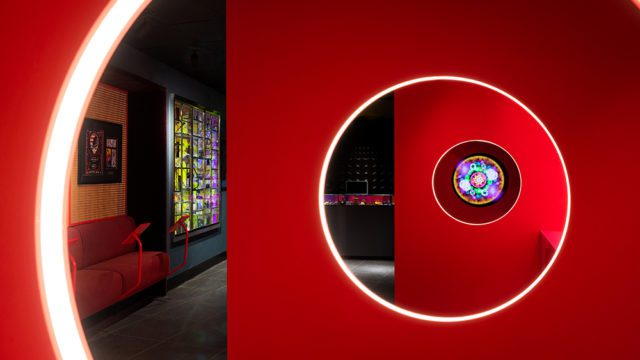 Beautiful accessories can enhance the cannabis experience. Can you speak more about your modular system line, how it developed and where you see it going?
Our Visual Merchandising System works hand in hand with our Module Collection. The components are intended for use with the system or independently. It's simple, flexible and clean design offers a multitude of display and product storage options for under glass counters, on tabletops and shelving. Opportunities for product information placement as well as custom branding options exist to help educate the consumer during their experience. As with our Module Fixture System, we will continue to develop new elements to complement the existing collection offering fresh new ideas for fixture and visual merchandising displays.
How have COVID-19 safety precautions affected the retail shopping experience from a design perspective?
To follow COVID-19 regulations, we have had to be strategic in space planning to accommodate for social distancing. We also have to be creative when designing the modular fixtures because of this. Partition screens at the POS cash desks have become standard during this time. In the front of the store, we've had to integrate dedicated areas for curbside pickup to accommodate for increased online ordering. COVID-19 has taken away the sensory experience of cannabis retail. We aren't allowed to touch or interact with the flower so that has been an obstacle that we've had to work around.
---
Thanks, Danielle, for sharing your expertise in retail design for the cannabis space! To learn more, visit SevenPointInteriors.com.