CROP Infrastructure Corp. (CSE: CROP) is a North American cannabis enterprise with a unique plan for capitalizing on the continent's rapidly evolving cannabis landscape. The company, operating as a lender and landowner, recently announced the construction of 12 state-of-the-art greenhouse facilities in Grant County, Washington state. These facilities will be made available to qualified cannabis licensees.
In the cannabis industry, traditional lending to build business infrastructure is either limited or nonexistent due to the plant's ongoing federal prohibition. Particularly in the U.S., where most state markets are still years behind Canada, the industry is poised for enormous growth — and CROP's flagship Grant County facilities will establish advanced infrastructure for 44,000 square feet of cannabis canopy.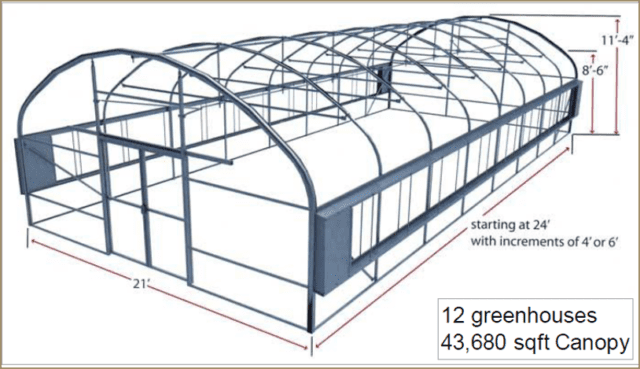 Aptly named "The Dozen," this project will benefit from some of the cheapest power in North America: at just $0.02/kwh, CROP's tenant grower could produce cannabis product at approximately $200 per lb USD — or just $0.44 per gram. When all 44,000 square feet of production space is operating at full capacity, the tenant grower will have the capacity to manufacture approximately 24,000 lbs per year. The Dozen is also located near major trucking routes in Washington, which will simplify deliveries to the tenant grower's dispensary partners.
All capital deployed by CROP will be repatriated to the company through land management, licensing, and branding fees paid by the tenant grower. Since CROP is taking the initial risk of deploying capital, hiring construction crews, and purchasing materials, the company seeks a 60% preferential payback from the tenant grower via land management, leasing, licensing, and branding fees. Once CROP has recouped its investment in a facility, the company will retain just 30%.
CROP Infrastructure Corp. fills a valuable role for the cannabis market by providing the means for growers to maximize their potential. CROP owns land, infrastructure, equipment, and brands — which, combined, will lead to maximum value for tenant growers and investors alike. Visit cropcorp.com to learn more about CROP's blueprint for success in the world's fastest-growing industry.