The legal cannabis market is forecast to reach US$148 billion by 2026, with Barclays European Consumer Staples Report predicting the global cannabis market will reach US$272 billion by 2028.
Surprisingly, despite still stringent legislation, the Australian legal cannabis market is also experiencing heightened activity.
Australia's Office of Drug Control has so far issued 69 licenses to cultivate, produce, or manufacture medicinal cannabis.
This includes:
24 licenses for cultivation of cannabis for medicinal use,
16 for cultivation for research, and
23 for manufacture of medicinal cannabis products.
Creso Pharma Ltd (ASX: CPH) has established itself in this market as an early mover within the medicinal cannabis sector. Its focus: high margin pharmaceutical-grade cannabis products in human and animal health.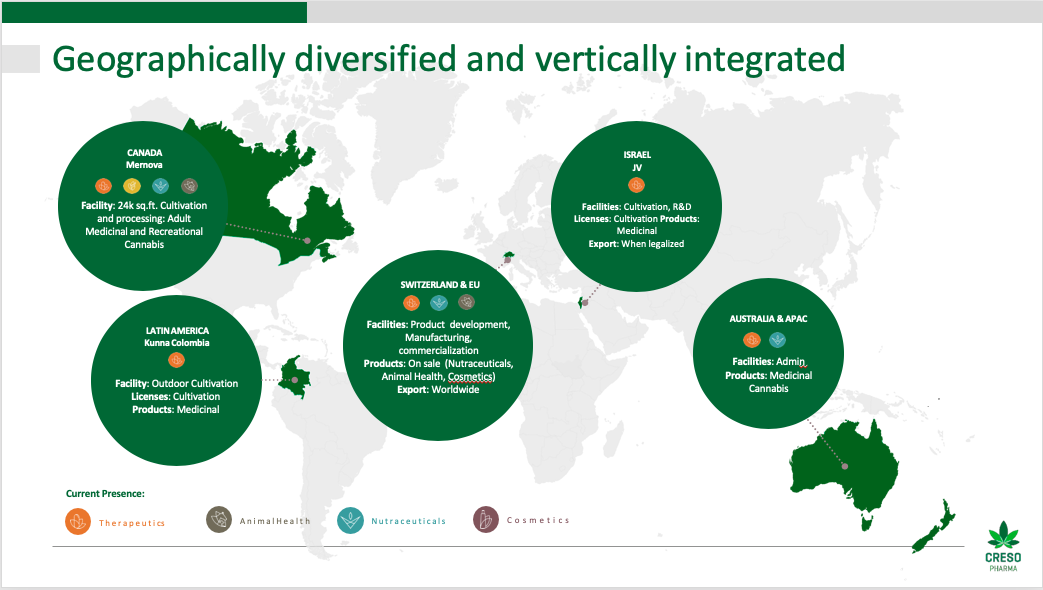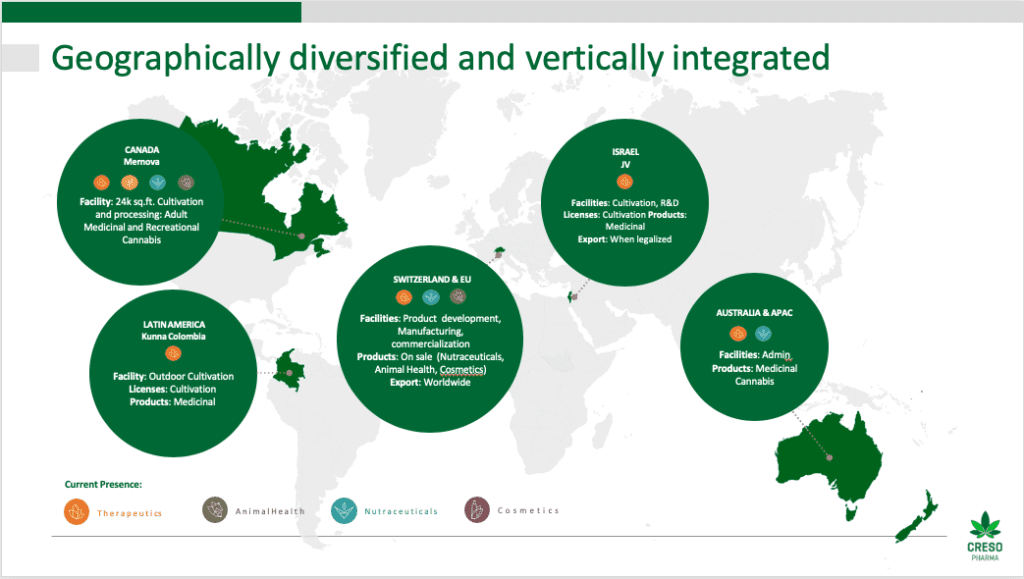 As a global entity, Creso represents an early entry point for investors to dip their toes in the global legal cannabis market.
The company has a diverse product portfolio of cannabis and hemp-derived products focused on four key areas: therapeutics, nutraceuticals, animal health, and cosmetics.
Since 2016, it has been committed to build a business rather than ride a trend, albeit a potential lucrative one.
Within this environment, Creso is aggressively pursuing the launch of nine pharmaceutical-grade products, along with key certifications and strategic partnerships that will accelerate revenue growth.
Creso has already launched four sales generation products across the cosmetics, animal health, nutraceuticals, and therapeutics verticals.
The company expects its growth plans to be supported by funding measures, revenue increases, and cost management initiatives.
While its operations continue to move from strength to strength, it hasn't been smooth sailing for the company in 2019.
A failed takeover bid by Canadian cannabis giant PharmaCielo Limited (TSX-V:PCLO) which targeted Creso for the breadth and strength of its current portfolio rocked its share price.
Te bid valued Creso at A$122 million; the deal fell over in November due to a softening in the broader medicinal cannabis market.
It did, however, highlight the potential invesment opportunity in the ASX listed Australian company.
The proposed takeover valued Creso at 63 cents per share. The most recent placement was conducted at 19 cents per share – the takeover price representing a 230% premium.
Creso's strengths are emphasized by its year-on-year revenue growth, providing a sound base as new products are brought to market.
The company recently launched its cannaQIX® range in Africa in conjunction with leading South African pharmaceutical company, Pharma Dynamics, a subsidiary of Lupin Limited (NSE: LUPIN). Initial orders worth approximately A$300,000 for the cannaQIX® product range have been made and Creso anticipates the products will available in South Africa in Q1 2020.
In animal health, Creso's partner Verbal is introducing the two initial anibidiol® products into further countries in Europe and will be launching Creso Pharma's new animal health products in the near future.
For both human and animal health, Creso has initiated its reach into North America, where it is in discussions with a number of potential partners to introduce all 13 products, human and animal, into selected US states.
Products are made with standardized dosing and formulations through the application of pharmaceutical rigor, Good Manufacturing Practices (GMP) standards, and proprietary, innovative delivery technologies.
In addition, they carry the well-known "Swiss Made" label that is synonymous with premium-quality products.
The Swiss connection is significant as Swiss-based CEO Dr. Miri Halperin Wernli is a well-regarded senior Pharma executive with over 24 years of strategic and operational leadership in global drug and product development in the pharmaceutical and biomedical industries.
Creso believes the value of its fundamental operations continues to grow, supported by the company's portfolio of products, established operations, corporate interest, and global market opportunities.
To learn more about Creso Pharma visit The Next Biotech.