Cannabis brings people together and we tokers have known that for a long time. Connecting with friends, or making new friends, over a bowl of flower or some hash goes back for generations. So it should not be any surprise to see some cannabis companies coming together in friendship first, only to find that everyone involved has shared ideals and goals for starting a cannabis company, too.
This is how Constellation Cannabis came together. Renowned hash-maker Jay Anders (IG:@headhunterextracts_) met a good guy at Emerald Cup in 2016. They struck up an easy friendship talking about the Seattle Sounders soccer team. The day happened to be the 21st Major League Soccer championship and the Seattle Sounders were playing. The new friends decided to duck out of Emerald Cup for a while and head to a local bar to watch the game. Over the game, the two became fast friends and shared their love for hash.
It ended up that Jay's new friend had family at the Emerald Cup who were working on a plan to produce the finest medical-grade, solventless hash products in Washington state, and introductions were made.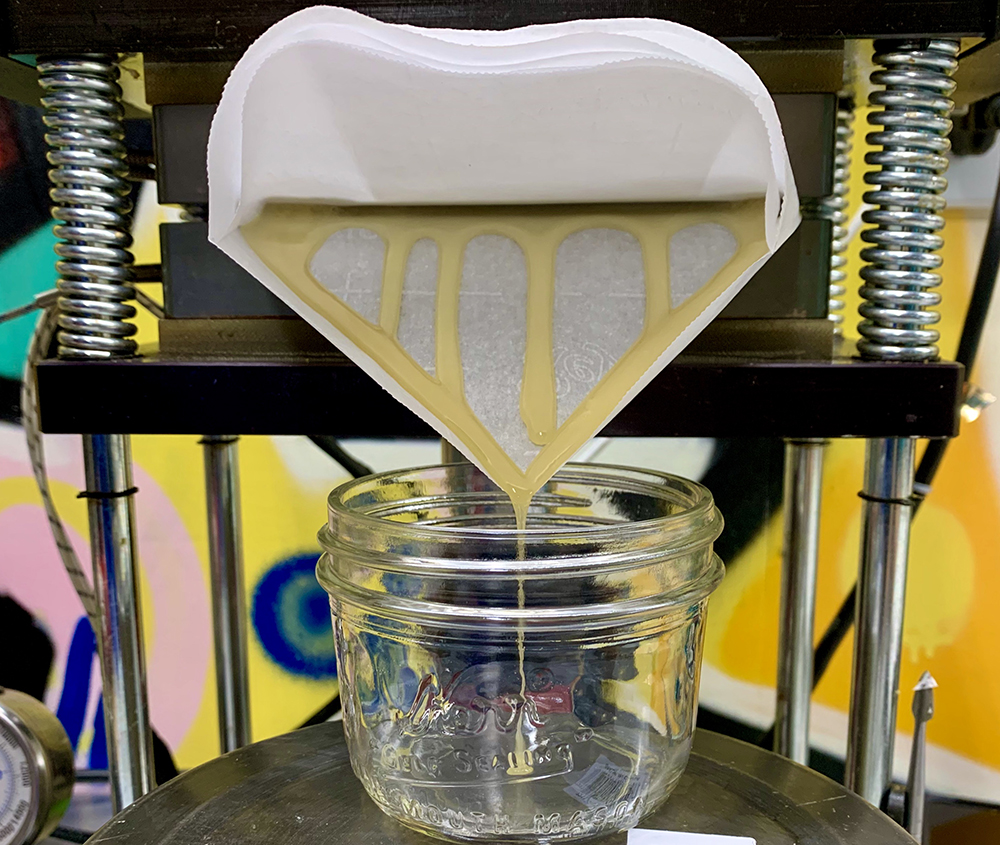 Bailey Hubbard, owner of the newly formed Constellation Cannabis, and her husband and co-founder Jeffrey Hubbard got together with hash-maker Jay Anders and found that together they had the complementary skills needed to launch a cannabis company and a shared desire to make exceptional solventless hash for medical patients and everyone else who appreciated fine quality ice water hash.
At the time, the Washington market was awash in mediocre hydrocarbon hash, often made from sloppy trim and released without much heart. Bailey, Jeff, and Jay shared a belief that there was a significant unmet desire in the market for an array of products made from solventless ice water hash created in the traditional laborious manner. So many patients were rejecting the array of licensed products in the Washington market at that time because they were made with hydrocarbons and left many cannabis patients suspicious of residual solvents on top of the fact that Washington, to this day, does not test for pesticides. They shared a vision of first producing the best possible bag hash, and then expanding to an array of products made from this hash, all of the highest quality, to instill faith in the patients who consume it. The founders were very careful with what they consumed themselves and would often chat with medical growers and patients who were dissatisfied with available options. They decided to try to create a line of products meeting their own standards, and if everyone else became attracted to their quality, all the better. Their expressed goal was to make elite hash available to regular folks without elite clout in the underground.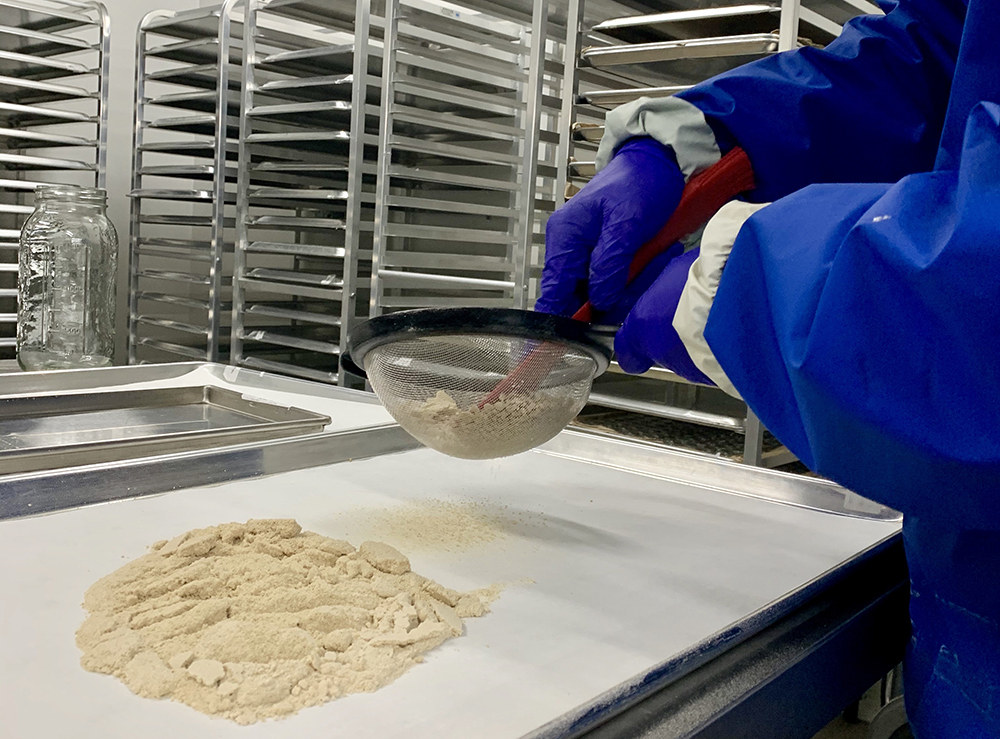 Constellation brings a variety of unexpected cultivars to market. Indeed, it is very common for cannabis producers to simply follow the hype trends, but Constellation chooses to play a greater curatorial role searching for unique and unexpected cultivars. While they certainly produce popular favorites like GMO and others, the strains they are most excited about are lesser-known but incredibly unique and flavorful varieties, like the multiple Cannabis Cup-winner Rainbow Flame from Green Fire Genetics. This cross of breeder's cuts of Green Fire and Everglades is the sort of thing you won't find anywhere else and Constellation sets themselves apart by making these sorts of choices in starting material.
And the response from hash heads everywhere has been incredibly positive. Constellation currently is stocked in 137 stores and has a 98-store waiting list looking to carry their solventless hash products — an impressive data point. The company is currently slowly growing capacity to meet much of this demand. They are also presently in discussions to expand to the California market. Additionally, as solventless hash becomes increasingly popular, the entire Constellation team is now providing consulting and SOPs to companies in other states looking to add solventless hash to their offerings.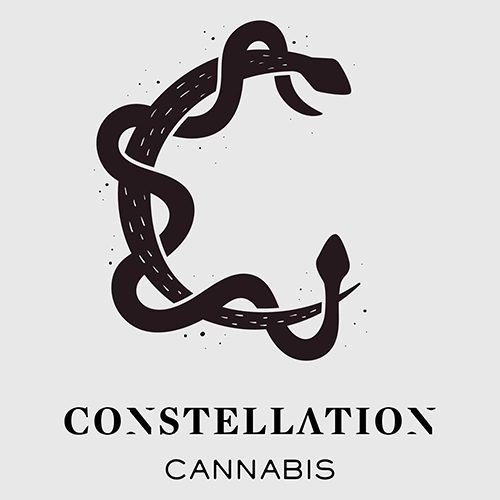 The Constellation logo is an illustration of the Serpens constellation of stars. Serpens is one of 88 modern constellations and is split into two halves. Co-founder Jeff Hubbard explained to me that, in their eyes, the two halves of the constellation represent the medical and recreation aspect of the markets and his goal is to recruit stars to the Constellation team in order to provide the best hash on the market — both an ambitious and honorable goal. There is yet more meaning to the logo, however, because the god represented in the constellation, Asclepius, is the Greek god of medicine. While the story changes slightly depending on if you read the Greek or Roman lore, essentially, in the Roman version, Aesculapius is represented by a snake that brings healing herbs to the sick and injured. Many in ancient times made offerings in his name to acquire rare and needed medicines.
Constellation currently grows 80-90% of the flower that they use as inputs. Most members on the team are cross-trained to work in any area that the growing/production cycle demands. This creates greater consistency to the end product and preserves "manufacturing memory" should anyone move away and/or leave the team. Turnover remains a huge challenge to consistency in the cannabis industry and this sharing of knowledge is Constellation's hedge against any loss of skill. And, since Constellation's managers are promoted from within, it helps identify team members who have management potential.
The company culture is friendly and warm. When I visited the facility I was greeted with smiles everywhere. Folks were wearing their masks properly and I heard niceties like "Thanks" and "You're Welcome" being used between employees. That may seem minor, but having worked in extraction and cultivation facilities myself, I know simple courtesy sets a nice environment for everyone. The informal shop motto is "Best or Bust." The employees told me there is little ego on the team, they are paid more than other similar companies, including health insurance and, laughing, it was pointed out by more than one team member that everyone, including the founders, has cleaned the toilets when needed. It was not lost on me during my tour that each person on the team was well-spoken and could explain their workstation in detail. When asked detailed questions, replies were thoughtful and it was clear that these folks really enjoyed their work and work environment.
There was a lot of credit on my tour given to those who injected key ideas to Constellation's success, like Low Temp Plates for making hash rosin, Alaina Austin at Green Fire for specialty genetics, and Ben Hartman, author of "Lean Farm," which seems to guide everything that Constellation does. There is a lot of reading that takes place at Constellation. They even have a managers book club where they read the same book on management techniques and get together and share insights. Their guiding principle is the Japanese idea of "Kaizen," which means continuous improvement.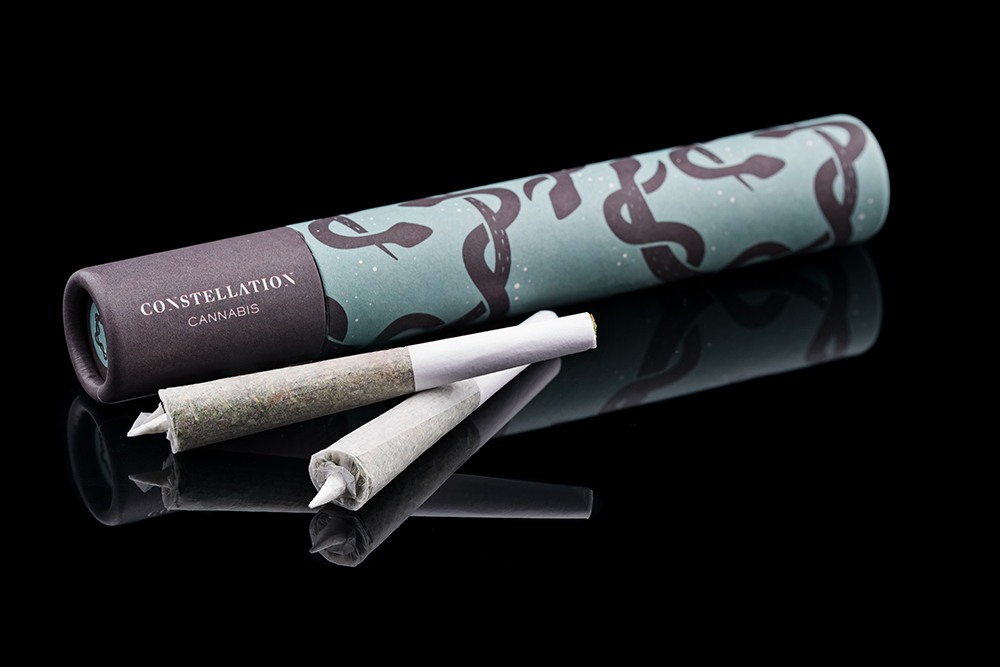 Another aspect where Constellation provides industry leadership is in compostable packaging. We all hate how much plastic is wasted by a typical pre-roll tube and 1g packaging. Such a waste. Constellation's owner Bailey Hubbard is a designer, too, and knew from day one that she wanted to reduce as much plastic as possible in their packaging and make as much of it compostable as possible. As the company's graphic and package designer as well, Bailey has direct control over this and has devised and implemented a slick, 100% compostable sealed joint tube that you can find on retail shelves. Their hash sleeves are compostable as well, and their jars are glass. Even their vape cart packaging is fully compostable except for the foam insert, which they are looking to upgrade. Overall, 80% of their packaging is compostable or recyclable — a big statement in favor of environmentalism.
While clearly Constellation has their operations in place properly, all of that is for naught if the final product isn't extraordinary. The Ganjapreneur review team was able to taste some of hashes and sauces from Constellation, and here are our thoughts.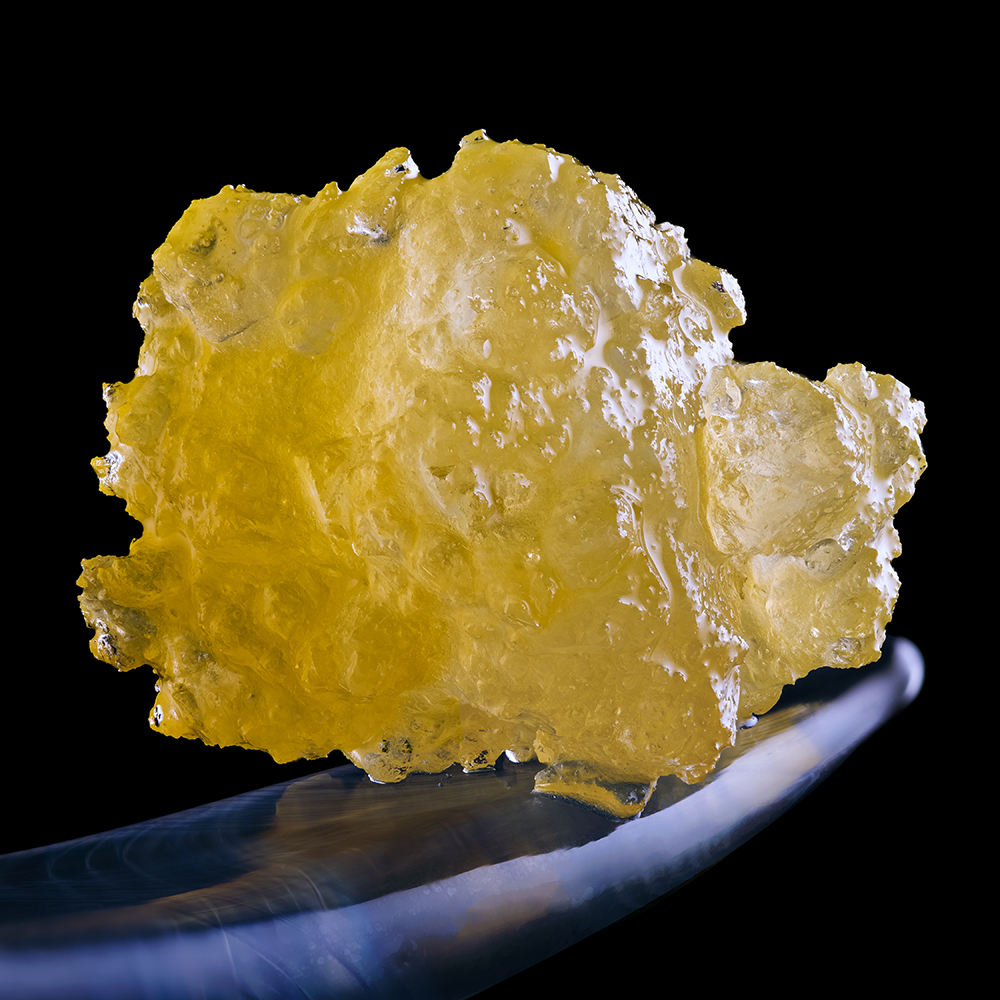 Watermelon Zkittlez Cold Cure Hash Rosin
No doubt, the first thought upon tasting this oil is, "Damn, it really does taste like watermelon." It is truly amazing the wide variety of flavor profiles that can come out of a cannabis plant. After that initial hit of watermelon, we tasted strong floral notes and got the distinct impression of tasting not the watermelon flavor so much as the literal flesh of watermelon. You know how watermelon tastes like watermelon sure, but you can also taste a touch of the melon flesh too. Because watermelon juice tastes slightly different than a piece of watermelon. That special something tastes a bit like 7-Up and that taste was in there too. Floral watermelon with a little 7-Up soda zing!
Everyone agreed that this oil was very easy on the lungs, granted we were doing low-temp dabs, but a smooth exhalation is always a pleasant surprise.
Strawnana x Lemon OG Cold Cure Hash Rosin
I wasn't sure what to expect the Lemon OG to do to the Strawnana and I was surprised right away. So often, banana terps are so sweet that they can taste fake. That can be good too, but what surprised me about this oil was how much more complex it was than typical Strawnana oil. The banana in this oil was less sweet and more earthy. More like a plantain, a ripe plantain; sweet, yes, but with a complex earthy unfermented must coming from the influence of the OG lineage.
There was a touch of strawberry and lemon too, but again, neither was the sweet breakfast cereal terpene profile. All the fruits came across more sophisticated, complex and authentic. I think I'd actually prefer to not know the cross at all because all the words in the cultivar name do this flower a disservice. The sum is much more than its parts.
Strawnana x Lemon OG Sauce
Sauce is a description that has some different meanings, so for this review let's be clear that Constellation's "sauce" is fresh-pressed hash rosin jam and hash diamonds. This delightful presentation tasted like a lemon Icee or some other really lemon tart slushy-type beverage. The limonene terpenes are a wallop and as the hit settles in we all started to taste a variety of flavors from strawberry to banana peel to creamsicle. This was one we all went back to later on.
Strawnana x Lemon OG 90u Cold Cure
It is delightful to have two different expressions of the same plant in a side by side comparison. The cold cure hash rosin version was delightful but in different ways than the sauce described above. The lemon was less overpowering here than in the sauce and more of the OG funk came through. The color was slightly less striking than the sauce, but color is usually not a smart measure with which to judge hash anyway. The fruit and cream tastes were still abundantly present, so it appeared that in the cold cure you are trading away the dominant lemon for a more balanced overall taste with additional OG flavor.
Strawpicana Sauce
You know those cultivars with a flashy name that taste really good but they don't necessarily taste like the name? This was one of those for me. It was killer sauce and I would smoke it again in a heartbeat, but it tasted like good complex weed more than Strawberries or Orange. Maybe there was some tart berry or Orange Julius on the back of my tongue after I exhaled, but really it just tasted like a good earthy-sweet terpene profile. One thing for sure, it lives up to its sativa reputation and is energetic as hell. We were all in a delighted mood and decided to take a break and go for a short hike at the nearby park.
GMO
The Constellation GMO is a huge favorite in the Washington market. It is funny too because the team is ready to move the GMO cultivation rooms on to new cultivars but people keep asking for it and buying it so they keep those rooms packed with gorgeous GMO flowers to turn into hash. For whatever reason, Constellation draws a slightly different expression from the GMO plant than most of the others I've tried. Usually, GMO comes in tasting like Garlic Girl Scout Cookies or a complex garlic, mushrooms, and onions food-tasting terpene profile when well-grown. The Constellation GMO tastes like garlic and mushrooms, sure, but here the mushrooms taste uncooked. The mushroom tastes somehow brighter and raw. More mushroom, less gravy tasting. It is delightful and different. You can also taste the soft colored underside of the mushroom cap. That smell of moist humus and garlic is seductive to the palate. No doubt why their customers won't let them stop making it.
Rainbow Gelato
Rainbow Gelato from Green Fire genetics has something for everyone. The now-classic Gelato 41 heavy hitter is then crossed to Zkittlez, Grand Daddy Purple, and Blueberry genetics. The up-front taste is creamy from the Gelato but the rest of the exhale is a blend of floral, berries, and fuel. Be careful because this hash will seduce you into perhaps smoking more than you need. We all agreed that this was one you could hit once and come back to later because it packs such a punch!
Rainbow Flame 6-Star Hash
The Rainbow Flame 6-Star hash was a delight from start to finish. I don't think that opening up a jar to see sandy blonde trichome heads will ever not put a smile on my face. Their soft and subtle uniform color and how they sit there in a rough suggestion of a circle filling out the indentation on the bottom is really satisfying visually. It is so engaging to push the individual trichome heads around in the jar as if you are raking patterns into a Taoist sand garden. On the nail, it tastes like clementine pith and cucumber with a bit of whatever cold steel tastes like. Quite unique and it stayed remarkable throughout the tasting sesh. Sometimes taste buds can get accustomed to a flavor profile necessitating the dabber to continually switch up. Not with this one. It just kept banging out intense taste all afternoon. This was so good it had two of us tasting it considering finding cuts to grow.
Strawberry Banana Hash Rosin Cartridge
The hash rosin carts were the very first product I came across made by Constellation in December of 2019. I was so astonished by the accomplishment that I wrote about it on my Instagram. For the last ten or so years that carts have been around, they have usually been adulterated with non-cannabis fluids like propylene glycol, vegetable glycerin, coconut oil or sketchy proprietary terpene blends. These new school hash rosin cartridges contain only the hash oil squeezed from trichomes on the rosin press. Nothing added. This is how it always should have been. Full taste and authenticity with nothing else added. It's a beautiful thing.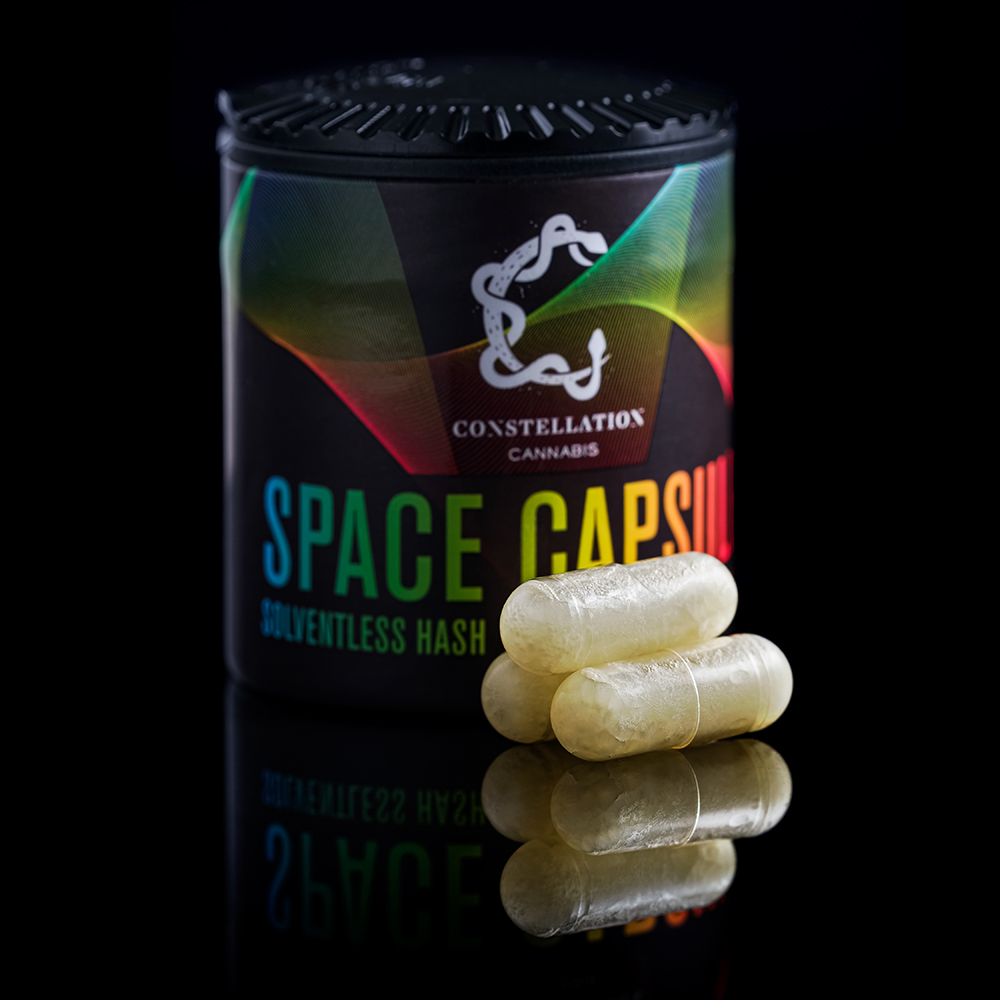 Hash Rosin Space Capsules
I have liked the idea of eating hash since reading about hash-eating poets in school. Certainly, I've eaten the low-grade hash pulls from making bubble that might as well be eaten, but I had never had gorgeous blonde hash or hash rosin to eat. Trying one of these capsules felt like a waste of good hash because hash this good should be smoked. But that feeling quickly faded when the capsule hit my bloodstream and I eased into the most relaxing and pleasant unpolluted edible experience of my life. This is an extraordinary product that Constellation hashmaker Jay used to make for the medical market. It was a patient-pleaser then and Constellation updated the capsules with extraordinarily high-grade inputs. At a gentle 10mg THC each, they are good for most folks or they can be stacked if you have a higher tolerance. While these can be used to party, they clearly, first and foremost, offer relief.
It is a real joy to write a feature review about a company that is producing products that satisfy the desires of both the recreational market as well as a patient market. In nearly every state we see the rec market crush the medical market and patients suffer. With Constellation cannabis, everyone can come together in appreciation of clean, quality hash.
Learn more at ConstellationCannabis.com and follow the team on Instagram @ConstellationCannabis.
Get daily cannabis business news updates. Subscribe