In most states, the Cannabis that is purchased at licensed cannabis dispensaries/store has been through a series of cannabis testing to provide the information seen on the labels: cannabinoids, terpenes, and potency to name a few. The purpose of the testing is to provide the consumer with a safe product and that the product is labeled with accurate information.
This month, I had the opportunity to visit, tour, and chat with CannaSafe and their CEO, Aaron Riley, to chat all things cannabis testing and the cannabis industry. CannaSafe is California's leading ISO accredited cannabis testing laboratory, located in Van Nuys.
About CannaSafe
"If you can dream it, grow it, craft it; we can test it," is the CannaSafe motto. Though 2020 was quite the roller coaster year, CannaSafe made strides. In January, Aaron was promoted from president to CEO, and Bosco Ramirez came in from being president of Eurofins TestAmerica, to VP of Operations for CannaSafe.
Not only promotions and new roles, but 2020 was also the year that they moved to a new 25,000 ft² headquarters facility — which is nearly double the size of their previous lab — to accommodate the industry's growing demand.
As I walked through the facility, I saw a diverse group of people, the CEO having genuine laughs with the employees, and the cannabis testing process in action. It was quite the science lab in there, but definitely warm and full of energy.
The Long Road to CEO
From a small town in Indiana, to a High Times feature at the age of 16, to the football fields at Jacksonville University in Florida, to a jail cell during his sophomore year in college — CEO Aaron Riley has made some head-turning moves towards his role in the cannabis industry. After moving briefly in a different direction at the age of 22 (as the owner of a car dealership), Aaron found his way back to the legal cannabis space with CannaSafe.
The Cannasafe Team
Longtime friend and colleague Antonio Frazier has been by Aaron's side since their college days. Antonio (who was a recent guest on the Ganjapreneur.com Podcast) came in as CannaSafe's Lab Manager and is now President of the company. Antonio and Aaron met playing football together, and now they are CannaSafe's dynamic duo.
It wasn't always easy, though. Aaron recruited Antonio over a two-year period. It was when Aaron purchased most of the company in 2016 that Antonio made the commitment to move his family from the East to the West Coast:
"Aaron visited me out-of-state and convinced me to leave home and come to California. He believed my skillset to be necessary for this new venture. The decision was made easy because Aaron supported my family and I through the transition. The passion from Aaron made this venture impossible to refuse."
Today, the Cannasafe team consists of a diverse group of leaders and employers. The company employs about 150 people — 147 more than there were when the company launched about a decade ago.
"Our team is inspired, unafraid, and emboldened to speak up, bring ideas to the table and to be a conduit for transformative change," Frazier said.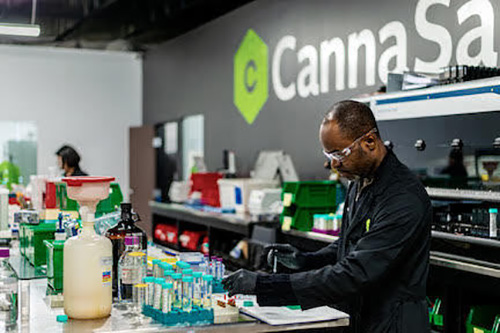 CannaSafe's Hopes for the Future
Integrity is at the heart of CannaSafe's mission: "It's at the heart of who we are, and we stand firm to our mission and core values."
CannaSafe is working on a safe products list, a list of companies doing it right, and to offer reliable products with legit testing results. The company is also committed to social equity, consumer education, and patient advocacy. Aaron sponsors expungement clinics like Social Equity LA and The Social Impact Center.
"We believe we can make things better by working within our communities and running our business with purpose," he said.
Also coming soon — the CannaSafe Center of Excellence lab, which will be focused on CBD and edibles.
The company also focuses on hiring people with prior cannabis convictions so that they have an opportunity in the legal space — additionally, in many cases, such hires end up being the most qualified. Aaron feels obligated to create a plan positioning CannaSafe as a company that offers second chances.
As for expansion, CannaSafe is eventually headed to the state markets of Florida and Oregon.
Final Thoughts
When I asked Aaron for his insight/advice for current and new states, and for the future of cannabis testing, Aaron suggested that pesticides are going to be monitored much more heavily, organic grows are always best, and a compliance person is one of the most important people to have on your team. Consumer protection suits will be coming because there are some brands and labs not being transparent.
And for those seeking a second chance, Aaron stated: focus on social equity opportunities, research programs in the state, and the different license types. Be diligent, he said, and seek out resources because there are many that will help with paperwork and processes.