Detroit, MI — CannaCon Detroit, the premier event for the cannabis industry, is back and better than ever for its 2023 edition. This year's event promises to bring together professionals, experts, and enthusiasts from all corners of the cannabis world, providing a platform for networking, learning, and exploring the latest innovations in the rapidly evolving industry. The event is scheduled to take place October 6th and 7th at Huntington Place.
Seminar Highlight: Calvin Johnson Jr. and Rob Sims share insights on growing your brand through innovation and education.
One of the highly anticipated seminars at CannaCon Detroit 2023 features two esteemed speakers: Calvin Johnson Jr. and Rob Sims. Both distinguished former NFL players, Johnson and Sims have transitioned their careers from the football field to the cannabis industry, leveraging their experiences and expertise to drive positive change.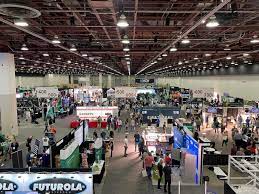 CannaCon Detroit 2023: Beyond the Seminars
CannaCon Detroit 2023 offers attendees a multifaceted experience. The event will feature an expansive expo hall showcasing the latest products, technologies, and services within the cannabis sector. From cultivation and extraction to marketing and distribution, the expo will cater to every aspect of the industry.
Moreover, the event's agenda includes a diverse range of seminars, led by industry thought leaders. Topics will span legal and regulatory updates, market trends, sustainability practices, and advancements in cannabis research. Including a special presentation on grow tips and tricks from Mike the founder of Exotic genetics.
Networking opportunities abound, allowing attendees to connect with professionals, entrepreneurs, investors, and advocates who share a passion for the cannabis industry's growth and potential.
Registration for CannaCon Detroit 2023 is now open, For more information about the event, including registration details, the full seminar schedule, and exhibitor information, please visit cannacon.org
Join us at CannaCon Detroit 2023 and be a part of the conversation driving innovation, education, and progress within the dynamic cannabis industry.
Media Contact:
Angela Grelle: Director of Marketing and PR
CannaCon Email: angela@cannacon.org