Uncle Arnie's, California's #1-selling cannabis beverage brand, has announced equity crowdfunding investment offerings for retail investors, customers, and fans of the brand.
According to the latest report from the cannabis industry reporting tool Headset, Uncle Arnie's has reached a significant milestone in the California market, claiming 7 out of the top 10 spots in the best-selling cannabis beverages in California and selling over 1 million drinks since their launch in 2020.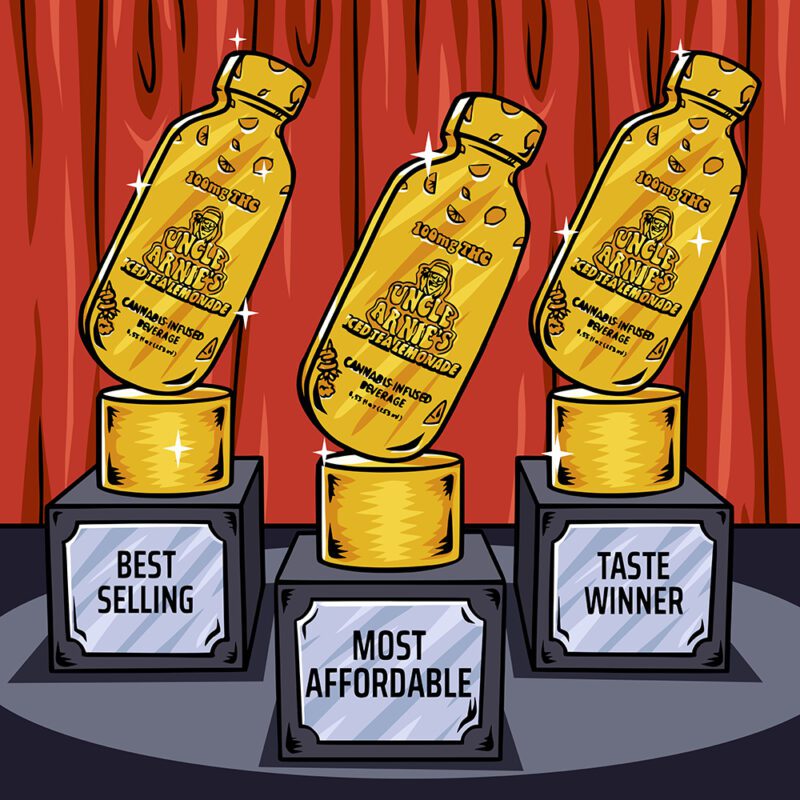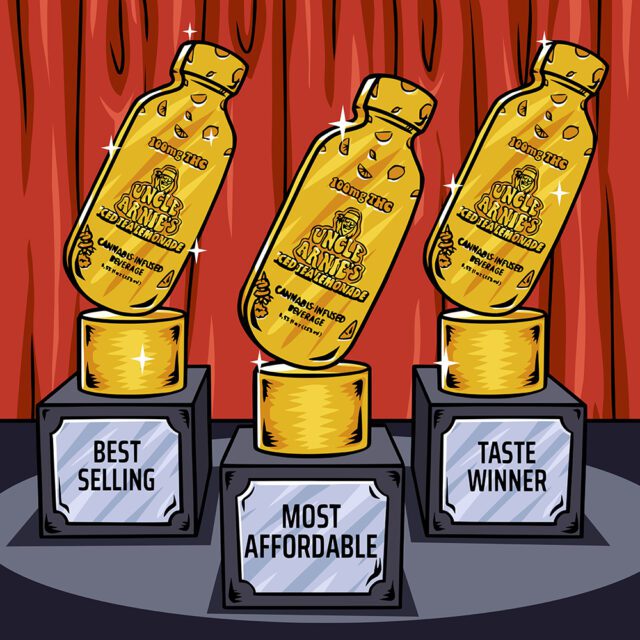 Their high-dose 100mg THC beverages are extremely popular among cannabis consumers, who have created a bar-worthy list of mixed drinks using Uncle Arnie's signature flavors. According to CEO Theo Terris, "We've been laser-focused on delivering what our customers asked for: top-quality, high-dose drinks with amazing flavors at an affordable price. Our customers have responded with a loyal following of repeat purchasers."
Uncle Arnie's has clearly accomplished this goal in the California market, currently selling into 40% of California dispensaries and already holding the top-selling product positions across the board.
The report below shows that Uncle Arnie's Iced Tea Lemonade (100mg THC, 8oz) takes the top spot, followed closely by Pineapple Punch Infused Drink (100mg THC, 8oz) and Apple Juice (100mg THC, 8oz). Rounding out the top four is the brand's Sweet Peach Iced Tea Shot (100mg, 2oz), showing that Uncle Arnie's 8oz original shots are still a hit with consumers and their new 2oz shots are a close second.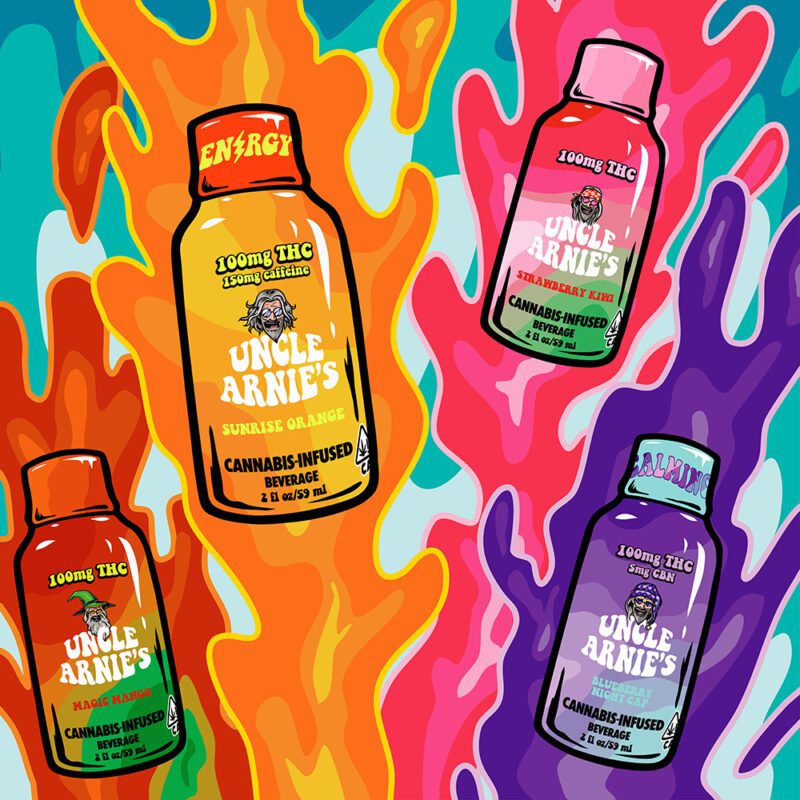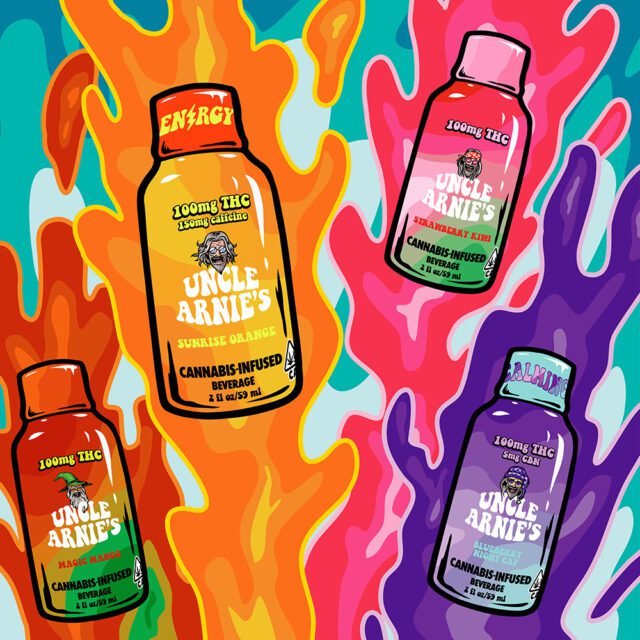 What's interesting is that Uncle Arnie's also has two newcomers to the top 10 rankings with their functional 2oz shots. Their Blueberry Nite Cap Shot w/CBN (5mg CBN, 100mg THC) and Sunrise Orange Shot w/Caffeine (150 mg Caffeine, 100mg THC) are both listed in the top 10, showing that consumers are willing to combine other enhanced benefits like energy and sleep into their Cannabis products.
Notably, there is only one other brand remaining in the top ten rankings for California. KEEF, a well-established cannabis beverage soda that has been around since 2010, is selling for a slightly lower price than Uncle Arnie's. However, it only contains 10mg of THC, which is just 10% of the amount of THC found in Uncle Arnie's drinks.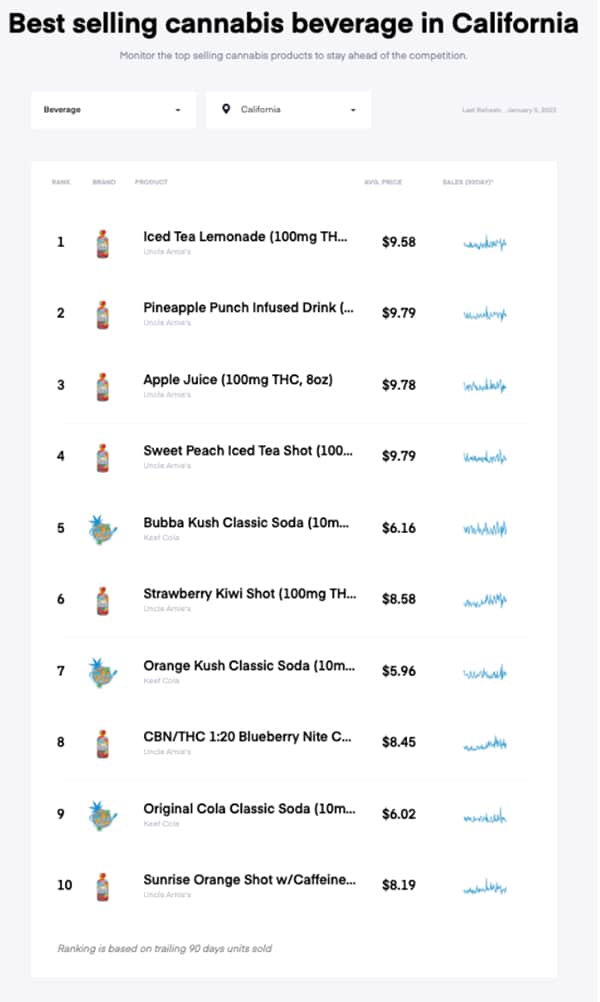 What's next for Uncle Arnie's?
The company recently completed a major investment round for national expansion in October 2022 and is currently running an equity crowdfunding investment offering to retail investors, customers, and loyal fans who want to take the journey with them. Through their offering on SeedInvest, you can own shares in the company as an early investor.
You can sign up to learn more about their investment at UncleArniesInvestor.com or visit their SeedInvest page to invest.
Uncle Arnie's is quickly becoming a household name in the cannabis industry, particularly in California where they currently hold 7 out of the top 10 selling SKUs in the beverage category. They are also rapidly expanding to Michigan and Oregon, and constantly innovating with new product offerings like their functional 2oz shots.
This is a fantastic opportunity for you to get in on the ground floor of the cannabis beverage space with a company that has a proven track record of success. With a strong team in place, a commitment to growth, innovation, and compliance, and a clear vision for the future, Uncle Arnie's is well-positioned to continue to be a major player in the cannabis industry for years to come.
Don't miss out on this opportunity to invest in Uncle Arnie's. The investment round will close on January 27th.
Sign up to learn more about their investment at UncleArniesInvestor.com or visit their SeedInvest page to invest.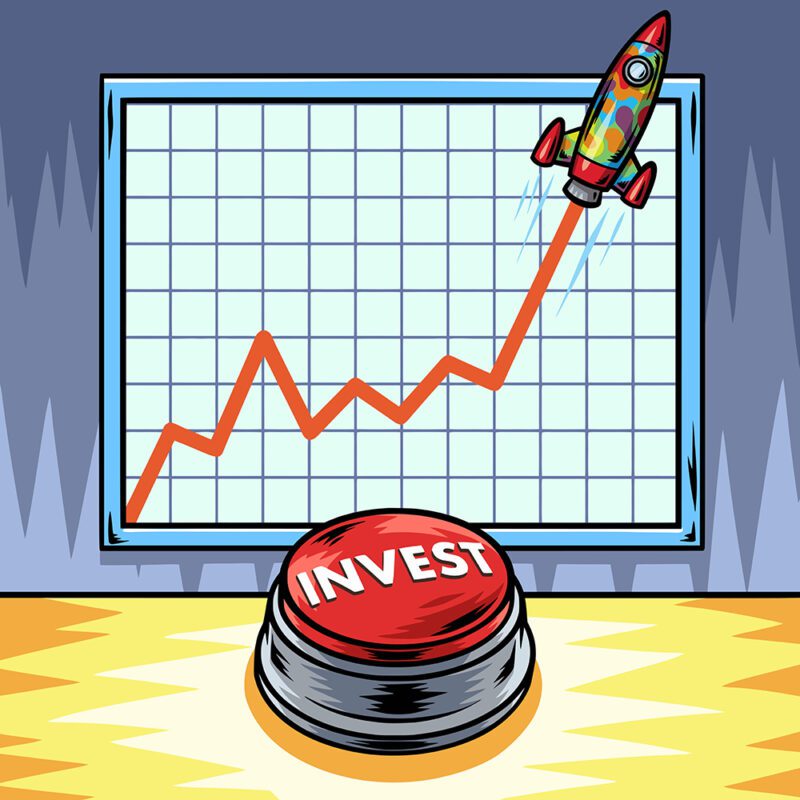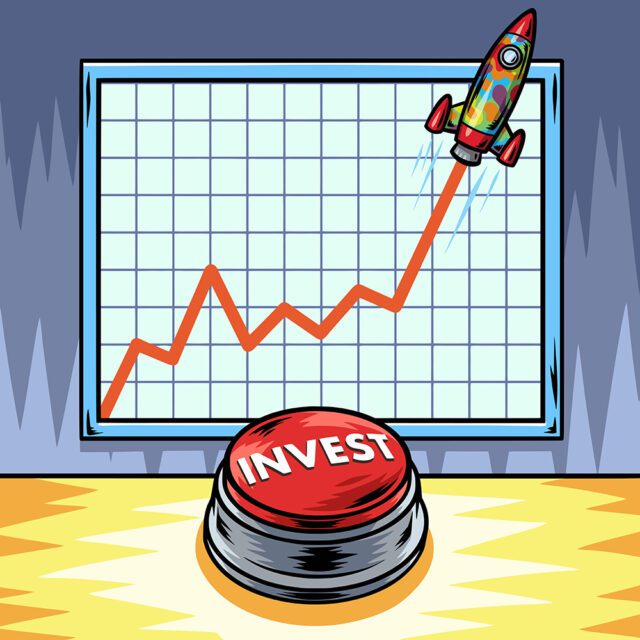 DISCLAIMER
Reg CF Disclaimer: Uncle Arnie's is offering securities under Regulation CF and Rule 506(c) of Regulation D through SI Securities, LLC ("SI Securities"). The Company has filed a Form C with the Securities and Exchange Commission in connection with its offering, a copy of which may be obtained at: https://www.seedinvest.com/uncle.arnies
This article contains forward-looking statements and information relating to, among other things, the company, its business plan and strategy, and its industry. Investors should review the risks and disclosures in the offering's draft. Before making an investment decision, investors should review the company's Form C for a complete description of its business and offering click here.