"She hits different," is more than just a motto for California-based lifestyle cannabis brand CAKE. It's also their ethos, centered around their products, processes, and experiences. At a time where social politics are beginning to overshadow the "experience" in "experiential," CAKE is shifting its focus back to cannabis innovation to deliver a quality-canna time.
"I really wanted to present a more feminine brand identity in the space," founder Chloe tells Ganjapreneur. "[From distribution] through manufacturing, we really wanted to create a safe space for women in cannabis."
Chloe and her silent partner didn't just wake up and focus on innovation. With nearly a decade in the cannabis industry, the CAKE team previously took a behind-the-scenes approach through growing, manufacturing, fulfillment, and brand creation for other companies. The Oahu-born, Los Angeles-based entrepreneur began working in the industry at age 21, where she met her now-business partner who taught her about cultivation and nurturing the plants. Eventually, Chloe learned about extraction including innovative new methods. Two years ago, the duo decided it was time to make their own forward-facing brand in CAKE.
CAKE, She Hits Different is known for its live resin rechargeable, disposable devices and Cake cartridges which are filled with high THC cannabis oils and three all-natural terpenes. Products are manufactured using only premiere food-grade stainless steel glass and ceramic plates, allowing them to preserve the flower produced through this process. So yes, it hits very different – a different level of freshness. The company offers over 10 strains, each fresh out of the cyro-cure freezer. A stylized photo of the respective strain artistically graces the package for each flavor. The brand sets out to let you have your CAKE and smoke it too — even some flower-loyal consumers have expressed surprise at the vapes' freshness.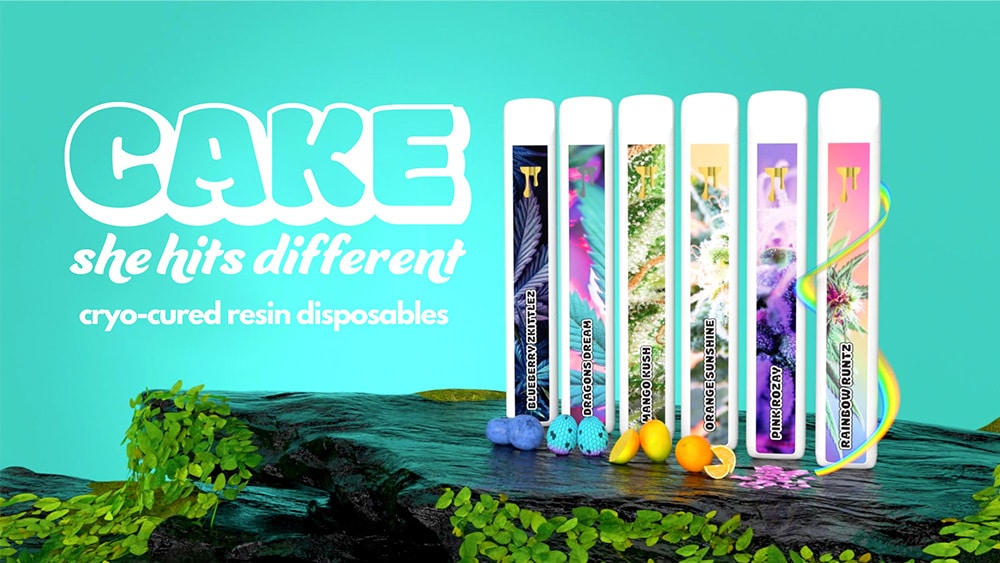 CAKE is an elite innovator, their cryogenic technology is what allows the "it" to hit differently. Chloe briefly breaks down the process, explaining, "Cryo cure resin refers to the process to cure the flower. After it's harvested, it's immediately put into a cryo-cure chamber, which is a fancy freeze-drying machine perfectly made for cannabis that allows curing to happen in 12-14 hours. It preserves more than 50% of cannabis properties compared to the traditional curing process, which loses quite a bit of terpenes. The freeze-drying process is closed-chamber, which allows terpenes, trichomes, and THC to be preserved."
Cryo-terps are collected during the curing phase, before the extraction process. Once the curing is complete, then it's ready to go into extraction. The cryo-cure process prevents THC-A degradation, which extends the shelf life of dried flower and concentrates.
The CAKE team loves to express its brand through events. CAKE's events are also different: they mirror the vibrancy and good energy that is Chloe. A recent collaboration with cannabis production company Secret Sesh featured a CAKE dome, dab bar, and jungle. As a lover of festivals, art, and electronic-music DJing, Chloe says, "Creating immersive experiences is one of our passions. It's incredibly fulfilling to witness others making memories in an experience we've created for them. Facilitating events allows our CAKE community to come together and celebrate just how far the cannabis industry has come. It has taken a strong heart to stay in the game for all these years so I'm proud to reflect on all we have built, and excited to see how far we take it."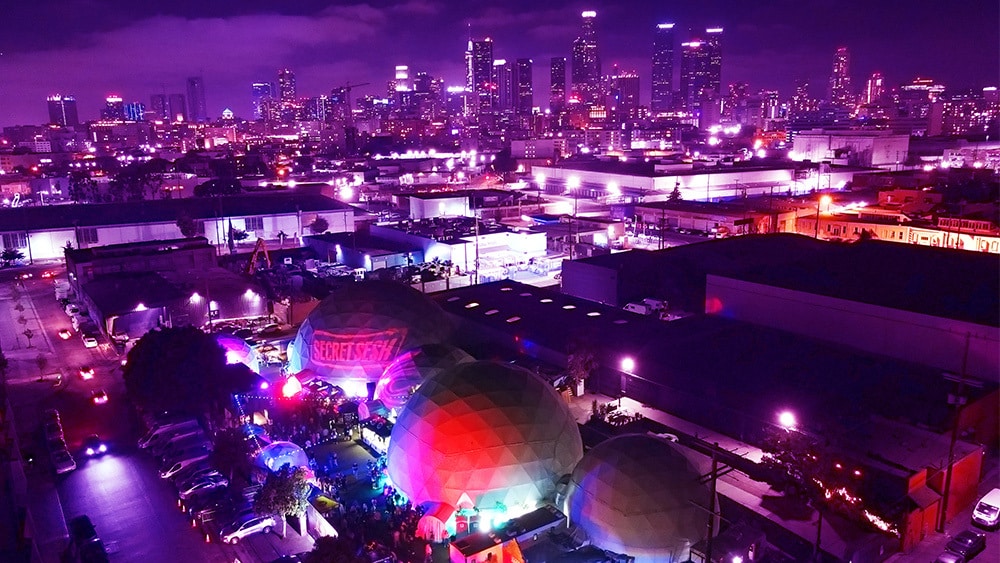 You may find its iconic pink fur with its unforgettable slogan in neon lights at one of its functions. Chloe reassures, "No couch-locking over here!" Eventgoers can also shop their cheeky and provocative apparel, along with the company's disposable Cake carts.
In the future, CAKE hopes to continue to expand and grow, exploring new possible innovations. In the meantime, "Our gummies, pre-rolls, and flower are officially launching by October 15," Chloe says. Keep a look out for their new flower strains, Sugar Baby and Dragon's Dream.
You can find CAKE vapes and apparel online via their website and Weedmaps, and through local delivery services depending on your area. Follow CAKE on Instagram to look out for future product drops.