The core foundation of any retailer's success story almost always depends on a quality line of communication with their consumers — and one of the biggest bummers for any consumer is not being able to get what you want.
Particularly with dispensaries, patients are often drawn to a certain strain or product for its specific medical benefits. But when a sickly person makes a long trip into town or (in some instances) over to the next county, it can be extremely frustrating to learn upon arrival that their particular medication has sold out. One strategy is for the budtender to write down the patient's contact information using a notepad or sticky note, with the specific product they were hoping for, and promise to call or email the customer when their product has been stocked again — but Baker Technologies has a better solution.
Baker is a software and sales analysis firm whose web-based app helps facilitate quality communication between cannabis dispensaries and their patients/consumers. The company's new 'Strain Alerts' service is the latest addition to Baker's online platform and allows dispensaries to issue automatic updates to customers who want to know when a specific strain of flower, brand of edibles, or other product becomes available.
According to Eli Sklarin, Marketing Director for Baker, "Specific products are very important to the dispensary shopping experience, and can make or break whether or not someone goes to your dispensary or stays loyal" — and the haphazard sticky note method described above is "extremely unscalable, takes dozens of hours, and is not great for the consumer."
Using the Baker app, dispensaries can instead "have people sign up through our loyalty program and say, 'I want to know when Blue Dream comes back in stock,' and the dispensary — in one click — can let them know about the product," said Sklarin.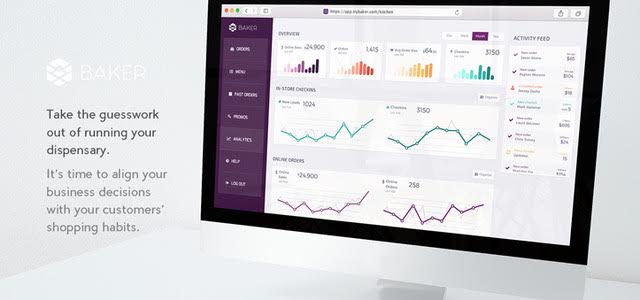 The Baker app is an online platform dedicated to improving the dispensary shopping experience. Visitors to the Baker website can create accounts in order to receive live updates from registered dispensaries about current inventory, new products, prices, and product availability. Dispensaries who are currently enrolled with Baker have access to four core offerings, which include a platform for online ordering, loyalty program strategies, the opportunity for personalized messaging and direct interaction with patients and consumers, and unique analysis services that utilize Baker's extensive and international database.
In the two years since its launch, the Colorado-based company has expanded dramatically and is currently serving 186 dispensaries in nine U.S. states — including Colorado, Washington, Oregon, California, New Mexico, Nevada, Arizona, Massachusetts, and Hawaii — and several Canadian provinces.
Visit www.TryBaker.com to learn more about Baker Technologies, or go to http://trybaker.com/shop/ for firsthand experience with the Baker app.
Baker's dispensary clients average an ROI for the year within 2 months. Dispensaries who schedule a demo to learn more and sign up before the end of the year will receive a 15% discount on Baker's services.