It's wildfire season in the U.S. and cannabis companies up and down the West Coast are feeling the impact. From burned farms and property to potentially contaminated crops from prolonged exposure to smoke, heat, and fire retardant, cannabis businesses in California and Oregon are bracing for yet another difficult fall.
The wildfires, which have reportedly claimed at least 35 lives and burned millions of acres so far, have also sparked camaraderie among cannabis businesses who might otherwise be considered competitors.
Oregon
In Oregon, about 20 percent of the state's licensed cannabis businesses received evacuation orders as the fires were fueled by an unlikely and dramatic wind storm last week. The fires darkened the sky with smoke, which bathed everything in a persistent, orange-red glow.
Candice Paschal, owner/operator of Paschal Farms in Molalla, Oregon, said their farm was placed under a mandatory evacuation order last Tuesday as three surrounding wildfires — the Riverside fire, the Santiam fire, and the Wilhoit fire — closed in on the region. As firefighters became spread too thin, however, Paschal said that a group of about 40 Molalla locals stayed through the evacuation order to fight the approaching Wilhoit fire. The town, including neighboring cannabis farms, "poured equipment, food, and supplies" into the firefighting camp, she said.
"Young men operating private dozers and tanker trucks stopped the Wilhoit fire in its tracks," Paschal said. "These people are heroes and the town has been calling them The Molalla 40. They saved us and many others from complete catastrophe. It's an absolute miracle this happened and shows you the power of community and love."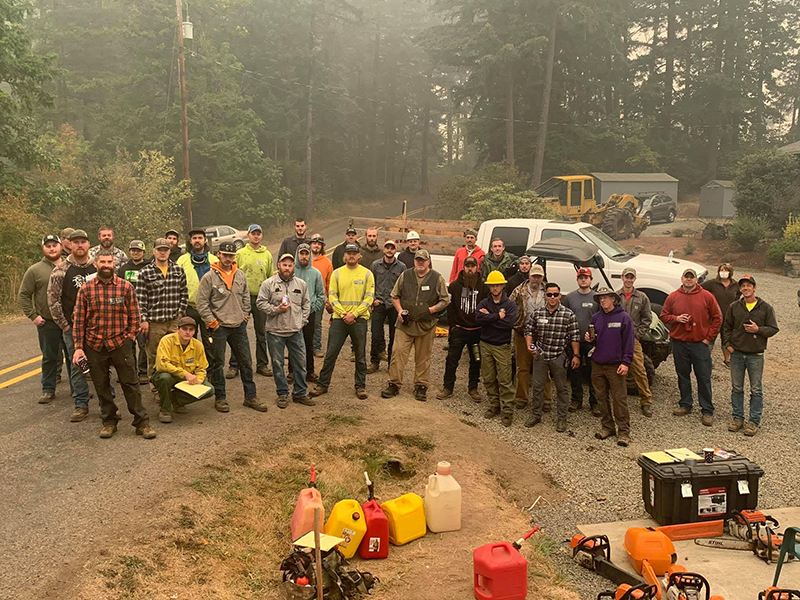 "We have been truly blown away by the Oregon cannabis industry family reaching out to help one another. I don't think there's any other community like it in the world." — Candice Paschal, in an emailed statement
Not all businesses were so lucky, however, and reports indicate that multiple cannabis farms in southern Oregon were lost to the blaze. Dispensary locations also suffered enormous losses, including the Talent Health Club in Talent, Oregon.
Paschal, whose farm and crops were luckily spared, said that some cannabis businesses have been offering storage, supplies, and other assistance to those who were not so lucky.
The industry has also come forward to organize relief for families who lost their homes, including the Benson Arbor Southern Relief Fund, a GoFundMe campaign organized by Benson Arbor owner Noah Levine.
California
In California, evacuation orders were issued last week for parts of The Emerald Triangle — a cannabis-fertile area in northern California comprised of Mendocino, Humboldt, and Trinity counties — as the state's largest-ever wildfire bore down on the region.
Some local officials expressed concerns about cannabis industry workers there, thousands of whom flock to the region during this time of year as harvest season approaches. The worker migrants are "not familiar with the territory let alone a massive wildland fire knocking at their door," said state Sen. Mike McGuire.
Farmers had to weigh the risks of an early harvest, which can heighten the risk of microbial contamination due to rush-jobs on storage, Marijuana Business Daily reports, versus waiting it out, which can lead to other complications including other potential contaminants and a distinct, smokey flavor that gets entwined with the buds.
California's ongoing fire woes, however, are only the latest in what has already been a painful fire season — multiple cannabis farms were lost last month during wildfires around the San Francisco Bay Area.
Last month, Leafly recounted one cannabis grower's hellish experience as he tried futilely to save his farm in Alameda County from a rampant wildfire.
Looking forward
It's impossible to know the full extent of damage done to the cannabis industry by the 2020 wildfires — after all, many of the fires are still burning — but it's expected that total losses will be in the tens of millions of dollars. There are also likely to be ripple effects felt in the supply chain in the coming months to lost and/or contaminated harvests.
David Najera, a cannabis consultant and farmer in Mendocino County, told Marijuana Business Daily that cannabis farmers need to start treating annual wildfires as a "new normal" on the West Coast.
"You've got to do a lot of fire prevention," Najera said. "We're looking at bringing in livestock to keep all our weeds down and all the brush. You should have weekly fire safety meetings. A lot of people just aren't prepared. You should have a 5-10-minute drill where you can evacuate at a moment's notice."
Get daily cannabis business news updates. Subscribe