Cannabis and coffee shops will always be linked thanks to the culture cultivated in Amsterdam, the capital of the Netherlands, which for decades was the only place on the planet people could use cannabis legally. As legalization normalizes, so too does social use, however, due to the patchwork of laws throughout the U.S., social cannabis use policies vary from state to state.
Upstate New York is an odd place. It's mostly Republican-leaning, save for the college towns and liberal enclaves. However, the passage of adult-use cannabis laws statewide has led many residents – including those right-leaning residents – to grow their own cannabis. Of course, there is no firm number on how many residents are growing their own (home cultivation wasn't technically legal until the first state-approved dispensary opened their doors, which occurred in New York City last month) but the legalization reforms have led more traditional businesses to dip their toes into the cannabis space – which is what brought me to the Koffee Kat in Plattsburgh. 
Plattsburgh is a college town – it's where I teach communications classes. It's the largest city in the region with a population of about 19,000 full-time residents (2021) with about 4,300 undergraduate students enrolling each semester. (Yes, I am aware that there is likely some crossover between full-time residents and students, but from my five years at SUNY Plattsburgh, I can safely say there's not a lot of crossover.) Plattsburgh is home to the region's only medical cannabis dispensary, Curaleaf, but many North Country residents are able to buy cannabis legally about an hour away on the Saint Regis Mohawk's Akwesasne reservation. 
The Koffee Kat does not sell THC-rich cannabis products but does offer CBD as an add-on to their various beverages – which in New York requires a retail CBD license. But that's not what brought me to the shop on a cold Thursday in January. What brought me to the Koffee Kat was that they recently began allowing cannabis consumption on their open-air back deck. 
I like decks. I like cannabis.  
The Koffee Kat was owned by Durgan Zappala's mother for 28 years before she sold the business to Zappala and his wife, Julie Merritt, in October. They talk about the shop as if it's a person rather than a business. This incarnation of the Koffee Kat has been at its current Margaret St. location since 2007. Margaret St. is like Plattsburgh's main street, pocked with small, independent shops, restaurants, antique stores, and holistic shops. Merritt and Zappala said they didn't do much to the façade of the business or its interior design once they took over, except adding designated spots on the wall for local artists and artisans, allowing them to paint the space or decorate their reserved spot as they wanted.
In New York, cannabis consumption is allowed anywhere that tobacco use is permitted, which has given some businesses a bit more latitude than those in other states. Zappala, 27, told me that it was a joint decision to allow cannabis use on their back deck, while Merritt, 28, explained that neither the city nor state required them to have a permit for such activities. No other business in Plattsburgh is allowing cannabis use on their property, as far as I can tell — at least not in a forward-facing way.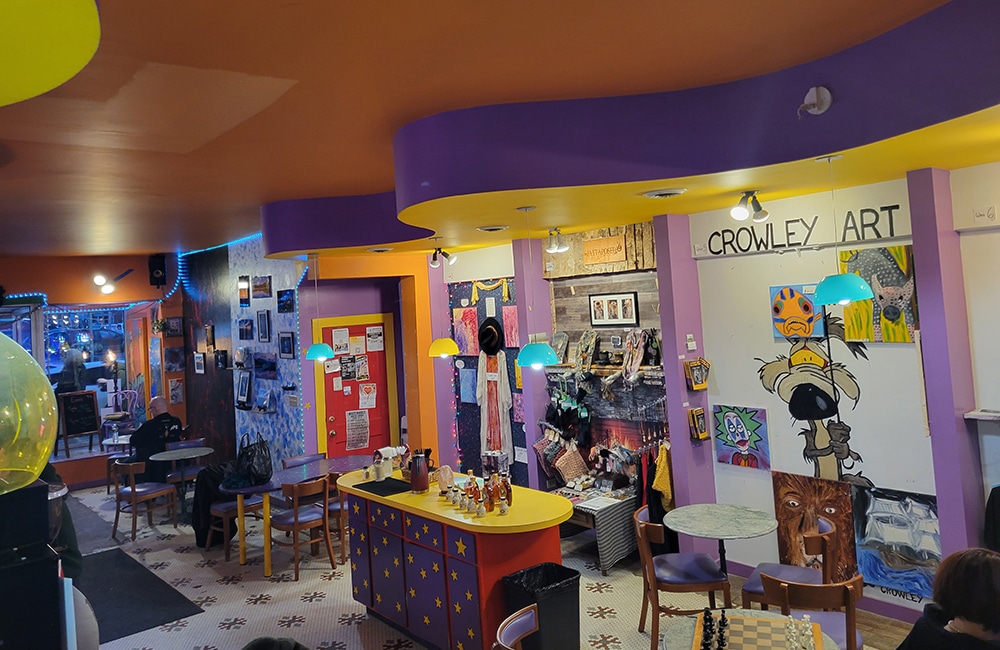 Zappala said he believes that allowing people to consume cannabis on their porch may "inject youth" into the business and that there has been an uptick in business since they started (publicly) allowing people to consume cannabis on-site a couple of months ago.
"We just wanted to come up with cool, and progressive, [politically correct] ideas. I mean, the canna-culture has been so underground for no reason for so long." — Zappala, in an interview with Ganjapreneur 
Both Zappala and Merritt have previous experience in the cannabis-adjacent smoke shop sector, managing a small chain of local shops for the past eight years. They've used those connections with local smoke shops for a promotion that gives people a 15% discount if they come in with a new piece purchased from a partnering shop.
"Coming out of that, it's like, 'Why is this not normalized?" Zappala said. "So, why not just open the back and promote CBD? No one else is doing that, there's just a lot of bars around town." 
At first, New York's CBD regulations caused a bit of confusion for the couple. When they first started offering CBD mix-ins for beverages, they would add tincture directly into the customers' drinks; however, under the law that practice is technically manufacturing and would require a different license, Merritt explained. So, the couple pivoted and now provide customers with a small, pre-packaged, CBD tincture that the customer can mix in themselves – basically, Koffee Kat is selling a retail CBD product and the customer can do with it what they please. Merritt said the CBD add-on is most popular when there are events in the evenings. 
"We're looking into CBD flowers and CBD honey and things like that," Merritt said, "but it's hard because not everyone who wants a pre-roll wants it to be CBD, so I don't know if selling CBD buds is the right move for us yet." 
The consumption area, the back deck, is the direct result of New York's liberal public consumption rules, or lack thereof, contained in the state's legalization bill. It's open-air, not public-facing, and private property, which means as long as the Koffee Kat is not selling or giving away THC-rich cannabis, or serving alcohol, they can allow people to bring their own cannabis products and consume them in the space – which I promptly did.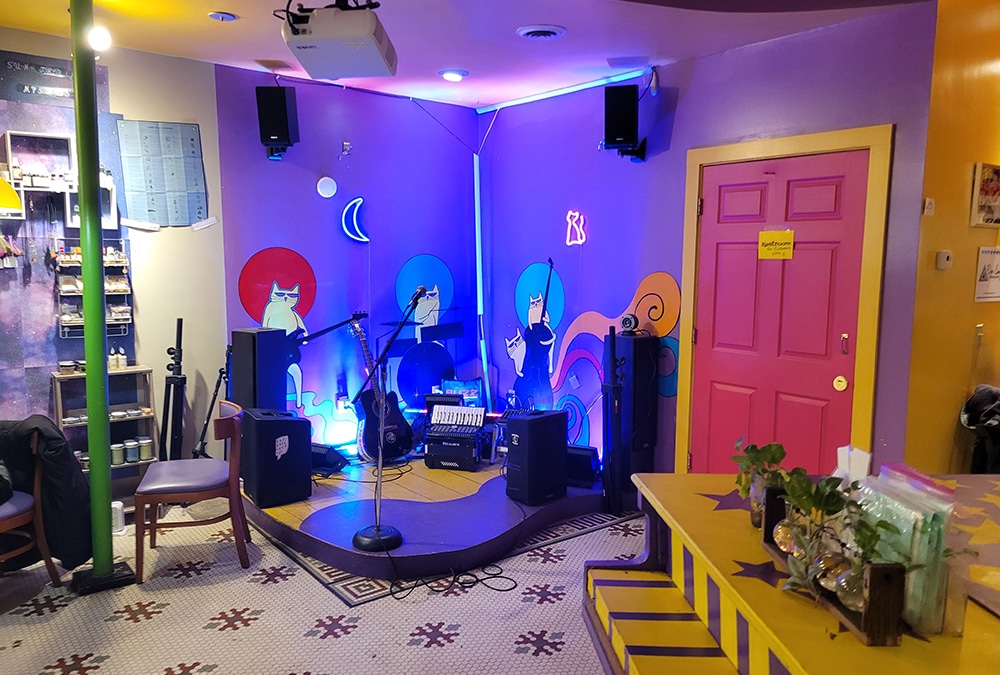 Here's the thing – I've always been a little brazen with cannabis. Once my home state legalized use and was like, basically, 'smoke wherever you want' I was lighting up in grocery store parking lots. Students openly smoke joints in the designated smoking areas on campus (I haven't quite gone that far but as a tobacco smoker, I see it). So, for me, it's not like smoking a joint on a patio is a revelation; however, many people are not as brazen as I am and would prefer a chill place to smoke a joint out of public view.  
"We told the city of Plattsburgh that we were going to allow people to smoke weed here and that we were going to be a 'cannabis café," Merritt said. "They said 'okay.' … We went to the police, because that was another concern, and I don't want my customers leaving here and getting harassed by police officers, and they were cool with it."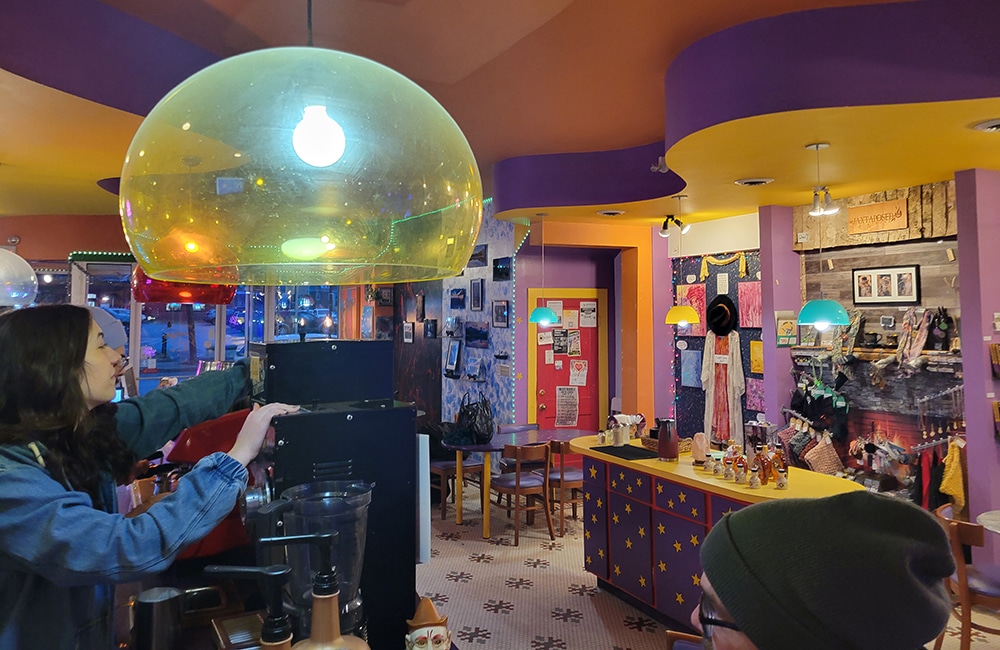 The Koffee Kat, Merritt explained, has always served as a "safe space" for the community – accepting of everybody – which did cause a bit of hesitation for the couple because, for example, how can one be a safe space for recovering drug addicts but allow people to consume cannabis simultaneously? 
"But it's not like coming to a bar, you know what I mean?" she said. "It still allows people a place to come, be a community, and socialize without alcohol or hard drugs." 
"It's still the Koffee Kat," Merritt explained. "You can still come and, you know, do a kid's recital, play chess, or come hang out without smoking." 
The coffee shop turns into the 'cannabis lounge' at 5:00 pm, marked by a dimming of the lights, which changes the ambiance. They also hold events geared toward a cannabis-friendly clientele, including open mic nights and EDM nights with DJs in the street-facing windows. Those events are in addition to their more community-focused events, such as indigenous awareness and visibility.
Businesses offering cannabis-friendly spaces, like the Koffee Kat, are likely going to proliferate in upstate New York, in part because of this generation of entrepreneurs who want to see the 'cannabis is bad' paradigm shifted. In Plattsburgh, business owners might see the quarter-century old city staple, and its new owners, blazing that trail and seek that first-mover spike in traffic. 
Get daily cannabis business news updates. Subscribe