A non-descript building in Albany, New York's warehouse district houses the state capital's first, and currently only, medical cannabis dispensary. During the tour of the Etain-run facility, Chief Operating Officer Hillary Peckham said she and her crew had "worked through the night" preparing this, and their Kingston location, to be patient-ready.
"This is something that we put our sweat and tears in," Peckham said. "It's dinner, it's breakfast, it's staying up all night. This is something that we are really proud to be able to share with everyone here."
In accordance with the state law, the outside of the building is plain – it's simple, painted a hushed grey with red trim. The lobby's color scheme is the same, featuring a small waiting area with a faded leather sofa, two black leather chairs and a leather faux shipping crate coffee table.
The exterior of the former Regalo Gift Experience location will bear a simple black and white sign reading "Etain" — the only marketing attempt allowed at state-registered medical marijuana operations, as per state law.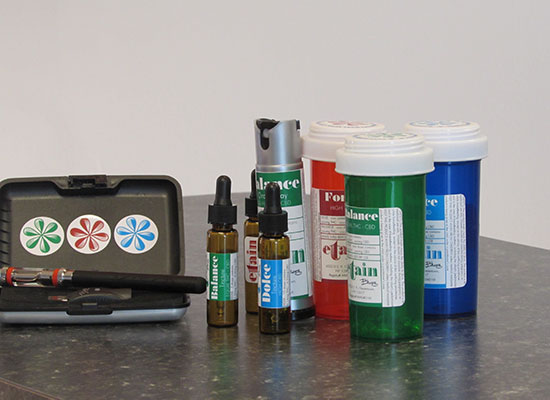 Etain will offer three oil-only brands: Forte (a high-THC blend), Balance (equal parts THC and CBD) and Dolce (a high-CBD option). The brands will be available to patients in capsule, tincture, oral spray and a solution for use with vapor pens, similar to e-cigarettes. Each one is designed to offer patients "consistent" and "reliable" doses in their products, Peckham said.
Before patients can enter the location they must first be registered with the state. New York guidelines cover about a dozen critical and terminal illnesses, and individuals must be certified by one of about 150 doctors in the state licensed to prescribe marijuana. Doctors must complete a four hour course before they can recommend cannabis to their patients.
After showing their credentials, patients will be escorted to the dispensing area — which keeps the same grey, red and leather decorative scheme — where they will be greeted by Etain pharmacist Kevin King.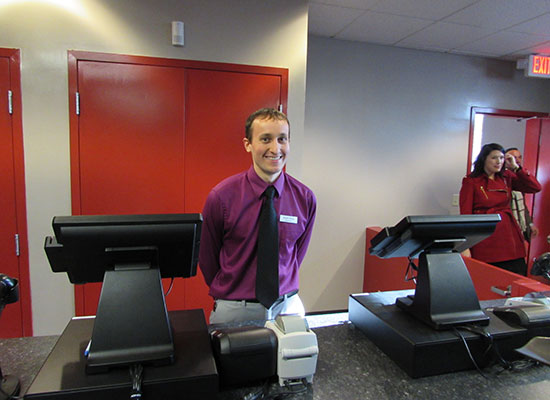 King, 28, graduated from Albany College of Pharmacy and began his career at a compounding pharmacy in the city, which he described as similarly "unique" to his new role in the nascent market.
"Having this opportunity open up as a new program, doing the same [types of] thing, offering a previously illegal option to patients and helping a huge number of people in the state – I couldn't be happier," he said. King admits he supported medical marijuana use before he took the job with Etain.
Patients will also have the option to speak with a patient relations specialist. Martha McDermott, whose background is in social work, describes her job as a patient and community educator.
"A lot of it is helping people understand the conditions that qualify for the program," she said. "People think you can just walk in — there is a certification process that is far more complicated in New York than Colorado, California and Vermont."
McDermott explains that she hasn't had questions from any of the new neighbors – the dispensary is located directly next to a heating and air conditioning company and just up the street from a local hard cider brewery, a Crossfit gym and three popular bars.
"A lot of the counseling will come from the pharmacist because that is the regulatory requirement, but I think at Etain we would like to see education advocacy be one of the things that we do here," she said. "Marijuana is, obviously, a new industry in the state… it's rapidly growing."
Peckham said that she expects Etain's other sites to open "throughout the month," but was unable to provide a hard timeline. The Department of Health announced yesterday that they were allowing registered operators the option to provide delivery services to patients who are unable to travel due to their health who also do not have a licensed caregiver as a proxy. Peckham said they do not yet have a system in place but it is "something they definitely intend to do," and are working with homes for aging populations in an effort to provide those services.
Although enrollment numbers are low – the Health Department reported just 50 patients have signed up for the program so far – Peckham anticipates an "accelerated patient count" due to the state's large population.
Get daily cannabis business news updates. Subscribe