It's Election Day and Americans across the country are casting votes in a series of potentially groundbreaking cannabis initiatives.
Cannabis battleground states who are considering adult-use legalization this year include Arizona, New Jersey, Montana, and South Dakota — where voters will actually consider two cannabis initiatives, one for adult-use and one for medical cannabis. Mississippi voters will also decide on the issue of medical cannabis. In Oregon, voters will consider initiatives to legalize medical psilocybin therapy and to decriminalize the possession of illegal drugs.
---
Adult-use cannabis initiatives
Arizona
Arizona Proposition 207 would legalize cannabis for people age 21 or older. If approved, adults would be allowed to possess up to 1 ounce of cannabis and existing medical cannabis dispensaries would be allowed to sell to non-patients. The Smart & Safe Arizona Act would also establish 26 new social equity retailer licenses and includes a process for the expungement of previous convictions of crimes that would no longer be illegal under the new law. The cannabis excise tax would be set at 16 percent.
Last month, a Suffolk University/USA TODAY poll of 500 likely Arizona voters showed narrow support for the measure with 45.6 percent backing the reforms and 34.2 percent opposed.
Arizona voters narrowly rejected a cannabis legalization proposal in 2016 in a 52-48 percent split.
New Jersey
New Jersey voters are also set to determine their state's future cannabis policies on Tuesday after elected lawmakers decided last December to put the question on the ballot. New Jersey Public Question No. 1 would amend the state's constitution to allow for cannabis use and sales for adults 21 and older. The question was put to voters by lawmakers because New Jersey does not have a citizen's initiative process.
New Jersey polling suggested in July that the legalization issue was highly popular among voters. More recently, a poll found that the initiative had the support of voters by a two-to-one margin.
Montana
Montana's legalization proposal, which will appear on the ballot as Issue 14, is a constitutional initiative that would legalize cannabis for adults aged 21 or older, implement a taxed and regulated marketplace, and establish a 20 percent tax which would be reserved for the state's general fund and other programs.
The initiative is accompanied by a second constitutional amendment giving lawmakers the right to set the legal consumption age for cannabis.
Montana advocates overcame a lot of opposition this year to get the issue in front of voters. In April — after the coronavirus pandemic's onset — the advocacy group New Approach Montana sued the state for the right to collect e-signatures for their ballot initiative petition. In October, Montana's Supreme Court rejected a legal bid by anti-cannabis group Wrong for Montana to invalidate the legalization voter initiative.
South Dakota
South Dakotans will vote on two cannabis initiatives this year, including a bid to legalize adult-use cannabis. If approved, South Dakota would be the first state to vote to legalize cannabis without first establishing a medical cannabis framework.
Amendment A, if approved, would create a constitutional amendment legalizing cannabis for adults 21+ in the state. The amendment would also call for state legislators to adopt medical cannabis and hemp reforms.
October polling data showed 51 percent of South Dakota voters were likely to support the reforms, but the margins were extremely slim with 44 percent opposed.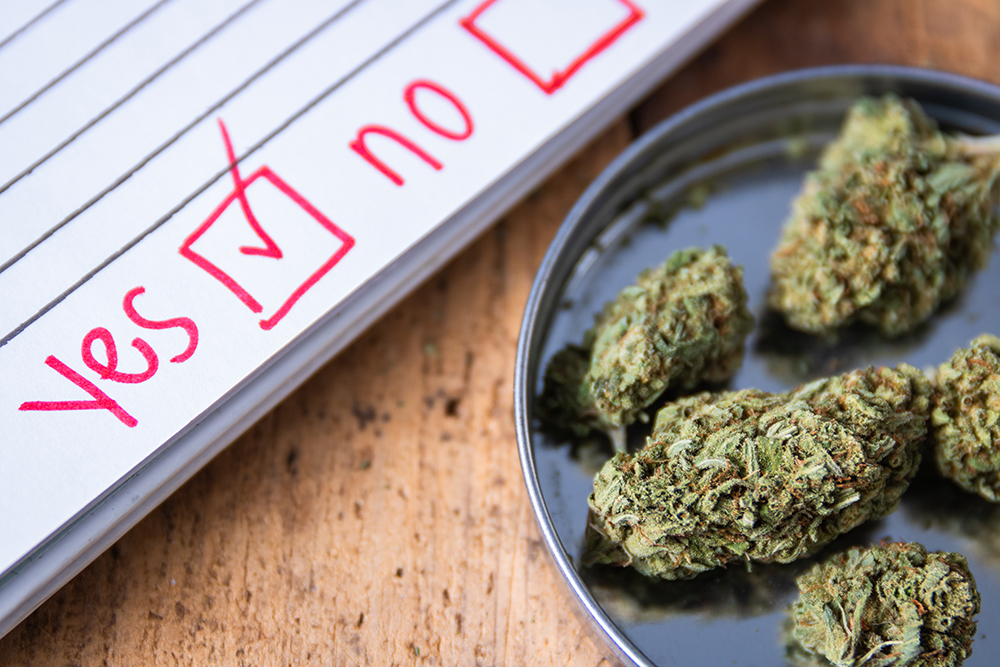 ---
Medical cannabis initiatives
South Dakota
In addition to its adult-use cannabis bid, South Dakota will consider Measure 26, which would establish a medical cannabis program allowing registered patients to "treat or alleviate debilitating medical conditions certified by the patients' practitioners."
Under the measure, medical cannabis cardholders would be allowed to possess up to 3 ounces of cannabis and other products made from the plant. Patients who grow their own cannabis would be allowed to possess "a minimum of 3 plants, as well as marijuana and products made from those plants," according to the initiative's text.
Mississippi
Mississippi's bid to legalize medical cannabis, Initiative 65, was approved for the ballot in January. If approved, Initiative 65 would allow physicians to make medical cannabis recommendations for patients suffering from at least one of 22 debilitating conditions such as cancer, multiple sclerosis, and PTSD.
Mississippi lawmakers, however, have since put forward an alternative — Initiative 65A — which is less comprehensive and contains stricter limitations on who could access the program. Under Initiative 65A, for example, only terminally ill patients would be allowed to smoke cannabis products.
Voters will be asked to rank the initiatives with their preference, even if they choose to vote against both. Polls have indicated that upwards of 80 percent of Mississippi voters support legalizing medical cannabis although it's unclear which initiative will prove to be the more popular option.
---
Oregon psilocybin & drugs decriminalization
In Oregon, there is Measure 109, which would legalize psilocybin therapy, and Measure 110, which would decriminalize the possession of most drugs and redirect some cannabis tax revenue toward drug education and rehabilitation programs.
The psilocybin therapy initiative would allow for the manufacturing, delivery, and administration of psilocybin at supervised, licensed facilities. The FDA has designated psilocybin as a "breakthrough therapy" but Oregon, if the initiative passes, would be the first state to legalize and regulate its medicinal administration.
Oregon's drug decriminalization initiative would allot a percentage of the state's cannabis taxes toward expanding drug addiction treatment options. Notably, the initiative does not legalize any drugs — rather, it reduces the penalties for possession of small amounts, which advocates say will save the state money on enforcement costs and will prevent peoples' lives from being ruined over minor drug charges.
Get daily cannabis business news updates. Subscribe