Tired of looking at your Instagram account's insights on your phone? Now you can use the browser Creator Studio to check out your account's metrics and analytics on your desktop or laptop. We all agree how important it is to have a strong social media presence and knowing your audience is a key component in creating a marketing strategy for your social media accounts – especially Instagram. Using the Insights information provided in the Creator Studio allows you to analyze which posts performed best (and why), which hashtags your posts are trending in, your engagement over time, how many clicks and reads your stories are getting, and more!
Before you Begin:
Make sure you have an both an Instagram account and a Facebook Page that you are an admin of on Facebook.
Convert your Instagram account to a Business Profile or Creator Account, this can be done within the settings menu in the Instagram app.
Connect your Instagram account to the Facebook Page. The Facebook Page you link your Instagram account to can be published and public, or unpublished and invisible to the public.
---
Click the Creator Studio link. At the top of the login page you will see icons for Facebook and Instagram, you can log in with either your Facebook account or your Instagram account. It does not matter which you use to log in; once you are in the Creator Studio you will be able to check out either account – though in this tutorial we will be focusing on your IG account. In the images below, the top one with the blue background shows the Facebook login, and the lower one with the purple background shows the Instagram login.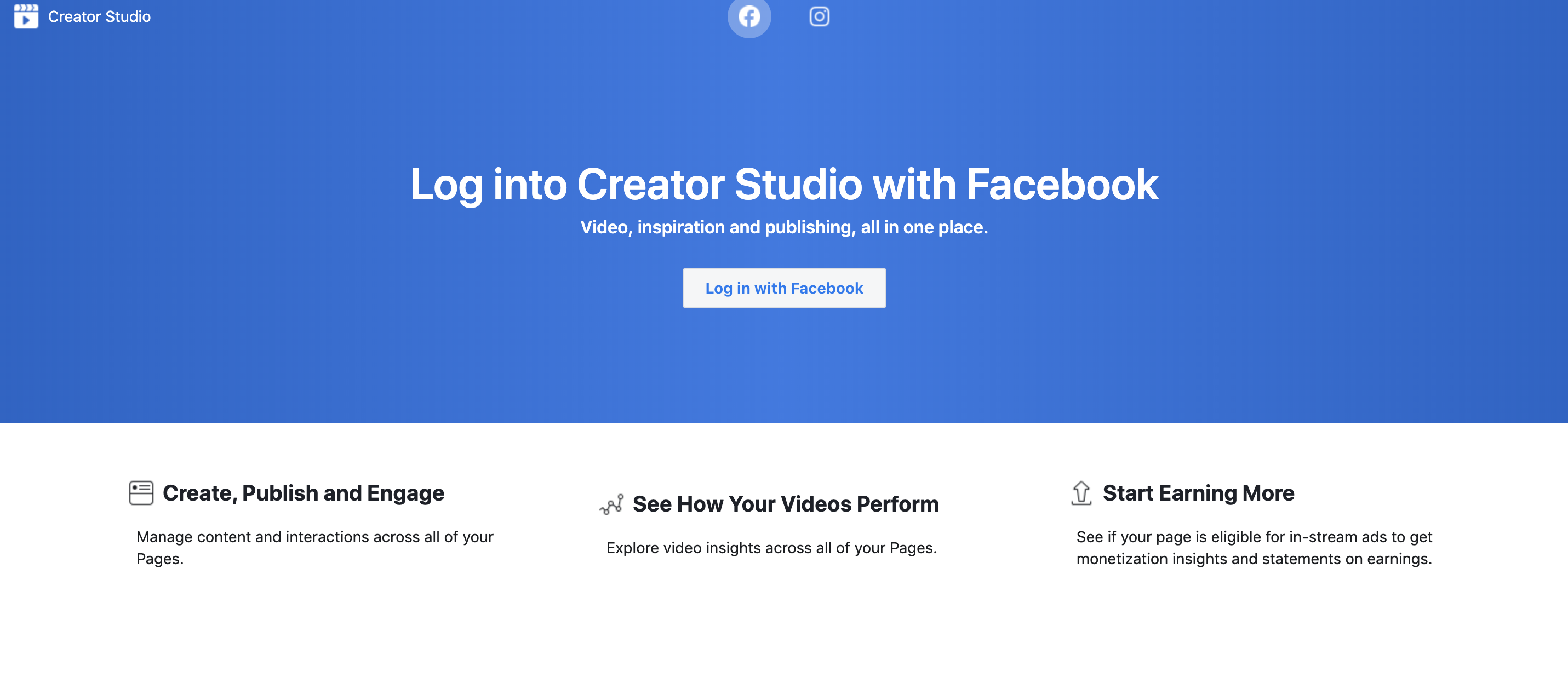 ---
Step Two: Find the Insights Tab
Once you are logged in you will see a screen similar to the one below:
Again, at the top you will see icons for Facebook and Instagram which you can use to toggle between posting on Facebook and Instagram. In the screenshot above you can see that I have selected the Instagram icon and can now see all of the Instagram posts and stories that were posted, scheduled, or drafted.
For our purposes today we will ignore these options and focus on the "Insight" button in the left side-menu as in the screenshot below: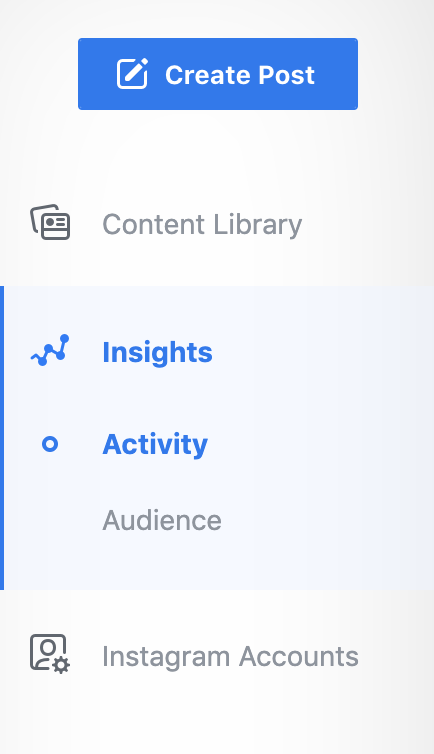 Once you click the "Insight" button you will need to choose which of your IG account's insights you would like to check out – if you only manage one account this option will not come up.
You can also toggle between your "Activity" or "Audience" insights–Your Activity insights will give you information about your account, such as how many people are interacting with it and what they are doing, while your Audience insights will show you data on your audience; the number of followers you have, their gender, their age, where they are from, and when they usually interact with your account.
If there is ever any confusion about the information that is presented in these options, click the little "i" circle in the top right corner and it will give you a breakdown of what you are looking at.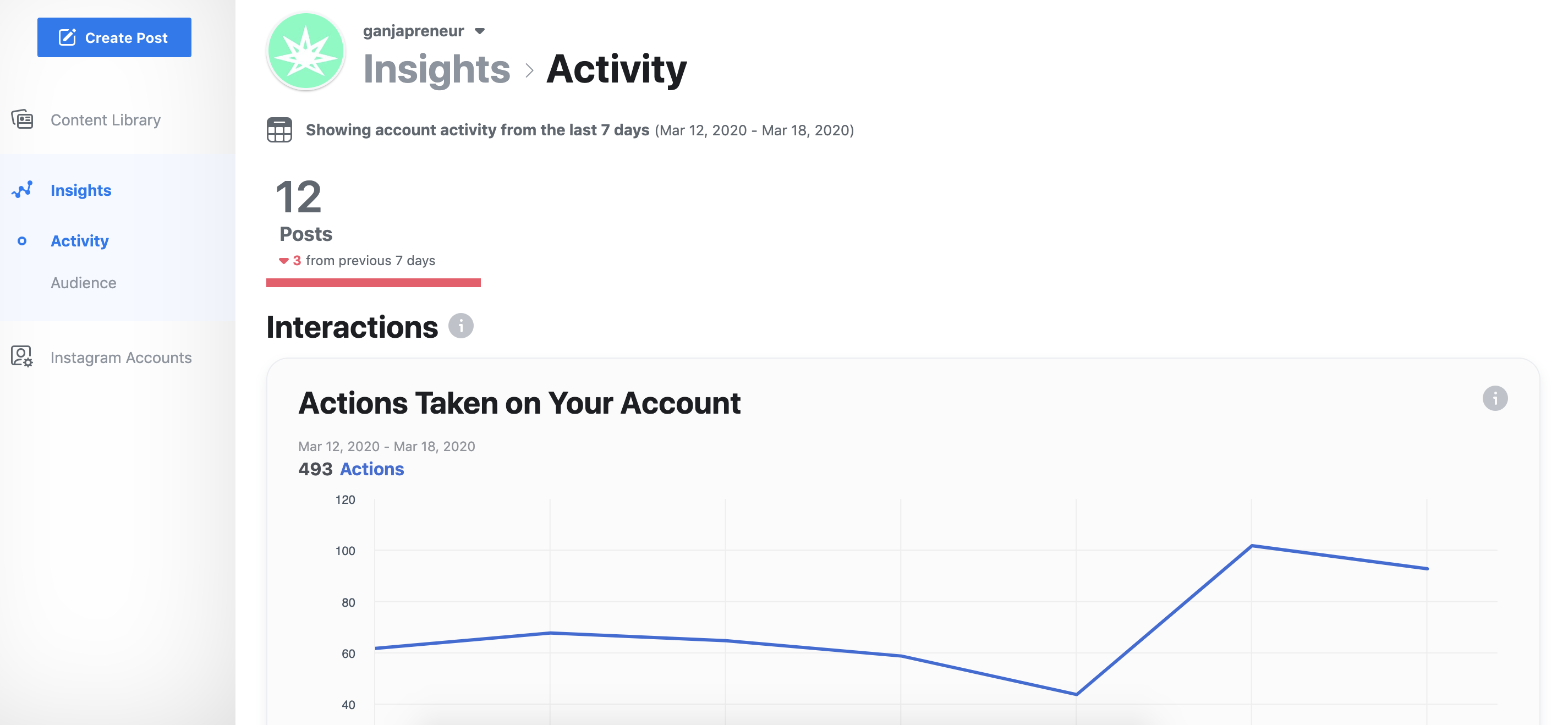 ---
Step Three: What Does It All Mean?
Let's start with the "Activity" insights tab. The data is always given for the last seven days. You will see two different graphs displaying the following data:
Interactions: The graph displays the number of actions people have taken on your account each day. Below the graph, you can see this number broken down into Website Visits, Profile Visits, Calls, Texts, Emails, and Get Directions. Within each box you can see how this data point compares the previous seven days and if it has increased or decreased; a green upward-facing arrow indicates an increase, and a red downward arrow indicates a decrease.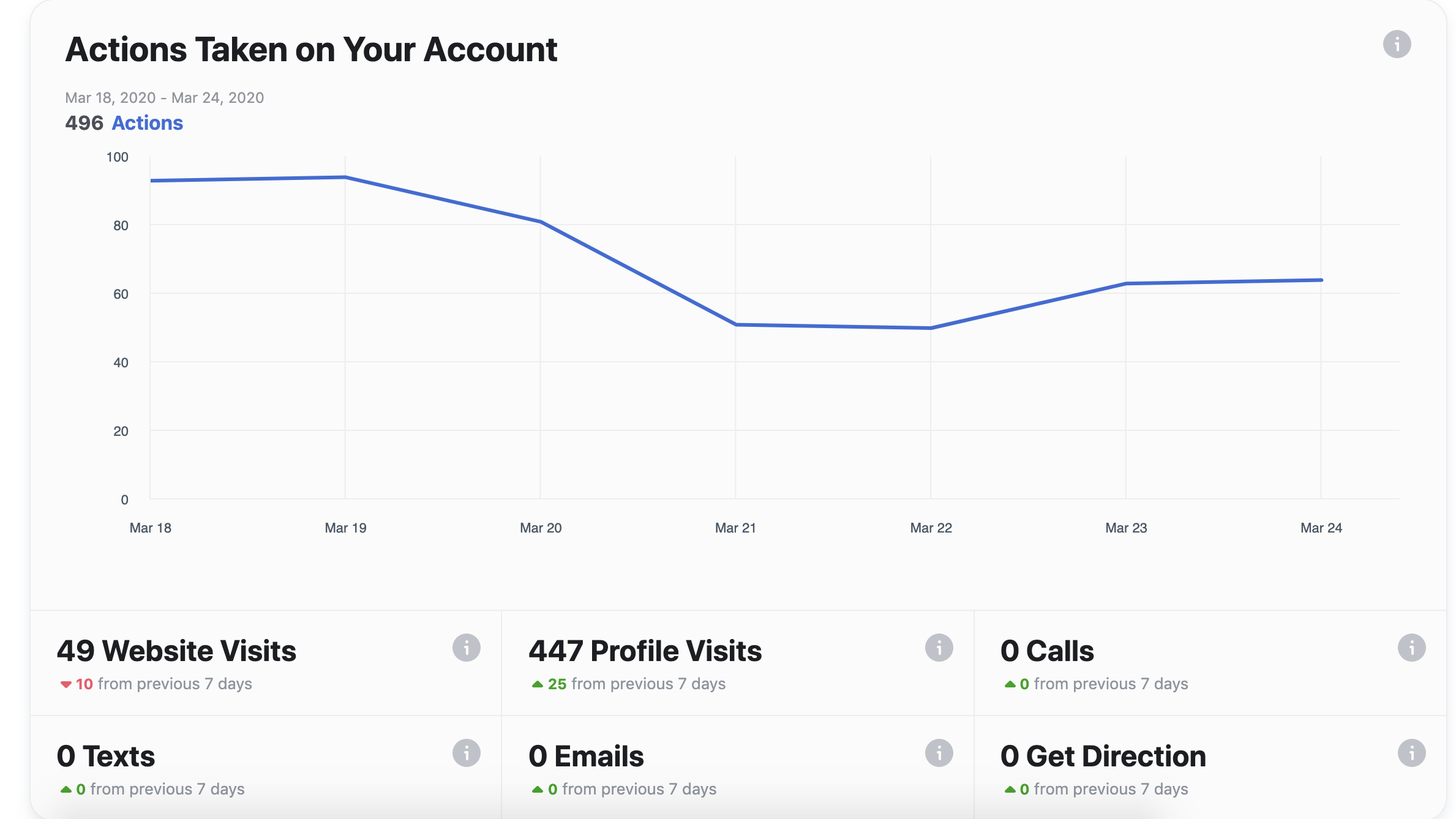 Discovery: This graph displays the number of other accounts you reach each day. Reach = The number of unique accounts that have seen any of your posts. Under the graph, you can see the total number of impressions over the last seven days and how this number compares to the previous seven days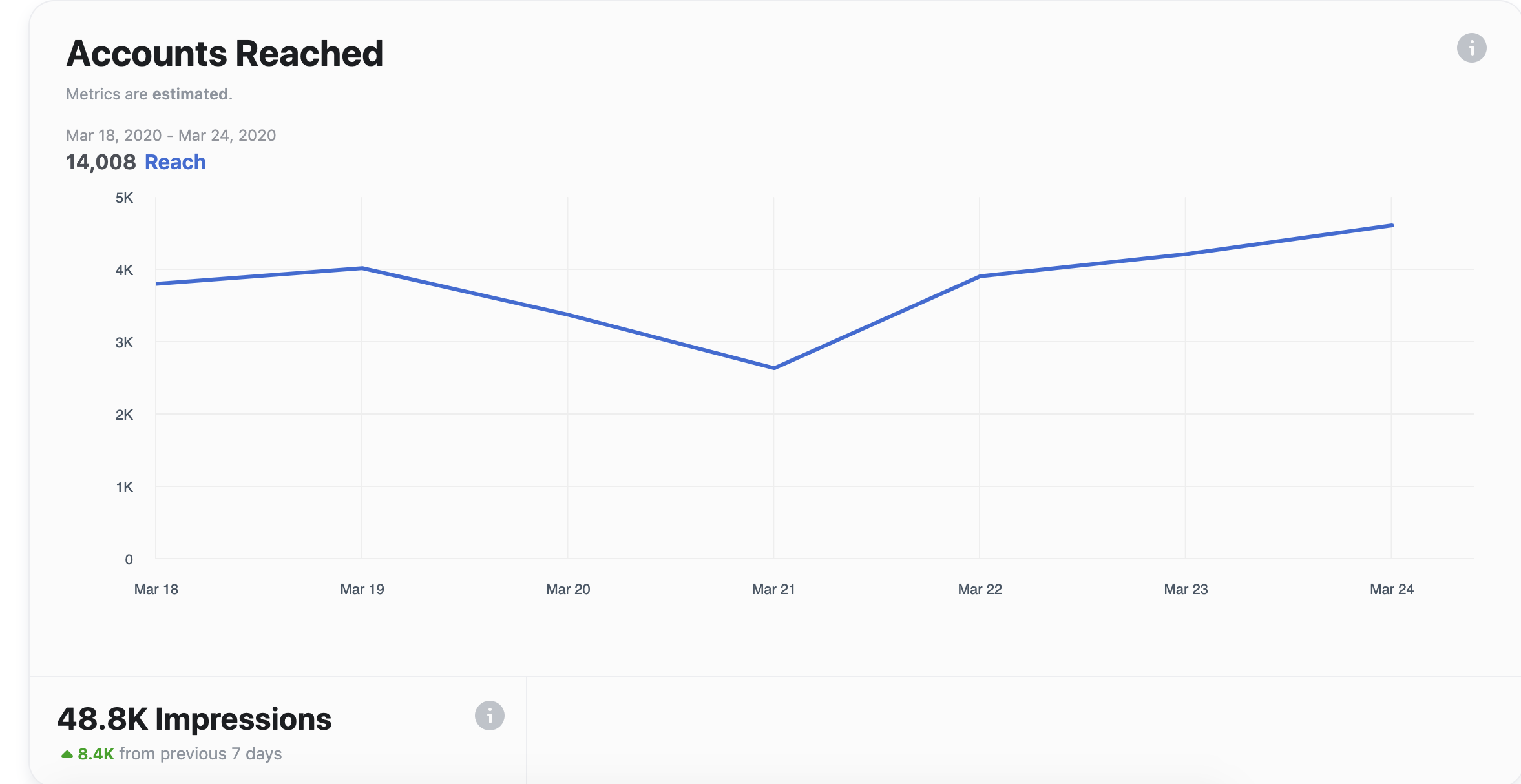 Note: Reach is the total number of people who see your IG content, while Impressions is the number of times your content was displayed, whether it was actually seen or not.
Now onto the "Audience" insights tab. Again, this tab is showing audience activity from the last 7 days.
Right at the top, you can see your total number of followers and the amount that this number has increased or decreased over the last seven days.


Below this statistic are four graphs: Age and Gender of Your Followers, When Your Followers are on Instagram, Countries, and Cities.
Age and Gender of Your Followers
This graph will help you understand who your current audience is. Is it who you thought? Is it your target audience? Toggle between looking at age and gender together or separately.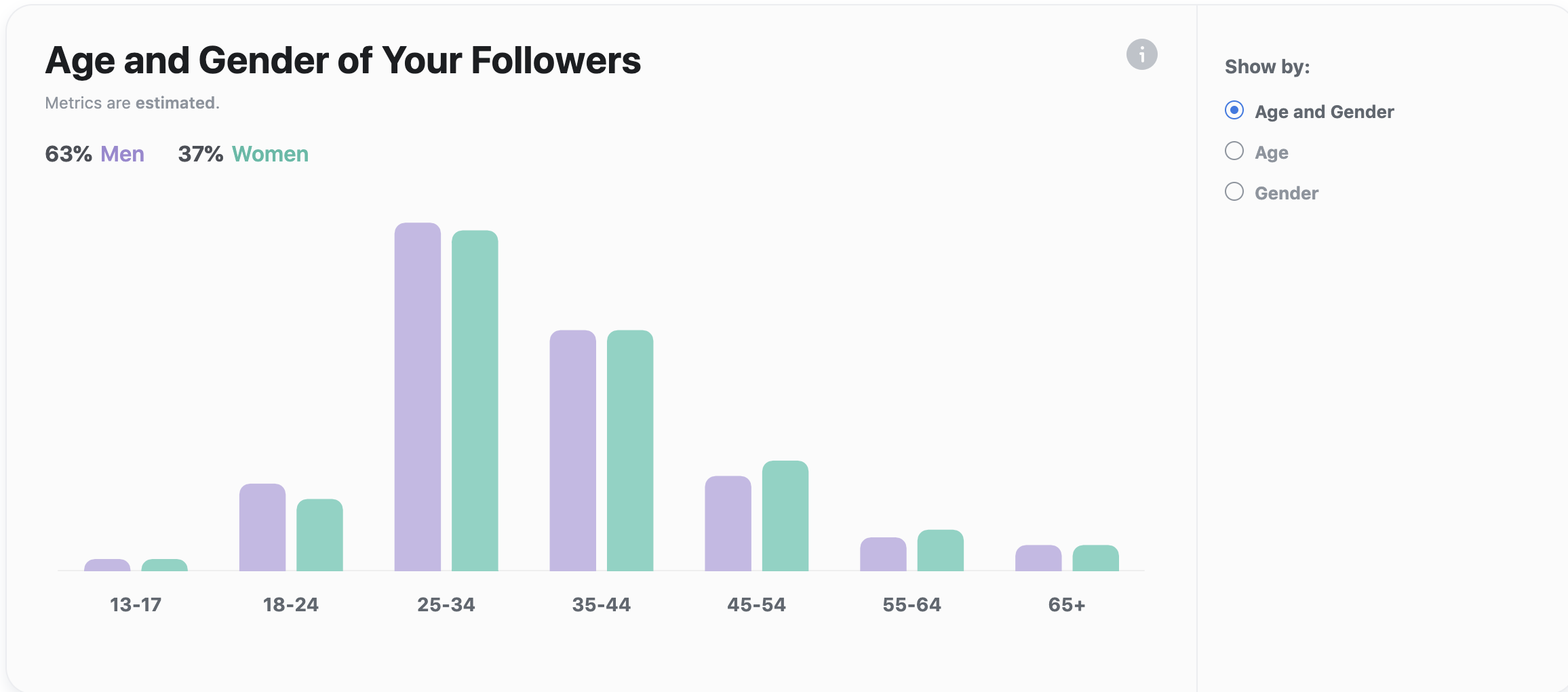 When Your Followers are on Instagram
Ever wondered when is the best time to post on your IG account? Studying this graph can help you see what time of day and day of the week your followers are most active on IG. Toggle between Day and Day & Hour.
When on the Day tab, hover over each day of the week to see how many of your followers are generally on IG that specific day of the week.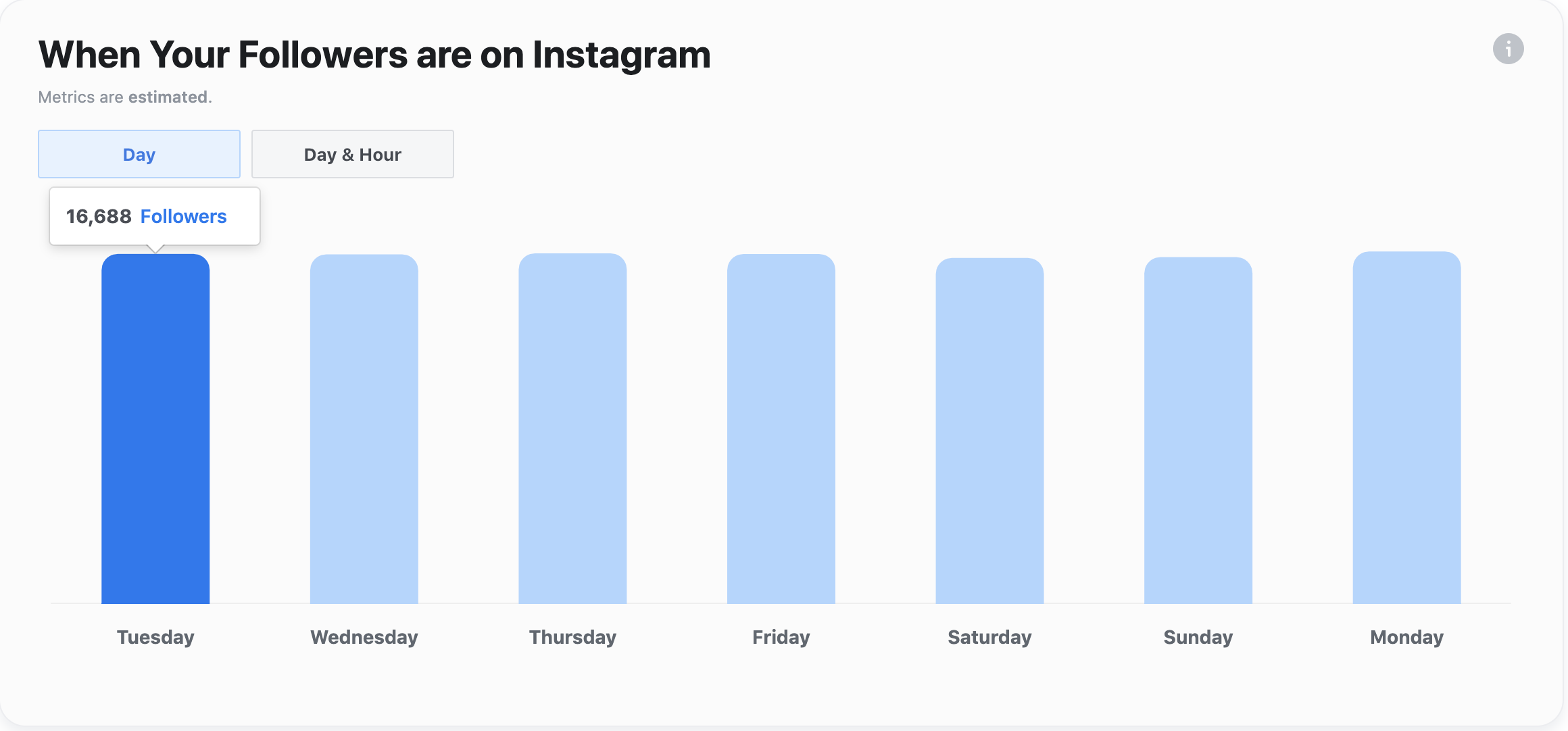 Switch to the Day & Hour tab to see what hours of the day your followers are generally on IG. The darker the blue the more followers there are for that time and day slot. Timing your posts to coincide with higher engagement is important as it is known that IG will give posts with quicker engagement higher priority.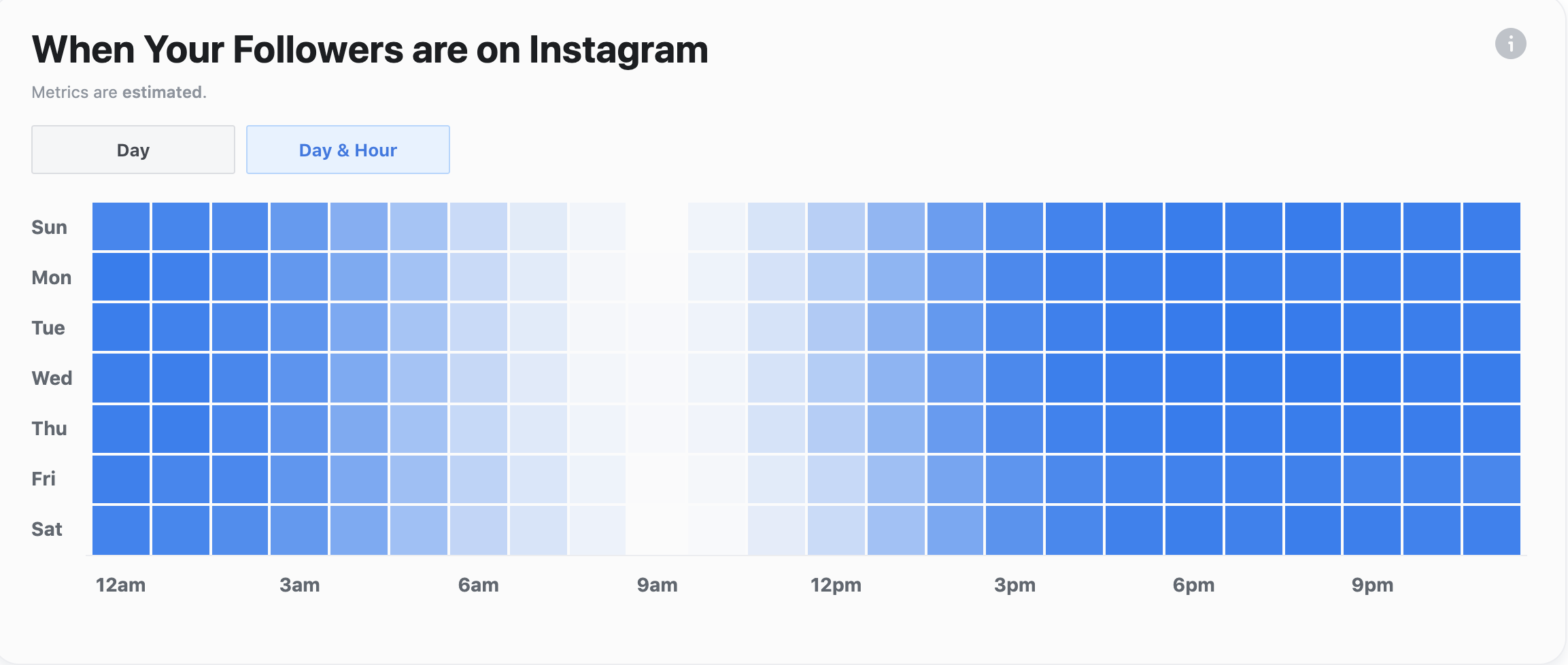 Countries and Cities
This one is pretty self-explanatory but again is very important in shaping how you approach your IG marketing strategy.

---
Step Four: How to Implement the Insights
Studying your account's insights will help you understand your audience better. Understanding your audience will give you a focus and help narrow your content down to best apply to your followers. You can start to understand who your audience is: Do they live in the same time zone as your company? Are they on the IG app during work hours or in the evenings? Are they older or younger than you thought? Do they engage regularly with your account or not?
Possibly, you will learn that your current marketing techniques are bringing in a different audience (age, location, gender) than you meant to and it's time to change your approach. Create new marketing materials and techniques that target the segments of your audience that you want to increase. Try new things, learn from them, and keep growing!