With the popularity of ice water hash exploding, the world's leading manufacturer of rosin presses and bubble hash washing vessels meets the demand with an incredible new machine, dubbed the Axis trichome separator.
Already setting themselves apart from the competition with the manufacturing of the best rosin presses on the planet, PurePressure is proud to announce it's automated trichome separator, the Axis. The Axis trichome separator gives cannabis processing labs the option for truly scalable ice water hash extraction with their new, revolutionary machine. The Axis is built entirely in the USA at PurePressure's factory in Denver, Colorado. It provides unmatched control, throughput, and safety for large scale ice water hash production.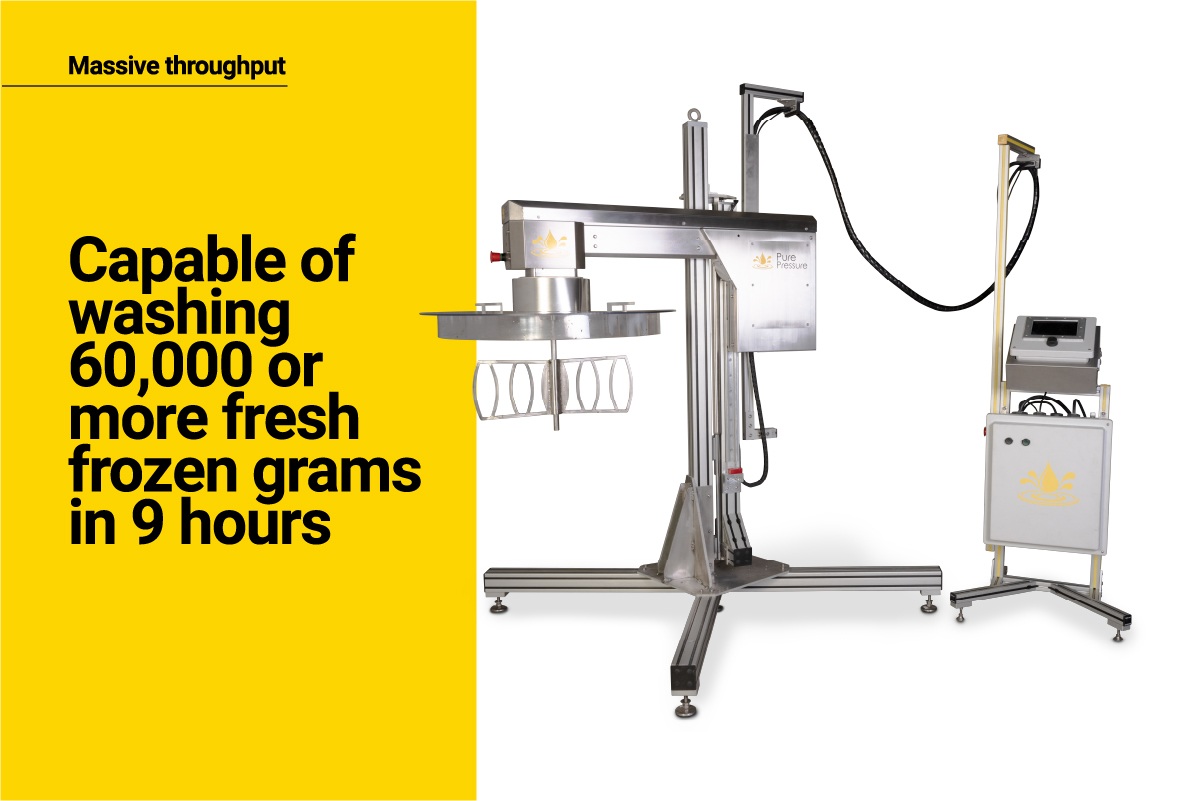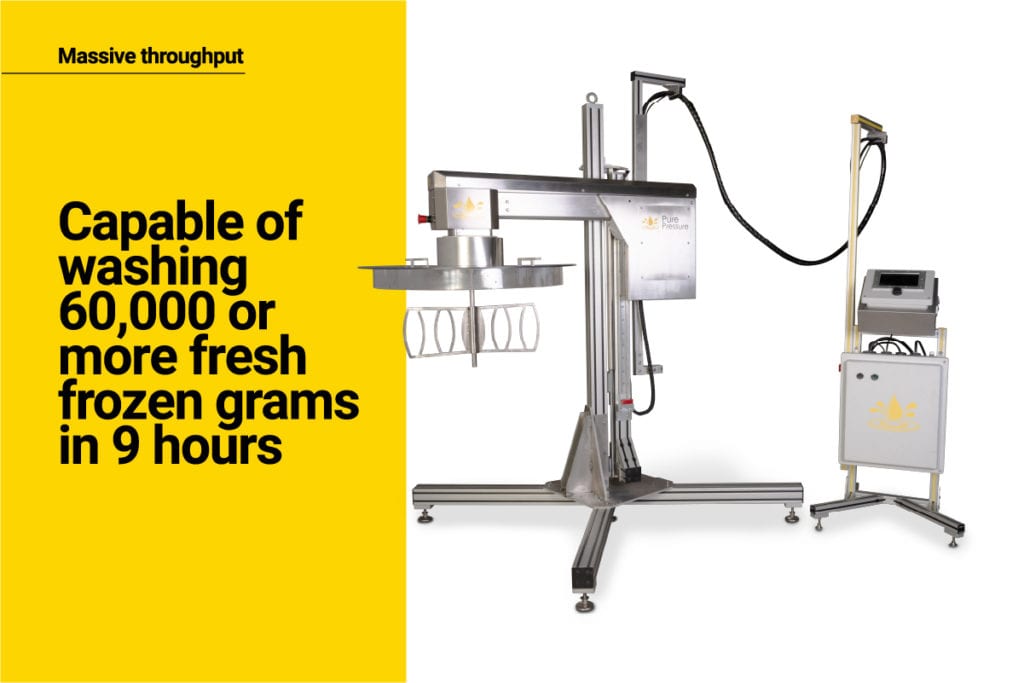 Key features of the Axis trichome separator:
With the Axis trichome separator, your facility will be able to wash 132 pounds, or 60,000 grams of fresh frozen cannabis or more in a 9 hour shift. This unparalleled daily output requires only two operators to achieve and removes the typical backbreaking manual labor that ice water hash washing can entail.
Offering unparalleled wash control, the Axis features a precise servo motor, coupled with a joystick and touchscreen interface enabling backwards and forwards paddle control. It also offers recipe saving functionality so that hash washing technicians can create their own custom wash styles, save them, and repeat them at will with the touch of a button.
The Axis trichome separator is backward compatible with its food safe Bruteless bubble hash washing vessels made by the experts at PurePressure. All extraction facilities owning 30, 44, and 65-gallon Bruteless vessels will be able to integrate their Axis trichome separators with the equipment they already have.
Even though the Axis boasts some of the highest production output in the game, the trichome separator draws a noticeably low amount of power. At 120v, it draws only 7 amps peak and just 2-3 amps continuously.
All Axis machines are outfitted with IP65 washdown rated electrical components that make for a simple and quick cleanup.
The wash arm that the Axis is equipped with is made of food grade stainless steel, which is easily cleaned and maintained.
Facilities with minimal space can operate the Axis with ease. The Axis requires as little as 550 square feet and can be used in places with ceilings as low as 7 feet and can fit through as small as a 30" wide door being rolled on a furniture cart.
Revolutionizing Ice Water Hash Washing
Thanks to the above-mentioned features, the Axis from PurePressure is poised to revolutionize ice water hash washing. The Axis trichome separator is unlike anything you've seen before, and the scalability that comes with this incredible device is unmatched. The Axis ice water hash washer is user-friendly, highly controllable, and is loaded with safety features, allowing solventless processors the ability to scale as they've never seen. By separating ice water hash washing vessels from the source of agitation, the Axis saves users time so that they can fill, soak, filter, and collect their hash without tying up their washer.
The Axis trichome separator is built in the PurePressure factory in Colorado. The revolutionary bubble hash washing device is made with premium materials, including stainless steel that makes cleaning and sanitizing a breeze. Professional hash washing is as simple as utilizing the user-friendly Axis joystick control panel and the intuitive and attractive touch-screen. Hash washing techniques can be tricky, but the Axis simplifies this process with its ability to save specific recipe sequences. True full melt ice water hash and six-star bubble hash is rare as these products require precision touch, experience, and extremely gentle agitation. The Axis machine also features a unique pivoting wash paddle head that allows processors to lift, lower and pivot with ease. The incredible functionality found only with the Axis hash washing machine allows you to immediately begin working on your next batch of bubble hash. The efficiency of the Axis gives users maximum machine usage from the moment the device arrives at their facility.
The Axis Trichome Separator is a Smart Investment
Most cannabis processing facilities that are washing hash buy an Axis will see ROI within two months or less. A single Axis machine is the equivalent of the output of roughly two machines from competitors, and as they say, the most expensive machine is one you have to buy twice. Purchasing an Axis trichome separator from PurePressure is one of the smartest investments that a processing facility will ever make. By adding an Axis hash washer, facilities place themselves ahead of the competition by saving tens of thousands of dollars in labor costs as opposed to doing traditional washing hash by hand. An investment in the Axis trichome separator will not only save facilities money in labor costs, but it can also help ensure greater hash SKU consistency.
Along with unparalleled functionality and output, any bubble hash washing operation can claim some impressive certifications with the purchase of an Axis trichome separator. Just a few of these certifications include a UL508 control panel and IP65 washdown rated electrical components. For customers who need a full electrical certification, they can be acquired in the field with ease.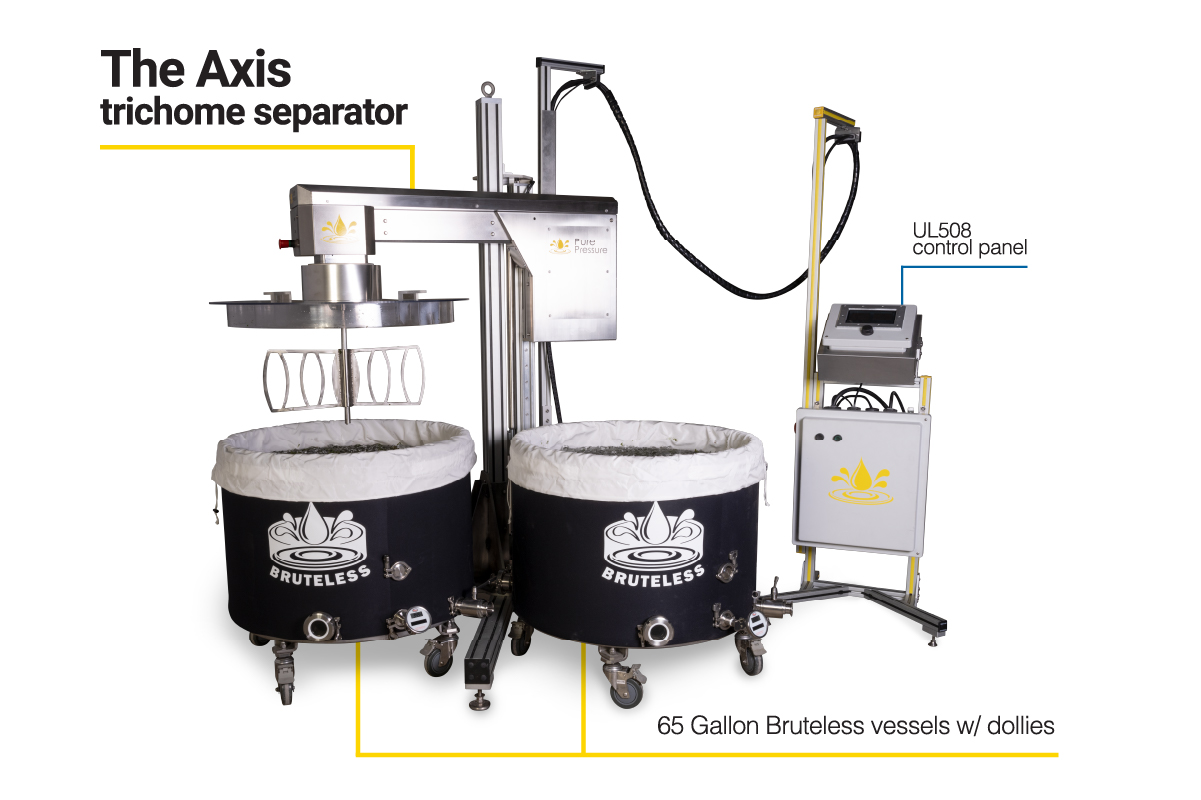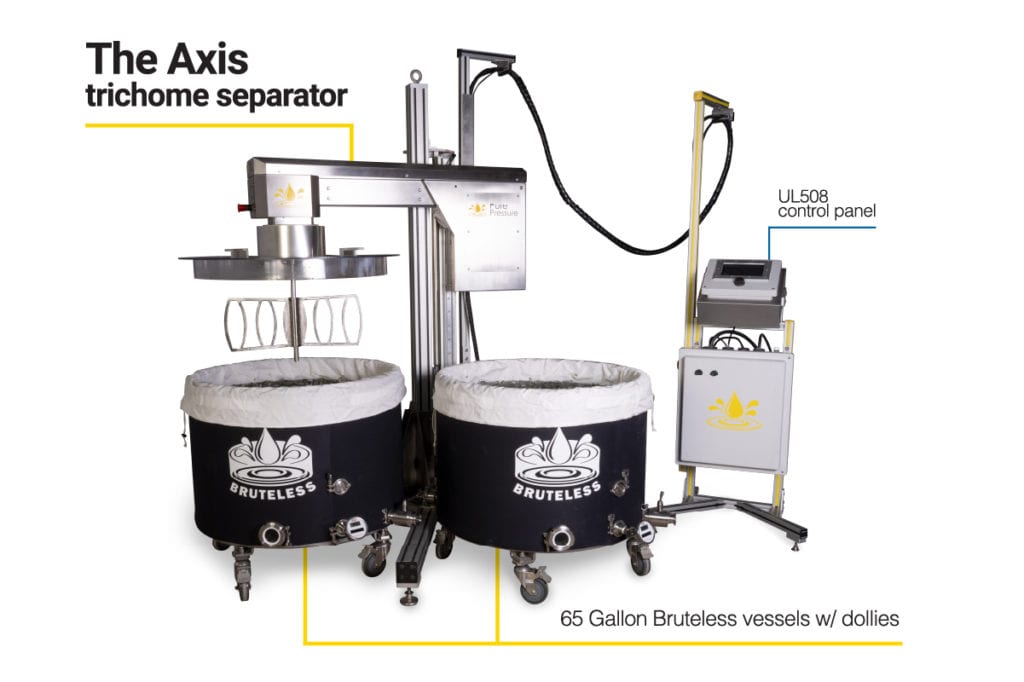 Demand for Solventless Concentrates is Rising
As consumers get a taste for premium, top-shelf cannabis products, the demand for bubble hash concentrates like live rosin is more popular than ever. Vaporizer cartridges make up a large portion of the legal cannabis market and concentrates made from the ice water hash washing process lead the way in terms of quality. Hash washing results in the most attractive and highest quality products the cannabis industry has to offer. Consumer demand is high for solventless concentrates thanks to their natural, full-spectrum, terpene-rich and potent content.
The versatile practice of hash-washing lends itself well to commercial operations producing some of the highest quality cannabis products in the world. Although washing hash or hash washing is the most commonly used term to describe the process of producing these products, it's not the most accurate. The most accurate term is trichome separation.
The quality of the bubble hash that consumers purchase depends on factors such as the source strain, the growing conditions, and the purity and potency of the source material. Concentrates are quickly becoming the preferred method of consumption for cannabis lovers. The time is now to enter the wonderful world of solventless cannabis concentrates, and the Axis trichome separator leads the way. Ice water hash is the most versatile solventless cannabis product on the market today, although it is not a new product. Vaporizer cartridges are easy to use and highly effective, requiring significantly less inhalation than the age-old method of smoking flower. However, cannabis extracts present their own set of concerns and potential problems – as does any other commercial product.
Producing solventless concentrates requires minimal startup costs, positioning itself as a favorite for many extraction facilities. Years ago, starting a cannabis extraction lab could cost processors hundreds of thousands of dollars in machine costs, with the cost of labor not even included. With solventless hash washing and chemical-free bubble hash, labs and processing operations don't have to deal with the headache and extreme expense of C1D1 rooms, or having to add them for their solventless divisions.
Pre-Order Your Axis Now
The Axis trichome separator will be available for pre-order on January 5th, 2021, and orders are expected to ship out to customers in May 2021. For only a $9,995 down payment, customers will be locked in to receive the most versatile, highly functional cannabis hash washing machine ever made with a net price tag of $27,500 plus shipping.
About PurePressure
PurePressure is a USA-based manufacturer of solventless processing equipment. In addition to their revolutionary new Axis trichome separator, PurePress makes industry-leading rosin presses, hash washing vessels, and rosin filter bags. PurePressure customers also love the wide variety of solventless extraction operation accessories, like freeze dryers and sifters.
The PurePressure factory is located in Denver, Colorado. The PurePressure team has over 20 years of manufacturing expertise and 15 years of oil extraction experience. The PurePressure team shares a passion for cannabis and their dedication to their customers is the foundation of our success.
Press Contact
PurePressure
720-446-9565
sales@gopurepressure.com
https://gopurepressure.com/pages/contact-us