When I was in my early 20s I came home from San Francisco for the holidays after being fully immersed in the cannabis culture there for years. One afternoon I took my little cousin shopping, of course packing up my weed in my handbag for a quick toke beforehand. We were walking through the store and she looked at me with laughter in her eyes and commented on the thick smell of pot that was trailing me through the store. It was at this moment when I first realized that I needed a smell-proof bag.
Since that day in 2009, there have been major strides in smell-proof and smell-safe technology. Smell absorbing bags come in every form: Dopp kits, fine leather clutches, duffle bags, and designer roll-top backpacks. These products can help the average cannabis consumer like me, but they can also serve cannabis producers who are forced to navigate murky supply chains.
For this review roundup, Ganjapreneur sourced five of the top smell-proof bags on the market, each with its own unique value.
What does 'smell-proof' actually mean?
As it currently stands, there are no standards for what can be marketed as smell-proof, smell-blocking, smell-absorbing, etc. Companies like Rubbermaid which market their containers as air-tight, water-tight, and odor-proof have testing standards to ensure their products meet these criteria. There is no such system in odor-absorbing bag technology and as such, some companies claim to be 100% smell-proof when their bags do actually leak aromas. This can be dangerous for people hoping to mask the scent of cannabis in a prohibition state.
It felt essential to mention that in this review we don't use a standardized test to gauge the level of odor that escapes the bags listed. But I did use my knowledge and experience to suss through each odor-blocking feature like waterproof zippers, carbon lining, and folding tops to gauge the efficacy of odor absorption based on design. It is best to assume, however, that if you are trying to hide cannabis from trained dogs, relying on a bag alone to protect you isn't recommended.
Now, check out these bag superlatives, each with individual style and features that set it apart from the crowd.
Jump to a bag: Littlejohn New York | Dime Bags | RYOT | Feel Good Flavors | Rebelle
Best Dressed
Littlejohn New York Wristlet Pouch from the Cache Collection
The Littlejohn collection is built with five-layer "scent-conceal" technology. This technology combines a mesh layer, activated carbon lining, durable protective padding, leather air-tight seams, and sealed rubber zippers. The activated carbon lining is sandwiched between non-woven layers on each side. The mesh layer allows smells to reach the surface area of the carbon liner, the air-tight seams support the carbon absorption, and the site states that the sealed rubber zipper preserves the right balance of moisture. I would add that in my experience the sealed zipper is essential in smell-proof bags. I am confident in saying that this is not only an exceptionally made, fashionable bag– but it's also smell-proof in the real sense.
I brought the wristlet pouch from the Cache Collection out to do some errands, the design and craftsmanship make it comparable to any designer handbag I've owned. Since this is a bag that I'd take out to have a drink or go out with friends, I considered how smell-proof it would be when opening and closing it when being IDed or grabbing the check. Sometimes a bag will block smells until it is opened but then it all wafts out into the open air — when this happened to me once, it wafted into the face of a bouncer in Arizona prior to the state's legalization reforms, so it's pretty important to consider this before going out with your loudest herb. The designers at Littlejohn considered this too, and there is a small inner pocket that has its own five-layer technology for cannabis along with an outer pocket that can hold the things you often need. Using the outer pocket for commonly grabbed items can reduce the number of times you need to open the bag, keeping the smells inside while you grab your phone for a quick selfie.
Life of the Party
Dime Bags Omerta Smell Proof Fanny Pack & Combo Lock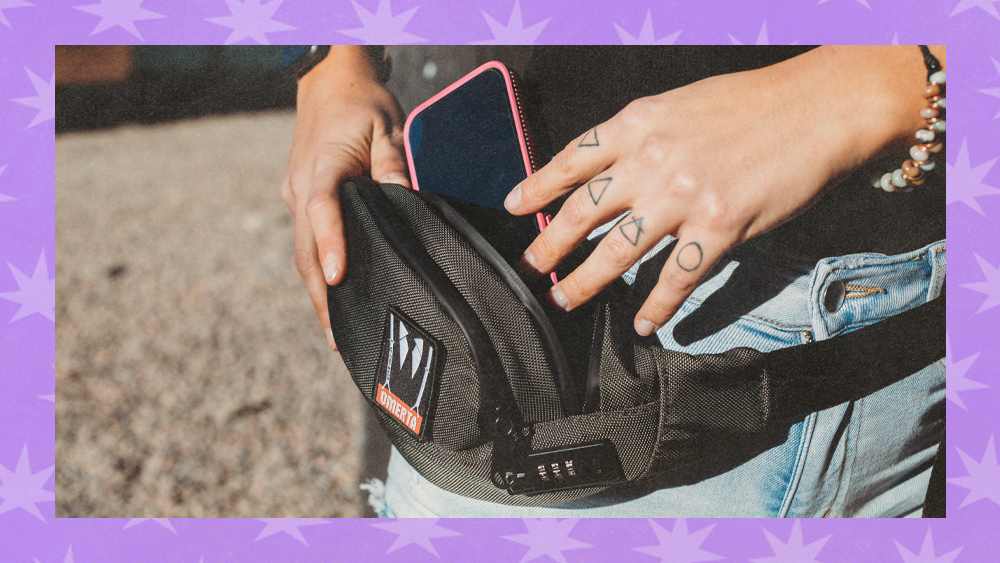 Any stoner or festival kid already knows about Dime Bags — the brand is synonymous with padded hemp pipe and bong bags and was one of the first to introduce smell-proof bags to the market. The Omerta Fanny Pack is a multi-compartment, super handy little bag that features water-resistant zippers and a water-resistant polyester exterior. It is lightly padded and has a lock that you can set to your own three-digit code. The main compartment locks by locking the zipper into the mechanism so it can't be used. The secondary compartment, internal zippered pocket, and secret internal zippered pocket do not lock. It comes in a few colors and the logo is a velcro patch, so you can use one of the customizable patches which add some personal flare.
As the mom of a baby, the fanny pack served as a fantastic way to keep my essentials nearby while baby-wearing. My takeaway: it's great for someone whose hands are busy. The bag also transported me back to my former life, something I refer to as my 20s. Going to large EDM shows and gatherings and having your hands free but also having your … valuables … on you at all times is essential at these gatherings. The lock really takes all of the nervousness out of dancing your heart out while holding the group's weed … and stuff.
Most Athletic
RYOT DRY+ Backpack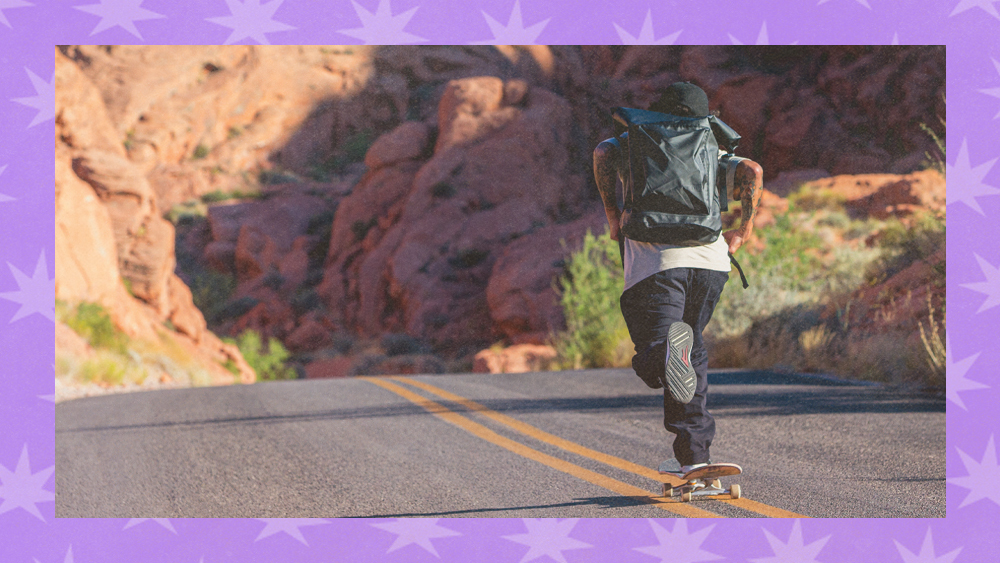 I can't even hide my bias, when I pulled this backpack out of the box it immediately became my favorite of the bunch. Don't misunderstand, I'm going to be rocking that Littlejohn wristlet/crossover bag for a long time, but the DRY+ is something a little extra special. At first, it looks like a bag that a super rad, hardcore bike messenger chick would be wearing in San Francisco in 2009. Is that hyper-specific? Definitely. But it's also the truth. Each is outfitted with a waterproof, abrasion-resistant outer layer featuring a water bottle pocket and two outer compartments. The top is a roll-and-chinch style closure that is wide for easy loading. Inside, there is a removable SmellSafe carbon bag for an extra layer of protection for escaping odors.
RYOT uses the moniker Smell Proof when referring to their products with the highest level of odor containment and weatherproof protection possible. These products are designed to let no air escape which would mean no smells escape, they also feature SmellSafe Carbon Series technology to reduce the odors that come out when the bag is opened. If someone in the industry needed to transport large amounts of bud I would recommend this product first. I'm also planning to use it during the dry season for bike trips to the grocery store.
Biggest Flirt
Feel Good Flavors Smell-proof Roll Top Bag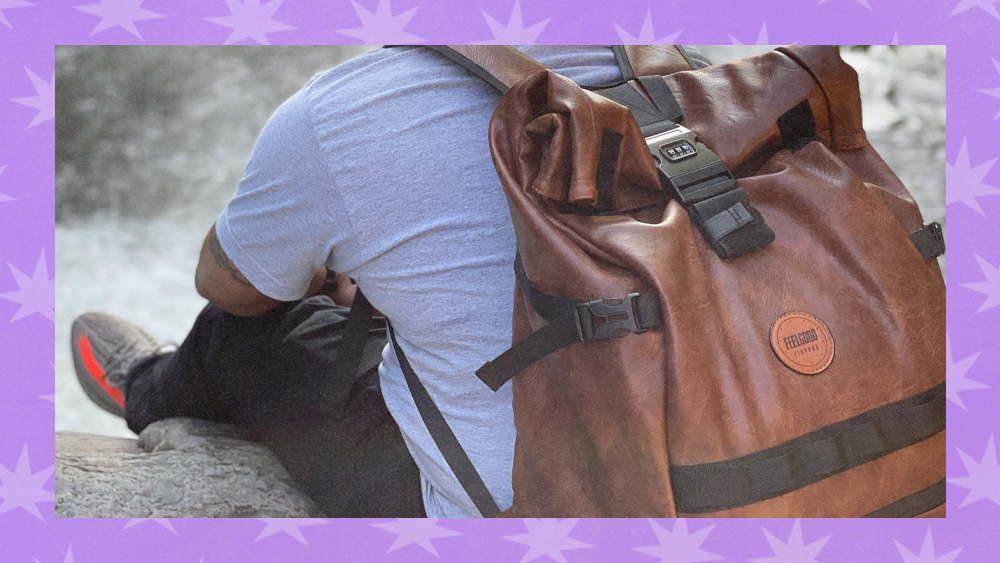 The beauty of the LittleJohn and the utility of the RYOT bag converge in the Feel Good Flavors roll-top bag. The outer shell is weatherproof leather and the inside features a carbon thermal lining described by the brand as 100% smell-proof. It features two external pouches closed by waterproof zippers as well as two internal slide pouches and one internal zipped pouch. The bag is also built with gear loops and a code locking roll-top buckle.
Feel Good Flavors lines their bags with carbon technology along with waterproof zippers to control odors. The roll-top is closed by velcro and a lockable buckle that can be set with a personalized three-digit code. This bag offers almost the same aromatic protection as the RYOT but with a less heavy-duty aesthetic, great for someone who wants a larger bag to conceal cannabis odors but isn't in need of all-weather, intense protection.
Cutest Couple
Rebelle Jerry Bag in Green and Stone from the Rock and Roll Collection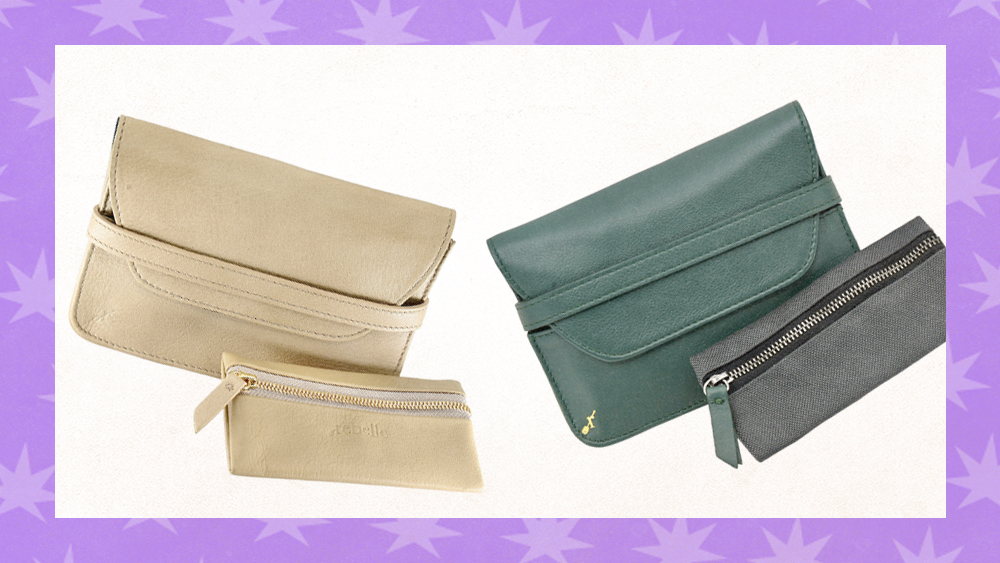 Rebelle is a Massachusetts cannabis dispensary that is growing into a vertical operation in the Berkshires. The Jerry Bag is available both at their dispensary and online. It is marketed as smell-proof and handmade with soft Italian leather in New York. The pouch is sized well to fit into a purse and features a fold-over top and a removable internal pouch.
This bag is cute and convenient, but I wouldn't regard it as completely smell proof. First, the fold-over completely negates smells-concealing features in the main bag as aromas will escape out of the corners. Secondly, a normal zipper is used for the internal pouch. While the gold zipper is very aesthetically pleasing, it doesn't conceal smells as well as a rubber zipper. So, while this is cute and fits perfectly into a larger purse for a night out we wouldn't recommend it for someone trying to completely conceal the smell of their pot.
Get daily cannabis business news updates. Subscribe