Smoking marijuana in rolled form has always been a reliable method of getting high, especially in social settings, and the blunt offers a potent and generous toke. I still think fondly of splitting Garcia y Vega cigars, removing the guts, and then smothering honey over the paper before filling it back up with brick weed and drying it with a lighter. While the tobacco leaf is not for everyone, it certainly offers a distinct experience that many enjoy.
One of the classier and more modern forms of the blunt is the cannagar, or cannabis cigar, which are a slow-burning and long-lasting option. The folks at Purple Rose Supply have come up with a line of products to help consumers easily roll their own custom cigars at an affordable price. If you don't have access to fresh marijuana leaves or do not like cigar papers/wraps, they offer pre-rolled "shells" made from hemp leaves and hemp pulp to make the process simple and easy.
What's in the box?
We were sent the G2 small cannamold with an additional shell stored in a cigar tube. The kit is packaged in a cardboard case with foam and comes with the mold, a packing tool, bamboo skewers, a wooden mouthpiece, and an easy-to-understand instructions sheet all arriving in a purple tote bag.
They currently sell four molding kits in three different sizes. The kits start at $44 retail and the hemp shell was $20 for a size small.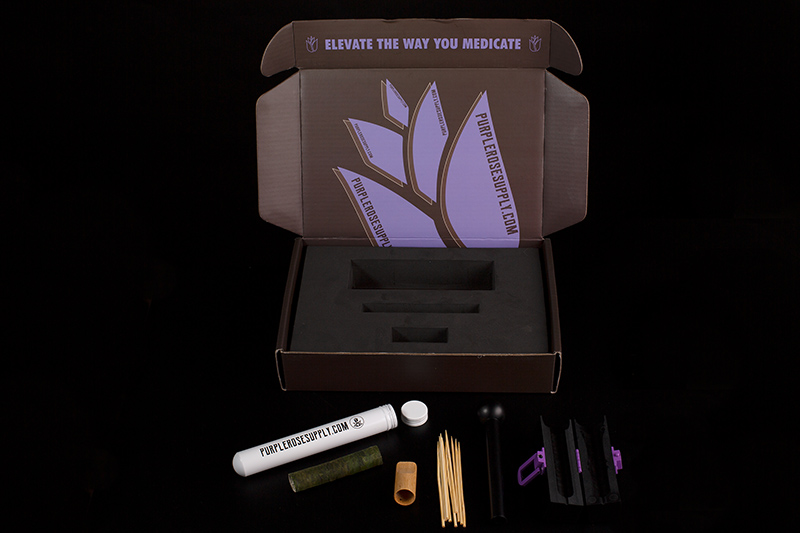 The rolling process
I began by latching the mold together and inserting a skewer through the hole in the bottom. The latches on the mold and the mold itself felt well-constructed and look like it would last a long time. I ground up 4 grams of flower and slowly filled the mold shaft using the packing tool. In a few minutes, I had packed the mold to the top and set it aside to cure for a couple of days (the minimum is least 3 hours).
After the wait, I opened the mold and popped out a well-molded cigar core. After removing the skewer, I inserted the core of flower into the shell, attached the mouthpiece, and admired the nicely rolled cannagar that was ready to smoke.
Enjoying the final product
The cannagar burned evenly, packing a hot and heavy punch, and ended up lasting for quite a while.
I found the kit to work well and the mouthpiece effective for heat displacement. For those looking for a classy way to spruce up a gathering, or for those occasions where something special is needed, the Purple Rose Cannamold is worth checking out.
For more information on Purple Rose Supply or to order their products, visit www.purplerosesupply.com or find them on social media @purplerosesupply.
Get daily cannabis business news updates. Subscribe